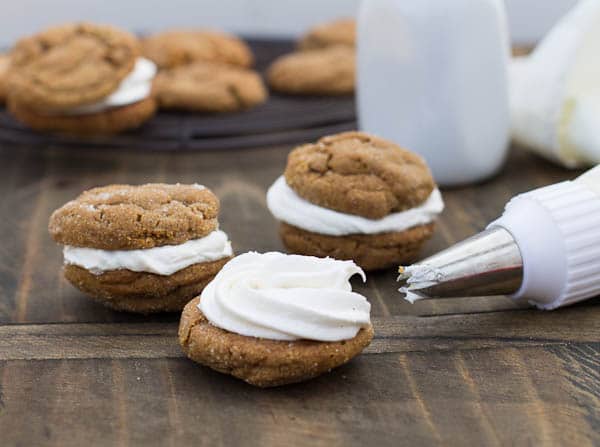 Chewy but soft Gingerbread Sandwich Cookies with a sweet marshmallow creme filling make a delightful holiday treat. With cinnamon, cloves, nutmeg, and ginger, they're like the Christmas version of oatmeal pies.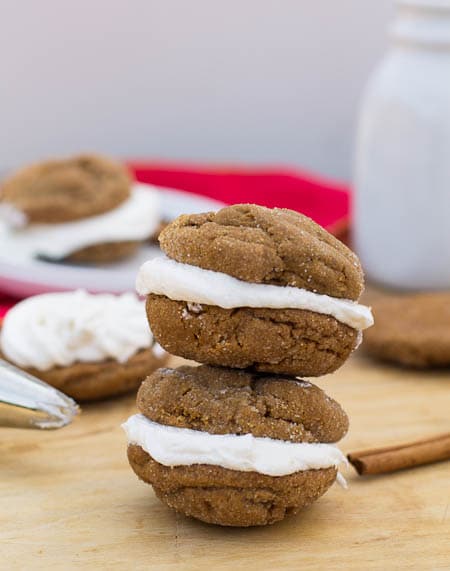 I've been baking pretty much every day recently. As some of you may know, my 16-year-old son was diagnosed with testicular cancer right before Thanksgiving. He is doing very well and will hopefully be starting round 2 of 4 rounds of chemotherapy next week.
Our friends and neighbors have been so wonderful and have brought us dinner just about every night. I can't tell you how nice it has been to have these meals. It's been wonderful to not cook dinner and it's always special to be able to eat a meal made by a friend, but under these circumstances it feels extra special.
Food really does wonders to comfort the soul and make you feel loved and cared for.
But I've still been spending a little time in the kitchen each day to take my mind off things and de-stress some. I've made so many yummy sweets, I'm hardly tempted to eat them anymore! You know you've done a lot of baking when you can just take a little taste of something and be satisfied.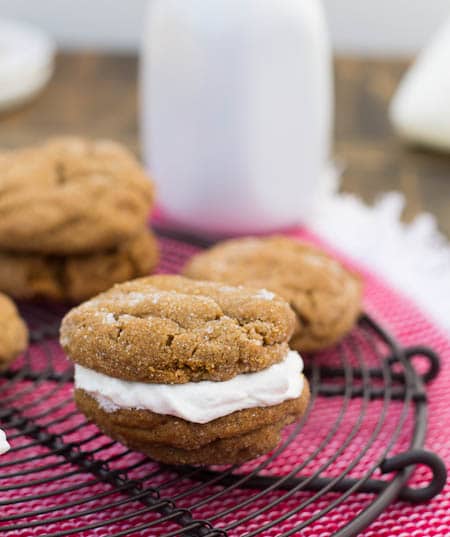 These cookies turned out exceptionally well. My daughter yummed these cookies up and she typically doesn't like spice cookies.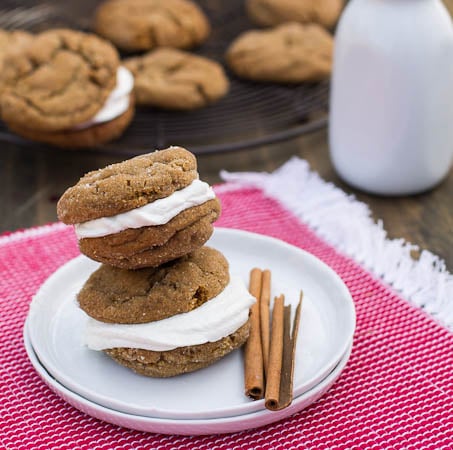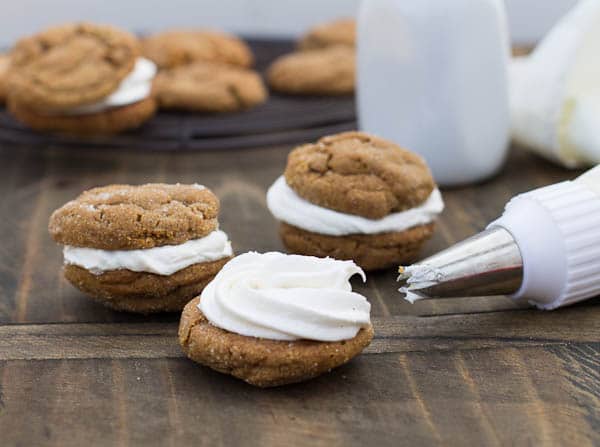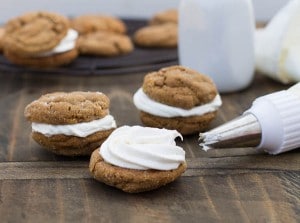 Chewy Gingerbread Sandwich Cookies
Soft and Chewy gingerbread sandwich cookies with a maple flavored marshmallow filling.
Print Recipe
Ingredients
3

cups

all-purpose flour

2

teaspoons

ground ginger

1 1/2

teaspoons

baking soda

1

teaspoon

baking powder

1/2

teaspoon

salt

1/2

teaspoon

ground cinnamon

1/2

teaspoon

ground cloves

1/4

teaspoon

ground nutmeg

1/4

teaspoon

ground white pepper

1/2

cup

unsalted butter,

softened

1/2

cup

butter-flavored shortening

3/4

cup

firmly packed brown sugar

1

large egg

1/2

cup

molasses

2

teaspoons

vanilla extract

1/2

cup

granulated sugar
Marshmallow Filling
2

(7-ounce)

jars marshmallow crème

3/4

cup

all-vegetable shortening

2

tablespoons

pure maple syrup

1

cup

confectioners' sugar
Instructions
In a medium bowl, whisk together flour and next 8 ingredients. Set aside.

Using an electric mixer, beat butter, shortening, and brown sugar at medium-high speed until creamy, about 3 minutes.

Add egg, molasses, and vanilla. Scrape down sides of bowl and beat until evenly combined.

Turn mixer to low speed and gradually add flour. Once combined, turn mixer off, cover dough with plastic wrap and refrigerate for at least 2 hours.

Preheat oven to 350 degrees and line 2 baking sheets with parchment paper.

Use a 1-inch spring-loaded ice cream scoop to scoop dough into mounds and place 3 inches apart on baking sheets.

Use your hands to roll each mound of dough into a ball. Roll balls in sugar and place back on baking sheet.

Bake 10 to 12 minutes. Edges should be firm and centers cracked. Let cool on pans several minutes before removing to wire racks to cool completely.

For Marshmallow Filling, beat marshmallow crème and shortening at medium-high speed with a mixer until smooth. Mix in maple syrup. With mixer turned to low speed, gradually add confectioners' sugar.

Place filling in a pastry bag fitted with a large star tip and pipe filling onto flat side of half the cookies. Pair together with remaining cookies to make sandwiches.

Alternately, you can spread the filling using an off-set spatula.
Yield: about 24 sandwich cookies
Recipe Source: slightly adapted from  Hoilday Baking 2013 magazine published by Hoffman Media