This post brought to you by Butterball Every Day. All opinions are 100% mine.
Cheesy Grits Casserole with Smoked Sausage can be eaten for breakfast, lunch, or dinner. You won't be able to get enough of this wholesome southern casserole.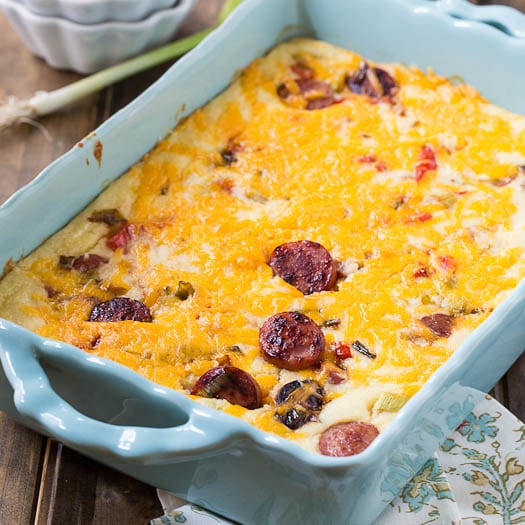 As much as I love to cook, dinner time during the back to school months can be stressful. Not to mention getting the kids fed and off to school quickly in the morning. Lately I've been turning to Butterball to help make quick and easy, plus lean and flavorful meals the whole family enjoys. No need to wait for the Thanksgiving turkey. Thanks to Butterball, turkey can be enjoyed at every meal. Guilt free.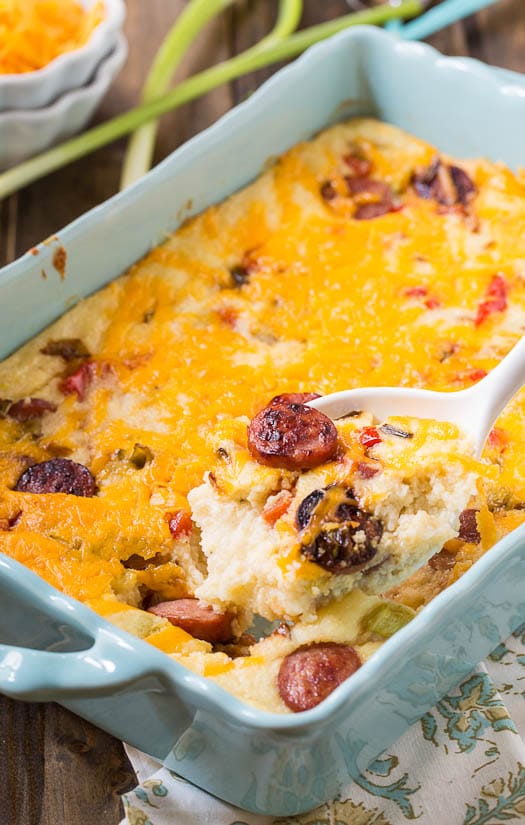 One of my favorites is Butterball Turkey Dinner Sausage which I used in this Cheesy Grits  Casserole with Smoked Sausage. It comes in different flavors including a spicy one and a kielbasa. And there are probably a million quick and easy meals you can cook with this flavorful, but lean sausage. Try it in jambalaya or gumbo. It's also great with pasta or in macaroni and cheese.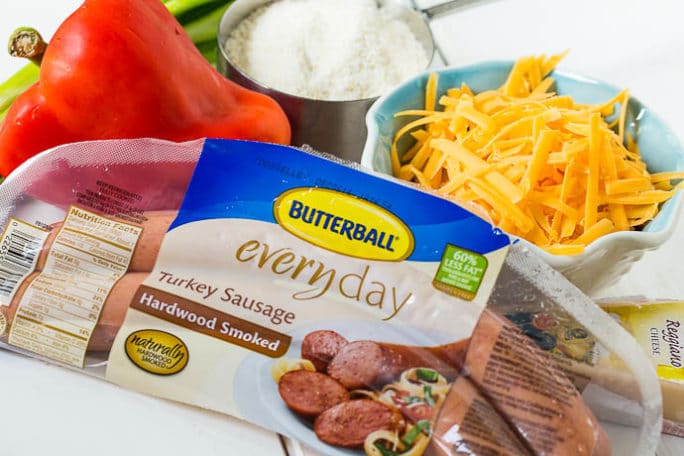 I've even been wanting to try  it sliced with some cheese in an omelet. Since fall is just about to begin, I can't wait to try the kielbasa with some sautéed cabbage and apples for a meal with a little German flair. For even more dinner inspiration check out these Butterball recipes. If anyone tries the Smoked Sausage Alfredo, let me know. I can't wait to try it. Butterball Turkey Dinner Sausage is 100% turkey and has 60% less fat than pork or beef sausage.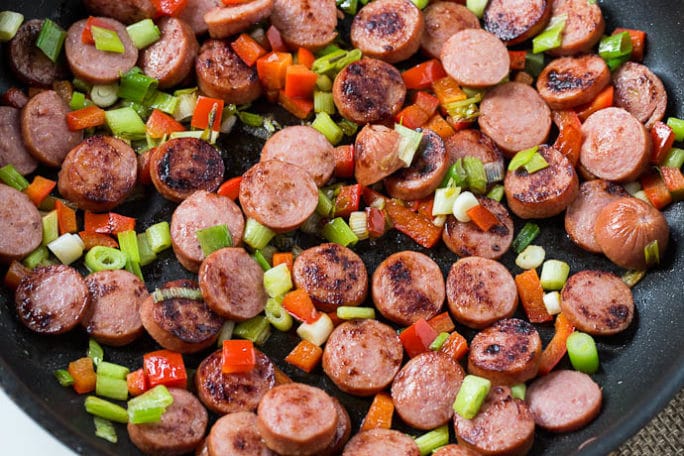 I also love the Butterball Frozen Turkey Burgers which come in original, sweet onion, cheddar, or All Natural. They have all of the flavor of a juicy burger, but much less fat. Flavor them up even more with a few slices of Butterball Turkey Bacon.  It has 65% less fat than pork bacon and only 25 calories per slice. Enjoy it with eggs for a protein packed breakfast. Cheesy Grits Casserole is a favorite of mine and it makes a great weeknight meal or brunch casserole for the upcoming holidays. Typically grits casserole is a little on the heavy side, but I've lightened it up by using Butterball Turkey Dinner Sausage, just a touch of butter, and less cheese than usual (use low fat cheese if you wish). The casserole can be assembled a day ahead of time to make for an easy dinner or brunch the next day. Just let it sit out at room temperature while the oven heats and add a few minutes to the cooking time. In no time at all, you'll have a wholesome, rich, and creamy meal on the table. If serving for dinner, I like to add a small side salad. Next time you're in a dinner rut, let Butterball help you put a lean, flavorful meal on the table that the whole family is sure to enjoy. And to make dinner more economical, print these Butterball coupons for the products mentioned in this post, plus Butterball deli meat.
Try These Other Grits Recipes: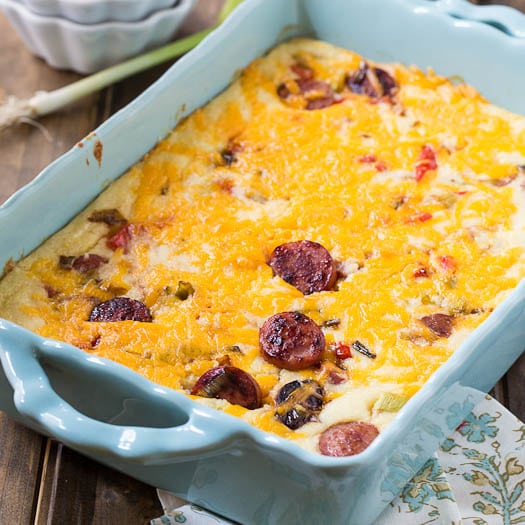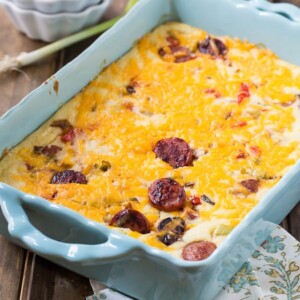 Cheesy Grits Casserole With Smoked Sausage
Cheesy Grits Casserole with Smoked Sausage can be eaten for breakfast, lunch, or dinner. You won't be able to get enough of this wholesome southern casserole.
Print Recipe
Ingredients
½

tablespoon

olive oil

1

package Butterball smoked sausage,

sliced

½

red bell pepper,

diced

4

green onions,

sliced

2

cups

water

2

cups

chicken broth

1

teaspoon

salt

1 ¼

cups

quick-cooking grits

½

cup

milk

2

eggs,

lightly beaten

½

teaspoon

garlic powder

1/3

cup

grated Parmesan cheese

½

cup

shredded Cheddar cheese
Instructions
Preheat oven to 350 degrees and spray an 11x7-inch baking dish with cooking spray.

Heat oil over medium heat in a nonstick skillet. Add sliced sausage and sauté for 2 minutes.

Add red bell pepper and onion and sauté 3 more minutes. Remove from heat and set aside.

In a medium saucepan, bring water and chicken broth to a boil. Add salt and then slowly stir grits in. Simmer grits for 5 minutes, stirring frequently.

In a medium bowl whisk together milk, eggs, and garlic powder. Slowly stir in about 1 cup of the hot grits to temper the eggs. Then pour milk/grits mixture into saucepan with the rest of the grits. Stir well to combine.

Stir in Parmesan cheese and ½ of the Cheddar cheese. Mix in the sausage mixture. Sprinkle remaining Cheddar cheese on top.

Pour into prepared pan and bake 45 minutes.
Nutrition