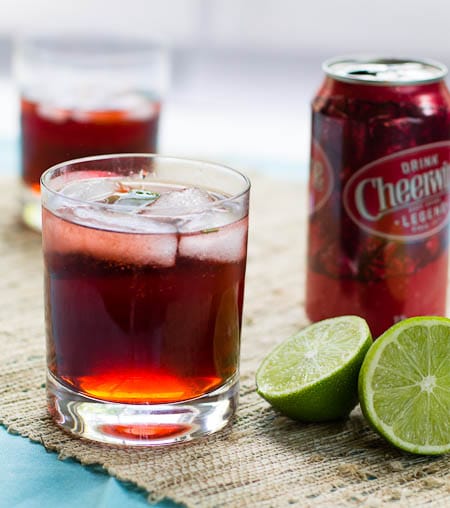 Cheerwine is a burgundy-red, cherry-flavored soft drink and for many southerners, drinking an ice-cold Cheerwine is an annual rite of summer. It's extra sweet, smooth, and bubbly, like liquid candy on a hot summer day and is sometimes referred to as "The Nectar of North Carolina". Cheerwine is best served really, really cold.
Cheerwine was created not far from where I live, in Salisbury, NC in 1917. It is still a family owned and run company, the longest-running soft drink company to stay in family hands. Although Cheerwine is available in many more states than it was 15 years ago, it is still not widely available. Check cheerwinefinder.com to see if Cheerwine is distributed near you. You can also order Cheerwine through the company website.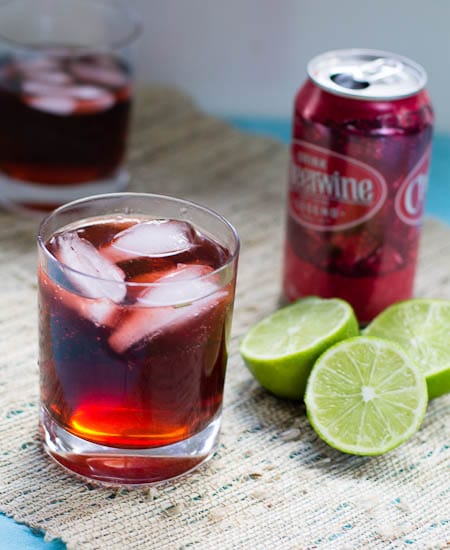 Cheerwine is delicious on its own in a glass full of ice, but it also makes a wonderful cocktail. This recipe from The Lee Bros. Southern Cookbook: Stories and Recipes for Southerners and Would-be Southerners
is a simple blend of Cheerwine, gin, lime juice, and seltzer water. The lime gives the drink a little zing, but it is still  extremely palatable to those who favor a sweet cocktail. I used Cardinal Gin, one of my favorite gins, which is distilled in nearby Kings Mountain, NC- making this a totally Carolina drink!
Instead of using Cheerwine, you could use any Black Cherry Soda. But I really recommend giving Cheerwine a try. There's no other soda with quite the same taste, plus it's just so much fun to try regional soft drinks. Cheerwine is also a lot of fun to cook with. You could serve some Cheerwine Pound Cake with your Cheerwine Cocktail 🙂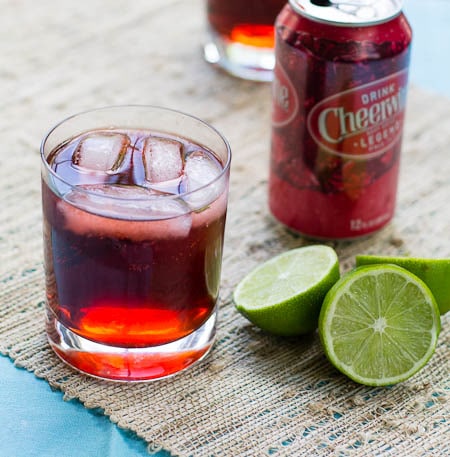 Cheerwine Cocktail
2 tablespoons (1 ounce) gin
juice from ½ a small lime
¾ cup Cheerwine or other black cherry soda
3 tablespoons seltzer water or club coda
Fill a tall (14-ounce) cocktail glass two-thirds full with ice. Add gin and lime juice. Pour Cheerwine into the glass, top with seltzer water, and stir.
Yield: 1 8-ounce cocktail
Recipe Source: The Lee Bros. Southern Cookbook: Stories and Recipes for Southerners and Would-be Southerners