This Bourbon Vinaigrette is a salad dressing with a little kick.  The complex flavor of bourbon really shines through in this vinaigrette and it is sure to appeal to any bourbon lover. I mean, what bourbon lover doesn't want their salad greens swimming in bourbon?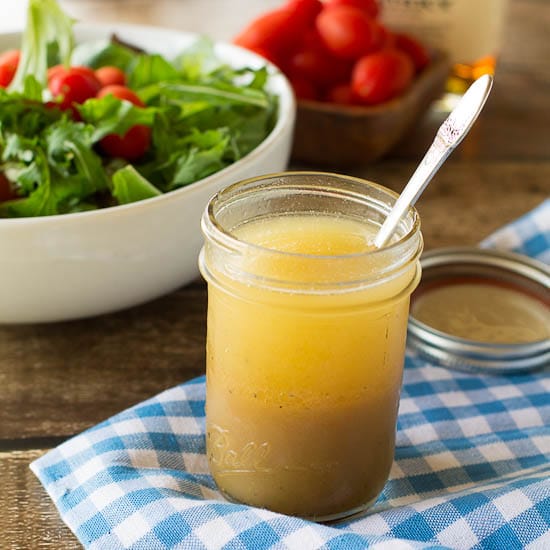 To me bourbon tastes like sweet liquid gold. I love to drink it and cook with it. It's a very versatile spirit to cook with and enhances the flavor of a great number of foods. A good bourbon has hints of oak, vanilla, and caramel.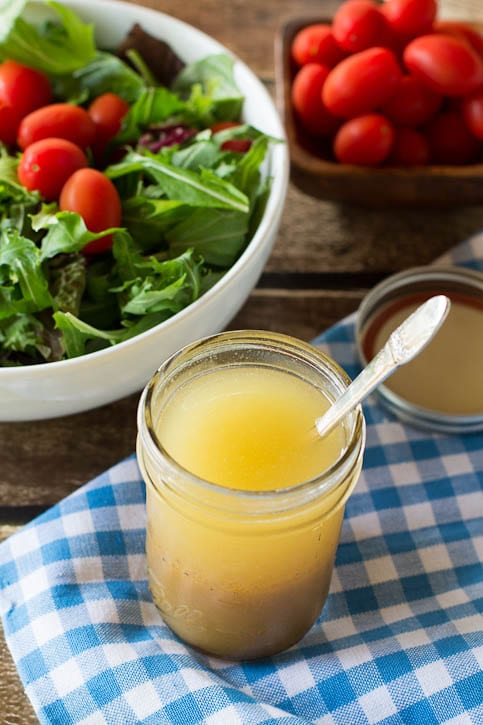 Traditionally Maker's Mark has been my go to bourbon. Being made from corn, wheat, and barley, instead of the more typical corn, rye, and barley, it is heavy on the vanilla and caramel flavors.
Woodford Reserve is another bourbon that's quite good, but it is a little more expensive. Years ago, we stopped by the Woodford Reserve Distillery on the way to Louisville. It's on a beautiful piece of property in the Kentucky country side and is a wonderful way to spend an afternoon. Some day I want to take a road trip across Kentucky and visit all of the distilleries.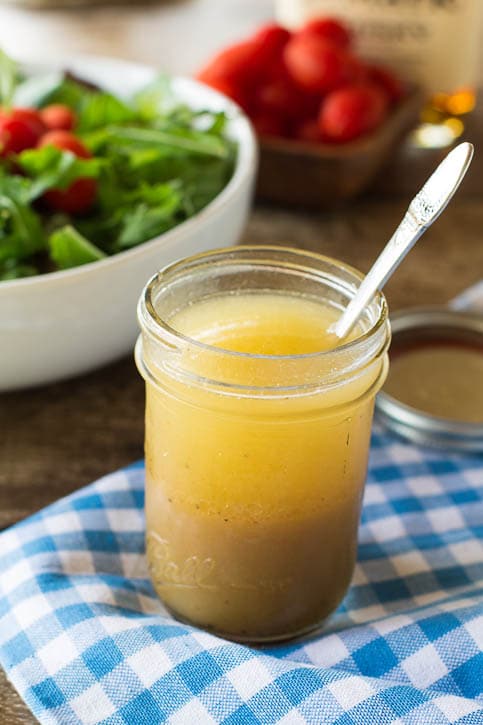 Recently I had the opportunity to sample Four Roses Single Barrel Bourbon and it's sure to become a favorite of mine. It has a very high rye content (35%) giving it a bold, spicy flavor. It will make a delicious BBQ Sauce- stay tuned for the recipe!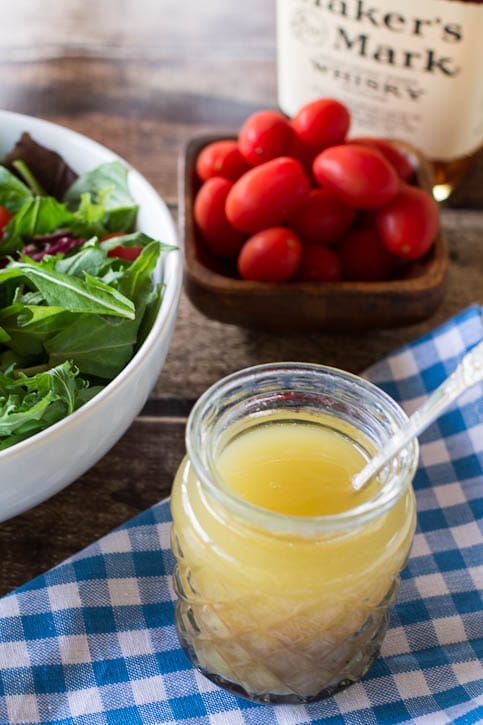 When I first tried making this vinaigrette, I tried boiling down the bourbon to get rid of the alcohol and intensify the flavor. But you know what? Bourbon already has an intense flavor and who cares if your salad makes you a little tipsy. Just make sure your kids get the Balsamic Vinaigrette! I don't know if maybe I reduced the bourbon too much. I'll admit I did get a little distracted. Hey, it happens from time to time. But I did not like the way it tasted at all. So I scrapped that idea. Which incidentally also saved time and produced one less thing to clean.
Bonus points.
This Bourbon Vinaigrette would be oh so southern served over some Kentucky Bib lettuce, but it really tastes great over any kind of greens. Throw in some peaches, toasted pecans, and maybe a little goat cheese for an absolutely fabulous summer salad. And hey, with this Bourbon Vinaigrette on it, you may even call for a second round. Of salads. 🙂
I do a LOT of cooking with bourbon. You can find all my bourbon recipes by using a new feature on Spicy Southern Kitchen. Just click "Recipes by Ingredient" in the header menu. It's going to be a work in progress for a while as I make sure all my recipes are tagged so that they show up in the categories I want them too, but ultimately it should be an easy way to search for recipes.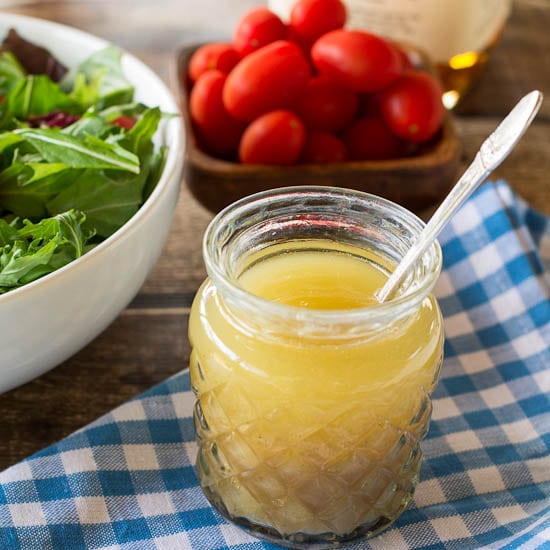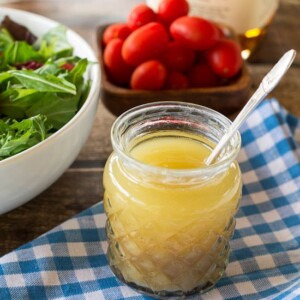 Bourbon Vinaigrette
A bourbon-flavored vinaigrette that's slightly sweet and has a little kick. Bourbon lovers will enjoy this vinaigrette on any green salad.
Ingredients
1

tablespoon

minced shallot

2

tablespoons

bourbon

1

tablespoon

apple cider vinegar

1

teaspoon

Dijon

1 1/2

tablespoons

Maple Syrup

1/2

teaspoon

sugar

1/4

teaspoon

salt

1/2

teaspoon

freshly ground black pepper

2/3

cup

canola oil
Instructions
Whisk together all ingredients except oil in a medium bowl.

Slowly add canola oil while whisking vigorously.
Want to Save This Recipe?