Blueberry Almond Protein Pancakes are low carb and gluten free, yet will satisfy your cravings for pancakes in a healthy way. They are absolutely bursting with blueberries. So much so, you really don't need to add much syrup  to these pancakes.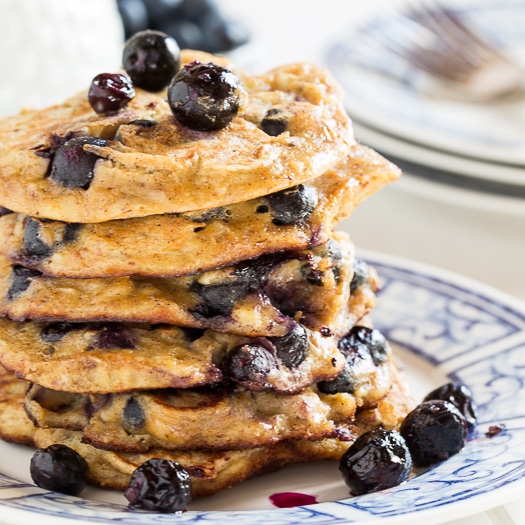 Plus, these pancakes have protein powder added in. If you're like me and you struggle to get enough protein, this is a huge bonus.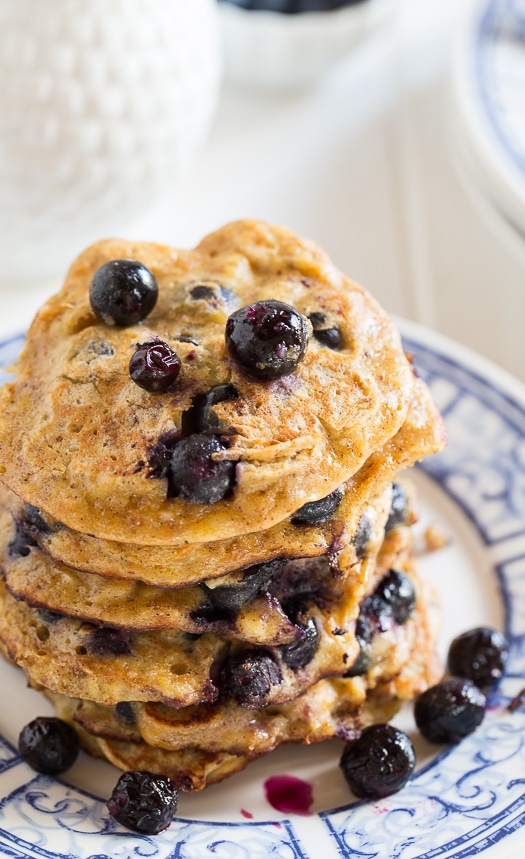 Blueberry Almond Protein Pancakes are so scrumptious, it's hard to believe there's no flour in them. Instead almond meal is used along with a banana (very ripe), an egg, some almond butter, vanilla protein powder, and cinnamon and almond extract for flavoring.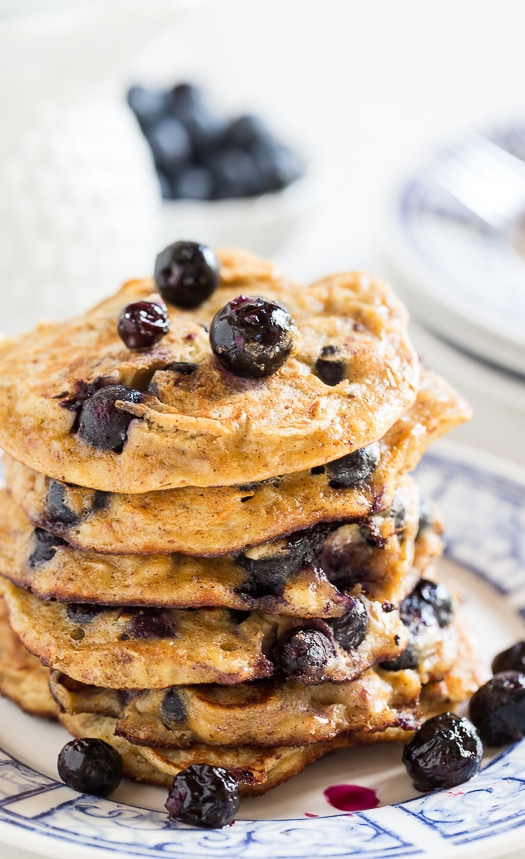 This recipe is definitely not the type of recipe I usually post. That is- it's healthy.  Now I love a good old southern casserole, a biscuit slathered with butter, and a slab of pie. But I can't eat that way all the time. So I've decided to share some of the healthy things I eat too.
Ordinarily if I want pancakes for breakfast, I want Buttermilk Pancakes. But if the pants are fitting a little snug as they usually do after the holidays, these Blueberry Almond Protein Pancakes are a good alternative.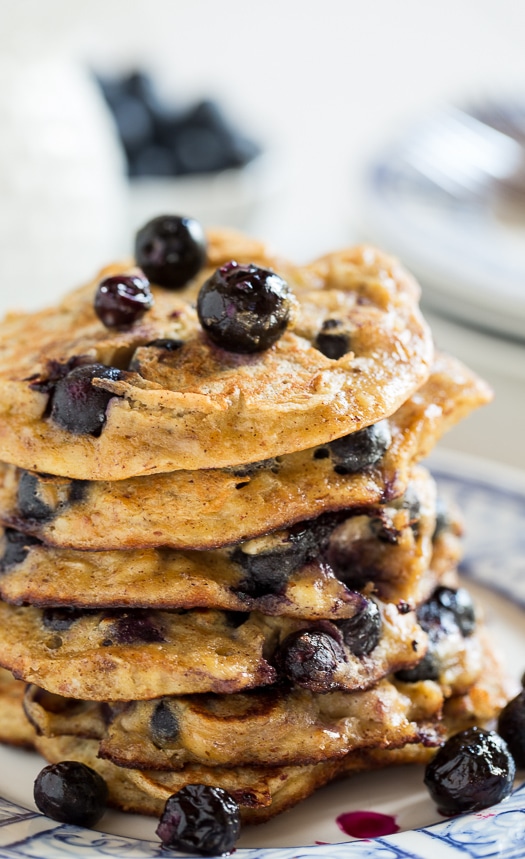 I love how full of blueberries they are and the almond butter and banana give then just enough sweetness that you only need a touch of maple syrup.
Note: You can buy almond meal at some grocery stores or you can buy Almond Meal
online. You can also make your own by grinding whole almonds until finely ground.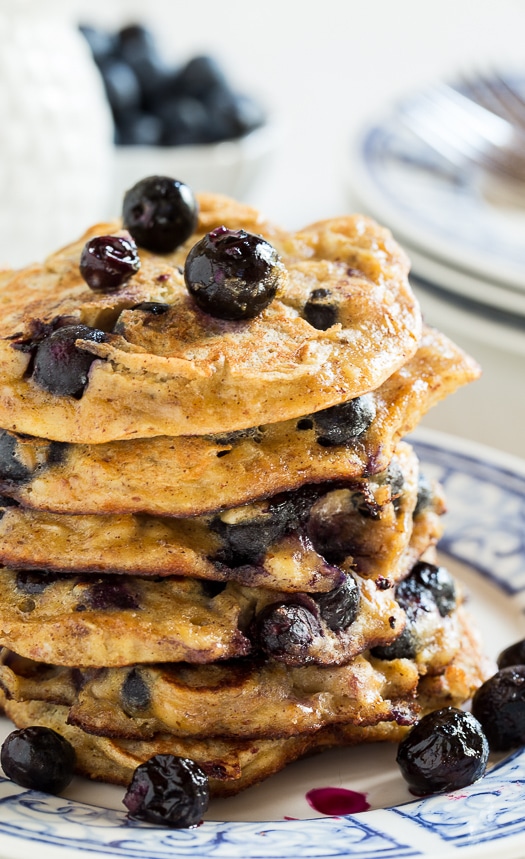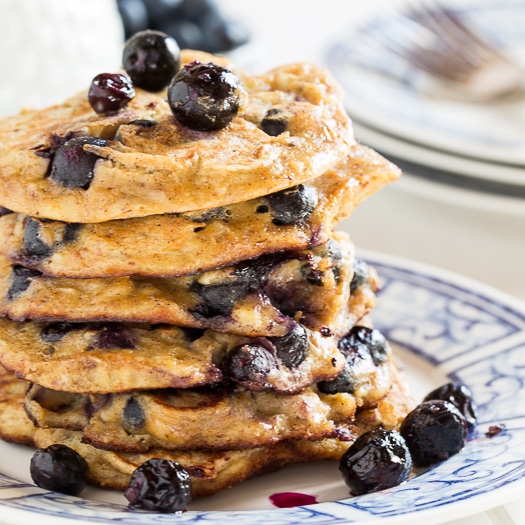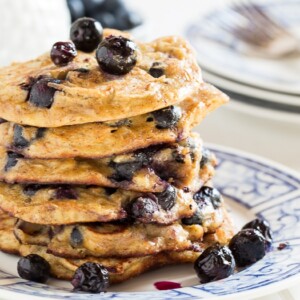 Blueberry Almond Protein Pancakes
Blueberry Almond Protein Pancakes are bursting with blueberries and are a healthy way to start your day. Gluten-free and Paleo-friendly.
Ingredients
1

banana mashed

1

egg

1 1/2

tablespoons

almond meal

1

tablespoon

almond butter

1

tablespoon

vanilla protein powder

1/4

teaspoon

cinnamon

1/4

teaspoon

almond extract

1/2

cup

blueberries

coconut oil or vegetable oil

maple syrup
Instructions
Mix all ingredients in a bowl, adding blueberries last so they don't get smashed.

Grease a griddle or large nonstick pan with coconut oil.

Using 1/4 cup measuring cup, pour batter onto griddle. Cook until undersides are browned, flip and cook until pancakes are set all the way through.

Serve with maple syrup.
Notes
Yield: 2 servings (2 pancakes per serving)
Want to Save This Recipe?
Recipe Source: slightly adapted from Livin Paleo Cuisine
Disclosure: There are amazon.com affiliate links in this post.
For More Healthy Recipes Follow My Healthy Recipes Board on Pinterest
Follow Spicy Southern Kitchen| Christin Mahrlig's board Healthy Recipes on Pinterest.