Beer Battered Onion Rings have a super crispy and flavorful exterior. The onions are presoaked to tenderize them and give them extra flavor. Dip them in a curry-flavored dipping sauce for an amazing appetizer or game day food.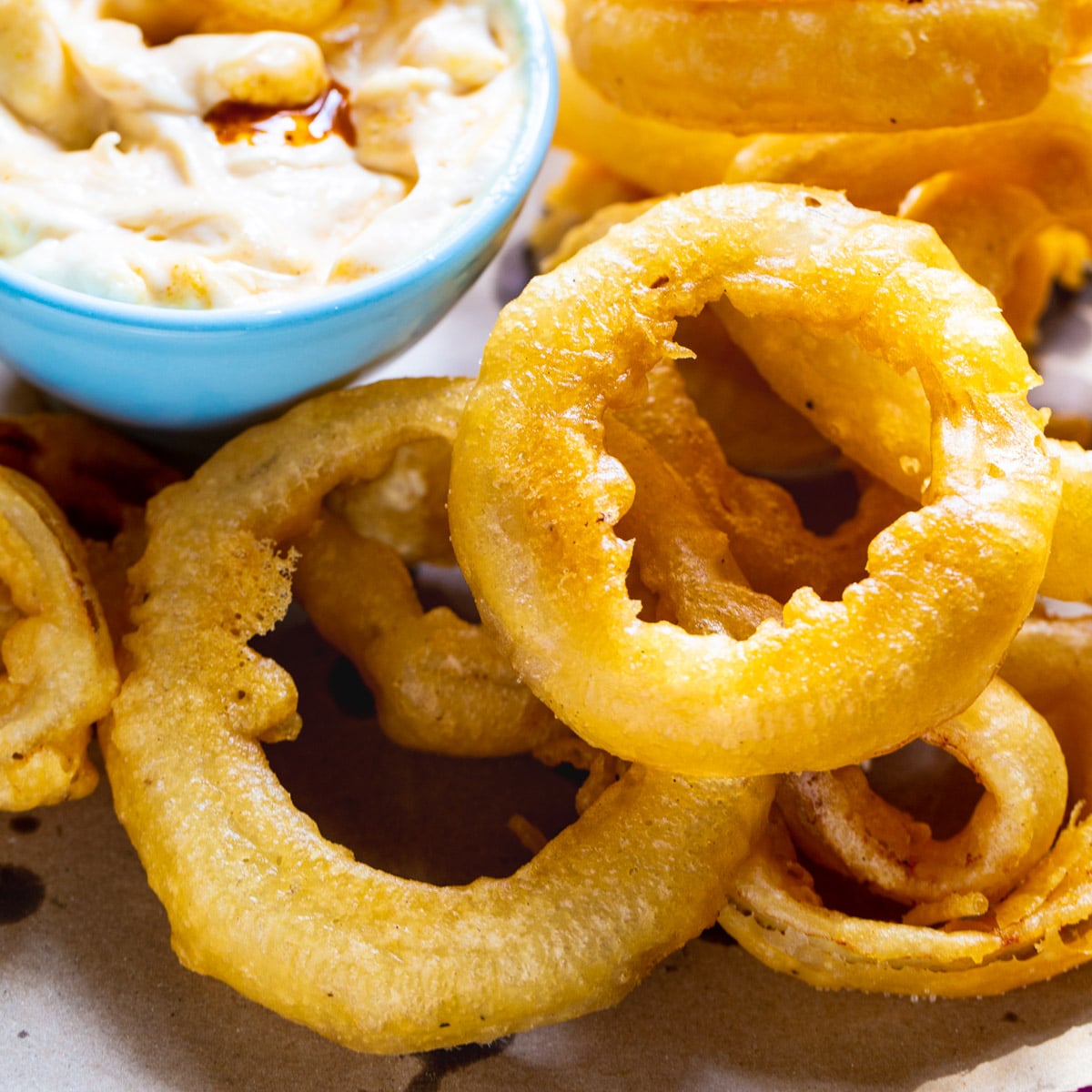 Besides asparagus and strawberries, I think the food I associate most with Spring is the Vidalia onion and there's maybe no better way to eat a Vidalia onion than coated in a crisp and flavorful batter.
A batter with beer? Even better.
These Beer-Battered Onion Rings have a super crunchy exterior thanks to the addition of cornstarch and baking powder in the batter.
The onions are soaked in beer and a touch of vinegar  which both flavors them and tenderizes them so that they are easy to bite through. Don't you hate when you bite into an onion ring and the whole onion slides out leaving you with onion dangling form your mouth and an empty shell of batter?  That won't happen with these onions. They are super tender.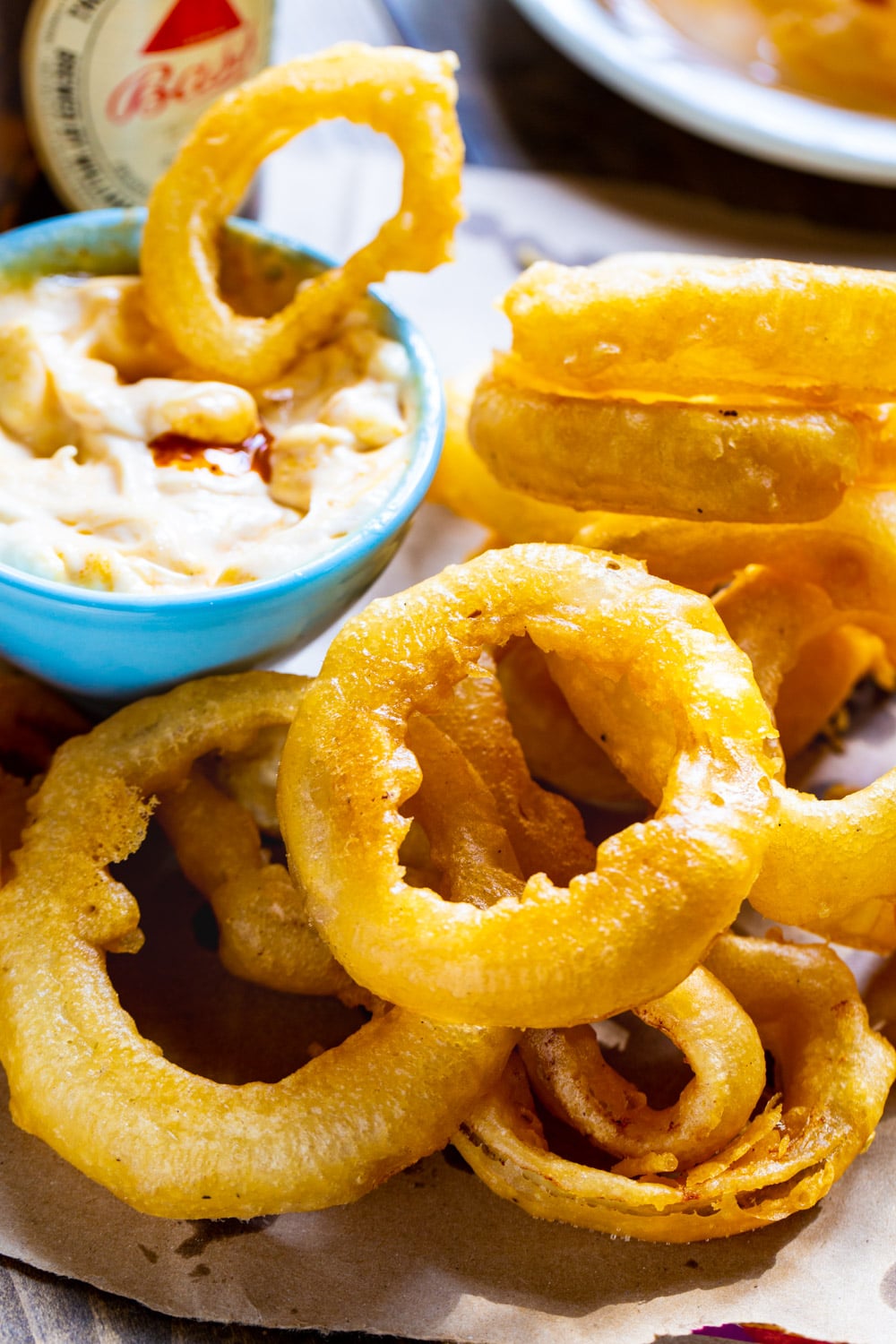 I tend not to be a big fan of the typical onion ring sauce so when I received a bottle of Start! Hot Curry Sauce in the mail, I got to thinking. What would onion rings taste like dipped in curry sauce? Turns out they taste really, really good.
Start Curry Sauce is unlike any hot sauce I've tried before. I'm a huge fan of the flavor of curry and I love hot sauce so I double loved this curry hot sauce. There's a good amount of heat to this sauce, but what you really taste is a fabulous curry flavor. Start Curry Sauce is gluten-free, vegan, Non-GMO and has no sugar, no oil, and no preservatives. It would taste great on falafel, burgers, kebabs, even mixed into hummus.
If you love the flavor of Indian foods and you like some spice, you will totally dig this hot sauce. You can purchase Start Hot Curry Sauce on Amazon
.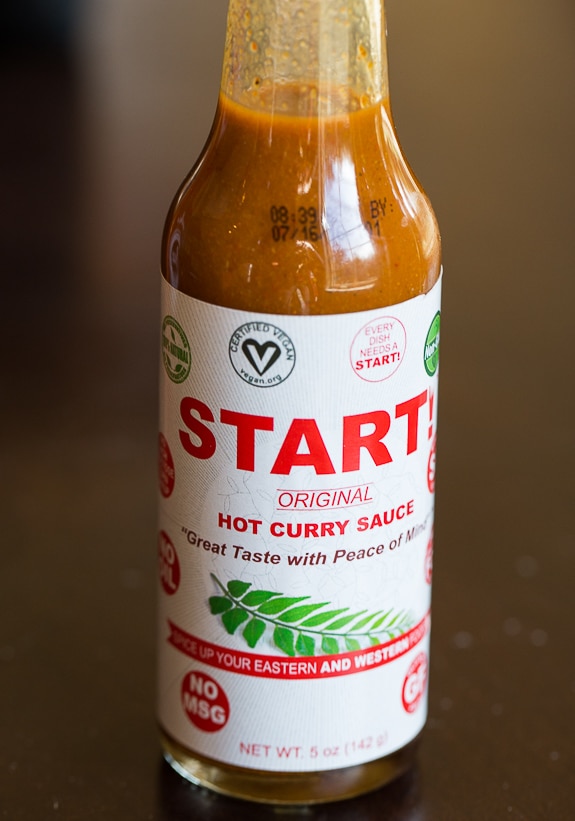 I totally loved it as a dip for onion rings. I just mixed a little sauce into some mayonnaise. It's best to do this a few hours ahead of time for the best flavor. The Start! Hot Sauce is so packed with curry flavor you really don't need to use much to give a fabulous curry flavor to a whole bowl of mayonnaise.
Next I think I'm going to use this curry-flavored mayonnaise to make a chicken salad. I think it will be wonderful!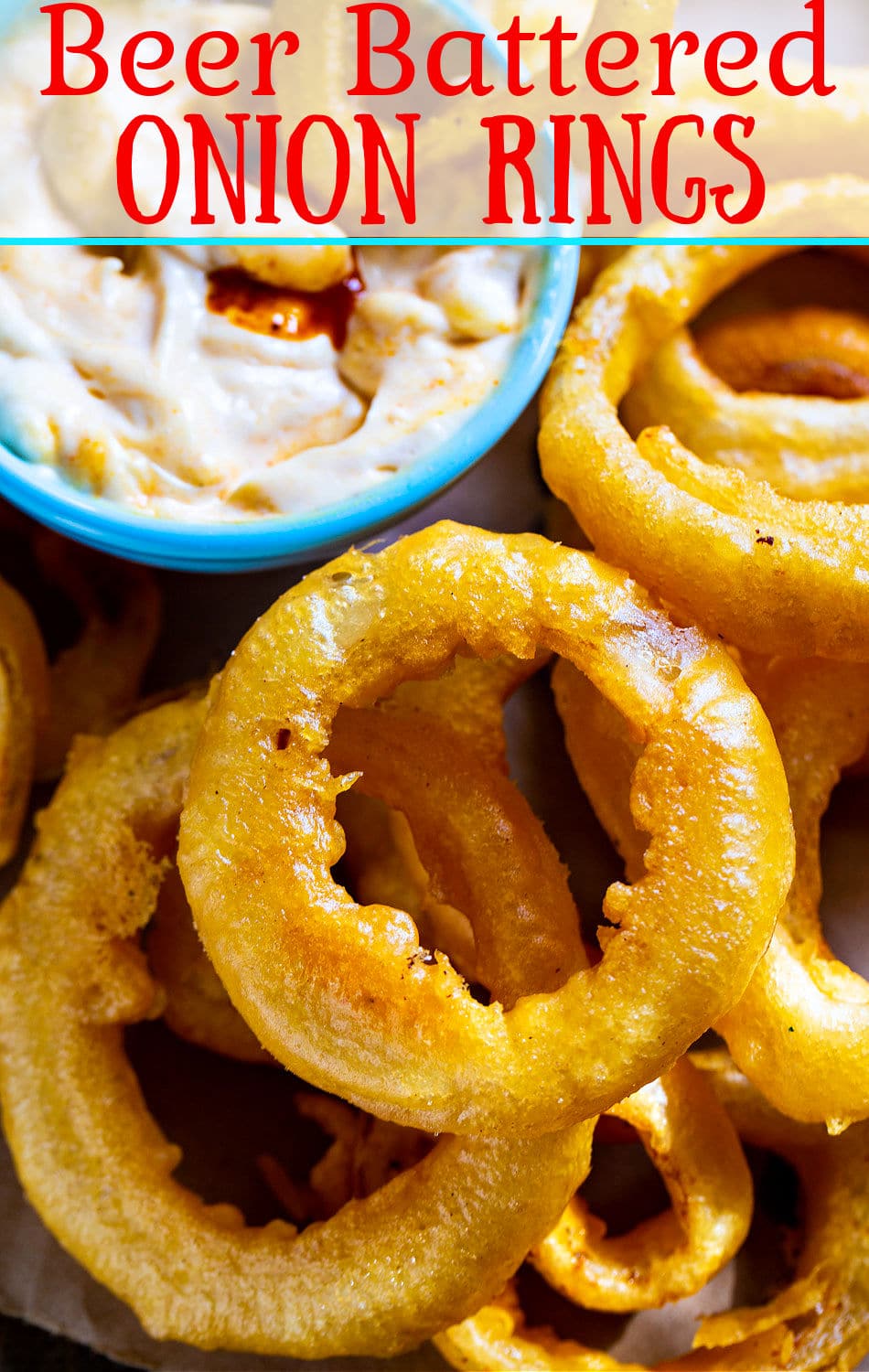 Never miss a recipe. Follow Spicy Southern Kitchen on Pinterest and Instagram.
Try These Other Awesome Fried Foods: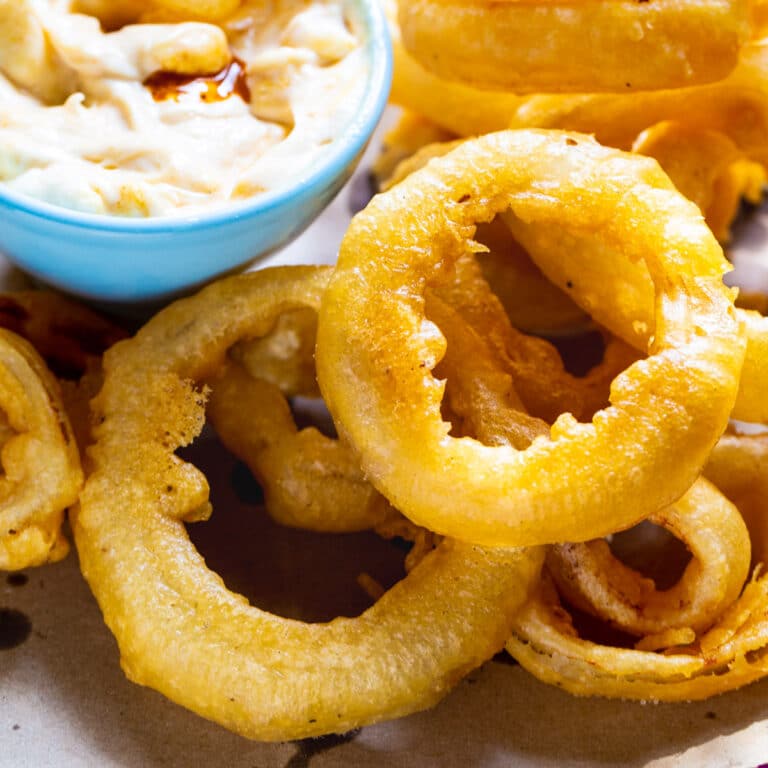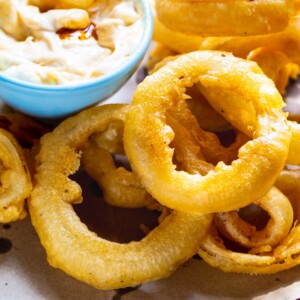 Beer Battered Onion Rings with Curry Dipping Sauce
These Beer-Battered Onion Rings have a super crunchy exterior thanks to the addition of cornstarch and baking powder in the batter.

Ingredients
2

sweet onions,

sliced into 1/2-inch thick circles

3

cups

full-bodied ale or lager,

I used Samuel Adams

2

teaspoons

cider vinegar

salt and pepper

8

cups

Vegetable oil

3/4

cup

all-purpose flour

3/4

cup

cornstarch

1

teaspoon

baking powder

1/2

cup

mayonnaise

1/2 to 2

teaspoons

Start! Curry Hot Sauce
Instructions
Place onion slices, 2 cups of beer, vinegar, 1/2 teaspoon salt, and 1/2 teaspoon pepper in a large zip-top bag. Refrigerate for at least 30 minutes, but no longer than 2 hours.

In a large bowl, combine flour, cornstarch, baking powder, 1/2 teaspoon salt, and 1/4 teaspoon black pepper. Gradually whisk in 3/4 cup of beer just until combined. There will be some lumps. Continue to whisk in beer 1 tablespoon at a time until batter falls from whisk in a steady stream and leaves a faint trail on the surface.

Remove onions from liquid and pat dry with paper towels.

Place one-third of the onion rings in the batter, completely coating them.

Transfer onion rings to oil and fry until golden brown, flipping to brown both sides. Place on paper towel-lined baking sheet and season with salt.

Repeat with remaining onions.

Mix mayonnaise and Hot Curry Sauce.
Want to Save This Recipe?
Originally published March 9, 2015
Recipe Source: slightly adapted from Cook's Country
Disclosure: I was provided with a free bottle of hot sauce but this is NOT a sponsored post. All opinions are mine. This post contains affiliate links.