Cream Cheese Stuffed Peanut Butter Chocolate Chip Bars are so easy to make using packages of peanut butter cookie mix. They have lots of chocolate chips and a creamy layer of cream cheese in the middle. Cut into bars and eaten plain, they make a delicious snack. Add a scoop of vanilla or peanut butter cup ice cream and a yummy peanut butter cup sauce to them and they turn into a show stopper dessert worthy of a special occasion.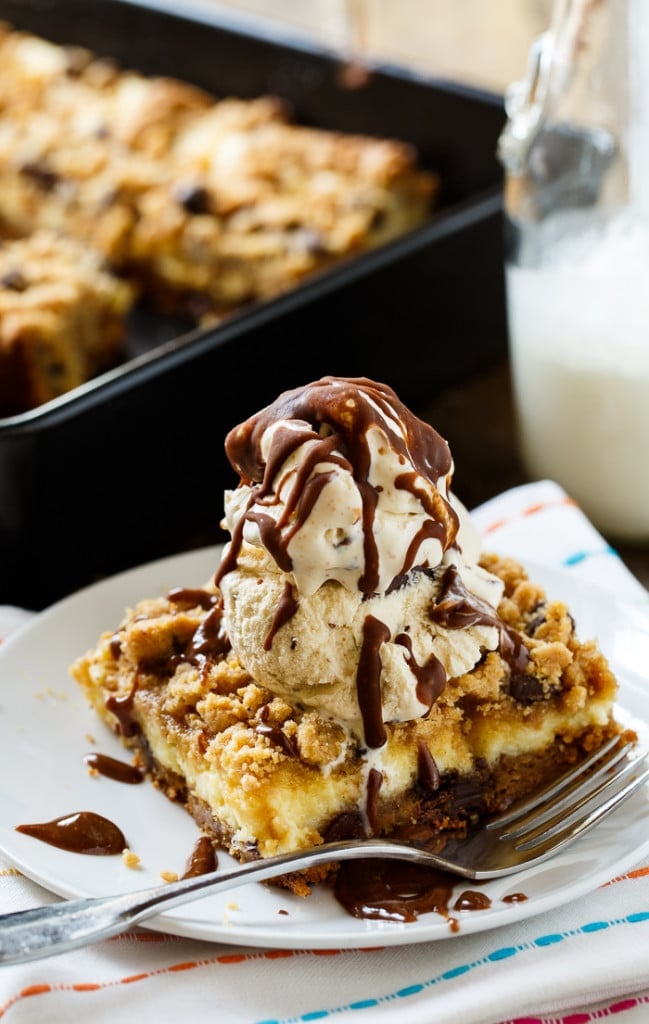 What makes Cream Cheese Stuffed Peanut Butter Chocolate Chip Bars really special is Challenge Cream Cheese.
Just like Challenge Butter, Challenge Cream Cheese is made the old-fashioned way from the freshest milk and cream. Based in California, Challenge gets their milk and cream from local (California) dairies from cows that have not been treated with growth hormones. In fact Challenge was the first brand to make dairy products without growth hormone. Their cream cheese contains no artificial ingredients or preservatives.
Challenge Dairy is the only dairy product company that controls the entire process involved in making butter and cream cheese which ensures the highest quality product. From milking the cows, to transportation, production, and packaging.
Challenge Cream Cheese only recently became available in my market and it immediately became my preferred cream cheese. The taste is so fresh and far superior to other brands. It has such a silky smooth texture and will make your cheesecakes, frostings, and bars taste richer and more decadent.
Find out more about Challenge Cream Cheese and where it is available and follow Challenge on Facebook for frequent coupon and sale notifications.
Recipe courtesy of Challenge.
Disclosure: This is a sponsored post. All opinions are my own and I appreciate the opportunity to share products I love and use in my own kitchen.