p>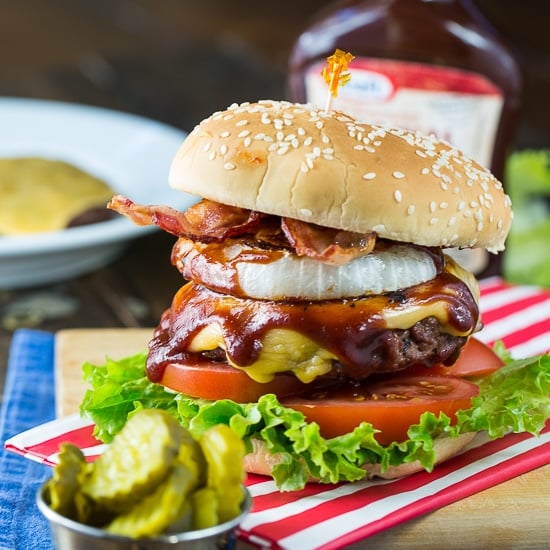 Western Barbecue Burges are basted with Kraft Barbecue Sauce while they grill for a delicious, smokey flavor. They are topped with American cheese, barbecue grilled onions, and crispy bacon for an out of this world burger experience that will make you brave even the coldest winter weather to use your grill. These Western Barbecue Burgers would be perfect to serve for the big game. For a limited time, from Jan 19 to Jan 30, you can enter to win an Evergriller Grill 'N' Flip Mitt and a year's supply of Kraft Barbecue Sauce. The winner will be selected randomly at the close of the giveaway. (See entry link below.)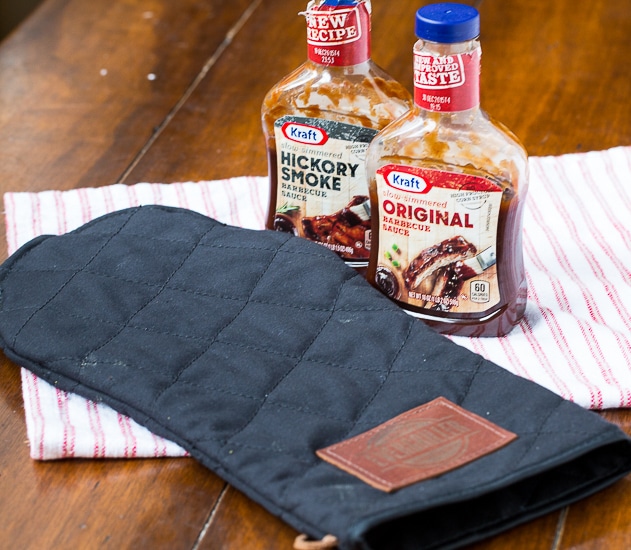 No matter what the weather conditions, you're ready to fire up the grill with your Evergriller Grill 'N' Flip Mitt in hand. It is a specially designed fire-resistant glove that does double duty, protecting you from the heat of the grill and the wintry weather. It has an opening at the top of the mitt that allows you to insert a variety of grilling tools and grip them firmly while you work towards the perfect char on your meat.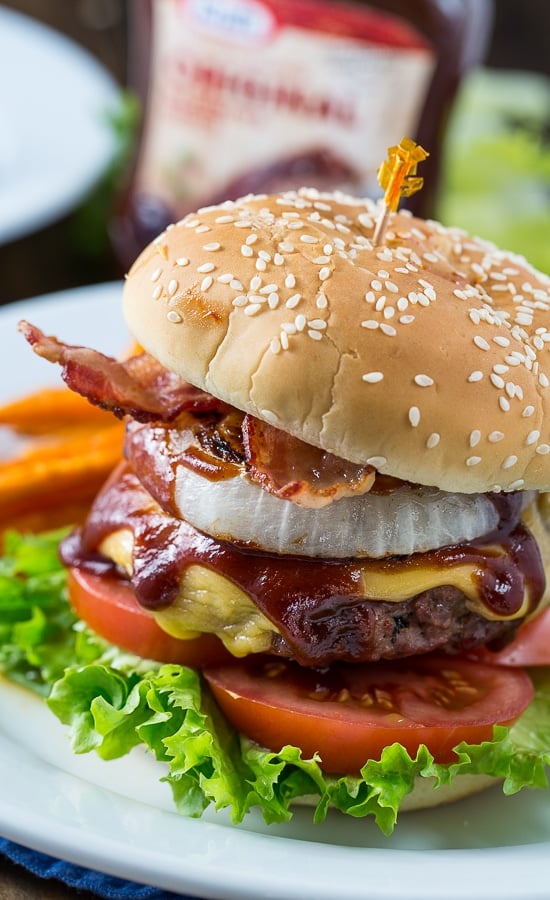 This month, Kraft Barbecue Sauce is celebrating the launch of a revamped line of sauces that includes 8 flavors: Original, Hickory Smoke, Sweet Honey, Mesquite Smoke, Sweet Brown Sugar, Sweet & Spicy, Spicy Honey, and Thick & Spicy. No one was more excited than my daughter that we received 3 flavors of the new sauces to try. In fact, by the time I went to make these burgers, she had emptied a whole bottle and we hadn't even had them a week. If there were an award for world's biggest barbecue sauce fan, she would be in the running.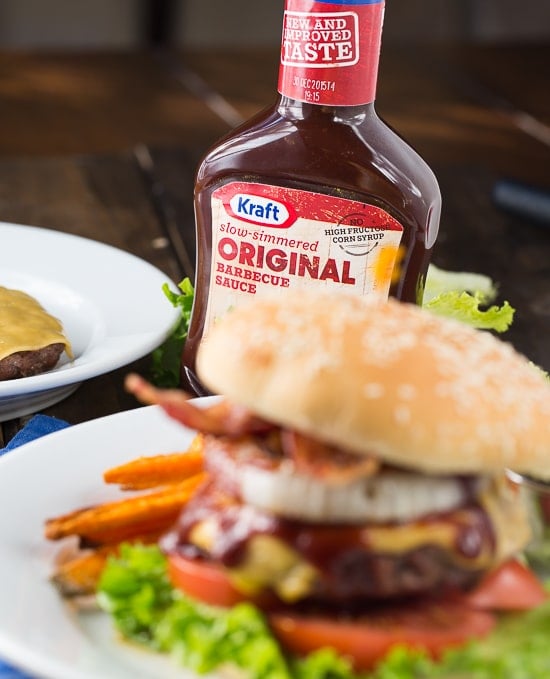 She puts it on everything: baked potatoes, sandwiches, veggie burgers, nachos, she won't eat pizza unless it has barbecue sauce on it instead of tomato sauce, and she has me hooked on dipping my french fries into barbecue sauce.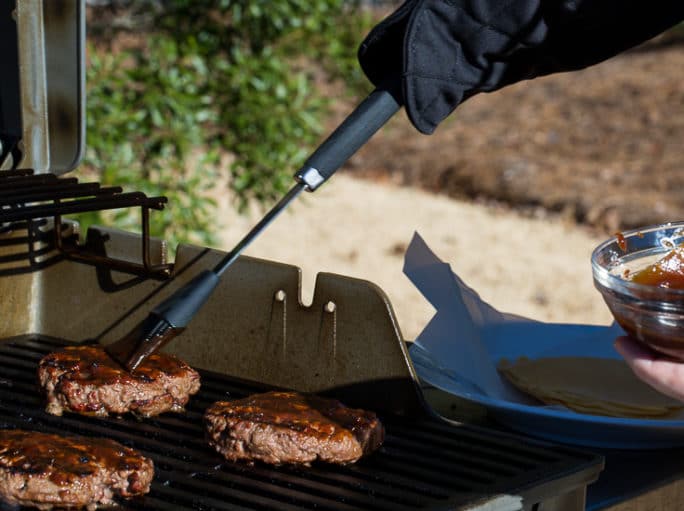 We love the bold flavors of Kraft Barbecue Sauce. The new sauces contain high quality ingredients like tomatoes, sweet molasses, cider vinegar, and cane sugar instead of high-fructose corn syrup. I was in the mood for some burgers so I mixed some Kraft Barbecue Sauce into 2 pounds of ground chuck along with garlic powder, salt and pepper. I formed it into 6 1/3 pound patties. My husband likes to man the grill so he had the task of trying out the Evergriller Grill 'N' Flip Mitt. It worked like a charm and he stayed toasty warm while grilling and basting the burgers and onions. The burgers were a big hit piled high with lettuce, tomato, grilled onions, and bacon. Plus a little extra barbecue sauce for good measure.
That's a whole year of delicious grilled foods your family could be eating. And as we've learned from my daughter, you can put barbecue sauce on just about anything. Be sure to take a peek at the Kraft Barbecue Sauce recipes for loads more grilling ideas.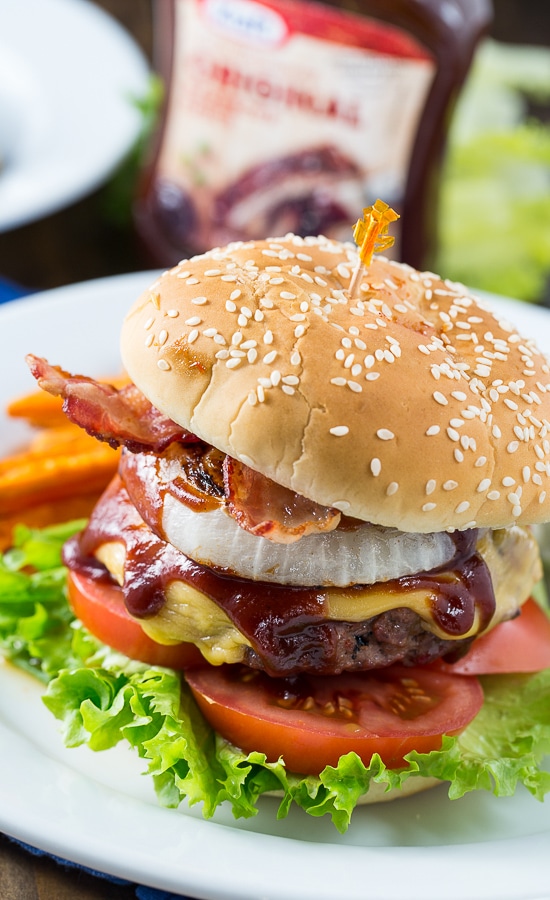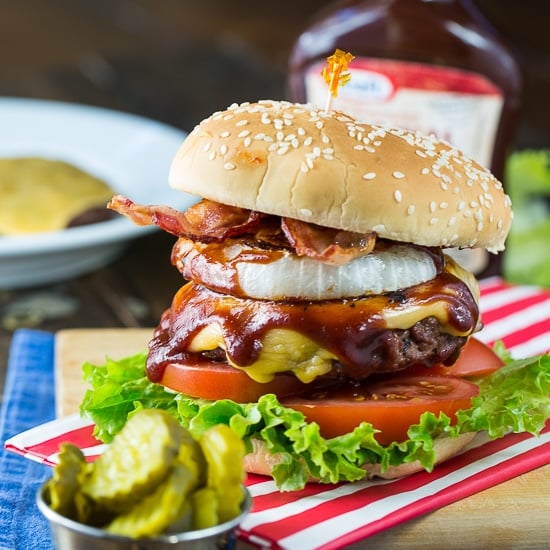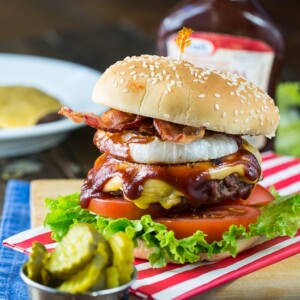 Western Barbecue Burgers
Western Barbecue Burgers are basted with barbecue sauce and topped with American cheese, grilled onions and bacon.
Ingredients
2

pounds

ground chuck

1/4

cup

Kraft Barbecue Sauce,

any flavor

1/4

teaspoon

salt

1/4

teaspoon

pepper

1/2

cup

Kraft Barbecue Sauce for basting

2

sweet or yellow onions,

cut into 1/2-inch slices

Olive Oil

6

slices

American cheese

12

slices

bacon,

cooked

6

buns

6

lettuce leaves

2

tomatoes,

sliced

pickle slices
Instructions
Combine ground beef, 1/4 cup barbecue sauce, garlic powder, salt and pepper in a large bowl. Mix well. Shape into 6 patties. Refrigerate until grill is ready.

Heat gas grill to medium-high. Lightly coat onion slices with oil and salt and pepper. (Note: You can stick a wooden skewer through each onion slice to hold it together. Wooden skewers should be soaked in water beforehand.)

Grill onion slices over direct heat for 3 minutes per side. Then move them to one side of grill and turn heat to low on that side. Baste them with barbecue sauce and remove them from grill when they are soft and charred.

Lightly sprinkle burger patties with salt and pepper and place on the grill for 3 to 5 minutes. Flip over and continue to grill for about 3 minutes. Baste the tops with barbecue sauce. Top each burger with a slice of American cheese just before removing from grill. (Internal temperature should be 160 degrees.)

Place lettuce and tomato slices on buns, top with burgers, onions, bacon, and more barbecue sauce.
Want to Save This Recipe?
Corn on the Cob goes great with these burgers! Here's THE BEST way to cook Corn on the Cob!
I was selected for this opportunity as a member of Clever Girls and provided product samples by Kraft Foods, and the content and opinions expressed here are all my own.