Southern-Style Focaccia is decked out with pimento cheese, Vidalia onions, and pulled pork. It's almost a meal in itself, but you can pair it with Southern Carbonara for a complete southern take on Italian food.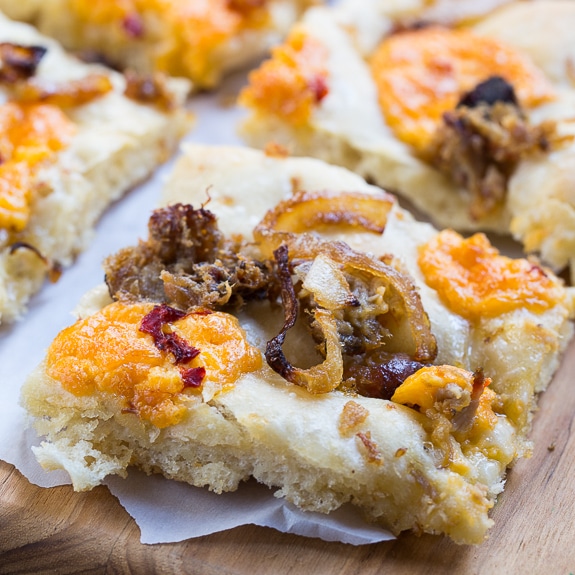 I've always been intimidated by focaccia. The one time I tried to make it in the past, it was very unremarkable.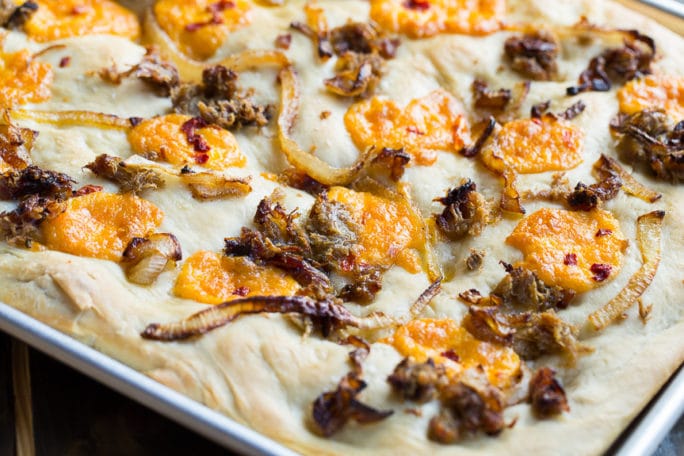 But Craftsy has a new class called Meredith Deeds' Focaccia & Flatbreads From Around the World which includes lessons on focaccia, flatbread, naan, flour and corn tortillas, and pita bread.
I watched the focaccia lesson a few times and decided to tackle focaccia making again.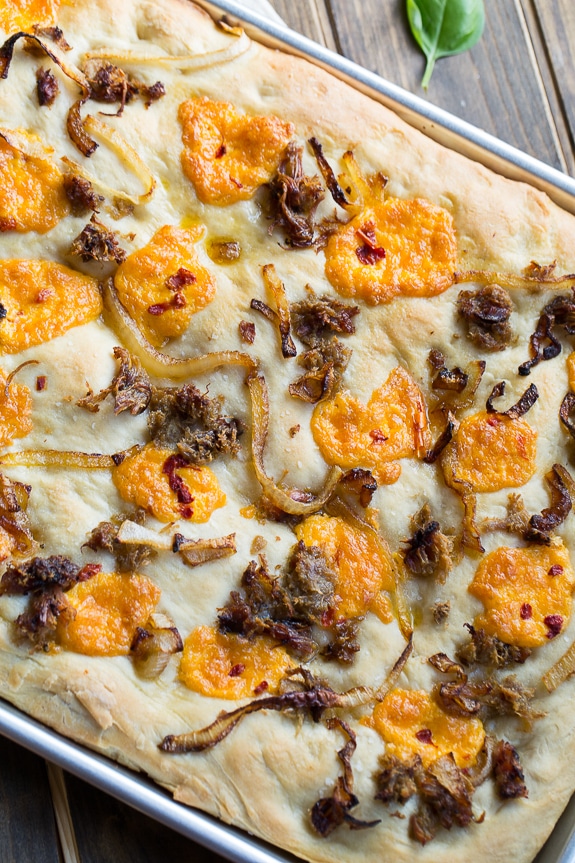 And I am now a confident focaccia maker!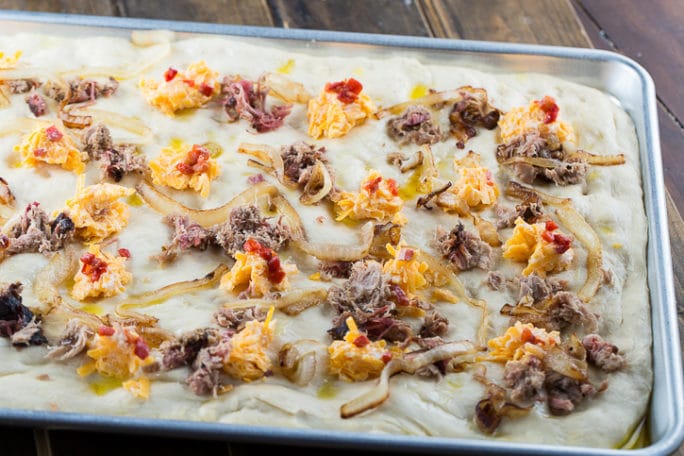 Focaccia before baking.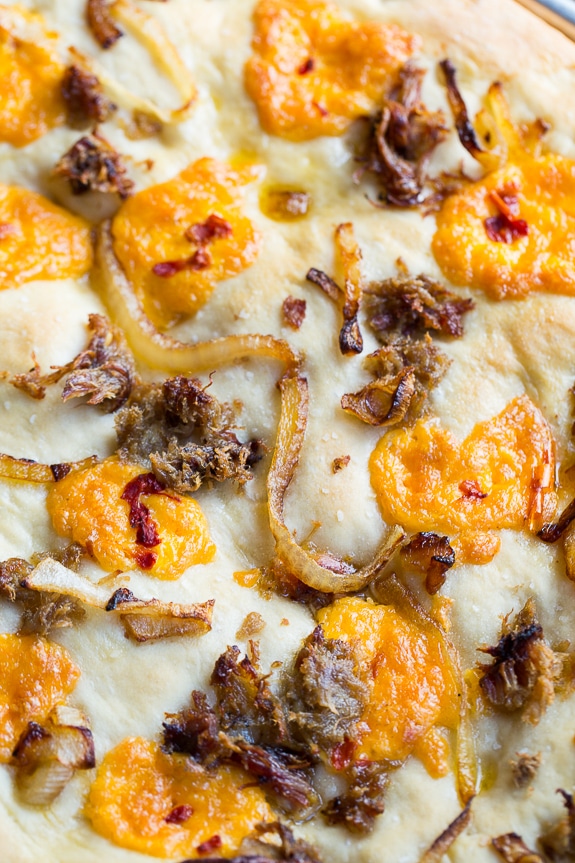 This Southern-Style Focaccia is both tender and a little bit chewy, like a cross between bread and pizza. The southern toppings of pimento cheese, pulled pork, and Vidalia onion really make it fun and unique. I got the idea from a pin on Pinterest from Bunky Cooks. It was a Southern-Style Focaccia with pimento cheese, vidalia onion, and country ham that looked amazing. So with my new focaccia making skills I had to recreate it.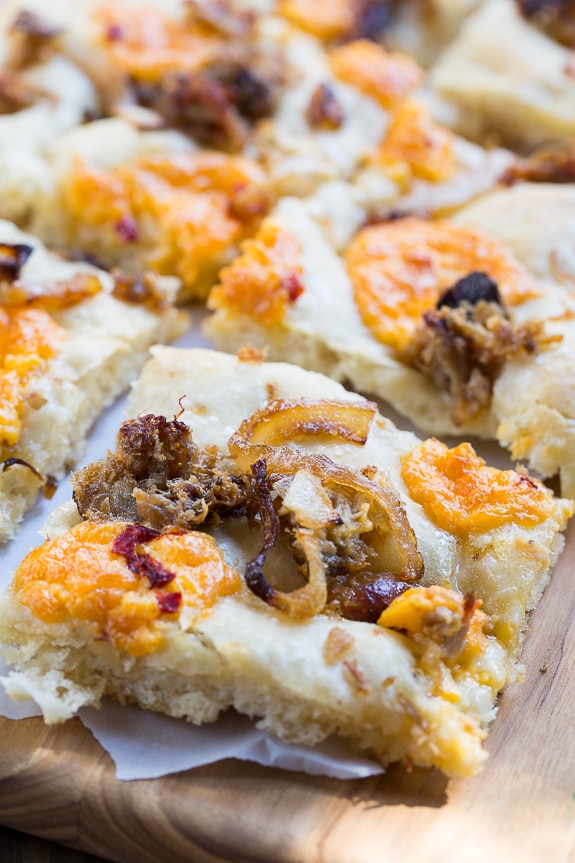 I was very happy with how it turned out and I had a hard time limiting myself to two pieces.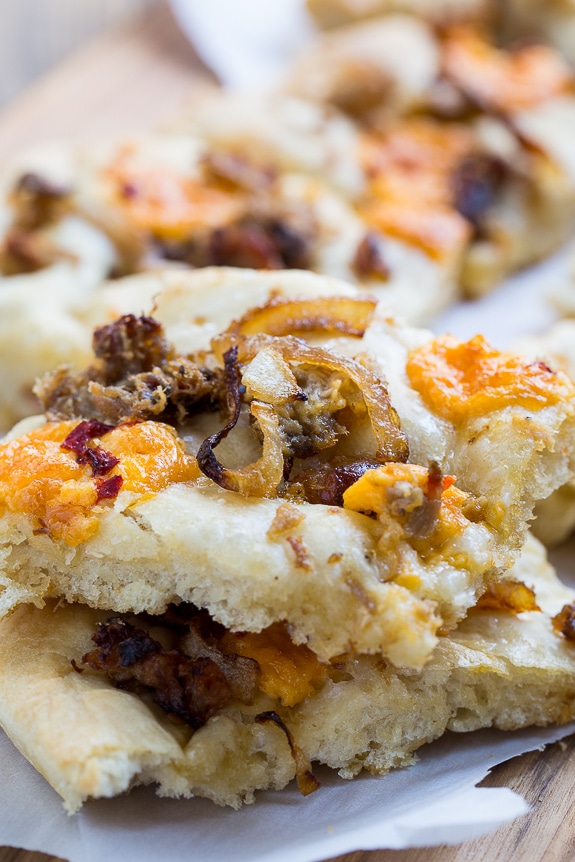 This weekend my son and I are going to tackle the lesson on Naan!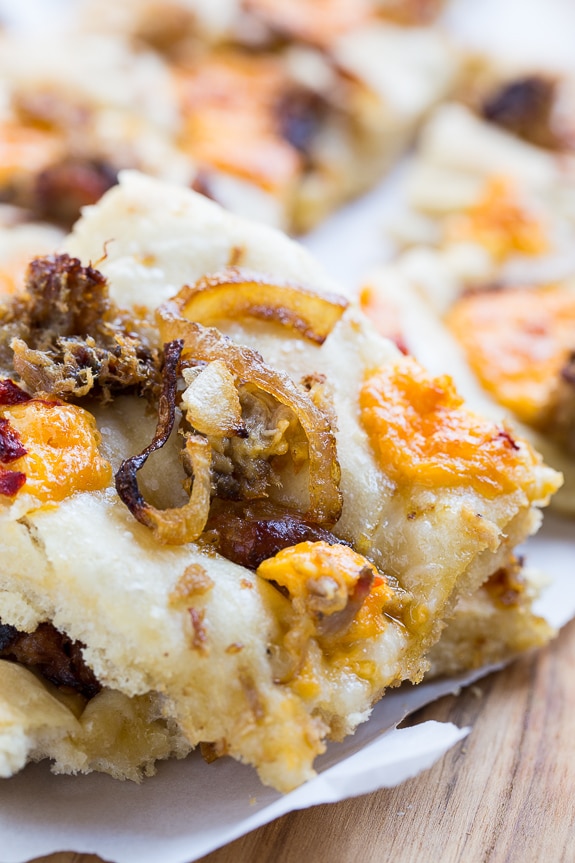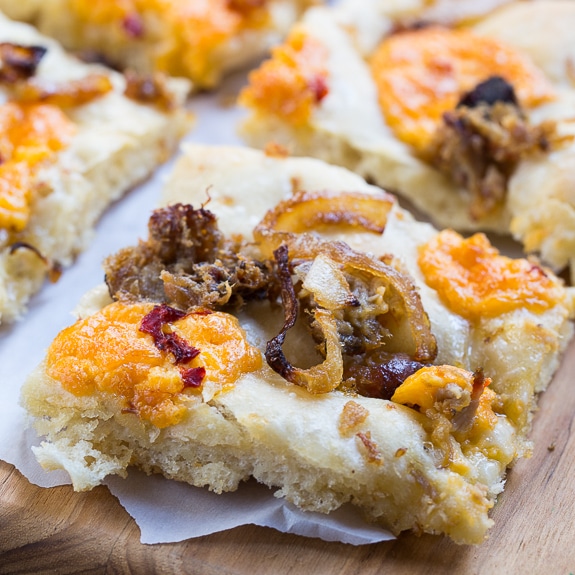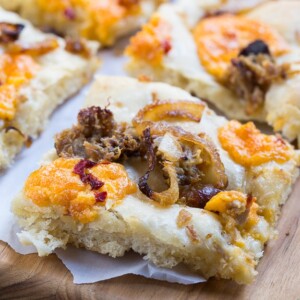 Southern-Style Focaccia
Southern-Style Focaccia with pimento cheese, Vidalia onions, and pulled pork is a fun take on the Italian bread. Almost a meal in itself!
Ingredients
1 1/2

cups

lukewarm water,

105-115 degrees

1

package active dry yeast

(2 1/2 teaspoons)

1

teaspoon

sugar

2

tablespoons

extra-virgin olive oil

4 1/3

cups

unbleached all-purpose flour

2

teaspoons

kosher salt

3-4

tablespoons

extra-virgin olive oil

1

cup

shredded sharp cheddar

1

(2-ounce)

jar diced pimentos,

drained well

1

tablespoon

mayonnaise

1

medium sweet onion,

thinly sliced

1

tablespoon

olive oil

pinch of sugar

1/4

teaspoon

salt

1/2

cup

pulled pork
Instructions
Place water, yeast, and sugar in a large glass measuring cup and whisk to combine. Let stand 5 minutes or until foamy on top. Stir in olive oil.

Place flour in a large bowl and add salt.

When yeast mixture is ready, pour it into bowl with flour. Mix together using a wooden spoon until it forms a ball of dough.

Place dough on a lightly floured surface. Dough will be raggedy. To knead dough, push down on dough with heel of hand, turn dough 1/4 turn, fold it by taking the edge closest to you and pulling it up and over to the far edge. Continue to knead for 3 to 5 minutes of until dough is elastic and smooth. If dough begins to stick, lightly dust surface with flour. Dough should be just a little sticky.

Place dough in a bowl that has been coated with olive oil. Turn dough to coat in olive oil. Cover bowl with plastic wrap and let rise at room temperature for 1 1/2 to 2 hours. It should double in size.

While dough rises, make pimento cheese and saute the onions. In a small bowl, mix together cheddar cheese, pimentos, and mayonnaise. Just use enough mayo to bind it together. If you use too much, it will make the focaccia greasy. To make onions, saute them in 1 tablespoon of olive oil. Sprinkle them with a pinch of sugar and 1/4 teaspoon of salt just after placing them in the pan. Cook until golden brown.

Coat a sheet pan with a liberal amount of olive oil. Place dough on pan. Spread dough out with your hands, shaping it to fit the pan. If it is retracting back a lot, cover it with a dish towel and let it rest 5-10 minutes before resuming. Once you have fully shaped the dough, use your fingertips to press dimples all over the dough, then cover it with a towel and let it rise 30 minutes.

Place a baking stone in the oven and preheat oven to 450 degrees for 30 minutes.

Once dough has risen the second time, use your fingertips to press more dimples and then drizzle liberally with olive oil and sprinkle lightly with kosher salt.

Use a spoon to place dollops of pimento cheese on the dough and scatter caramelized onions and pulled pork evenly across dough. Bake for 20 to 25 minutes.
Want to Save This Recipe?
Recipe inspired by Bunky Cooks ; focaccia dough from Meredith Deeds' Focaccia & Flatbreads From Around the World