Southern Carbonara is a southern twist on the classic Italian dish with country ham, vidalia onion, and collard greens.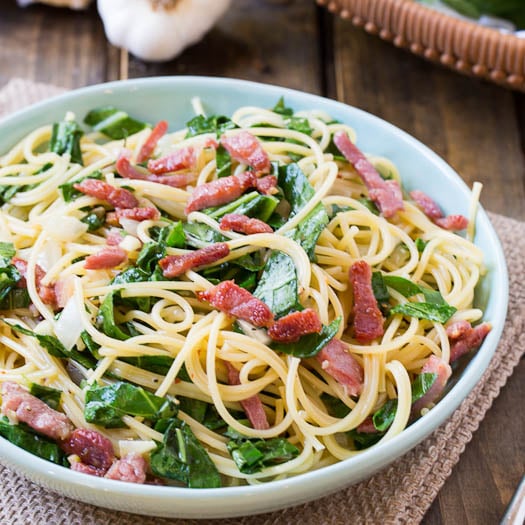 Because Carbonara is so quick and easy to make, it's the perfect weeknight meal.  You can have this meal on the table in under 30 minutes. Pasta Carbonara is made from only a few simple ingredients, but the result is impressive and luxurious.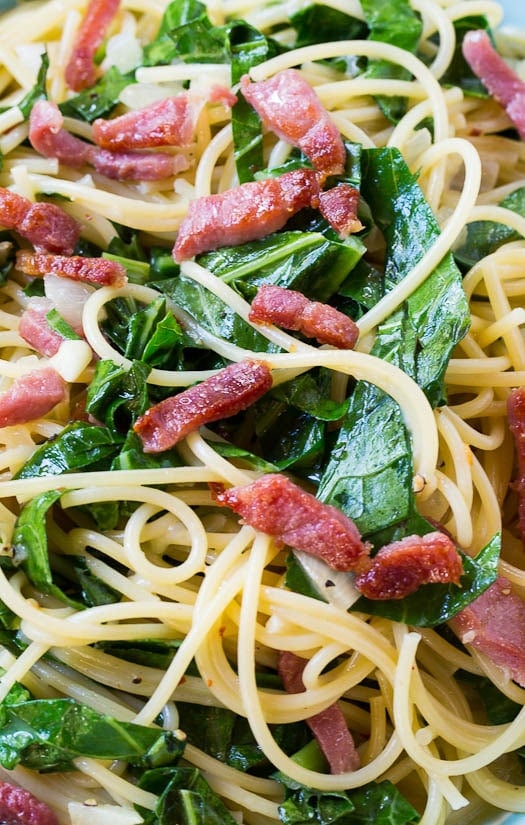 The eggs and Parmesan cheese give Southern Carbonara a rich, creamy flavor. We're talking stick to your bones comfort food here.
Instead of the usual prosciutto, I used country ham which is fabulously salty. If you don't have country ham just use bacon or prosciutto.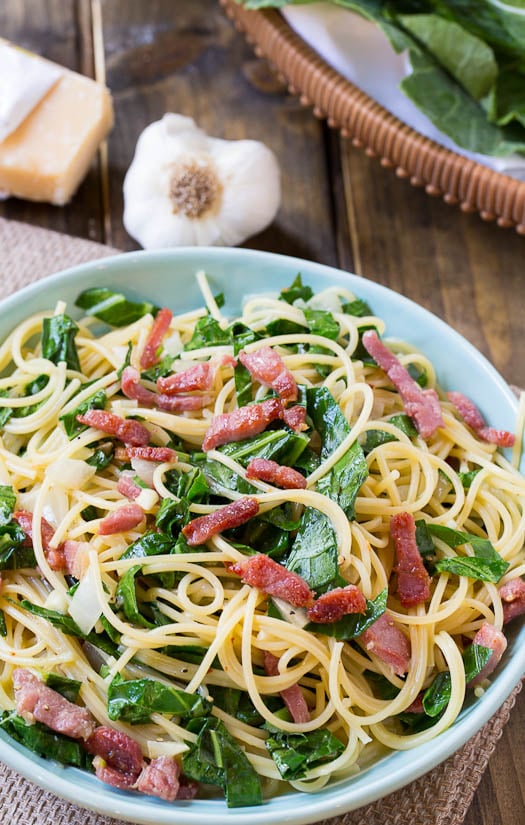 For extra flavor I added Vidalia onion (any sweet onion will do) and a few minced garlic cloves. For color I added thinly sliced collard greens. If there are greens in a dish it's healthy right?
Since the eggs don't get fully cooked, you can use pasteurized eggs if you are concerned.
Y'all enjoy!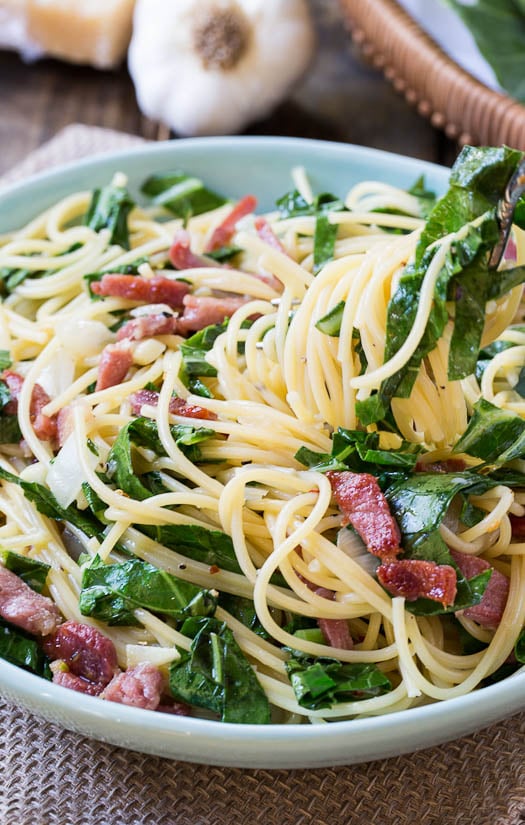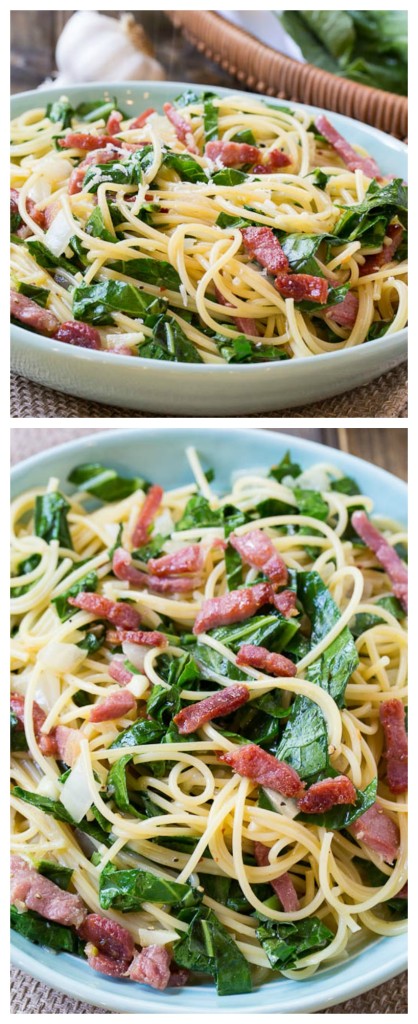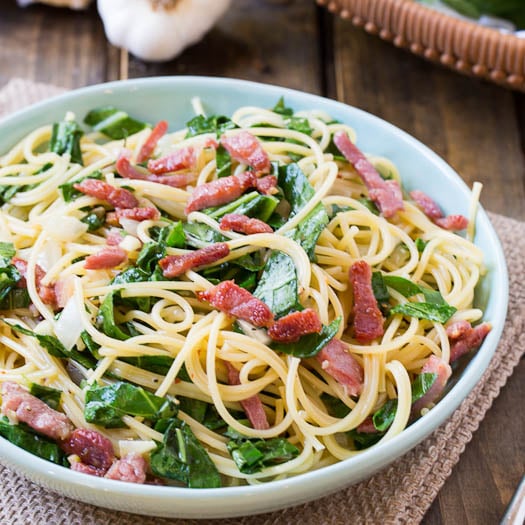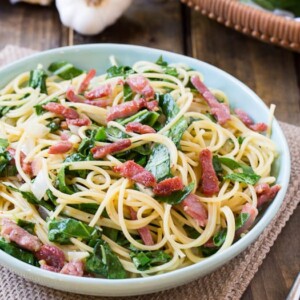 Southern Carbonara
A Southern take on the classic Italian recipe. This dish is flavored up with country ham, sweet onion, and collard greens.
Ingredients
12

ounces

uncooked spaghetti

1 1/2

tablespoons

olive oil,

divided

1/2

cup

thinly sliced country ham,

prosciutto can be used instead

1

small Vidalia onion

or other sweet onion, diced

3

cups

packed thinly sliced collard greens

2

garlic cloves,

minced

3

large eggs,

use pasteurized eggs if concerned about undercooked eggs, lightly beaten

1

cup

shredded Parmesan cheese

1/2

teaspoon

salt

3/4

teaspoon

black pepper

1/2

teaspoon

red pepper flakes

Shredded Parmesan for serving
Instructions
Bring water to a boil and add about 1 tablespoon of salt to water.

While water is coming to a boil, add 1/2 tablespoon olive oil to a nonstick skillet and set over medium heat. Add country ham and cook until crispy. Remove to a paper towel lined plate.

Add remaining olive oil to skillet and sauté onion 3 minutes. Add collard greens and garlic and sauté another 2 to 3 minutes. Turn heat to low to keep warm.

In a large bowl, whisk together eggs, Parmesan cheese, salt, pepper, and red pepper flakes.

Cook pasta according to package directions, reserving 1/2 cup cooking water when you drain.

Immediately after draining pasta, place pasta in bowl with eggs and use tongs to mix the pasta into the egg mixture well.

Pour pasta/egg mixture into pan with collard greens. Remove pan from heat and mix everything together. Add some reserved pasta liquid if pasta is too dry. To serve, sprinkle country ham on top and shredded Parmesan cheese.
Want to Save This Recipe?