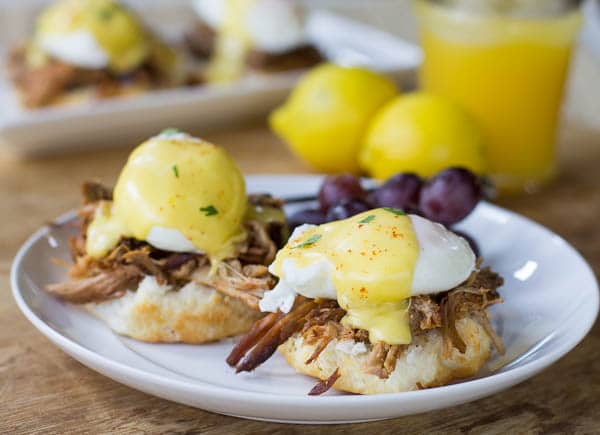 A classic recipe for Eggs Benedict with a regional (southern) twist, served on a biscuit instead of an English Muffin with pulled pork taking the place of Canadian bacon. I don't know about you, but whenever I go out to Brunch I'm always tempted by Eggs Benedict. It has such a fancy feel to it and it's about as perfect as a savory breakfast dish can be. Who doesn't like a buttery, smooth hollandaise sauce dripping down over a perfectly poached egg?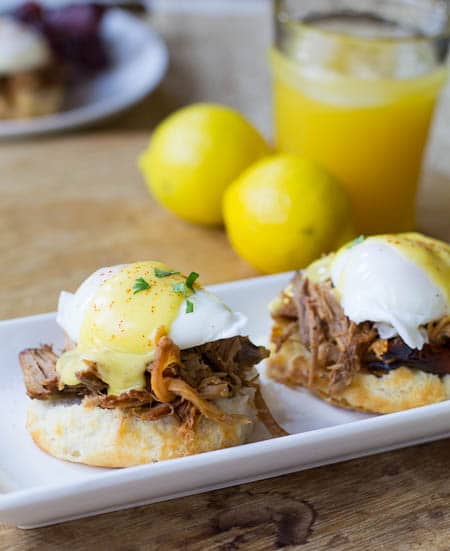 There are of course many variations on the traditional Eggs Benedict and I pretty much love them all. Sometimes the classic Eggs Benedict fits the bill, but most times I'll take a biscuit over an English muffin if given the choice. Likewise for pulled pork over Canadian bacon.
Making Eggs Benedict can be a little intimidating and tricky at home. Check out this previous post for Traditional Eggs Benedict which includes a link to a Youtube video. My 14-year-old daughter made perfect Eggs Benedict using the tips in this video.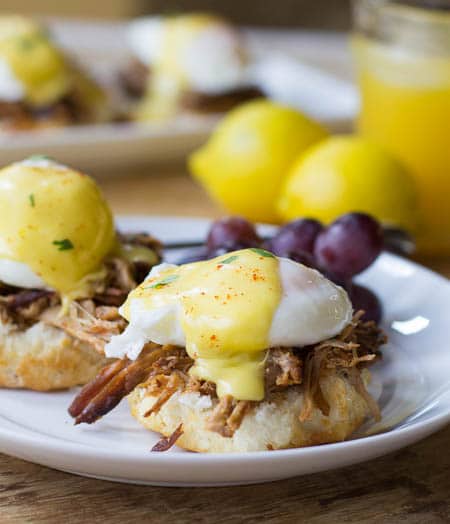 Making a hollandaise sauce takes a little patience, but it is not hard. The most important thing is to watch the heat. Let the eggs get too hot and they will scramble and you'll have to start from scratch.
Likewise, poaching eggs is not difficult, but it does take some practice recognizing when the eggs are cooked just right. As with cooking steak, it's easiest to use your sense of touch to determine when the eggs are done. After about 3 minutes, use a slotted spoon to lift an egg out of the water. Gently press on the yolk part with your finger. It should still have plenty of give, but not feel completely liquidy. And of course there is a certain degree of personal preference when it comes to the degree a poached egg is cooked. As with anything, practice makes perfect. 🙂 And luckily eggs are cheap. Have a dozen extra on hand just in case. 😉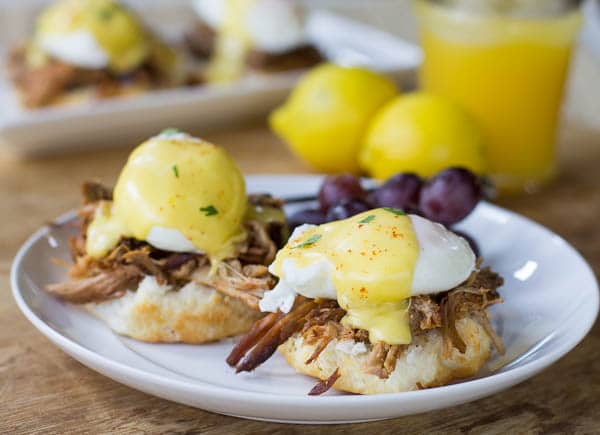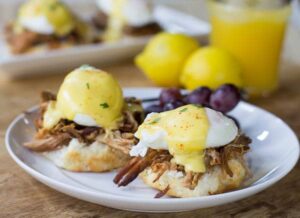 Southern Eggs Benedict
A southern twist on Eggs Benedict with pulled pork and biscuits.
Ingredients
Hollandaise Sauce
4

egg yolks

1

tablespoon

fresh lemon juice

1/2

cup

unsalted butter,

melted

pinch of cayenne pepper

pinch of salt
Eggs Benedict
8

eggs

2

teaspoons

white vinegar

4

purchased or homemade biscuits

2

cups

purchased or homemade pulled pork

parsley for garnish,

optional
Instructions
In a stainless steel bowl whisk the egg yolks and lemon juice until thickened and doubled in volume.

Place the bowl over a saucepan of barely simmering water. Make sure the water does not touch the bottom of the bowl. If the eggs get too hot they will scramble.

Very slowly drizzle the melted butter in while continuously whisking. When all the butter has been added and the sauce is thickened and doubled in volume, remove from the heat and whisk in cayenne and salt. Keep warm until ready to serve. If sauce gets too thick before serving, add a little warm water.

Fill a sauté pan with a couple inches of water and bring to a simmer. Add vinegar.

Crack eggs one at a time into a teacup or small bowl. Slowly lower teacup into water and slide egg into water. You can use a spoon to push the egg whites closer to the center of the egg.

Let eggs poach for 3 to 3 1/2 minutes and remove with a slotted spoon to a paper towel lined plate. Season to taste with salt and pepper.

For each plate, split a biscuit in half. Top each biscuit half with 1/4 cup pulled pork. Place poached eggs on top of pork and drizzle with hollandaise sauce.
Want to Save This Recipe?
Hollandaise Sauce from Tyler Florence