This post is sponsored by Reynolds and Socialstars; all opinions are my own #ReynoldsCrowd™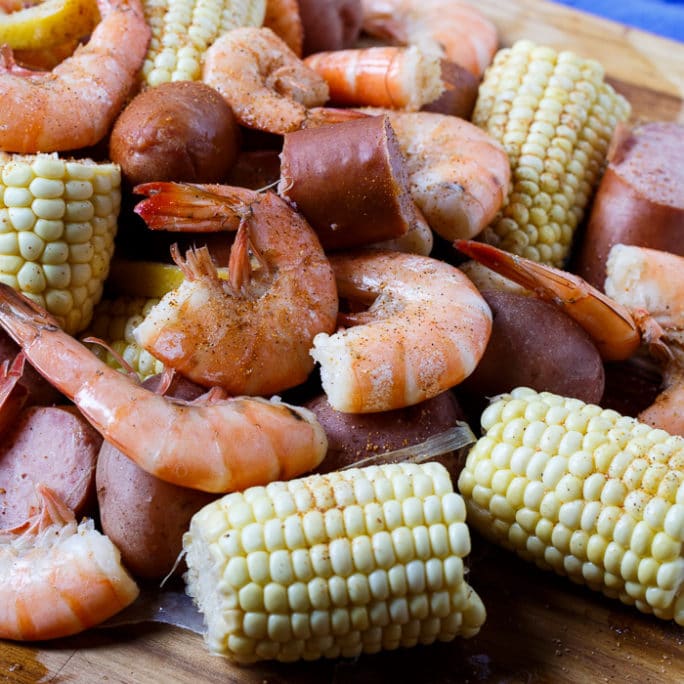 Once the warm weather hits, it seems like there's a picnic or potluck nearly every weekend. One of my favorite meals to make for sharing and eating outside is a good 'ole Low Country Boil. Potatoes, smoked sausage, corn, and shrimp are slow cooked with lots of spices. Low Country Boil is perfect for the slow cooker. The longer it cooks, the more flavor it soaks up from the spicy cooking liquid.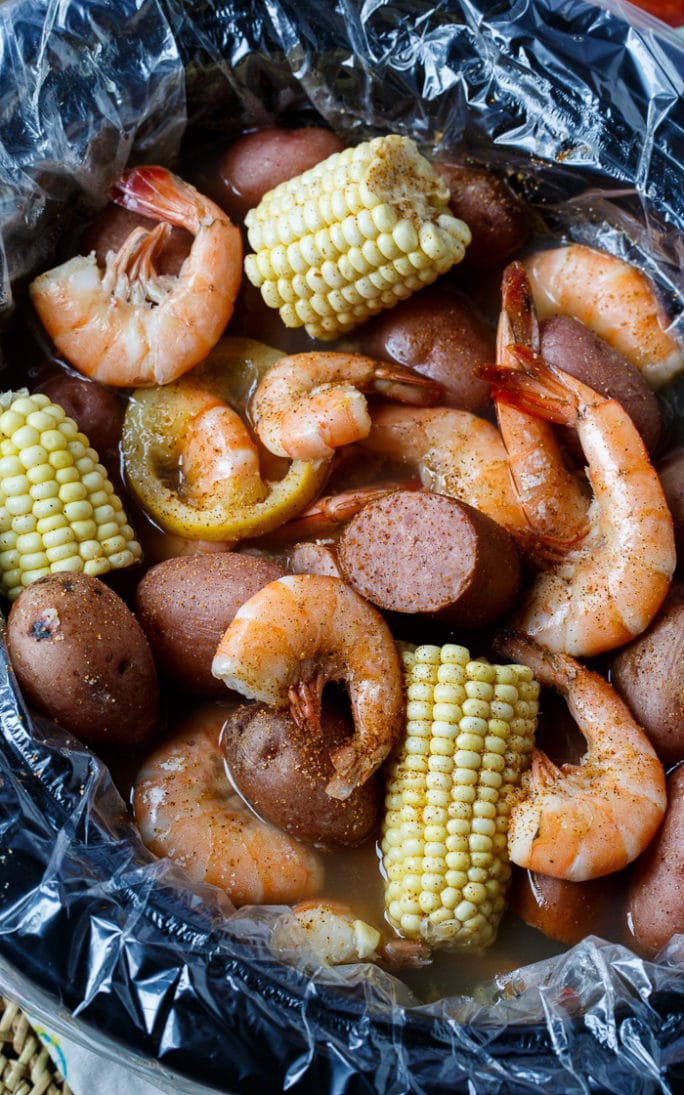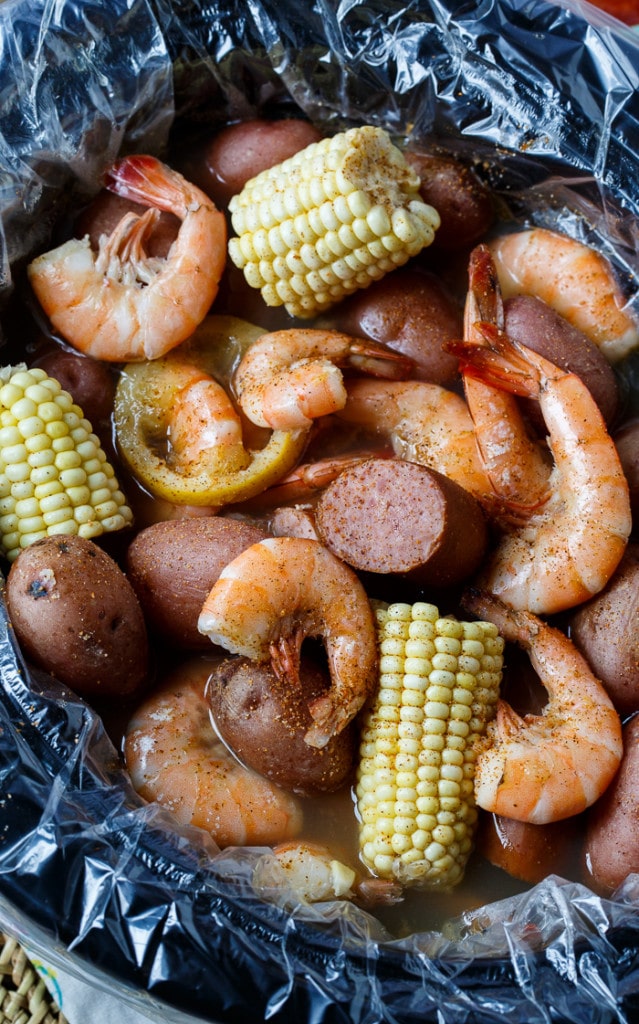 The potatoes get added first since they take the longest to cook. Just enough water to cover, lots of seasoning, and a few slices of lemon get added o the slow cooker with the potatoes.
Depending on the size of the potatoes, you'll cook them for 2 to 3 hours on LOW.
Next add in the sausage and corn and continue to slow cook for a few more hours.
And finally, the shrimp go in for just about 30 minutes.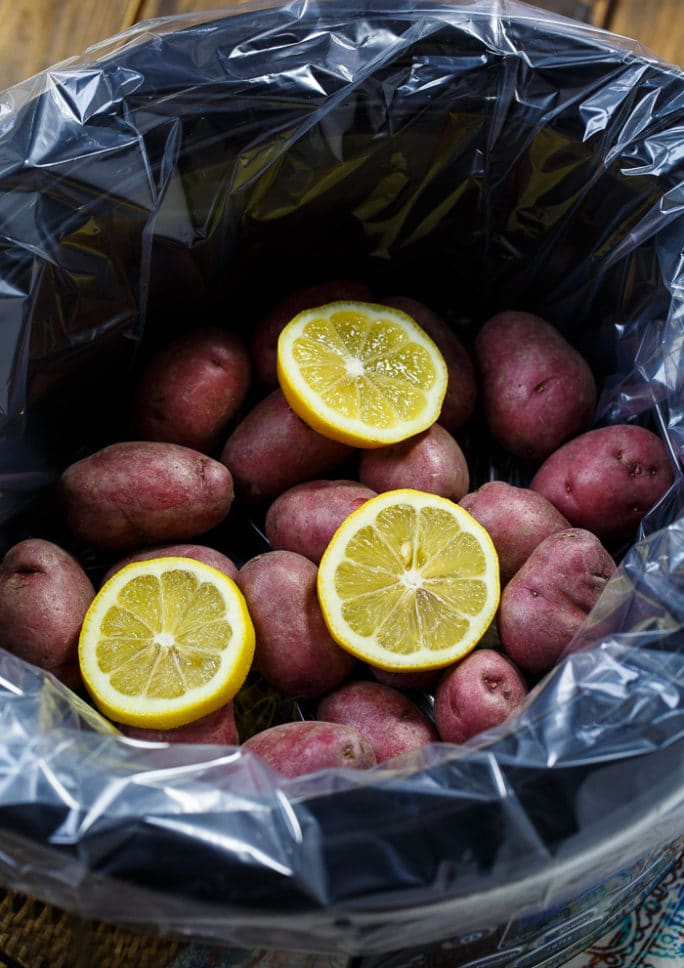 For easy clean-up, I love to line my slow cooker with a Reynolds® Slow Cooker Liner. Clean-up only takes a few seconds. There's no need to clean out the slow cooker insert. Just throw the bag away. So easy!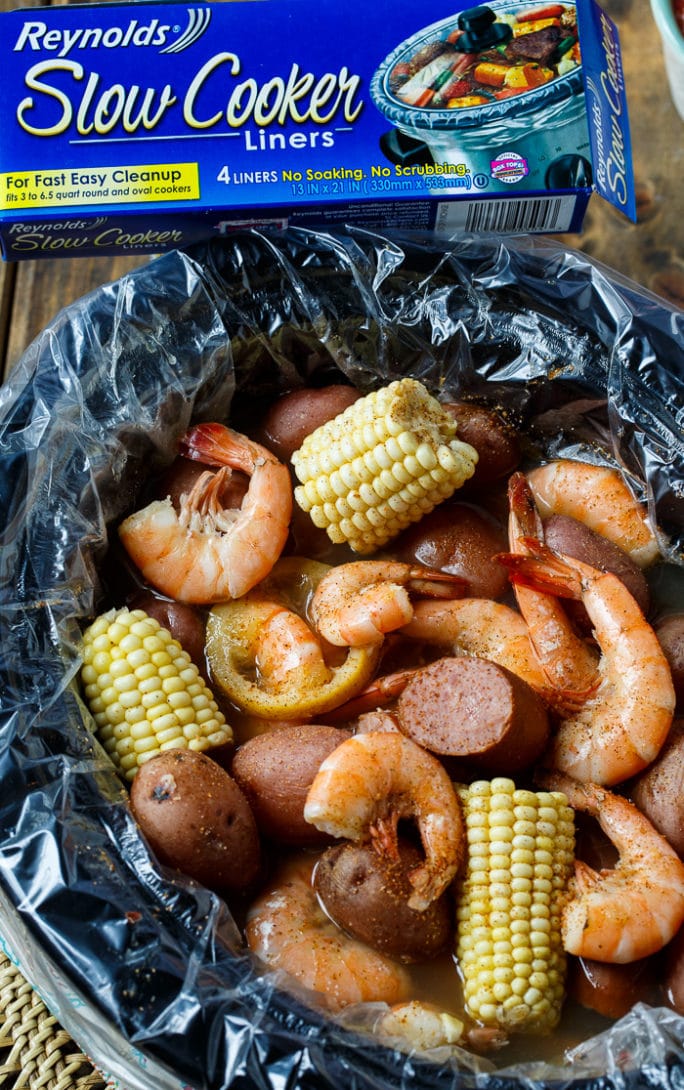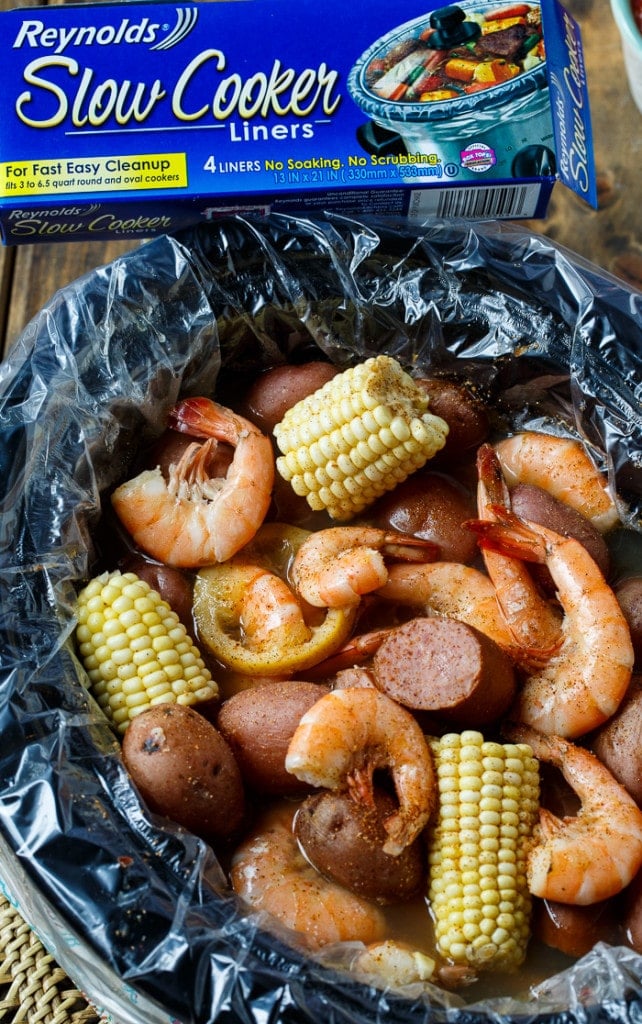 A Reynolds® Slow Cooker Liner prevents any of the food from even touching the slow cooker insert. They are safe for cooking, FDA-compliant, and designed to be used at high temperatures.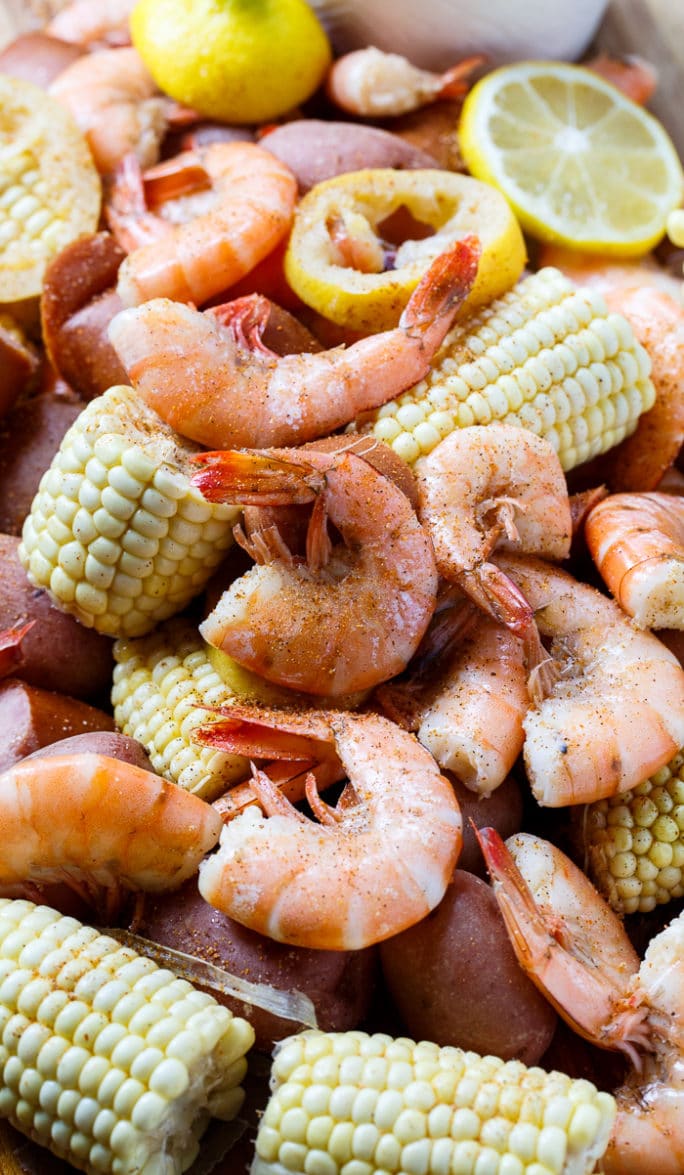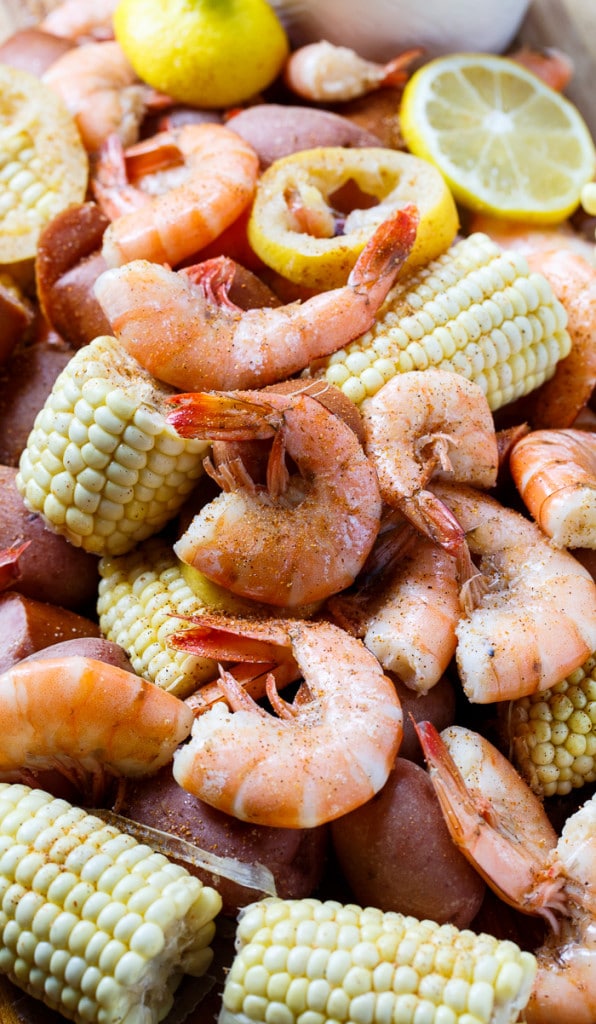 For even easier clean-up, serve this Low Country Boil outside on a picnic table covered with newspapers. If you want it a little spicier, sprinkle it with a little cajun seasoning.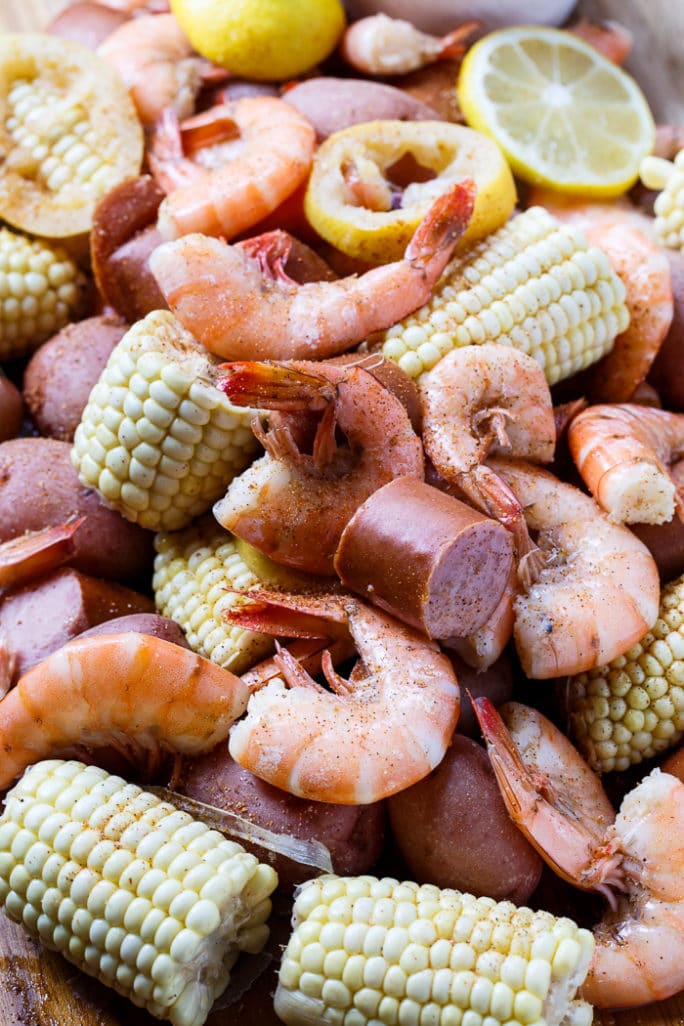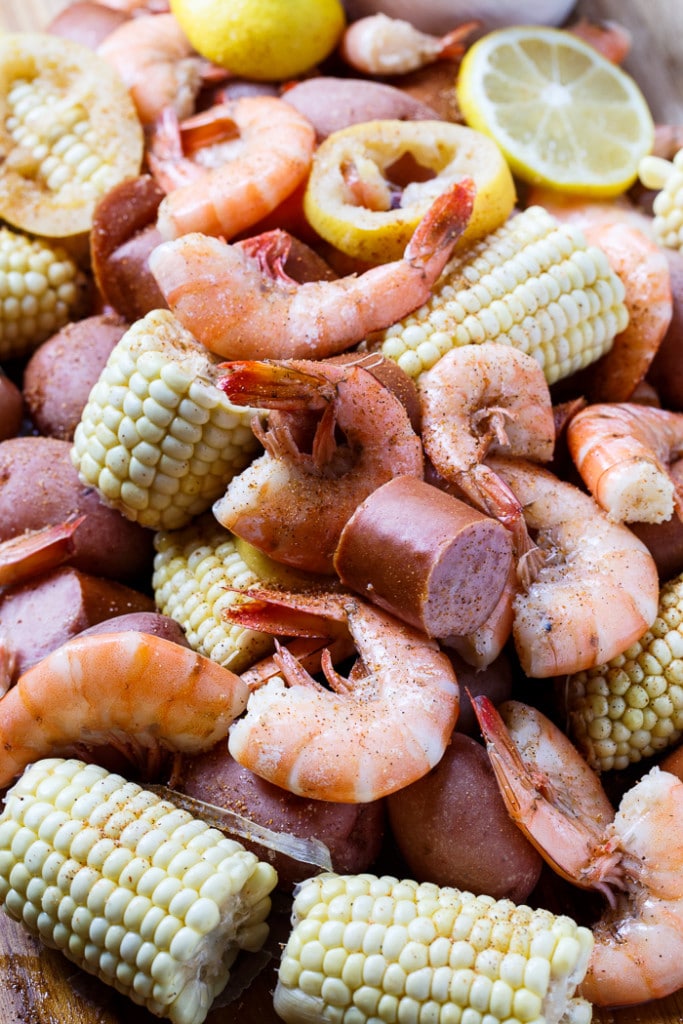 To learn more about Reynolds

®

Slow Cooker Liners and how they can save you time in the kitchen visit ReynoldsKitchens.com. Find many more slow cooker recipes on Pinterest.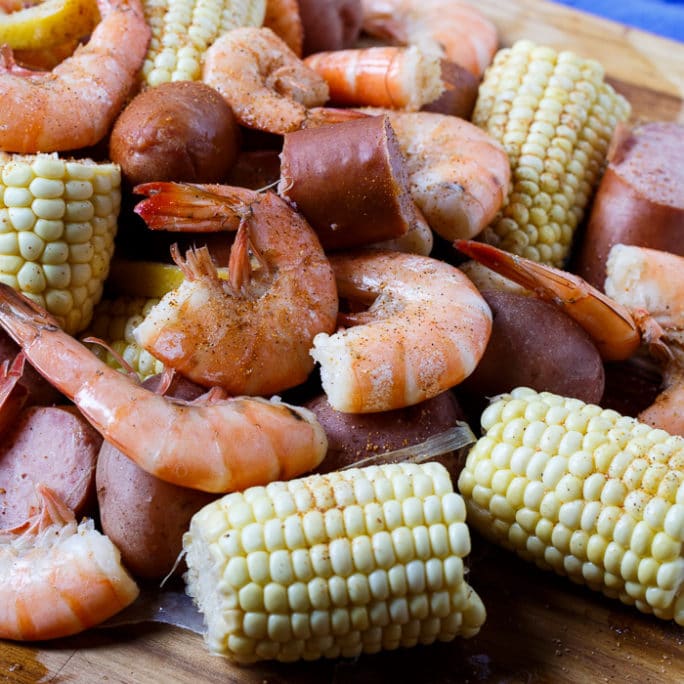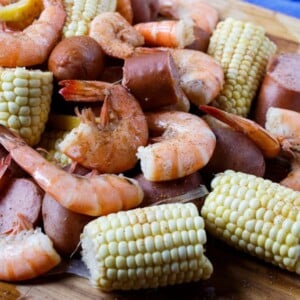 Slow Cooker Low Country Boil
Low Country Boil made in a crock pot. Great for potlucks with lots of flavor and spice.
Print Recipe
Ingredients
1

Reynolds® Slow Cooker Liner

1 1/2

pounds

small red potatoes

1

lemon,

sliced

1/4

cup

Zatarain's Crawfish,

Shrimp, and Crab Boil or Old Bay Seasoning

6

cups

water

1

pound

kielbasa sausage,

cut into 1 1/2-inch pieces

4

ears fresh or frozen corn,

cut into thirds

2

pounds

fresh shrimp with shells on

cocktail sauce for serving
Instructions
Place Reynolds® Slow Cooker Liner inside a 6 to 7-quart slow cooker.

Place potatoes in slow cooker. Add lemon slices, seasoning, and water.

Cover and cook on LOW for 2 1/2 to 3 hours.

Add sausage and corn. Cover and cook on LOW 2 hours longer.

Add shrimp, stir to mix them in. The slow cooker will be very full. If necessary, remove some of the corn and sausage. Add water if necessary. The liquid doesn't need to completely submerge everything, but it should be close to the top.

Cover, increase heat to HIGH and cook 20 to 30 more minutes, or until shrimp are cooked through.

Remove Low Country Boil from slow cooker with a large slotted spoon. Remove bag, dump liquid down sink, and discard bag.

Serve with cocktail sauce
Nutrition
Goes Great With: