This Samoa Oatmeal has all the flavors of the popular girl scout cookie: coconut, chocolate, and caramel. A deliciously sweet way to start the day.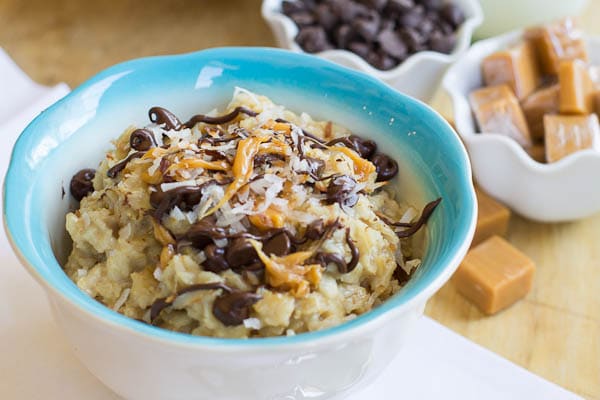 It's girl scout cookie time 🙂 🙂 :).
I can resist almost all packaged cookies, but not Girl Scout Cookies. They are my favorite cookies. And the fact that they are only available for a limited time each year makes them all the more enticing.
And let's not talk about the cute little girl scouts who park themselves directly in front of the entrance to my grocery store and flash me those pretty smiles while asking me to please buy a box of cookies. Can't say no.
The first time I saw them I bought a box of samosa, thin mints, and tagalongs. Samoas and thin mints are tied for my favorite. They're so different it's kind of hard to compare them.
I made the mistake of opening all 3 boxes when I got home and I must have eaten 1/2 of each box. And that's why I'm on Jenny Craig this week 🙁
Today I walked by the same cookies and I just bought cookies for the troops. Yay me!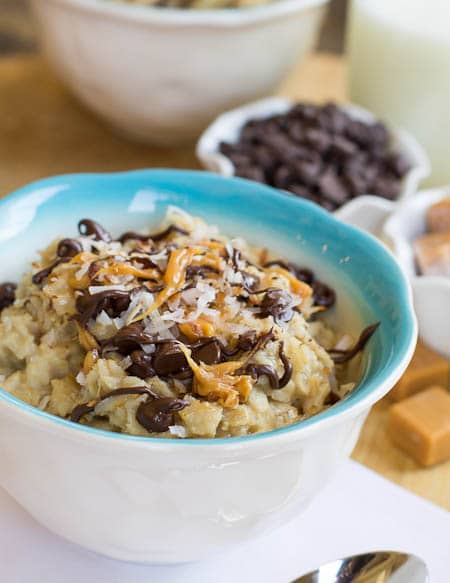 But luckily before I started the Jenny Craig Girl Scout Repentence, I made this delicious Samoa Oatmeal. It's filled with that same chocolate, caramel, and coconut goodness of a samoa cookie. I was a huge hater of shredded coconut until I tried a samoa cookie about 5 years ago. Samoa cookies are so good they made me give up my 35+ year hatred of shredded coconut.
I still remember the time (I think it was my 5th birthday) my grandmother had a teddy bear cake made for me. I had a huge smile on my face when I first saw it, but when it was placed in front of me my heart sunk. There may have been tears shed.
It was completely covered in shredded coconut.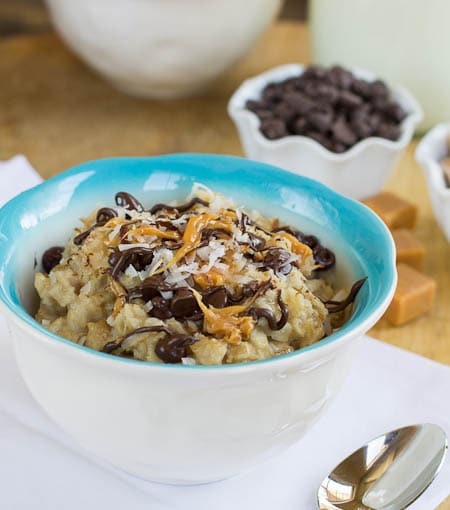 If I had just tried a samoa cookie or maybe some of this samoa oatmeal before then, I most certainly would have yummed it up instead of refusing to take a single bite.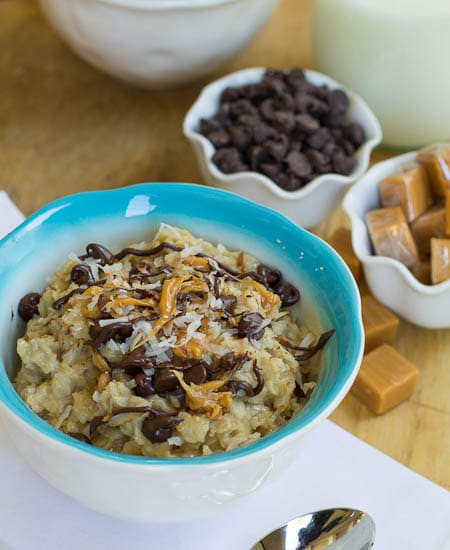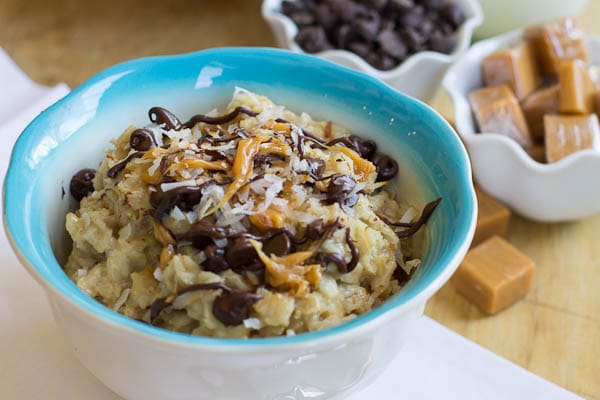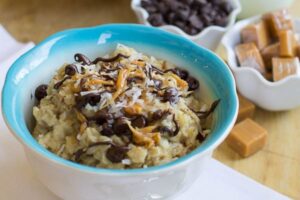 Samoa Oatmeal
Oatmeal with all the chocolate, caramel, and coconut flavor of a Girl Scout Cookie.
Ingredients
1 1/2

cups

old-fashioned oats

3

cups

water

10

caramels,

the kind wrapped in plastic

1/4

cup

shredded toasted coconut

1/4

cup

semi-sweet chocolate chips
Instructions
Bring water to a boil in a medium saucepan.

Chop each caramel square into 4 smaller squares.

Stir in oats. Cook for 5 minutes over medium heat, adding the caramel pieces with about 1 minute of cooking time left.

To serve, top with coconut and chocolate chips.
Want to Save This Recipe?
Recipe adapted from HappyFoodHealthyLife.com
Disclosure: This post may contain affiliate links.