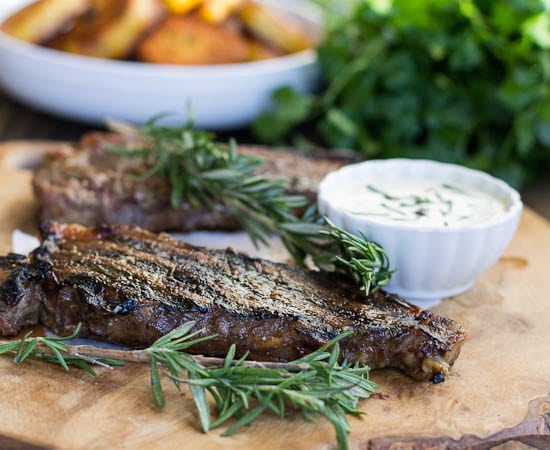 Sometimes there's nothing better than a big, juicy piece of red meat on a Sunday evening. We don't eat red meat very often, but when we do NY Strip Steak is my favorite. It has just the right amount of fat in it to make it exceptionally flavorful.
Usually I find that all a New York Strip Steak needs is a good seasoning with salt and pepper, but I wanted to try something a little different. This recipe for New York Strip Steaks with Horseradish Mustard Sauce is from one of my favorite Southern Cookbook authors- Sara Foster. You can find this recipe along with many other delicious recipes in her cookbook Fresh Every Day: More Great Recipes from Foster's Market
.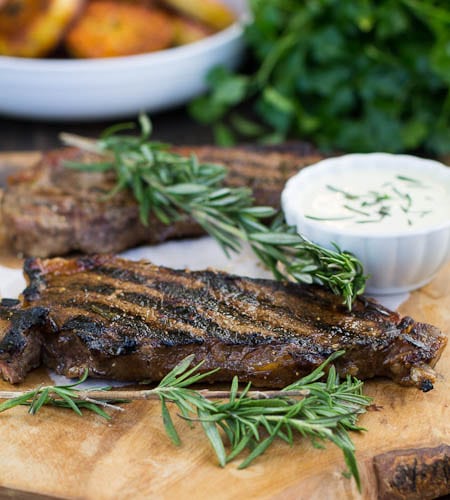 The steak is marinated in Worcestershire sauce, balsamic vinegar, olive oil, and rosemary. I love the woodsy flavor of rosemary especially during the cold winter months. For me, rosemary did take some getting used to because it has such a strong taste (and smell). If you're not used to eating rosemary, start out by just using a little until you develop a taste for it. I've found that you can pretty much learn to like any food, so long as you are exposed to it the right way AND you want to like it.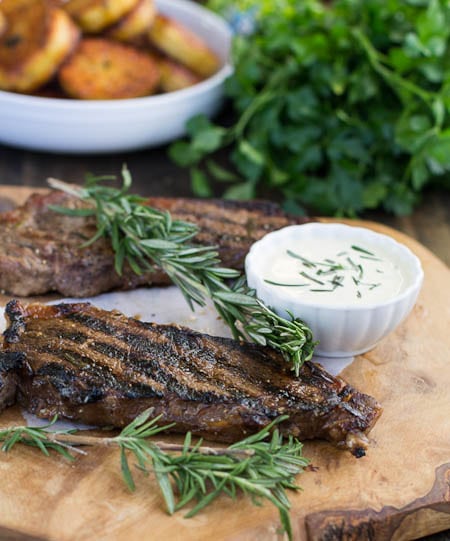 The sauce is both tangy (from buttermilk) and a little hot (horseradish) and is the perfect complement to strip steak. Leftover sauce is wonderful on sandwiches.
Be sure not to overcook the strip steak. I think the easiest way to tell when steak is done is to press my finger on top right in the middle. At first it will feel really soft and fleshy. When it is medium rare it will still be soft, but not squishy feeling. If it feels firm, you have overcooked it. It takes some practice, but once you get a feel for it, it is super easy. Whatever you do, don't cut into the steak while it is cooking or until it has been allowed to rest for at least 5 minutes.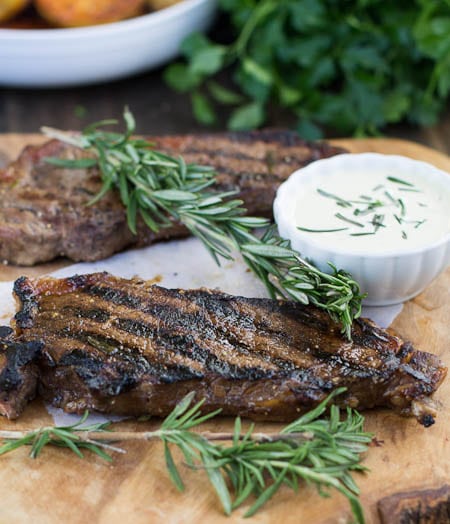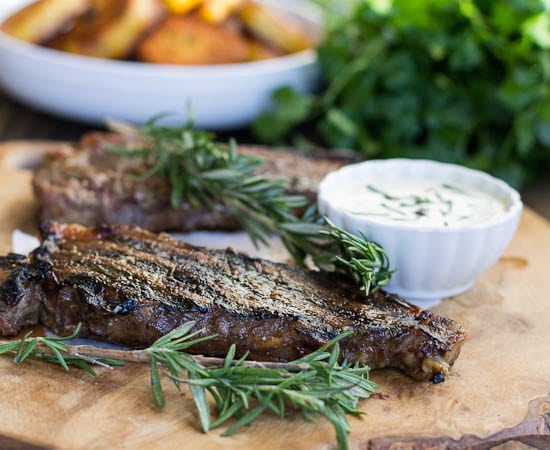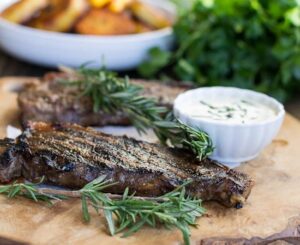 New York Strip Steaks with Horseradish Mustard Sauce
These New York Strip Steaks are marinated and grilled to perfection and served with a flavorful Horseradish Mustard sauce. They will satisfy your craving for red meat.
Ingredients
2

(14-ounce)

New York Strip Steaks,

1 1/2 inches thick

1/4

cup

Worcestershire sauce

2

tablespoons

balsamic vinegar

2

tablespoons

olive oil

2

tablespoons

chopped fresh rosemary

salt and pepper to taste
Horseradish Mustard Sauce
1

tablespoon

prepared horseradish

1

tablespoon

Dijon mustard

1/4

cup

buttermilk

1

tablespoon

sour cream

1

teaspoon

freshly ground black pepper

1/2

teaspoon

salt

1

teaspoon

chopped rosemary
Instructions
Place steaks in a glass baking dish and drizzle with Worcestershire sauce, balsamic vinegar, and olive oil. Turn to coat. Sprinkle rosemary and pepper over steaks and rub into meat. Cover and marinate for at least 1 hour. Then bring to room temperature and sprinkle with salt to taste.

Prepare a hot fire in a charcoal or gas grill or heat a grill pan over medium-high heat.

Place steaks on grill for about 5 to 6 minutes per side for rare and 7 to 8 minutes for medium-rare. Let steaks rest and serve with sauce.

Combine ingredients for sauce in a small bowl.
Want to Save This Recipe?
Recipe Source:Fresh Every Day: More Great Recipes from Foster's Market