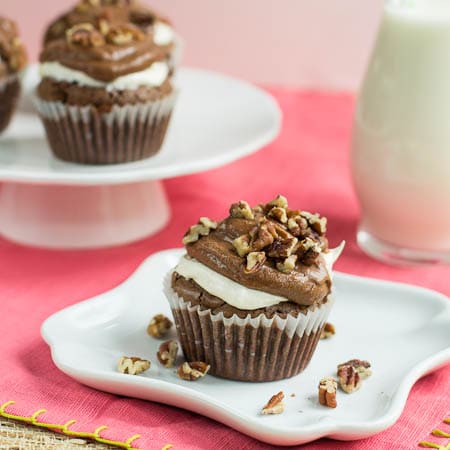 You see Mississippi Mud Cake pretty frequently throughout the South, but rarely Mississippi Mud Cupcakes. And I don't know why not because everything is cuter in cupcake form. Right?
Alright, so maybe making a sheet cake IS a little easier than baking cupcakes. You do have to individually fill the cupcake liners and frost each cupcake, in this case 2 times per cupcake, instead of just pouring the frosting on top of a cake.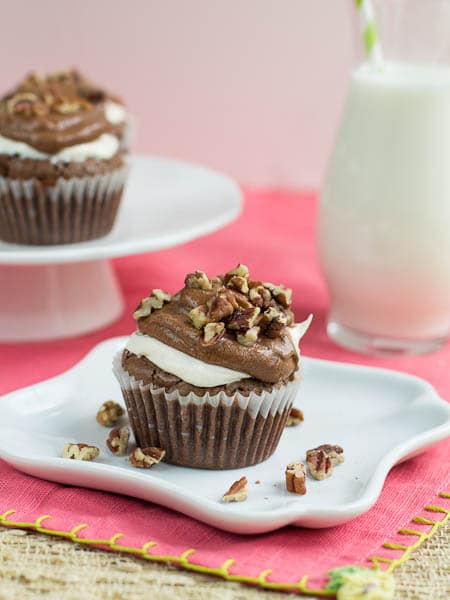 But the cupcake takes the cake when it comes time to serve. No knife needed, no indecision on whether to cut a little sliver or that great big slab that you REALLY want. You don't even need a plate. That's maybe the best thing about a cupcake (says the one who always gets stuck doing the dishes). Just toss that little cupcake liner in the trash when you're done. Never mind my husband who insists you need a plate anyways to catch the crumbs. He just hasn't spent as much time as I have doing dishes.
Mississippi Mud Cupcakes are richly decadent with a sweet, chocolaty, brownie-like cupcake, a gooey marshmallow creme layer topped with Chocolate Mud Frosting and toasted pecans. The cupcakes are absolutely loaded with butter and it's a good thing they are in the form of cupcakes. Hopefully you'll be able to stop at just one. But if you can't it will be our little secret.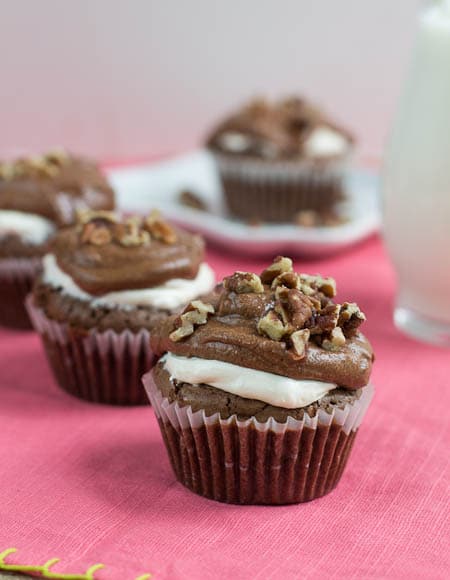 Mississippi Mud Cupcakes
Ingredients
1 cup butter
4 ounces semisweet chocolate, chopped
1 ¾ cups sugar
4 large eggs
1 ½ cups all-purpose flour
½ cup unsweetened cocoa
½ teaspoon kosher salt
1 teaspoon vanilla extract
Marshmallow Frosting (recipe follows)
Mud Icing (recipe follows)
½ cup toasted pecans
Marshmallow Frosting
1 stick butter, softened
1 cup confectioners' sugar
1 cup marshmallow cream
½ teaspoon vanilla extract
½ cup toasted pecans
Mud Icing
½ cup butter, softened
3 tablespoons unsweetened cocoa powder
¼ cup plus 1 tablespoon milk
2 cups powdered sugar
½ teaspoon vanilla extract
Instructions
Preheat oven to 350°. Place cupcake liners in a muffin pan and lightly spray with cooking spray.
In a heavy-bottomed small saucepan, melt butter and chocolate over very low heat, stirring nonstop to prevent burning of the chocolate. Let cool slightly.
In a large bowl, combine sugar and eggs. Whisk together until smooth and light yellow, about 2 minutes.
In a medium bowl, whisk together flour, cocoa, and salt.
Slowly add chocolate mixture to egg mixture, stirring well. Mix in vanilla extract. Mix in flour mixture just until moistened.
Fill muffin cups about ¾ full and bake for 20 to 25 minutes. Let cool.
To make Marshmallow Frosting, beat all ingredients using an electric mixer until smooth. Spread on cupcakes.
To make Mud Icing, combine butter and cocoa powder in a mixing bowl and using an electric mixer, beat until smooth.
Mix in milk and gradually beat in sugar and vanilla extract.
Top cupcakes with Mud Icing and pecans
More Cupcake Recipes
Cupcakes with Chocolate Buttercream Frosting
Bacon, Maple, and Bourbon Cupcakes