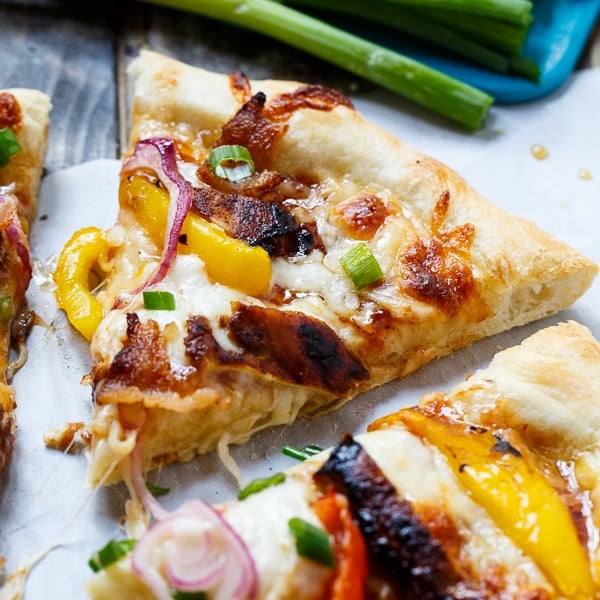 This Jamaican Jerk Chicken Pizza, a California Pizza Kitchen copycat, has slices of jerk- seasoned chicken breast, a sweet and spicy sauce, crispy bacon, roasted red peppers, and onion. This is not your ordinary pizza!
I love doing knock offs of California Pizza Kitchen pizzas. Their pizzas have such amazing combinations of flavors. I've made both the Chipotle Chicken Pizza and the Thai Chicken Pizza.
I especially like that California Pizza Kitchen pizzas are topped with nontraditional toppings. Their pizzas are fun and creative.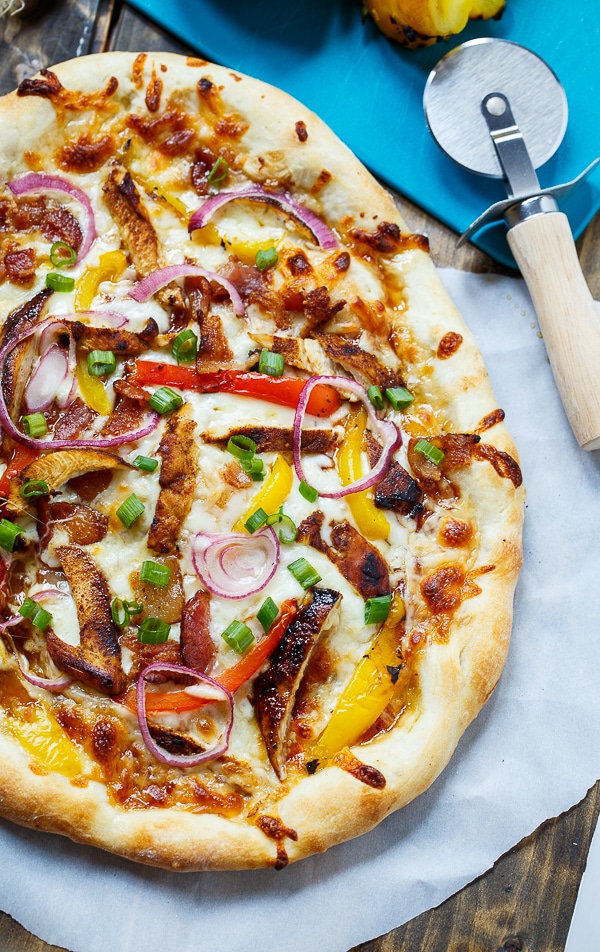 If you're getting bored of regular pepperoni pizza, give this Jamaican Jerk Chicken Pizza a try.
This pizza is right up my ally. Jamaica is maybe my favorite place on earth. I love the people, the music, the food. You just can't beat an authentic piece of jerk chicken.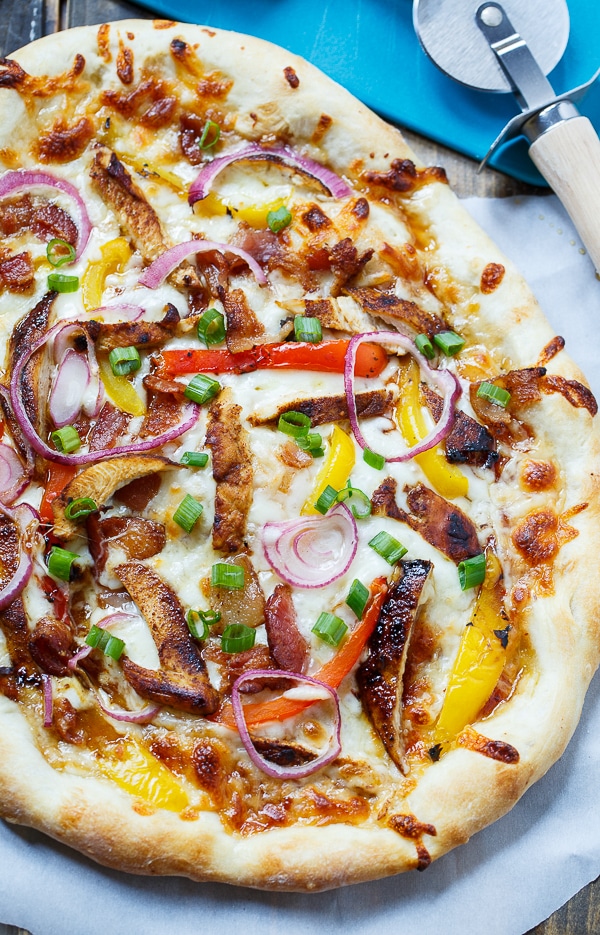 Now the chicken on this pizza is by know means authentic. Not even close. That would be too large an undertaking for a weeknight meal.
But nonetheless, this chicken has plenty of flavor. It is coated in a spice rub made from brown sugar, paprika, allspice, garlic powder, and cayenne pepper, and then grilled.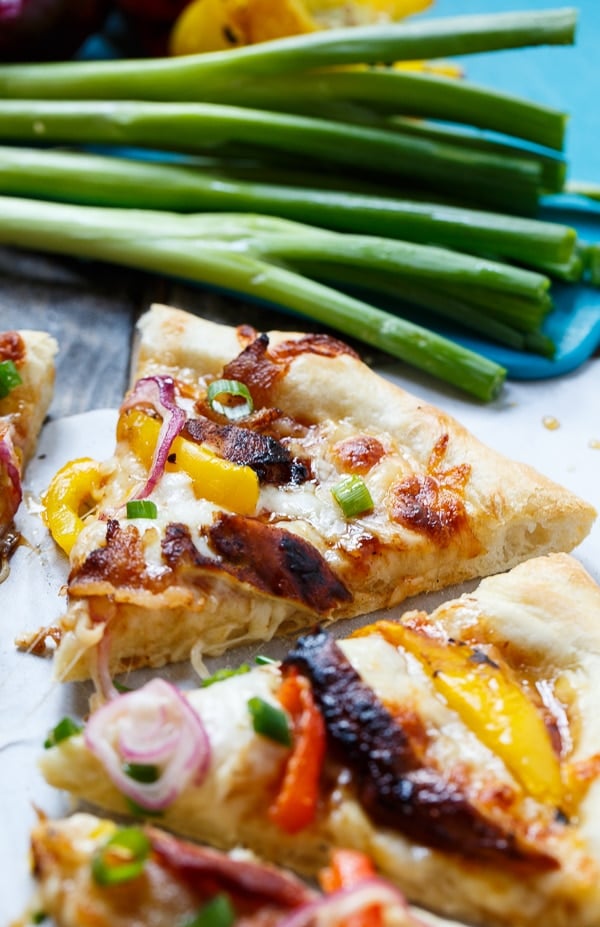 In addition to the chicken, roasted red and yellow peppers, red onion, bacon, and green onion give the pizza tons of flavor. It's restaurant quality pizza at home.
Don't be scared by the long list of ingredients. The jerk seasoning and sauce can be made several days in advance and the peppers can be roasted and sliced ahead of time too.
Either use store-bought pizza dough or make your own. I love the recipe in this (free) Perfect Pizza at Home class on Craftsy.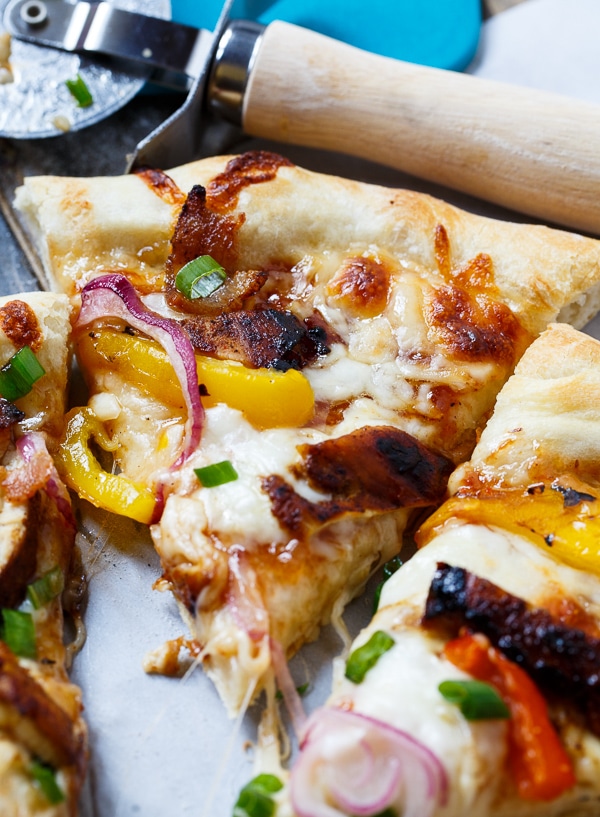 Never miss a recipe. Follow Spicy Southern Kitchen on Pinterest and Instagram.
Sign up HERE for the Spicy Southern Kitchen Newsletter.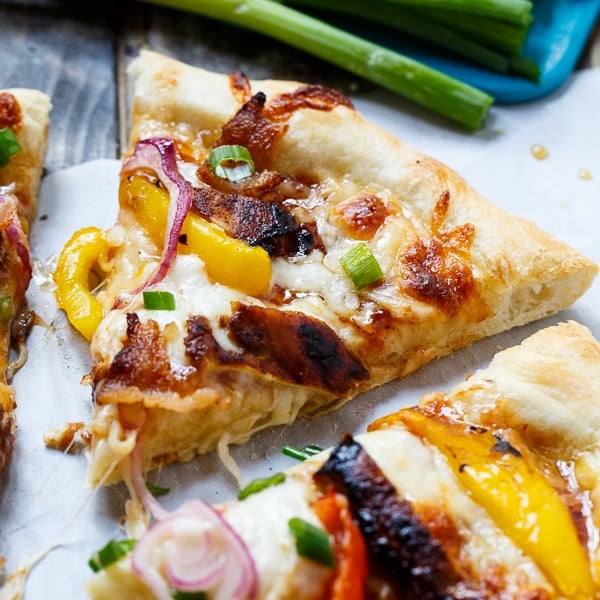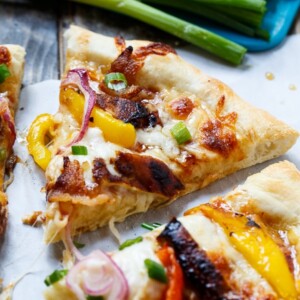 Jamaican Jerk Chicken Pizza
Print Recipe
Ingredients
Sauce
1/2

cup

light brown sugar

1/4

cup

water

1/4

cup

ketchup

1/4

cup

light corn syrup

1/4

cup

minced onion

2

tablespoons

red wine vinegar

1

teaspoon

minced garlic

1

teaspoon

lemon juice

1/2

teaspoon

salt

1/2

teaspoon

crushed red pepper flakes

1/4

teaspoon

black pepper

1/8

teaspoon

dried thyme

1/8

teaspoon

ground allspice
Jerk Seasoning
1 1/2

tablespoons

light brown sugar

1

teaspoons

salt

1/2

teaspoon

black pepper

1/2

teaspoon

paprika

1/2

teaspoon

ground allspice

1/2

teaspoon

garlic powder

1/4

teaspoon

cayenne pepper
Remaining Ingredients
olive oil

2

chicken breasts,

pounded thin

1

red bell pepper

1

yellow bell pepper

1

pound

pizza dough

2-3

cups

shredded mozzarelle cheese

4

slices

bacon,

cooked

1/2

cup

thinly sliced onion,

yellow or red

1

green onion,

sliced
Instructions
To make sauce, combine all ingredients in a medium saucepan. Simmer for 6 to 8 minutes. Let cool and then puree in a blender. (Sauce can be made a day in advance.)

In a small bowl, combine all ingredients for jerk seasoning. Sprinkle chicken breasts with seasoning and drizzle with olive oil.

Grill chicken for 4 to 5 minutes per side, or cook in a pan over medium heat. Let cool and then thinly slice.

Roast both peppers by setting them directly over the flame of a gas burner. Turn every few minutes until all sides are charred. Plunge them into ice water and remove the skins. Slice into thin slices. Alternately, you can roast the peppers in a 450 degree oven for 45 minutes.

Divide dough in half. Making 1 pizza at a time, roll or stretch dough into a 10-inch circle. Place on a lightly floured pizza pan or pizza peel.

Brush the dough with olive oil. Spread desired amount of sauce on dough. Sprinkle with 1 cup mozzarella cheese and half of all toppings. Sprinkle with a little more mozzarella cheese.

Slide pizza onto pizza stone and bake until crust is golden, about 9 to 10 minutes.
Notes
Let the pizza dough sit at room temperature for 1 hour before shaping it.
Preheat the oven to 500 degrees with a pizza stone in it for 45 minutes.
Recipe adapted from: Top Secret Restaurant Recipes 2: More Amazing Clones of Famous Dishes from America's Favorite Restaurant Chains
More Pizza Recipes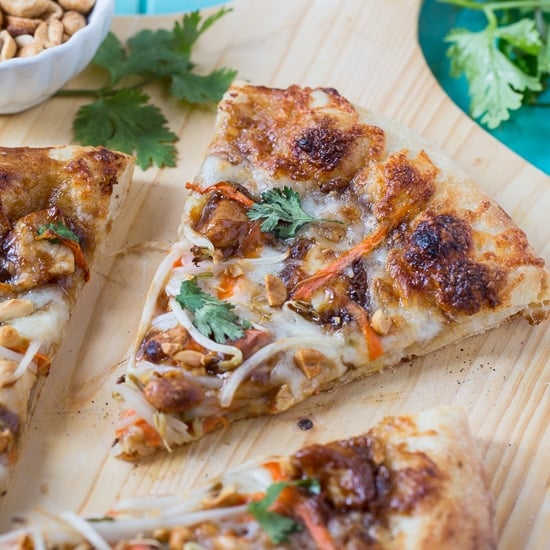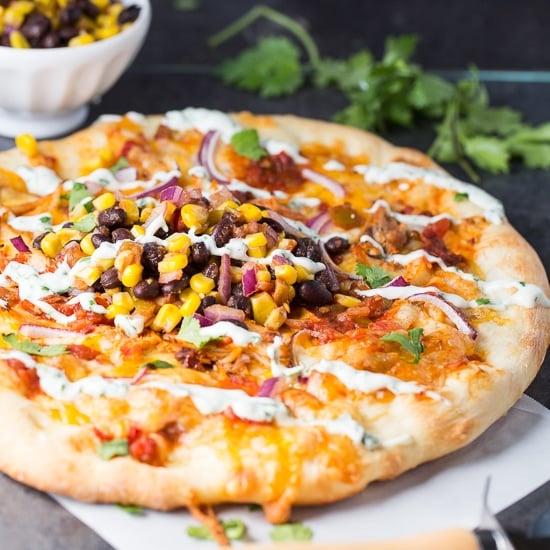 Disclosure: This post contains affiliate links.