Try something new this summer with Grilled Watermelon topped with Caribbean Shrimp. The shrimp are coated in Jerk seasoning and topped with coconut, red onion, macadamia nuts, and a citrusy vinaigrette.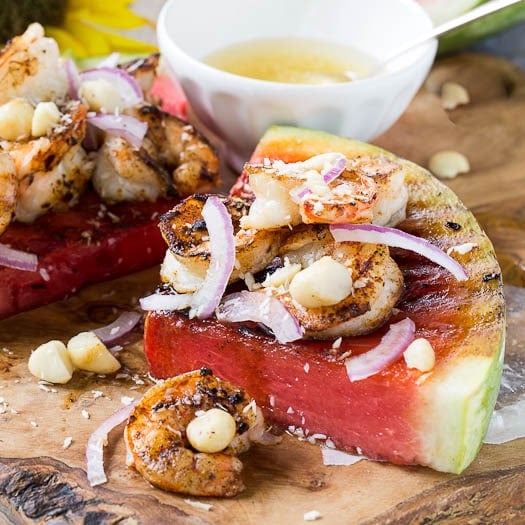 Grilling watermelon gives it beautiful char marks.
But you know what?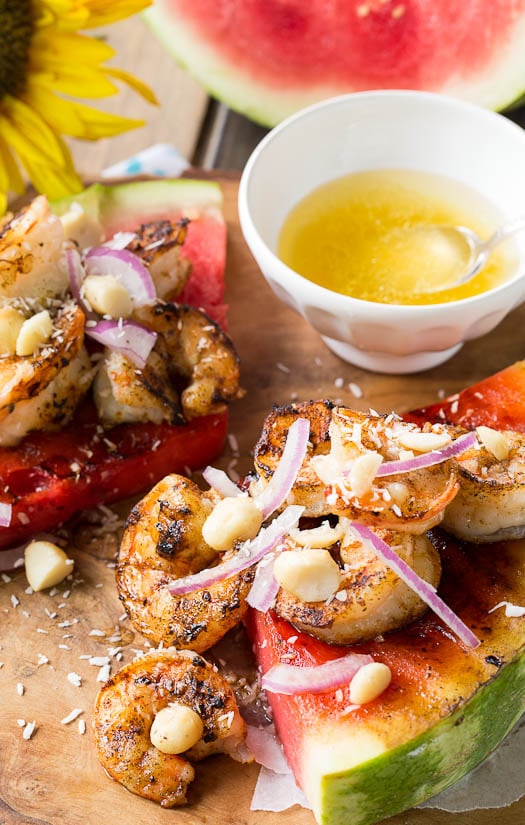 I didn't like it.
This was the first time I've made grilled watermelon. I had such high hopes for it.
But one bite into the grilled watermelon and I realized grilling it ruins all that I love most about watermelon. It completely changes the texture, taking it from a crisp, watery texture to a texture that's almost meaty.
I also found the watermelon soaked up a few off-tasting flavors from my grill pan, which I will admit is a gazillion years old and obviously not as well cleaned as it maybe should be.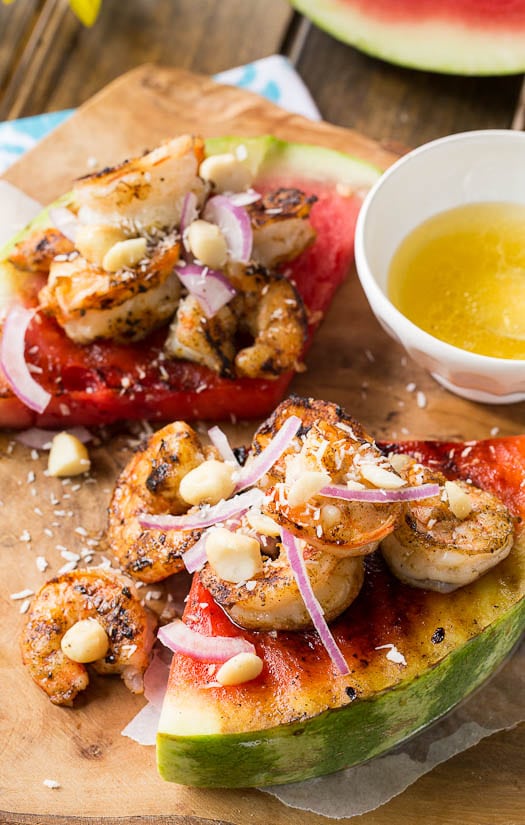 Plus I like watermelon best when it is super cold from the refrigerator. It's so cool and refreshing and that to me is what makes watermelon the perfect summer treat. Especially during August in South Carolina when any and every measure to cool off is needed.
Warm watermelon? Not so refreshing.
But worst of all, the exterior of the watermelon developed a slimy coating. Completely unappealing. I'm not sure if there is something I could have done to prevent this.
Have you ever grilled watermelon before? Did it get slimy? Did you like it?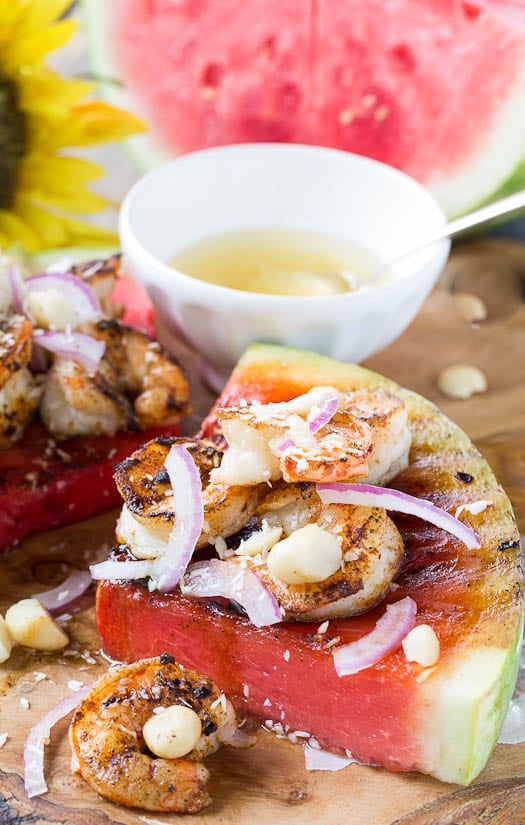 I'm still posting the recipe beacause grilled watermelon aside, I really liked it. And if you like grilled watermelon or you've been curious about it, you should definitely try it. Grilled watermelon absolutely has its fans out there, so maybe it's just me. I've finally found something besides grapefruit I don't like.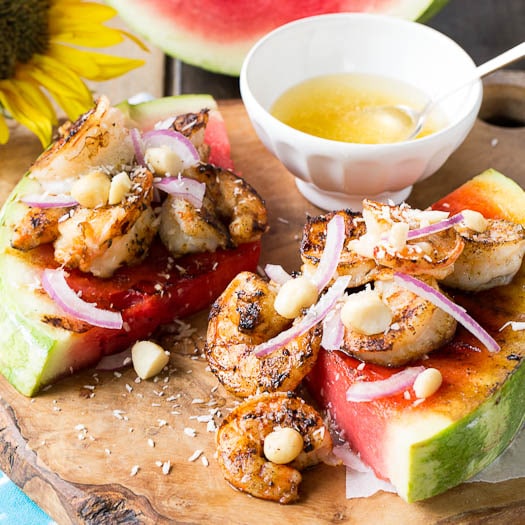 Plus, I've discovered this recipe is perfectly delicious with a slice of UNGRILLED watermelon- fresh and cold from the refrigerator. 🙂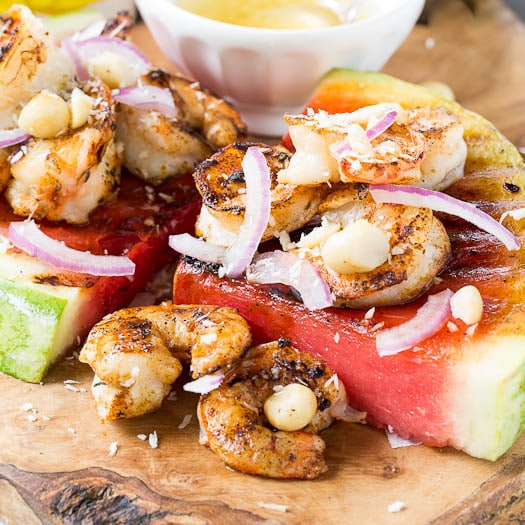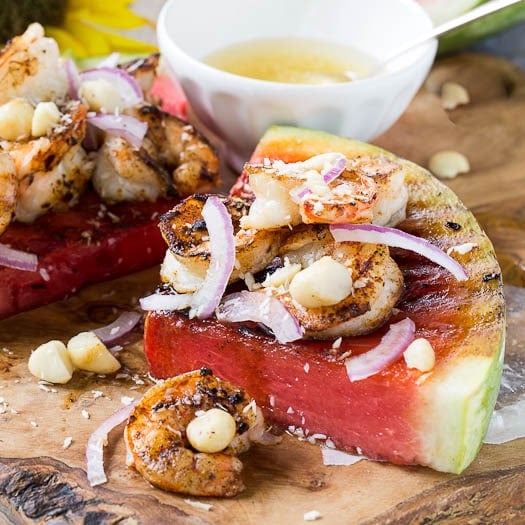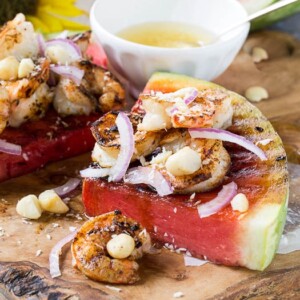 Grilled Watermelon with Tropical Shrimp
Grilled Watermelon wedges topped with grilled shrimp with jerk seasoning. Makes an interesting and different summer meal or appetizer.
Ingredients
1

pound

large shrimp,

peeled and deveined

1/2

teaspoon

jerk seasoning

1/2

teaspoon

paprika

1/2

teaspoon

salt

2

tablespoons

olive oil

4

half-moon slices of watermelon

olive oil

1/2

small red onion,

thinly sliced

1/4

cup

toasted macadamia nuts,

chopped

2

tablespoons

shredded coconut

2

tablespoons

fresh squeezed orange juice

1

tablespoon

lime juice

1

tablespoon

rice wine vinegar

2

tablespoons

olive oil

1/4

teaspoon

freshly ground black pepper

1/8

teaspoon

salt
Instructions
Preheat grill or grill pan to medium-high heat. Toss shrimp with jerk seasoning, paprika, and salt. Grill shrimp for about 2 to 3 minutes each side, or until cooked through. Set aside.

Brush each side of watermelon with a little olive oil and grill on each side for 1 minute. Sprinkle with a little salt. (Grill watermelon on opposite side of grill from shrimp so it won't taste like shrimp. Or grill it first.)

Place each piece of watermelon on a plate. Top with grilled shrimp, red onion, macadamia nuts, and coconut.

To make dressing, whisk together orange juice, lime juice, rice wine vinegar, olive oil, salt and pepper.

Drizzle dressing over shrimp and serve.
Notes
Note: this recipe can also be made without grilling the watermelon.
Want to Save This Recipe?
Disclosure: This post may contain affiliate links.