Make use of all those fresh summer vegetables with this light and flavorful Grilled Summer Vegetable Pasta Salad with Lemon-Basil Vinaigrette.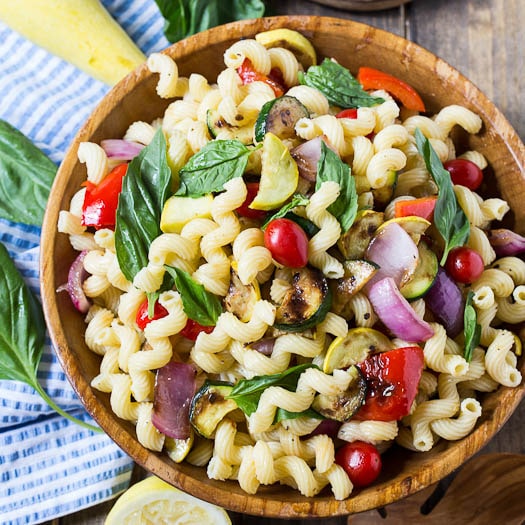 I've used zucchini, yellow squash, red bell pepper, and red onion, but you can pretty much use any vegetable you have in your garden or your refrigerator. Eggplant and broccoli would also work well as would some corn.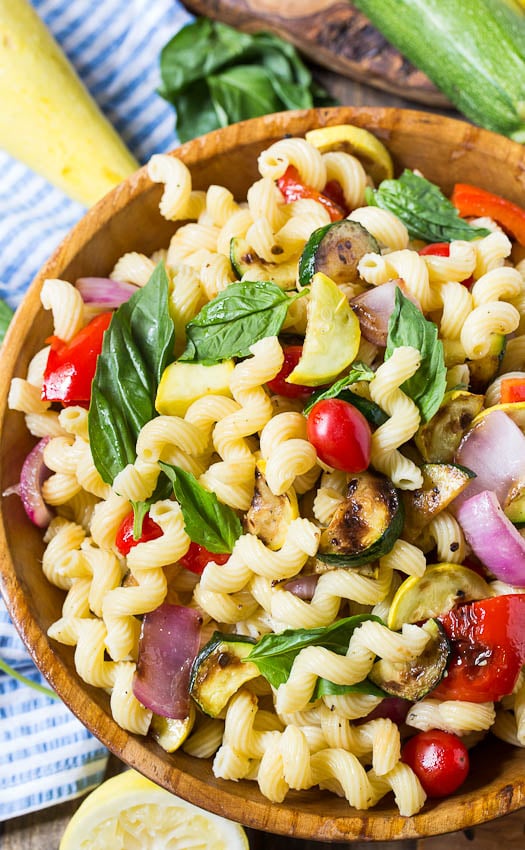 I threw the vegetables on a grill pan to soften them up and get that nice char that really brings out their flavor. I also added some grape tomatoes, (didn't grill them but you definitely could), and some fresh grated Parmesan cheese.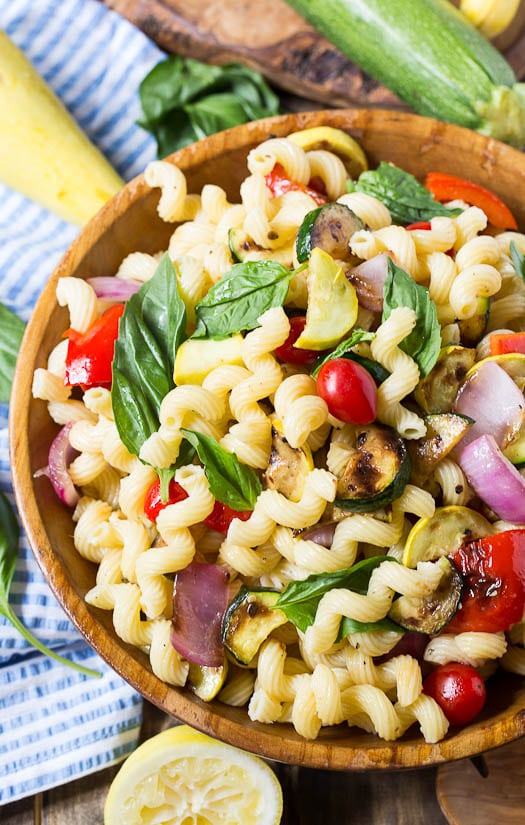 The dressing is a light and fresh Lemon-Basil Vinaigrette that really complements the flavor of the vegetables and isn't at all heavy.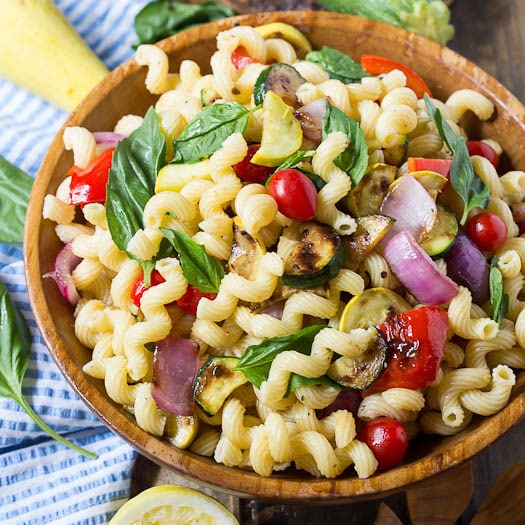 Pasta salad makes the perfect summer side dish, or even light meal, and I find myself making it almost weekly during the summer. Leftovers are a great way to feed hungry teenagers who seem to become ravenous at unexpected times without warning.
There are so many variations of pasta salad, I don't think I will ever tire of it. Some of my other favorites besides Summer Vegetable Pasta Salad are Caesar Pasta Salad, Cobb Pasta Salad, Greek Pasta Salad, and Easy Macaroni Salad.
What is your favorite pasta salad variation?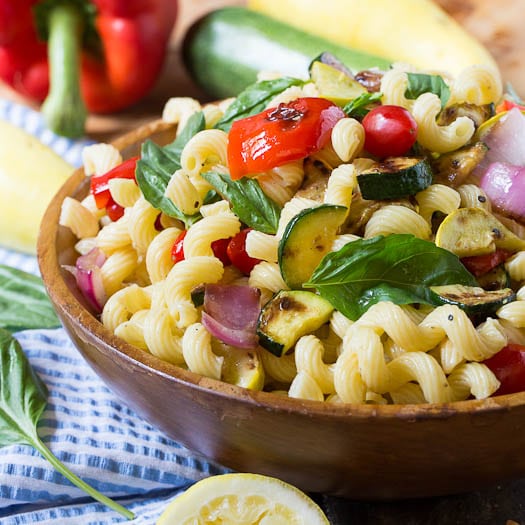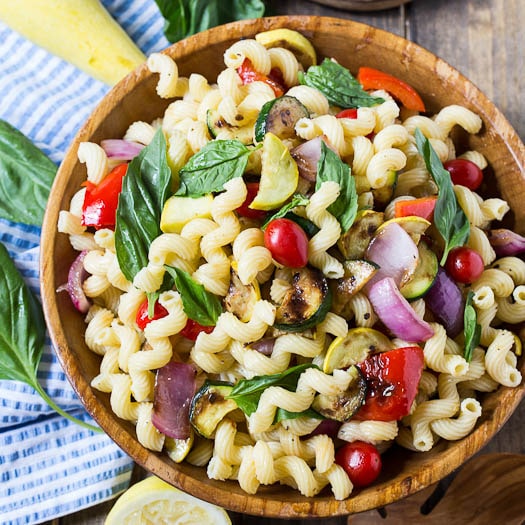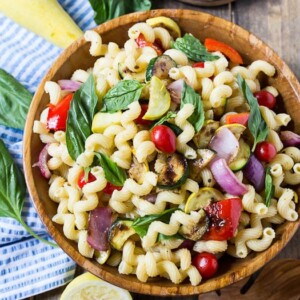 Grilled Summer Vegetable Pasta Salad with Lemon-Basil Vinaigrette
A light and flavorful pasta salad with tons of grilled vegetables. Tossed in a refreshing Lemon-Basil Vinaigrette.
Ingredients
1

yellow squash

1

zucchini

1

red onion

1

red bell pepper

1

tablespoon

olive oil

salt and pepper

1

pound

corkscrew pasta

2

tablespoons

lemon juice

2

tablespoons

red wine vinegar

1/2

tablespoon

Dijon mustard

1

teaspoon

sugar

1/2

teaspoon

garlic powder

1/2

teaspoon

salt

1/4

teaspoon

black pepper

1/8

teaspoon

dried thyme

1/2

cup

olive oil or vegetable oil

1/4

cup

julienned fresh basil

1/4

cup

shredded Parmesan cheese

1

cup

grape tomatoes
Instructions
Cut yellow squash and zucchini in half lengthwise and then into half moon shapes. Cut red bell pepper and red onion into approximately 2-inch chunks. Place together in a medium bowl and toss with 1 tablespoon olive oil. Sprinkle with salt and pepper.

Heat a grill pan over medium-high heat. When hot add vegetables. Grill until they develop nice grill marks and then flip over and continue to cook until softened. Place in a large bowl.

While vegetables are grilling, bring a large pot of water with at least 1 tablespoon of salt to a boil. Cook pasta to al dente. Drain pasta and rinse with water. Drain well and add to bowl with grilled vegetables.

In a medium bowl, combine lemon juice, red wine vinegar, Dijon mustard, sugar, garlic powder, salt, pepper, and thyme. Gradually whisk in oil. Add basil.

Pour dressing over pasta and vegetables. Add tomatoes and Parmesan cheese. Refrigerate for at least 1 hour.
Want to Save This Recipe?