This Grilled London Broil is juicy and flavorful and cooks in just a matter of minutes. Making shallow cuts on each side of the meat helps it cook up just right and lets the flavor of the marinade really get into the meat.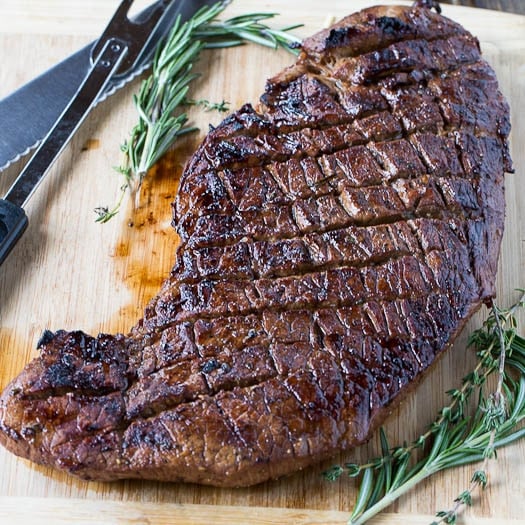 If it isn't already, London Broil should be a part of your regular dinner rotation. It's an inexpensive cut of meat that can feed a large family and it's super easy to cook. The only problem with cooking London Broil is that if you're not careful, you'll end up with dry, chewy, bland meat that is an unappetizing grey color.
But no worries thanks to Cook's Country.
This recipe from Cook's Country helps ensure juicy, flavorful steak that's cooked just right. For the flavor, the steak is marinated for 2 hours in soy sauce, garlic, ketchup, balsamic vinegar, and a bunch of herbs.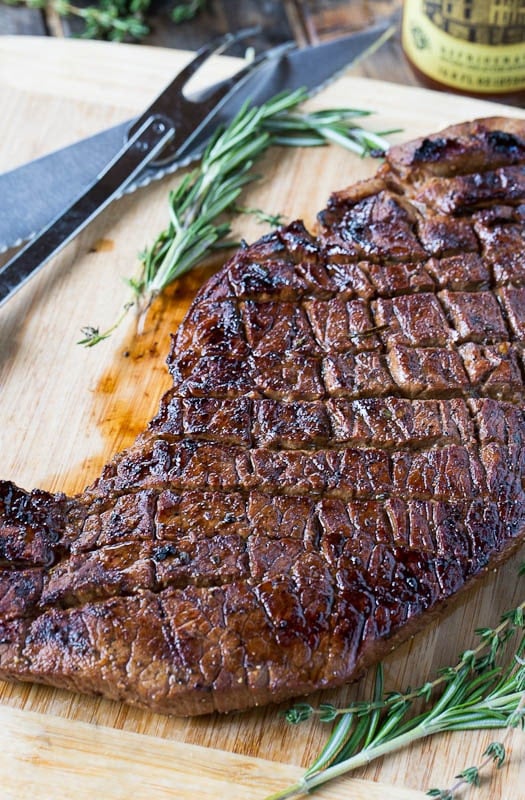 The marinating takes place at room temperature. Not only does marinating at room temperature shorten the marination time, bringing the meat to room temperature before grilling helps to cook it more evenly.
The meat is crosshatched (shallow cuts done diagonally in each direction) on both sides. This not only helps the meat absorb more flavor, but helps the inside cook before the outside overcooks and develops that unsightly grey appearance.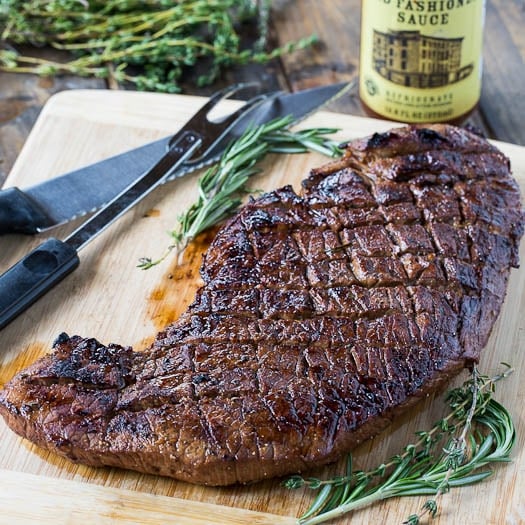 The London Broil stays on the grill for just a short time since it should be served medium rare for tenderness. The meat is flipped over every minute to ensure it cooks evenly.
You won't taste more flavorful London Broil than this!
Serve with steak sauce or even better, horseradish sauce, for a special, but economical family supper.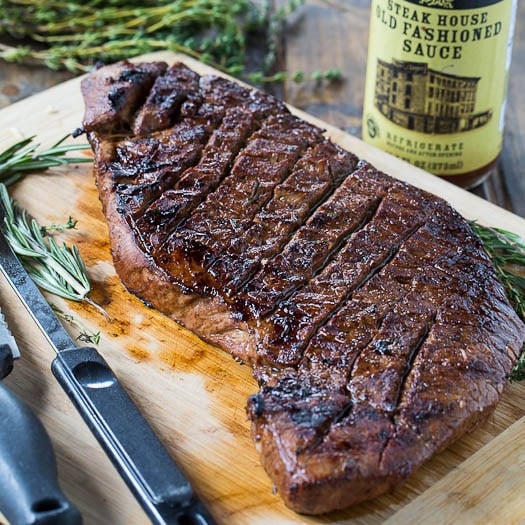 Never Miss a recipe! Follow Spicy Southern Kitchen on Pinterest and Instagram.
Sign up HERE for the Spicy Southern Kitchen Newsletter.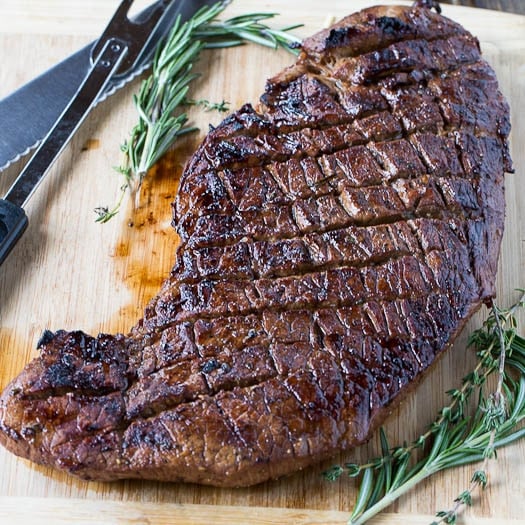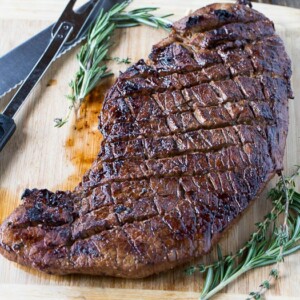 Grilled London Broil
No more dried out, chewy meat with this recipe for perfectly cooked and flavored grilled London Broil.
Ingredients
1

(1 1/2 to 2-pound)

London Broil,

should be about 1 1/2 inches thick

1/2

cup

soy sauce

2

tablespoons

balsamic vinegar

2

tablespoons

ketchup

3

cloves

garlic,

minced

1 1/2

tablespoons

vegetable oil

1

teaspoon

chopped fresh rosemary

1

teaspoon

chopped fresh thyme

1/2

teaspoon

dried rubbed sage

1 1/2

teaspoons

coarsely ground black pepper

1

teaspoon

paprika
Instructions
Using a sharp knife, cut a 1/2-inch crosshatch pattern, 1/4-inch deep, on both sides of steak.

Place in a 1 gallon ziptop bag.

Place remaining ingredients, EXCEPT black pepper and paprika, in a blender.

Process for 30 seconds and pour into ziptop bag with steak. Turn to coat steak and let sit at room temperature for 2 hours.

Turn all burners on a gas grill to high. Cover and let heat for 15 minutes.

Mix together black pepper and paprika.

Remove steak from marinade and pat dry with paper towels. Season with pepper/paprika mixture.

Place London Broil on grill. Grill for 1 minute and then flip over. Continue to flip every minute until temperature reaches 125 degrees for medium rare or 130 degrees for medium. Total cooking time should be 5 to 9 minutes.

Let rest 10 minutes before slicing.
Want to Save This Recipe?
Recipe Source: slightly adapted from Cook's Country Aug/Sept 2012
Disclosure: This post may contain affiliate links.