These crispy Fried Mashed Potato Balls with ranch dip are a great way to use up leftover potatoes. Flavored with bacon and cheese plus some green onion and served with a Ranch-flavored sour cream dip.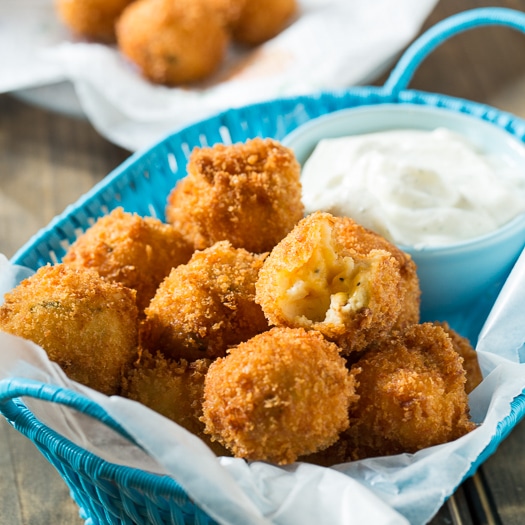 Hope everyone has a wonderful Thanksgiving tomorrow! I am feeling pretty well prepped. I am a little bit worried about the turkey though. We have fried our turkey for probably the last 7 years or so, but I decided I wanted to roast it this year. But it's been so long since I've roasted a turkey, I don't even remember how I did it.
But as long as the dressing and the desserts come out well, no one will complain.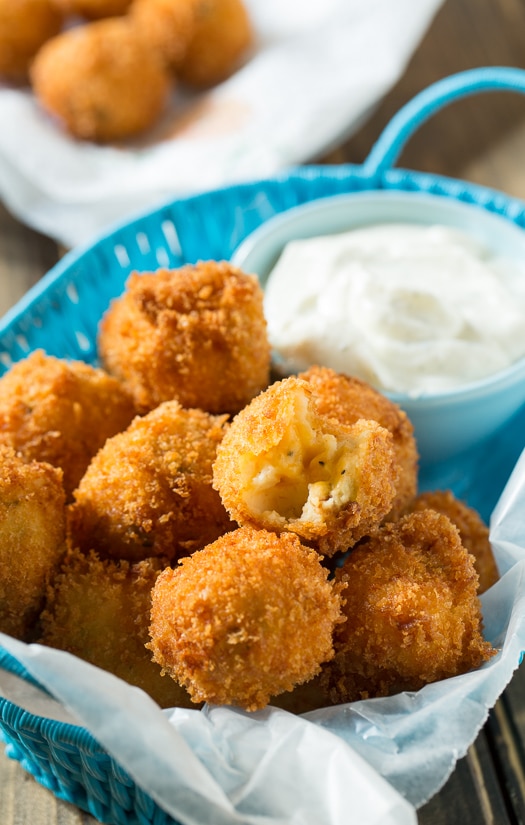 And honestly, everyone is going to be happy to have a home-cooked meal this year even if the turkey is dry. Last year our Thanksgiving was spent at the hospital with our son who was just starting chemotherapy for testicular cancer. A family of a former patient donated a Boston Market meal for everyone on the children's floor of the hospital and we felt very fortunate to have that meal and all be together as a family.
And this year we have so much to be thankful for. Chase has been cancer free for close to 9 months. My son and daughter are closer than they ever have been. I can't even remember the last time I heard them bicker. After months of being terrified at looking into the future, it doesn't seem quite as scary as it did. Things for the most part have returned to normal. But a new kind of normal.
We have learned so many positive life lessons going through such a terrible family crisis that we will carry with us for the rest of our days. There are no guarantees in life and each passing second should be cherished.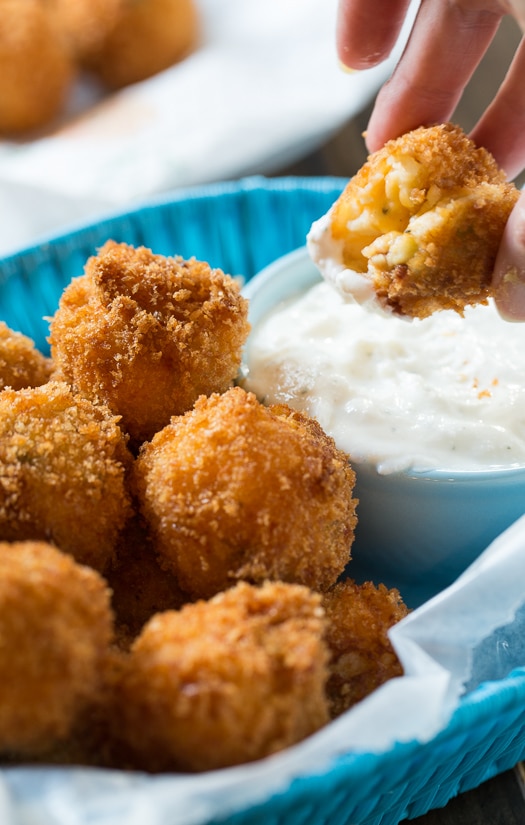 So on Thanksgiving, give your loved ones an extra hug, remember to be patient with that certain relative, and if you have any leftover mashed potatoes, make a batch of these fried mashed potato balls!
Happy Thanksgiving y'all!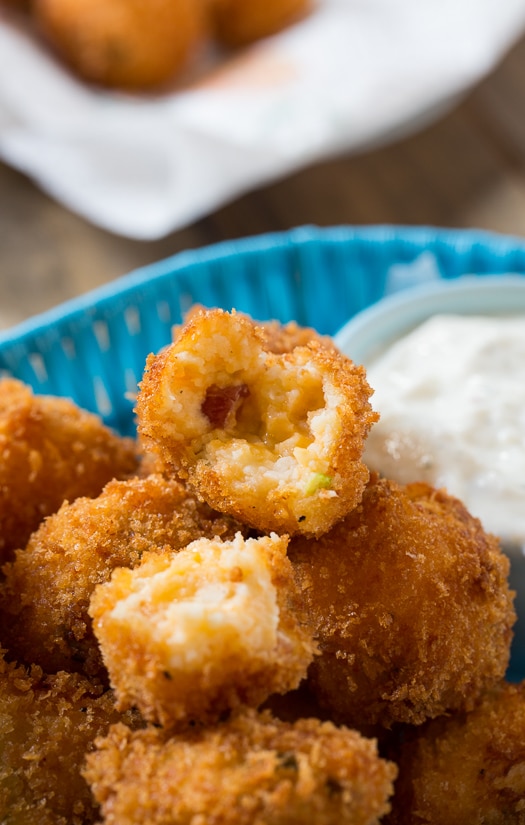 Never miss a recipe. Click Here to subscribe.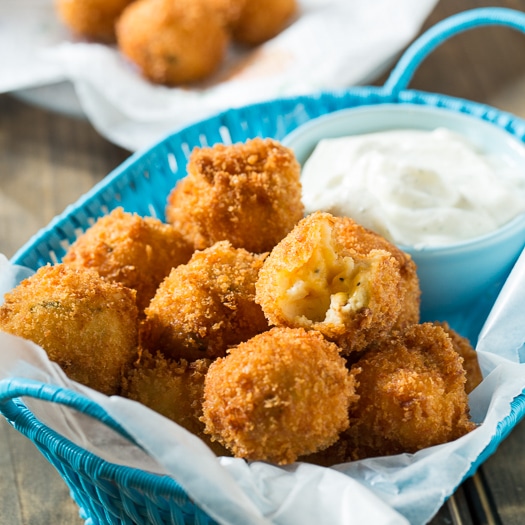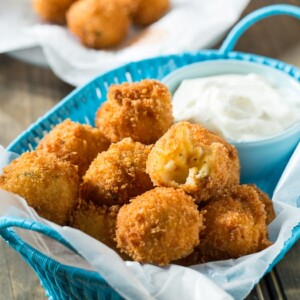 Fried Mashed Potato Balls
These crispy Fried Mashed Potato Balls with ranch dip are a great way to use up leftover potatoes. Flavored with bacon and cheese plus some green onion.
Ingredients
1

(24-ounce)

container refrigerated mashed potatoes or 3 cups leftover mashed potatoes

1

cup

shredded sharp Cheddar cheese

1/4

cup

sliced green onion

4

slices

bacon cooked and crumbled

1-2

teaspoons

finely minced jalapeno,

optional

1/2

teaspoon

Season All

1/4

teaspoon

pepper

3

eggs

1/4

cup

water

2

cups

Panko crumbs

or bread crumbs

Vegetable oil

1

(8-ounce)

container sour cream

2

tablespoons

milk

1 1/2

teaspoons

dry ranch dressing mix

from a 1-ounce package
Instructions
In a large bowl mix together (cold) mashed potatoes, cheese, green onions, bacon, jalapeno, Season All, and pepper.

Shape into about 22 balls that are approximately 1-inch across. Refrigerate at least 30 minutes.

In a medium bowl, whisk eggs and water together.

Place panko crumbs inn a pie plate.

Pour 2 inches oil into a Dutch oven and heat to 375 degrees.

Dip potato balls in egg mixture then roll in Panko crumbs.

Fry 5 to 6 balls at a time, cooking until golden brown on all sides, about 2 to 3 minutes.

Drain on paper towels or a wire rack.

Mix together sour cream, milk, and ranch mix in a small bowl.

Serve fried potato balls warm.
Notes
Makes about 22 mashed potato balls.
Want to Save This Recipe?
Disclosure: This post contains affiliate links.
More Recipes Using Leftover Mashed Potatoes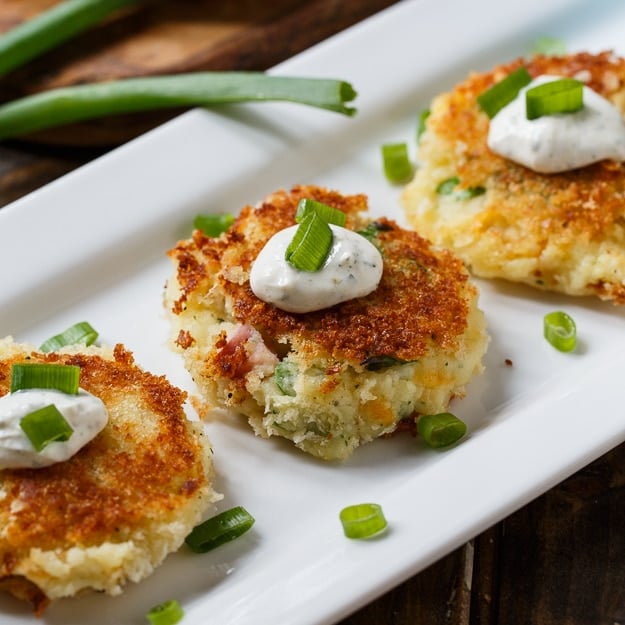 Disclosure: This post may contain affiliate links.