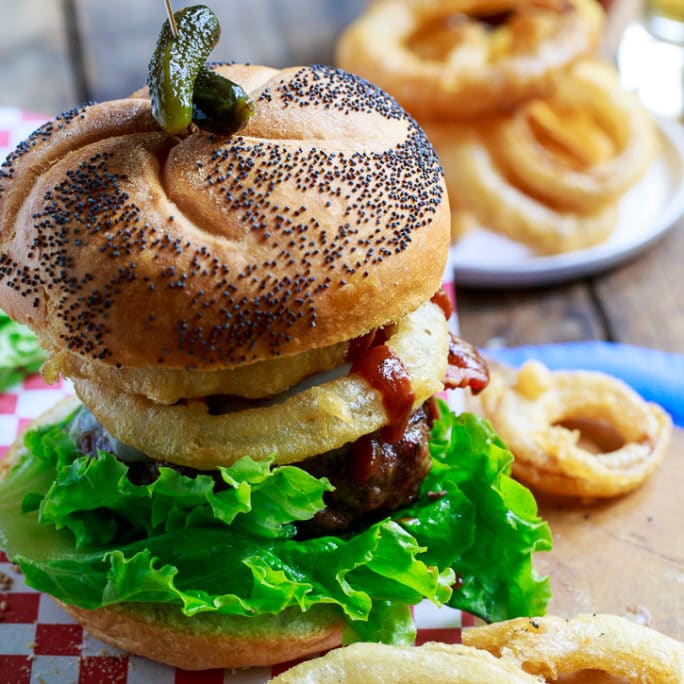 These Cowboy Burgers are loaded with smokey BBQ flavor and topped with melted cheese, bacon, crispy fried onion rings, and Stubb's BBQ Sauce. One-bite and you'll be hooked on these western-style burgers.
In today's world, regular ole burgers have become so ho-hum. People expect a burger piled with toppings and bursting with flavor. Luckily, with Stubb's products, grilling a super tasty burger couldn't be easier.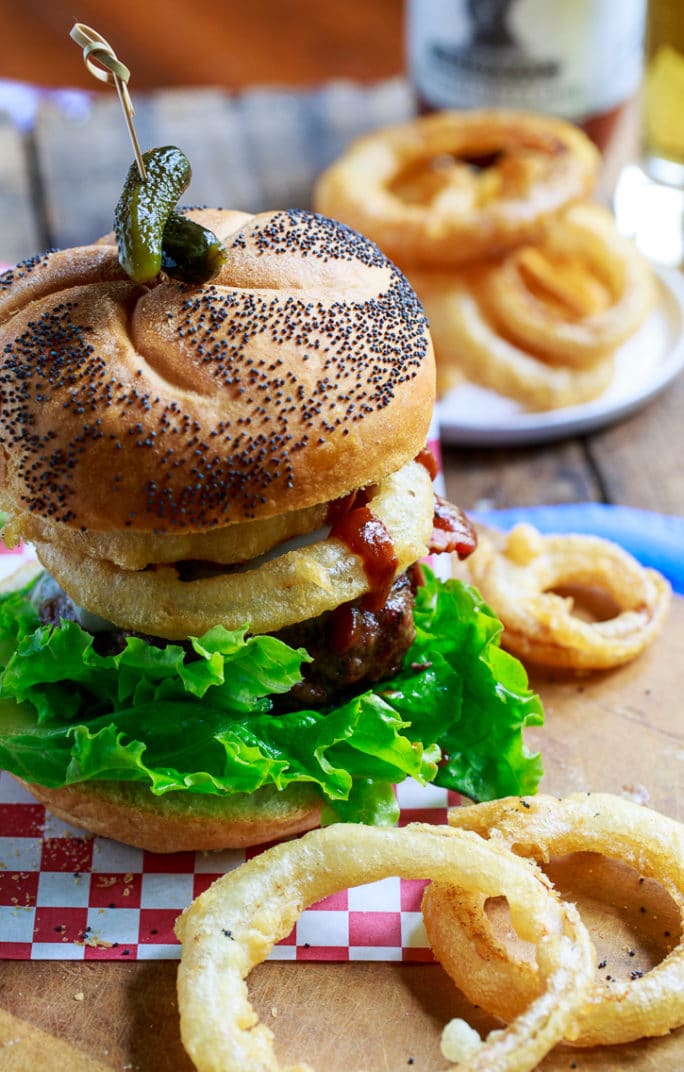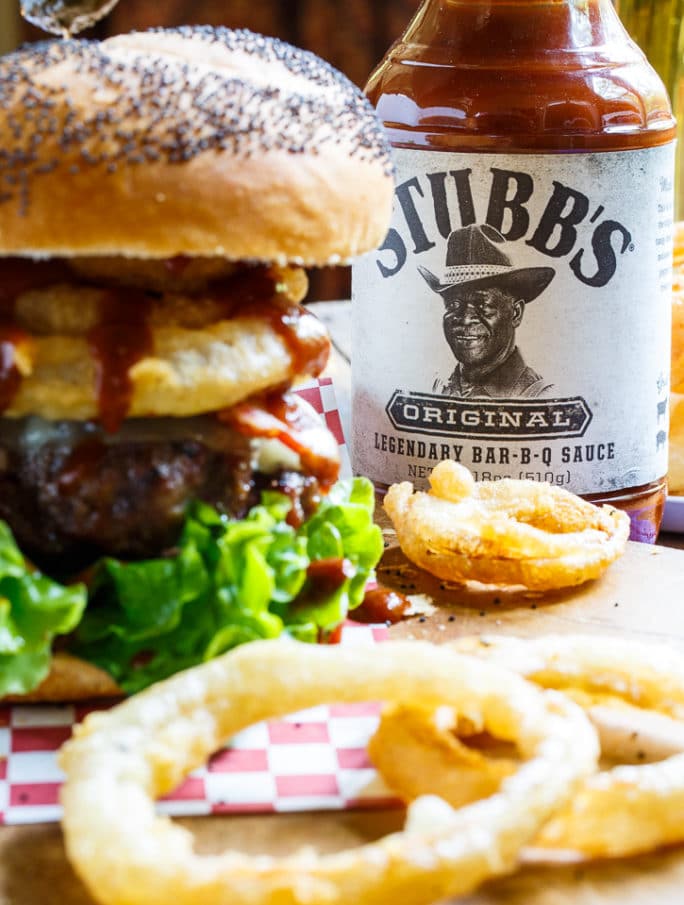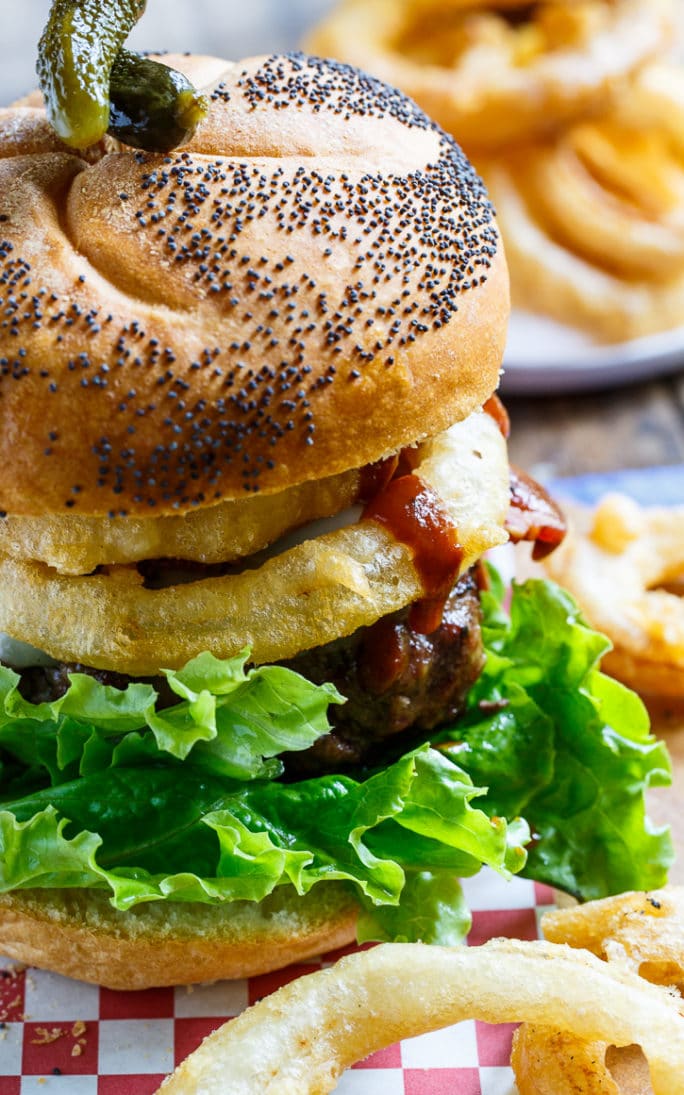 To flavor these burgers, I mixed Stubb's Sweet Black Pepper Anytime Sauce in with the ground beef. It's flavored with pepper, soy sauce, and brown sugar and tastes great as a marinade, basting sauce, or dipping sauce.
Once the patties were formed, I sprinkled them with Stubb's Beef Rub before grilling. The rub gives the burgers a nice, smokey flavor.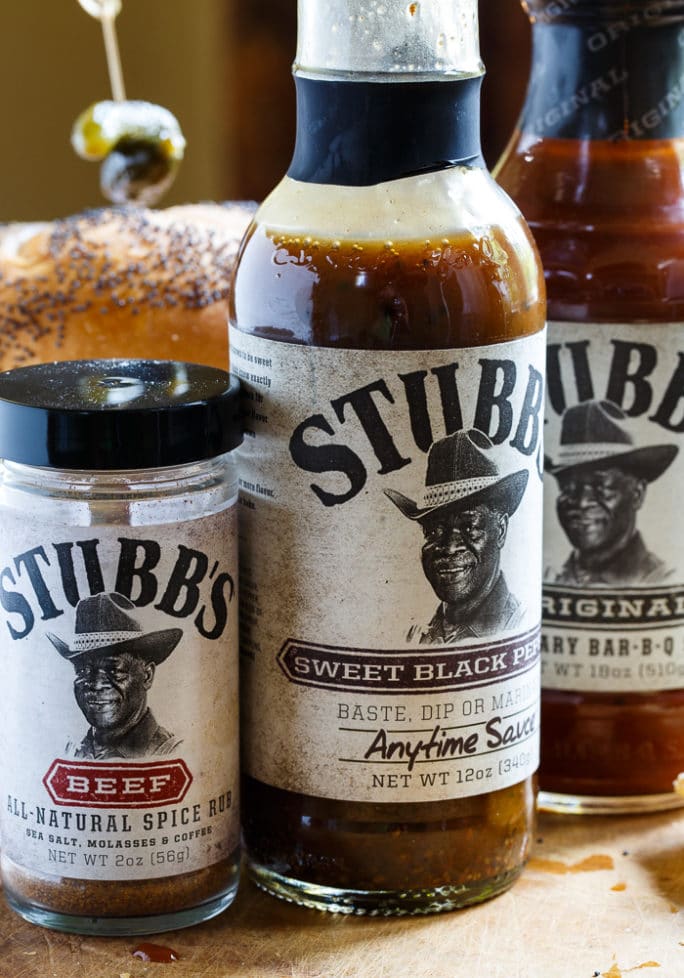 Once grilled, I topped the burgers with cheese and I piled them on a bun with lettuce, crispy bacon, onion rings fried in a light, golden batter, and Stubb's Original BBQ Sauce. So much flavor going on here!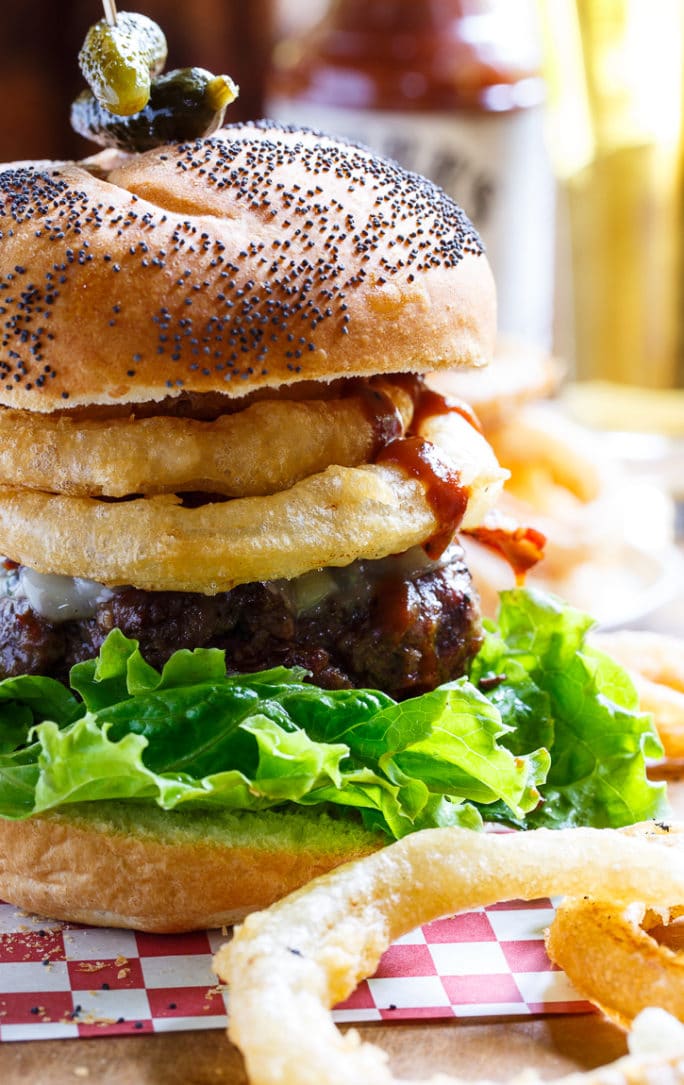 Stubb's BBQ Sauces, marinades, and rubs are one of my favorite ways to flavor up grilled foods.
National BBQ Expert Rocky Stubblefield suggests creating over-the-top burgers by coating the patties with both Stubb's Rub and smoked sea salt to really bring out that smokey BBQ taste.
Before grilling, make a thumbprint in the middle of each patty. This will help keep the patties from plumping up and getting rounded when they grill.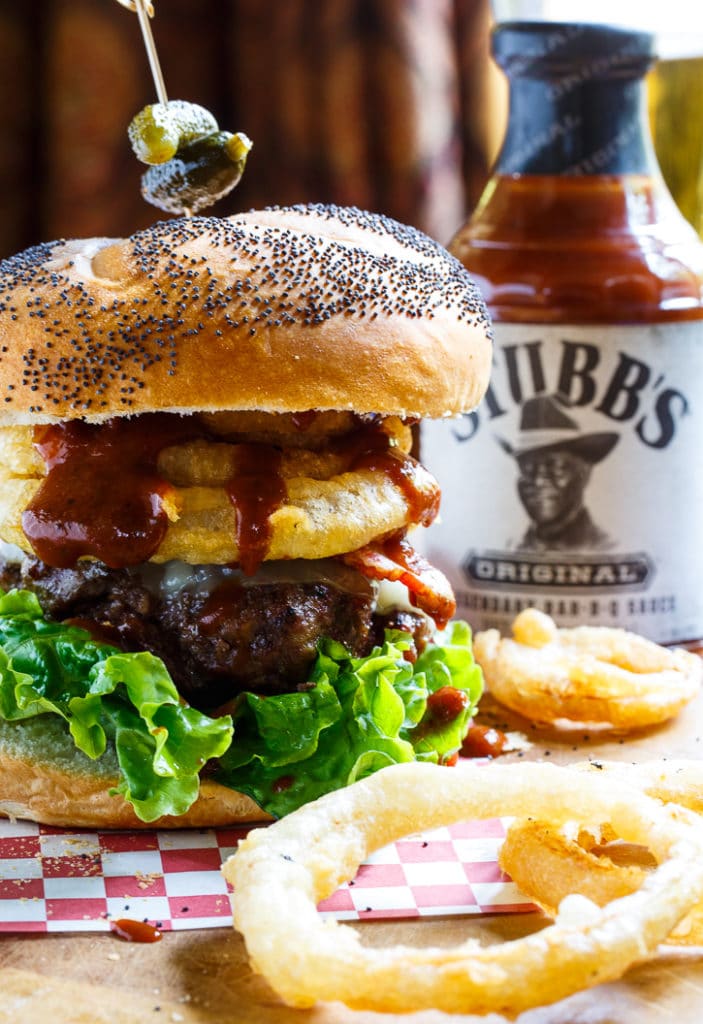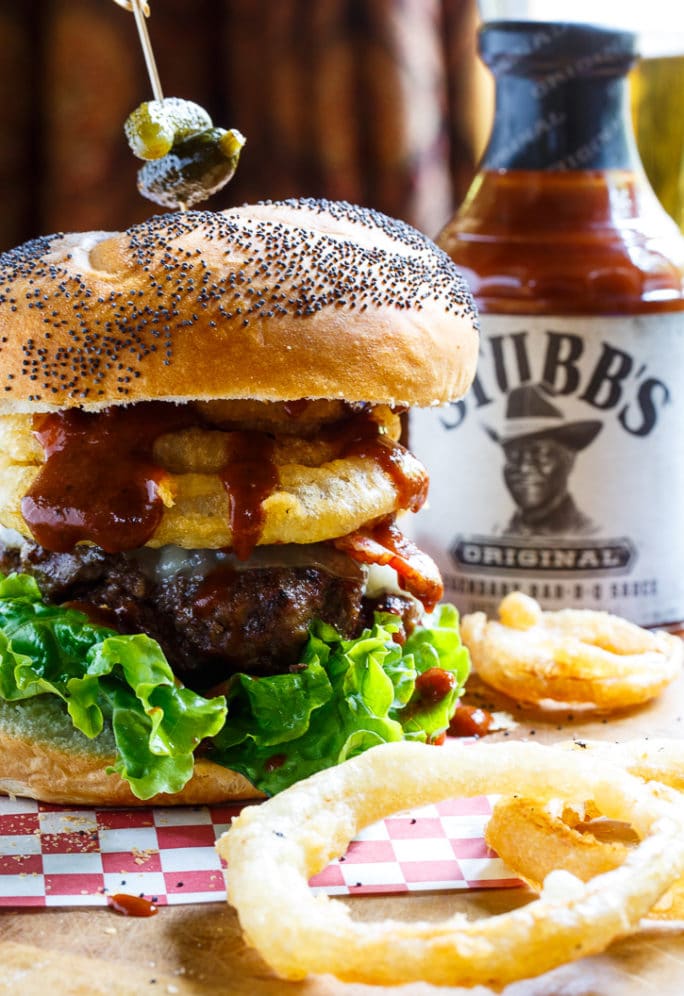 Learn about 2016's top BBQ trends and tips from Rocky Stubblefield at StubbsBbq.com.
Next time you grill some dinner, try a few Stubb's products and see why Austin, Texas-based Stubb's is the Number 1 premium BBQ Sauce in the country.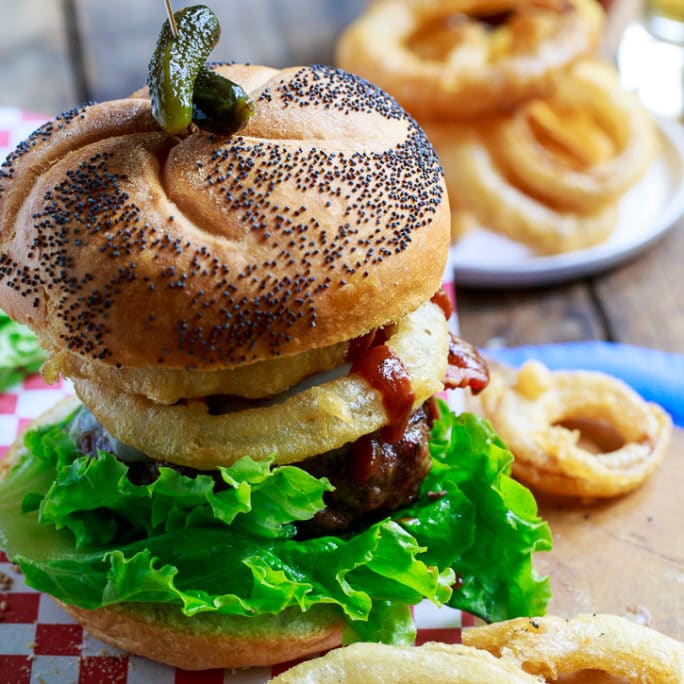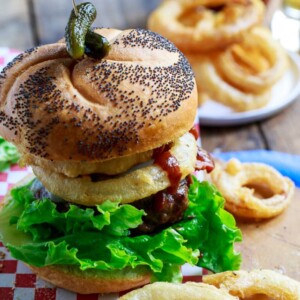 Cowboy Burgers topped with Onion Rings
These Cowboy Burgers have lots of smoky flavor and are topped with bbq sauce, onion rings, and bacon.
Ingredients
1

pound

ground chuck

80% lean

1/2

teaspoon

salt

1

tablespoon

Stubb's Sweet Black Pepper Anytime Sauce

1

teaspoon

Stubb's Beef Rub

4

slices

cheese (cheddar

provolone, or swiss)

4

buns

4

leaves

lettuce

Stubb's Original BBQ Sauce

8

slices

bacon

cooked
Onion Rings
2

sweet onions

peeled and cut into 1/3-inch slices

2 1/4

cups

all-purpose flour

1/2

cup

cornstarch

1

teaspoon

baking powder

1/2

teaspoon

salt

1/4

teaspoon

pepper

2

egg whites

1 1/2

cups

cold beer

1

cup

cold water

Vegetable oil for frying
Instructions
Combine ground chuck, salt, and Sweet Black Pepper Sauce in a bowl and mix. Form into 4 patties. Sprinkle patties with Beef Rub.

Grill burgers on a medium hot grill for about 5 minutes per side or until desired degree of doneness. Top with cheese slices just before removing from grill.

To make onion rings. whisk together flour, cornstarch, baking powder, salt and pepper in a large bowl.

In a medium bowl, whisk egg whites until light and frothy. Whisk in beer and water.

Add liquid ingredients to dry and whisk just until combined.

Heat about 2 inches of Vegetable oil in a Dutch oven to 375 degrees.

Separate onions into rings and dip in batter.

Fry in batches until golden brown. Drain on a paper towel-lined baking sheet and season lightly with salt.

Pile burgers, lettuce, and bacon on buns. Top with 2 to 3 onion rings and bbq sauce and serve.
Want to Save This Recipe?
Disclosure: This is a sponsored post. I appreciate the opportunity to share products I love and use in my own kitchen.