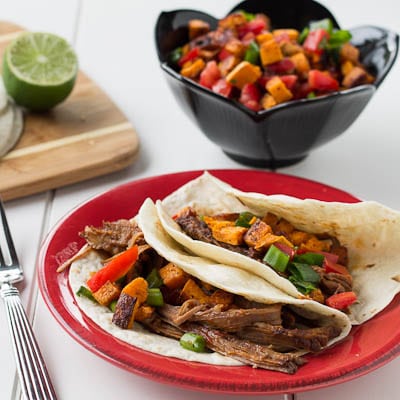 Even though I love cookbooks and I've collected them for years, I'm actually quite picky about which ones I really like and cook from. I have many a cookbook that I haven't cooked a single thing from.
But one cookbook I keep going back to again and again is Sara Foster's Fresh Every Day: More Great Recipes from Foster's Market
. What's so wonderful about Sara is she has her own distinct style of cooking that's creative, but not fussy. Her foods somehow have both a casual and an elegant feel to them.
This recipe for Chipotle Maple Beef Brisket Tacos with Sweet Potato Salsa is one of my favorites from Fresh Every Day. It results in a wonderfully flavored and tender brisket, almost as good as my all time favorite brisket.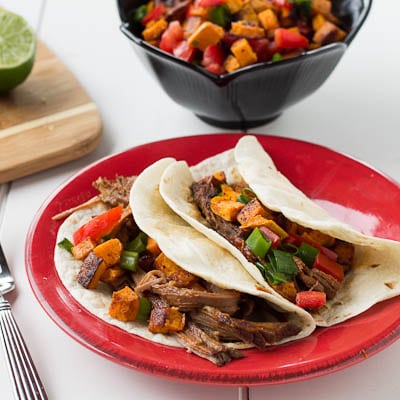 When cooking brisket, it's imperative that you cook it until the meat is falling apart. Sometimes that takes longer than the recommended cooking time. Don't worry so much about the clock. Let the brisket tell you when it's done- because no one wants a tough, chewy brisket
My favorite part about this dish is the sweet potato salsa. Mostly because I am a sweet potato fanatic and since it is the official vegetable of my home state (North Carolina), I feel an extra strong allegiance to it. The sweet potatoes, as their name suggests, are deliciously sweet, the red peppers crunchy, and the cilantro and fresh tomato contribute a light freshness to the salsa.
Chipotle Maple BBQ Brisket Tacos with Sweet Potato Salsa
Brisket
1 3 1/2 to 4 pound beef brisket
2 tablespoons Butt Rub (recipe follows)
1/2 cup packed light brown sugar
1/4 cup Worcestershire sauce
2 tablespoons apple cider vinegar
1 cup Chipotle-Maple Barbecue Sauce (recipe follows)
1 cup beer
Flour tortillas
Sweet Potato Salsa (recipe follows)
fresh cilantro
Sprinkle brisket with butt rub. In a shallow dish that will fit brisket, combine brown sugar, Worcestershire sauce, and vinegar. Add brisket and flip several times to coat brisket with sugar mixture. Cover and refrigerate at least 6 hours or overnight. Bring to room temperature before proceeding with recipe.
Preheat the oven to 350 degrees and heat a gas grill to medium-high. Alternately, you could use a grill pan.
Remove brisket from marinade and grill until nicely seared on both sides, about 4 to 6 minutes per side.
Place brisket in a large ovenproof skillet and pour marinade on top. Combine the barbecue sauce and beer together and pour over brisket, turning the brisket to coat well. (You could also use a baking dish if you don't have an ovenproof skillet large enough.)
Cover skillet with foil and cook for 3 hours to 3 1/2 hours, or until it pulls apart easily with a fork. (Could take more like 4 hours.) Remove brisket from oven and keep warm until ready to use.
To make tacos, warm tortillas in the microwave until pliable. Fill with shredded brisket and sweet potato salsa.
Butt Rub
1 tablespoon paprika
1/2 tablespoon freshly ground black pepper
1/2 tablespoon kosher salt
1/2 tablespoon garlic powder
1/2 tablespoon chili powder
1 tablespoon packed brown sugar
1/4 teaspoon cayenne pepper
Combine all ingredients in a small bowl.
Chipotle Maple BBQ Sauce
1 (14-ounce) can crushed tomatoes
1/4 cup maple syrup
1/4 cup light brown sugar
1 chipotle pepper in adobo, diced
1/2 cup white vinegar
2 tablespoons Worcestershire sauce
1/4 cup apple cider
juice of 1/2 a lemon
2 garlic cloves, minced
1 tablespoon dry mustard
1 teaspoon kosher salt
1 teaspoon freshly ground black pepper
Combine all ingredients in a heavy bottomed saucepan and stir to combine. Bring to a boil and reduce to a simmer. Simmer for about 30 minutes (sauce should be thickened and reduced by about 1/4.)
Sweet Potato Salsa
2 medium sweet potatoes, peeled and chopped into 1/3-inch pieces
2 tablespoons olive oil
1 teaspoon balsamic vinegar
1 teaspoon chili powder
1/2 teaspoon ground cumin
1 tomato, cored and diced
1 red bell pepper, diced
2 green onions, sliced
2 tablespoons chopped fresh cilantro
Juice of 1/2 a lime
salt and pepper to taste
Preheat oven to 400 degrees.
Place sweet potatoes on a baking sheet and drizzle with olive oil and vinegar. Sprinkle with chili powder and cumin.
Cook for about 30 minutes, stirring once or twice. Remove from oven when sweet potatoes are lightly browned and soft all the way through.
In a medium bowl, stir together sweet potatoes, tomato, red pepper, green onions, cilantro, and lime juice. Season to taste with salt and pepper.
Recipe Source: adapted slightly from Fresh Every Day: More Great Recipes from Foster's Market