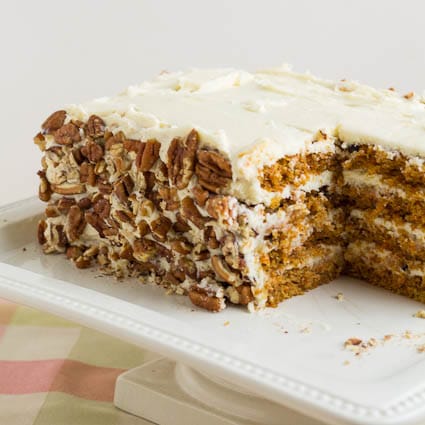 Happy Easter!
I thought Easter would be the perfect time to share a carrot cake recipe, and not just any carrot cake recipe. The BEST one I've ever made. Ok, maybe it's the only one I've ever made. But I really think it might also be the best one I've ever eaten. It's a Cook's Illustrated recipe, and they always turn out well. I have yet to find an exception.
I love everything about this recipe. The nice, thin layers (means a higher proportion of frosting!) created by baking the cake in a sheet pan and then cutting into 4 pieces are fabulous. Super easy and cuts down on baking time too. Total baking time is only about 15 minutes.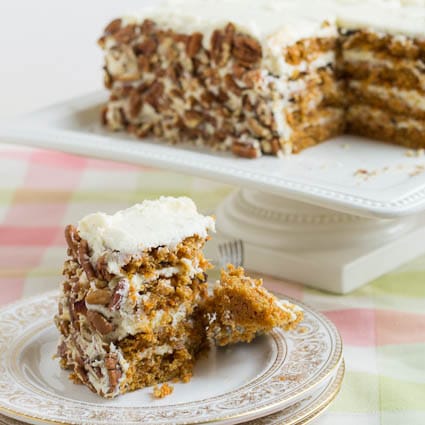 The cream cheese frosting is hands down the best I've ever had. The secret to it is the buttermilk powder. If you're like me, you've never even heard of it before- but you definitely do not want to skip or substitute for this little-known ingredient. It gives the frosting a wonderful tang, but because it is not a liquid, it does it without thinning down the consistency.
It is absolutely divine and you can eat a lot of it without feeling like you are going into a sugar coma. I found some buttermilk powder at my local market right near the baking powder. Ordering it online, Buttermilk Powder, 1lb.
, is always an option too. But whatever you do, don't go without!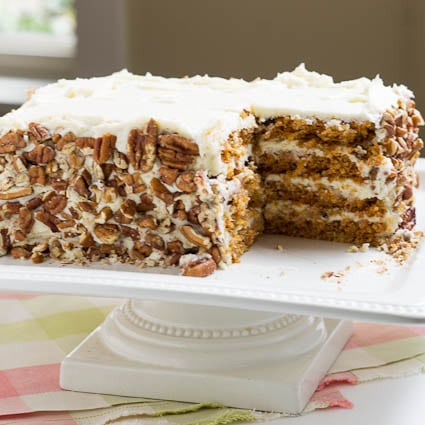 Another great thing about this recipe- no need to worry about making the frosting look nice on the sides. It gets covered up by the pecans. Perfect for me because I have no patience when it comes to frosting a cake. Or anything else for that matter.
I'm no fan of raisins in carrot cake or anything else and thankfully this recipe uses dried currants which I find much more palatable. Not only are they much smaller than raisins, I find they have a nicely concentrated and sweet flavor, more like dried blueberries which I love. I did cut the quantity of them down somewhat because I didn't want the cake to be riddled with them.
I could go on and on about how much I love this cake, but unfortunately I have too many other things to do. Just trust me. This is the only carrot cake you ever need to make.
Note: I found the flavors of the cake were even better after 24 hours, so try not to eat it all in one day. 🙂
Also, make sure you use scissors and cut the parchment paper to perfectly fit the bottom of the pan. Otherwise, the corners of the cake may turn out thinner and misshapen. When spreading the batter, be sure to really push it all the way into the corners of the pan.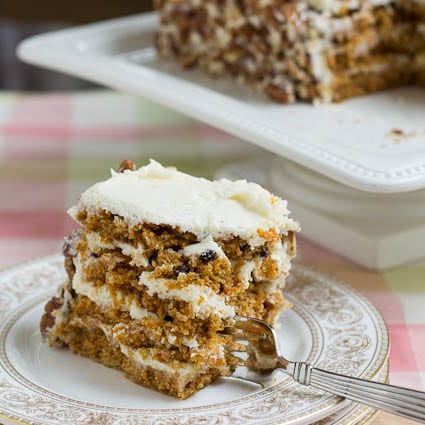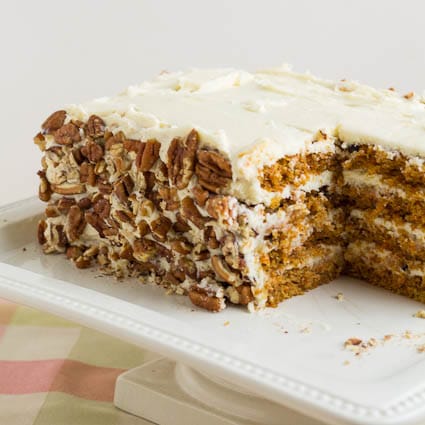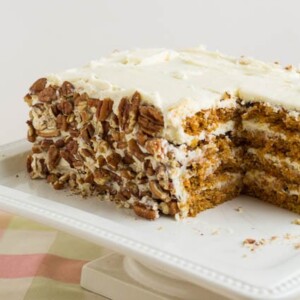 Carrot Layer Cake
Ingredients
Cake
1 3/4

cups

all-purpose flour

(8 3/4 ounces)

2

teaspoons

baking powder

1

teaspoon

baking soda

1 1/2

teaspoons

ground cinnamon

3/4

teaspoon

ground nutmeg

1/2

teaspoon

salt

1/4

teaspoon

ground cloves

1 1/4

cups

packed light brown sugar

(8 3/4 ounces)

3/4

cup

vegetable oil

3

large eggs

1

teaspoon

vanilla extract

2 2/3

cups

shredded carrots

(4 carrots)

2/3

cups

dried currants

(I used 1/3 cup)
Frosting
16

tablespoons

unsalted butter,

softened

3

cups

confectioners' sugar

(12 ounces)

1/3

cup

buttermilk powder

2

teaspoons

vanilla extract

1/4

teaspoon

salt

12

ounces

cream cheese,

chilled and cut into 12 equal pieces

2

cups

pecans,

toasted and chopped
Instructions
For the cake: Place oven rack in middle of oven and preheat oven to 350 degrees. Grease a 18×13-inch rimmed baking sheet, line bottom with parchment paper, and grease parchment. (I used butter.)

In a large bowl, whisk together flour, baking powder, baking soda, cinnamon, nutmeg, salt, and ground cloves.

In another large bowl, whisk together sugar, oil, eggs, and vanilla until smooth. Stir in carrots and currants. Add flour mixture and mix together using a rubber spatula until mixture is just combined.

Pour batter onto baking sheet and spread out evenly with spatula. Bake for 15 to 18 minutes, until center is firm to touch. Let cool in pan for 5 minutes. Invert cake onto a wire rack (do not remove parchment) and then reinvert onto a second wire rack and let cake cool completely.

For the Frosting: Using an electric mixer with paddle attachment, beat together butter, sugar, buttermilk powder, vanilla, and salt on low speed until smooth, about 2 minutes. Scrape down sides of bowl as needed.

Increase speed to medium-low and add cream cheese, 1 piece at a time. Mix until smooth, about 2 minutes.

Transfer cake to a good cutting surface, parchment paper side down. Using a long knife, cut cake into 4 equal rectangles. Place one cake piece on a cake stand or plate. Spread about 2/3 cup frosting on top. Repeat with remaining layers.

Spread frosting on top and sides of cake. Using hands, gently press pecans onto sides of cake. Chill for at least 1 hour before serving.
Want to Save This Recipe?
Disclosure: Spicy Southern Kitchen is an amazon.com affiliate.