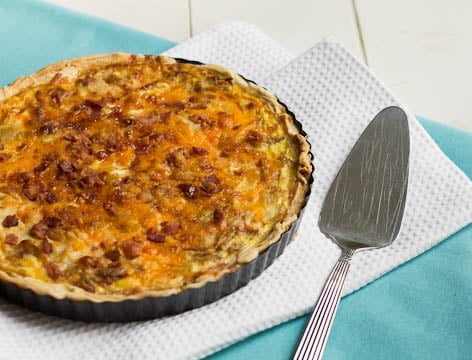 Rich and creamy Quiche with sweet caramelized onions and salty bacon is perfect for your next brunch or luncheon. Nothing wrong with eating one for breakfast or dinner too. I always associate quiche with Spring and Easter and if you're serving Easter Brunch at home, a quiche is a welcome addition. It has a wide appeal and can be made in advance. Serve it warm or cold.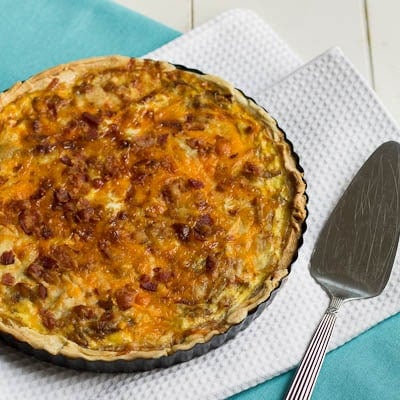 Be patient when caramelizing the onions and be sure to slice them thinly and evenly. The heat should be fairly low so they develop a deep caramel color without burning. I like to save a little bacon grease when I cook the bacon and add it to the pan when sauteing the onions so they pick up the bacony flavor.
Many different types of cheese work well in a quiche and you can even do a mixture of different types to use up what you have in your refrigerator. I have used a mixture of Gruyere and Cheddar, but any type of Swiss works well as well as Monterey Jack, Jarlsberg, smoked Gouda, or Fontina.
This Caramelized Onion and Bacon Quiche recipe is the only quiche recipe I've seen that calls for stacking 2 refrigerated pie crusts. If you think the pie crust is the best part of the quiche, you will like this. Or if you're like me and you use one pie crust out of the box and the other lingers at the back of the fridge until it's too old to use, using them both at once will prevent waste.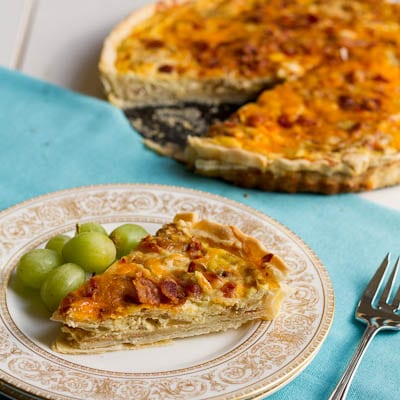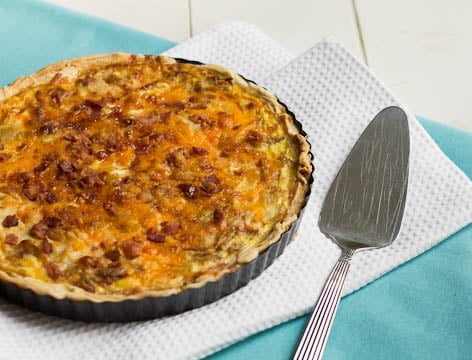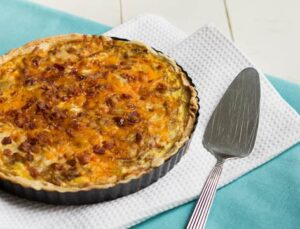 Caramelized Onion and Bacon Quiche
Ingredients
1

package refrigerated piecrusts

2

large sweet onions,

thinly sliced

1

tablespoon

olive oil

1

tablespoon

butter

1

teaspoon

bacon grease,

optional

6

cooked bacon slices,

crumbled

1 1/2

cups

shredded Gruyere cheese

1/2

cup

shredded sharp Cheddar cheese

1 1/2

cups

half-and-half

4

large eggs

1/2

teaspoon

salt

1/4

teaspoon

freshly ground black pepper

1/4

teaspoon

nutmeg
Instructions
Preheat oven to 425 degrees. Unroll pie crusts and stack on a lightly greased surface. Roll into at least a 12-inch circle, depending upon the size of your pan. Mold pie crust into a deep dish pie pan or 10-inch deep dish tart pan with removable bottom. Trim off excess pie crust along edges. Place a sheet of aluminum foil or parchment paper on pie crust and place pie weights or dried beans on top. Place on a foil-lined baking sheet and bake for 10 minutes. Remove weights and foil and bake an additional 8 minutes. Cool completely, about 15 minutes.

Reduce oven temperature to 350 degrees.

While piecrust is baking, cook onions in olive oil, butter, and bacon grease in a large skillet over medium-low heat. Stir often and cook for 15 to 20 minutes, until caramel colored. Remove from heat and add bacon crumbles to pan with onions.

Place half of onion-bacon mixture in piecrust and top with half of cheese. Repeat with remaining onions and cheese.

In a medium bowl, whisk together half-and-half, eggs, salt, pepper, and nutmeg. Pour over cheese.

Bake for 40 to 45 minutes at 350 degrees, or until set. Cool 15 minutes before serving.
Want to Save This Recipe?
Recipe Source: adapted from Southern Living