Buttermilk pancakes studded with fresh blueberries, topped with a crunchy Blueberry-Coconut Granola, and drenched in maple syrup are bursting with blueberry flavor. These Blueberry Granola Crunch Pancakes are sure to leave everyone full and satisfied.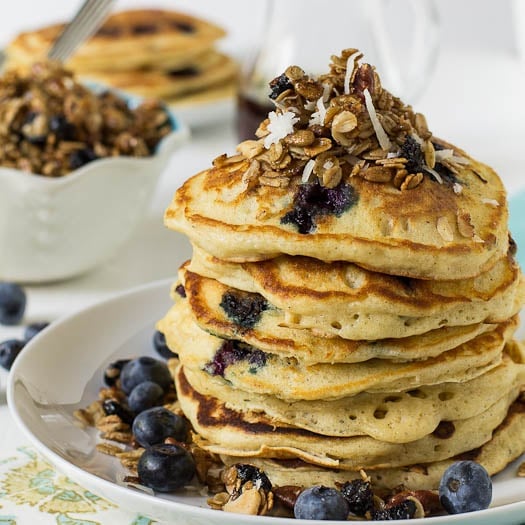 Every weekend should involve pancakes. Now that my kids are teenagers and it's super hard to get them out of bed before noon, pancakes are especially handy since they reheat  well. We like ( or I should say I like) to really change it up with pancakes. There are so many different ways to flavor them whether it be Double Stuff Oreo, Banana Pudding Pancakes, Red Velvet, Sweet Peach Pancakes, Strawberry Shortcake, Chocolate Chip Zucchini Bread Pancakes, Pumpkin Pancakes, or good ole Buttermilk Pancakes.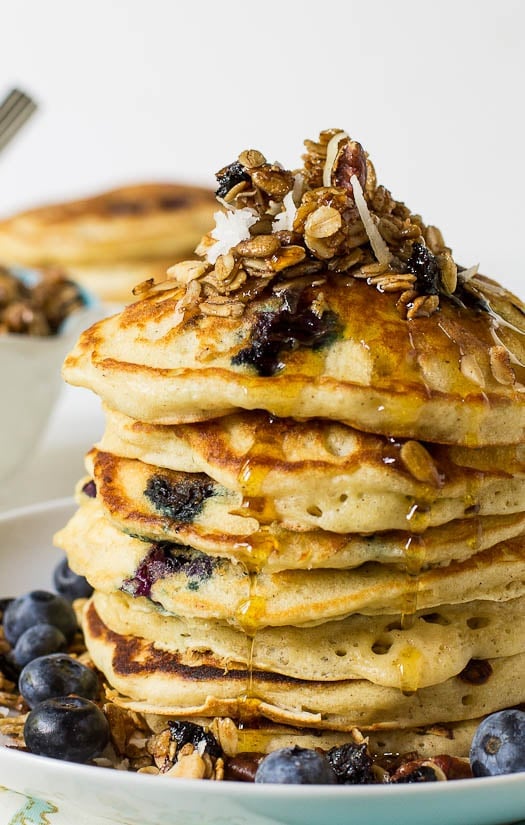 Blueberries are one of my favorite additions to pancakes. That burst of flavor you get when you bite into a blueberry is amazing.
These Blueberry Granola Crunch Pancakes are topped with a homemade granola that's a cinch to make and gives the pancakes a fantastic crunch.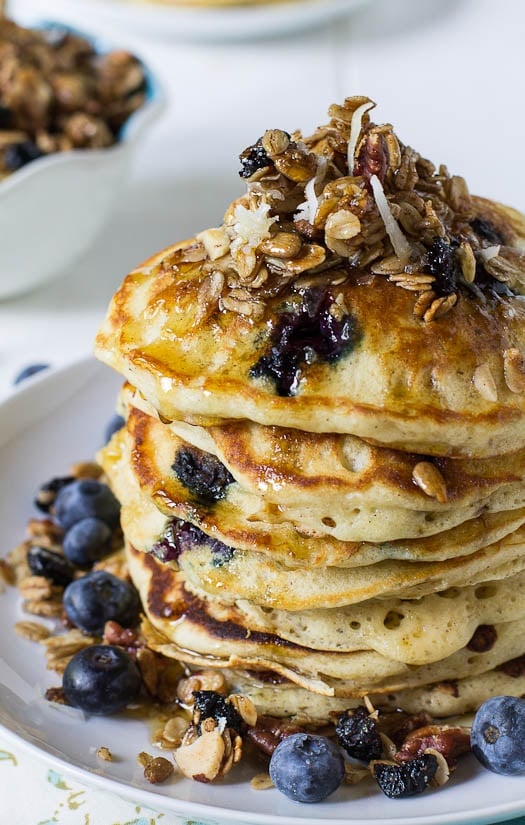 The granola is an easy mixture of oats, maple syrup, sunflower seeds, almonds, pecans, and cinnamon. Plus some dried blueberries and toasted coconut. The pancake batter makes plenty to feed 6 people and you'll have some leftover granola that can either be eaten plain or used as a topping for yogurt. This is a recipe I've adapted from what might be my favorite cookbook, Tupelo Honey Cafe: Spirited Recipes from Asheville's New South Kitchen
. I've loved every recipe I've made so far.
If you happen to be doing some menu planning for the coming week, head over to The Weekend Potluck hosted by the Country Cook. My Caesar Pasta Salad was featured this weekend along with the most amazing looking BBQ Bacon Wrapped Meatballs I have ever seen. Plus there are tons of other delicious recipes ideas the whole family will like.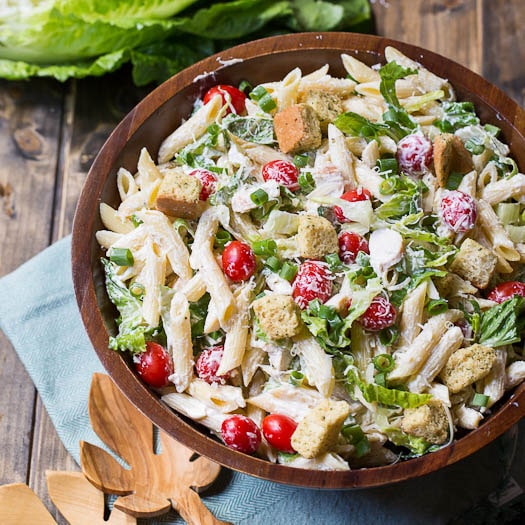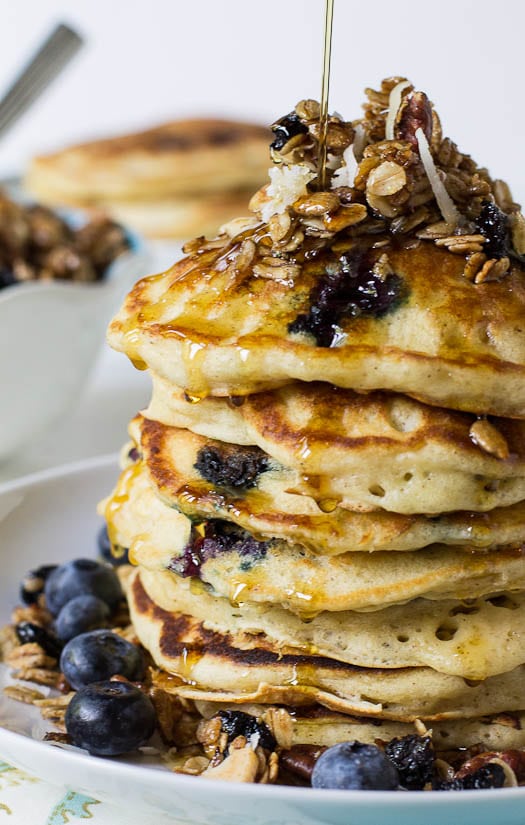 Happy pancake eating!!!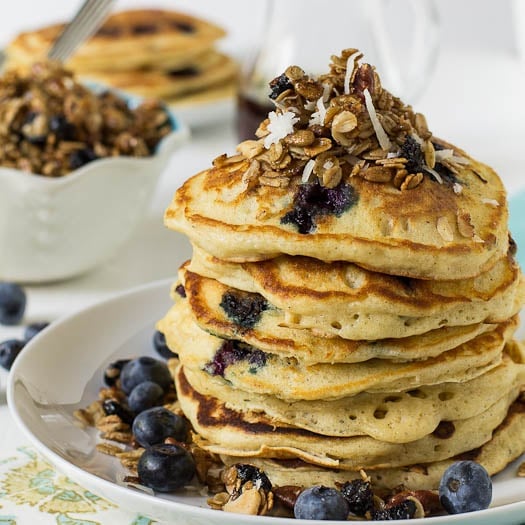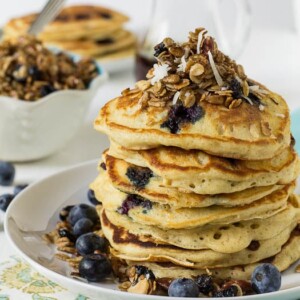 Blueberry Granola Crunch Pancakes
Buttermilk pancakes with fresh blueberries, topped with a crunchy blueberry-coconut granola.
Ingredients
Granola Topping
1/4

cup

canola oil

1/2

cup

maple syrup

1

teaspoon

vanilla extract

1/2

teaspoon

almond extract

3

cups

rolled old-fashioned oats

1/2

cup

shelled sunflower seeds

1/3

cup

sliced almonds

1/3

cup

chopped pecans

1 1/2

teaspoons

ground cinnamon

1/2

cup

dried blueberries

1/4

cup

shredded coconut,

toasted
Pancakes
1 3/4

cups

all-purpose flour

1/2

teaspoon

kosher salt

1/4

cup

sugar

1 1/2

teaspoons

baking powder

1

teaspoon

baking soda

1 3/4

cups

buttermilk

2

eggs,

lightly beaten

1/4

teaspoon

ground cinnamon

pinch of ground nutmeg

1

tablespoon

honey

1

cup

fresh blueberries

butter

Maple syrup
Instructions
Preheat oven to 300 degrees.

Combine canola oil and maple syrup in a small saucepan and bring to a boil. Add vanilla and remove from heat.

While maple syrup is coming to a boil, combine oats, sunflower seeds, almonds, pecans, cinnamon, and dried blueberries in a large bowl.

Drizzle the maple syrup mixture over oat mixture and mix well. Pour onto a rimmed baking sheet. Use a spoon to spread mixture evenly.

Bake for 30 to 40 minutes, until light brown in color. It is done when the almonds lose their chewiness and become crispy and toasted. Remove from oven and let cool. Mix in the coconut.

For the pancakes, combine flour, salt, sugar, baking powder, and baking soda in a large bowl.

Whisk together buttermilk, eggs, cinnamon, nutmeg, and honey in a medium bowl.

Pour liquid ingredients into dry ingredients and mix until there isn't any visible flour. Gently mix in blueberries.

Heat a nonstick skillet or griddle over medium-high heat. Coat with melted butter or canola oil.

For each pancake, pour 1/3 to 1/2 cup batter onto griddle. Cook approximately 3 minutes each side, or until browned on both sides.

To serve, top with granola and maple syrup.
Want to Save This Recipe?
This post contains an affiliate link.