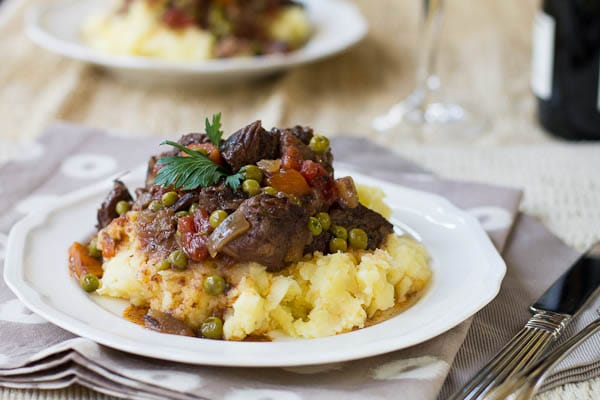 The slow cooker makes the classic French dish, Beef Daube Provencal, a breeze to make. The flavor is out of this world with tender chunks of beef in a red wine sauce with carrots, onion, peas, and tomatoes. Served over mashed potatoes this is perfect cold weather comfort food.
Being a southerner who mangles French, I'm not sure how to pronounce this dish. If forced to talk about this dish out loud, I'll just refer to it as Beef Stew to save myself the embarrassment. But fortunately this is the internet and you are oblivious to the fact that I can't speak a lick of French. Except that I just told you.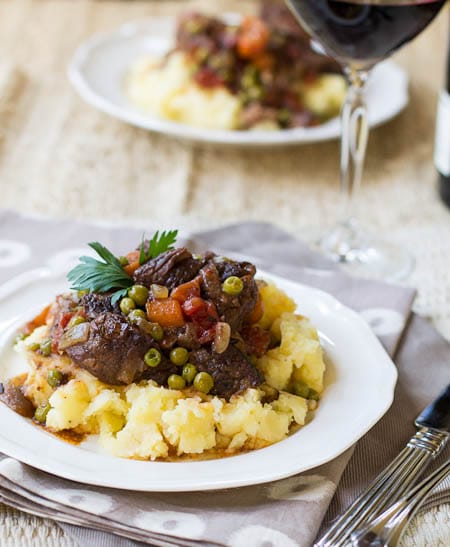 But let's not worry about the name of the dish and get straight to the taste. The flavor in this dish is unbelievably rich and deep.  Like insanely. One bite of it and you'll be checking off the ingredient list in your mind, thinking what in the world did I put in that crockpot to make this, let's just call it Beef Stew, taste this wonderful?
You'll scratch your head because the ingredients are pretty basic for a beef stew. Chuck roast, carrots, onion, red wine, tomato paste, beef broth, rosemary, thyme, and garlic. But something magical happens during that 5 hours in the slow cooker.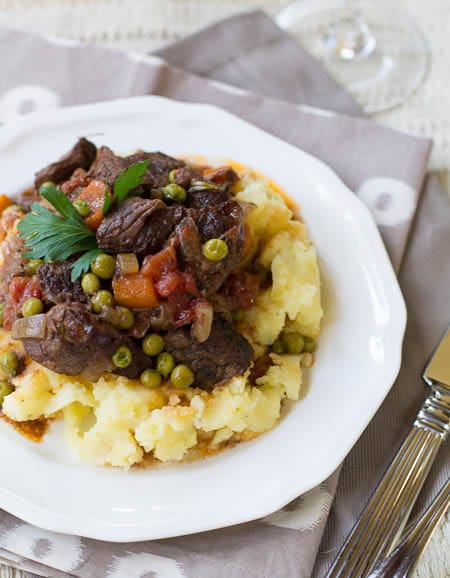 If you get Cooking Light Magazine, you've no doubt seen the recent issue with their 25 All-Time Favorite Recipes. This recipe is listed as number 1 on the list and with good reason. I've made just a few slight changes to the recipe, decreasing the amount of garlic, slightly changing the cooking method, sprinkling the beef with flour before browning, and adding peas.
And all I have to say is this Beef Doby Provencally, let's just call it Beef Stew, is amazingly delicious and a must try for your cool weather cooking.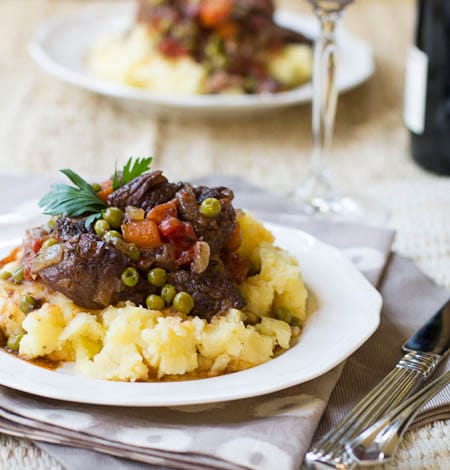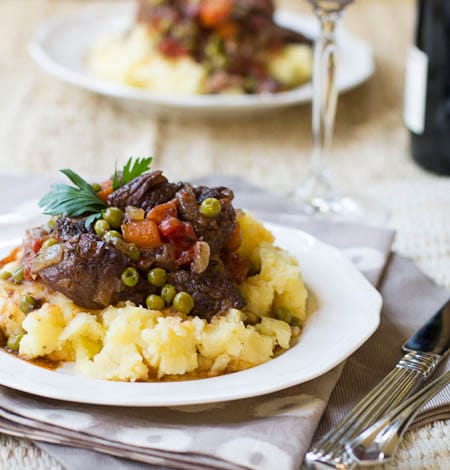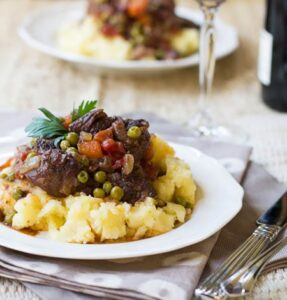 Beef Daube Provencal
A flavorful and hearty beef stew made in the slow cooker.
Ingredients
2

teaspoons

olive oil

6

cloves

garlic

1

(2-pound)

boneless chuck roast,

trimmed of excess fat and cut into 2-inch cubes

1

tablespoon

flour

1 1/4

teaspoons

salt,

divided

1/2

teaspoon

freshly ground black pepper,

divided

1

cup

red wine

2

cups

chopped carrots

1 1/2

cups

diced onions

1/2

cup

low-sodium beef broth

1

heaping tablespoon tomato paste

1

teaspoon

chopped fresh rosemary

1 1/2

teaspoons

chopped fresh thyme

dash of ground cloves

1

(14.5-ounce)

can diced tomatoes

1

bay leaf

1

cup

green peas

6

cups

mashed potatoes
Instructions
Heat a Dutch oven over low heat. Add oil and swirl to coat. Add garlic and cook for 5 minutes, stirring occasionally.

Remove garlic with a slotted spoon and place in a slow cooker.

Increase heat to medium-high. Sprinkle beef with flour and 1/2 teaspoon salt and 1/4 teaspoon pepper. Add to pan and cook for 5 minutes, browning on all sides.

Using a slotted spoon, remove beef from Dutch oven and place in slow cooker.

Add wine to Dutch oven, bring to a boil, and use a wooden spoon to scrape the browned bits off the bottom.

Add carrots, onion, beef broth, tomato paste, rosemary, thyme, cloves, diced tomatoes, bay leaf, and remaining salt and pepper.

Bring mixture to a simmer and then pour into slow cooker. Give everything a good stir, cover and cook on HIGH for 5 hours.

A few minutes before serving add peas and remove bay leaf. You can use frozen peas. It will only take them a few minutes in the slow cooker to defrost and cook.

Serve with mashed potatoes.
Want to Save This Recipe?
Recipe Source: adapted from Cooking Light Magazine