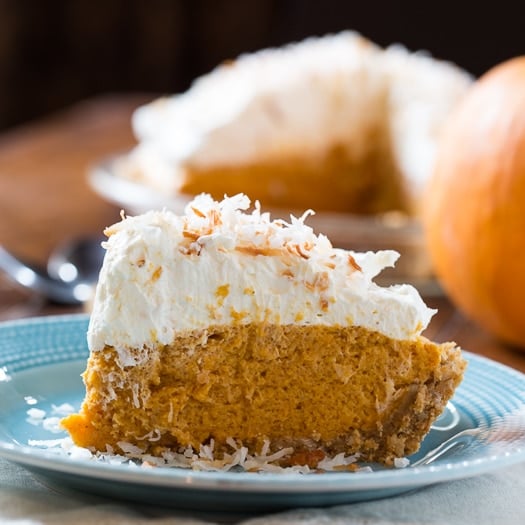 A no bake, light and airy Coconut Pumpkin Chiffon Pie served chilled and topped with a rich and decadent mascarpone whipped cream is a welcome change from plain old pumpkin pie. This is the first time I've ever combined pumpkin and coconut in a dessert. What a delicious combination!
Do you have the same desserts year after year on your Thanksgiving table? I would hear very loud protests if we didn't have a pecan pie every year, but I also like to try something new. It's so hard to decide on just one new Thanksgiving dessert recipe, I've decided to spend the whole month of November trying new fall desserts. 🙂
And pumpkin pie is a dessert that should be enjoyed more than just one day a year.
The no-bake crust for this Coconut Pumpkin Chiffon Pie is a delicious mixture of graham cracker crumbs and toasted coconut. The chiffon filling is made with gelatin, egg yolks, milk, fall spices and sugar. It's cooked on the stovetop until creamy and thick. Once chilled, beaten egg whites are folded into it to create a light and luscious filling.
The egg whites are not cooked at all so it's important to look for pasteurized eggs at your store.
I topped the pie with my favorite mascarpone whipped cream. Not only does the mascarpone cheese make it super thick and creamy, but it helps stabilize the cream too. It will stay thick and creamy for days. If you can't find mascarpone cheese or don't want to shell out the money for it (so worth it for a special occasion though) you can just double the amount of cream in the whipped topping. Since fresh whipped cream tends to lose it's airiness and get a little runny over time, you may want to make the whipped cream pretty close to serving time. If you add in the mascarpone, you can make it in advance without any issues.
Sprinkle some toasted coconut on top and you have a beautiful, delicious fall dessert.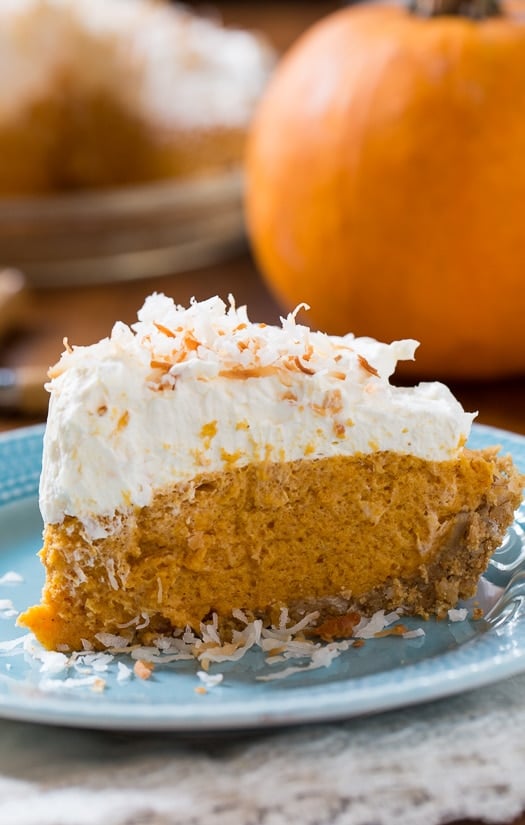 Never miss a recipe. Follow Spicy Southern Kitchen on Pinterest and Instagram.
Sign up HERE for the Spicy Southern Kitchen Newsletter.
Recipe Source: adapted from
Southern Living
Sharing with the Weekend Potluck.