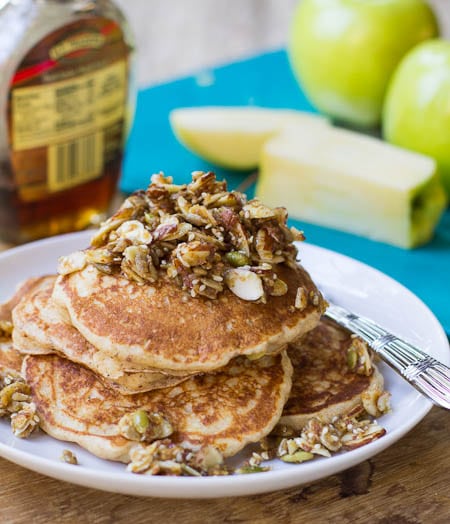 Let me introduce you to one of my very favorite healthy pancake recipes- Whole Wheat Apple Pancakes with Nutty Topping from Ellie Krieger's So Easy: Luscious, Healthy Recipes for Every Meal of the Week
Cookbook. The whole wheat pancakes studded with fresh apple chunks are delicious in and of themselves, but the nutty topping takes then to a whole new level of fabulousness.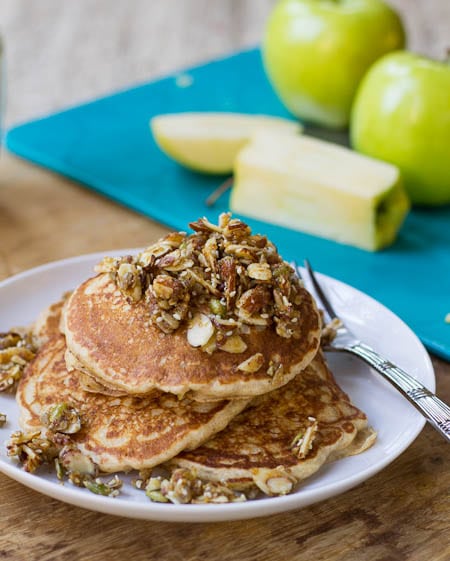 This nutty topping is seriously addictive. A combination of pumpkin seeds, sunflower seeds, sesame seeds (Maybe it should be called Seedy Topping? But that sounds a little unsavory and scandalous doesn't it?), almonds, and toasted wheat germ. All of which is bound together by a healthy dose of maple syrup.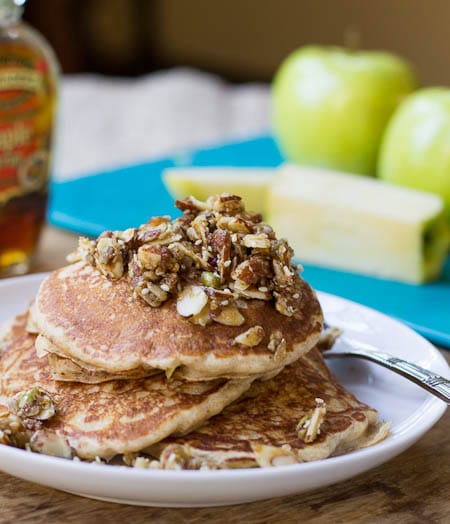 The nutty seedy crunch is a wonderful contrast to the soft pancakes and leaves you thinking, Why don't I always top my pancakes with nuts and seeds? Make a double batch of this nutty topping and try some on your oatmeal or yogurt. Delicious and nutritious!
The batter will keep in the fridge for 2 days so you can have a nice, leisurely Sunday breakfast and then whip up a quick batch on Monday morning. Pancakes are always a great way to get the week started, especially if they are healthy pancakes.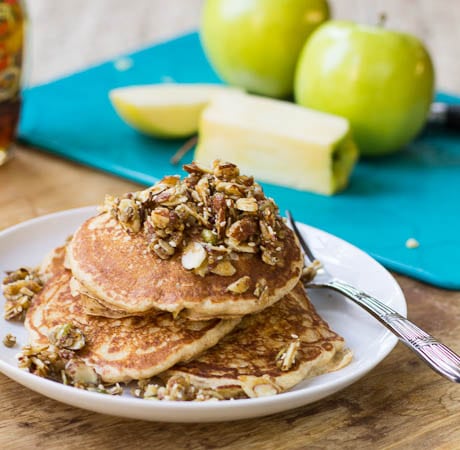 Whole Wheat Apple Pancakes with Nutty Topping
A healthy apple pancakes recipe with a fabulous topping full of nuts and seeds.
Ingredients
1 medium apple (Such as Golden Delicious), cored and diced (about 2 cups)
¾ cup all-purpose flour
¾ cup whole-wheat flour
2 teaspoons baking powder
½ teaspoon baking soda
¼ teaspoon salt
¼ teaspoon ground cinnamon
pinch of nutmeg
1 cup low-fat (1%) buttermilk
¾ cup skim milk
2 large eggs
1 tablespoon honey
maple syrup for serving
Nutty Topping
¼ cup hulled (green) pumpkin seeds
¼ cup sliced almonds
¼ cup shelled sunflower seeds
1 tablespoon sesame seeds
¼ cup toasted wheat germ
¼ cup pure maple syrup
pinch of salt
Instructions
Place diced apple in a microwave-safe bowl, cover with plastic wrap, and microwave on HIGH for 60-90 seconds to soften.
In a large bowl, whisk together both flours, baking powder, baking soda, and salt.
In a small bowl, whisk together buttermilk, milk, eggs, and honey.
Add wet ingredients into dry, stirring just until combined.
Heat a large nonstick griddle or skillet over medium heat.
Spoon ¼ cup batter onto griddle per pancake, and sprinkle 1 heaping tablespoon of apple on top. Drizzle a little more batter on top to cover the apple.
Flip pancakes when they are covered with bubbles and cooked around the edges.
Cook another 1 to 2 minutes, until pancakes are cooked through.
To make Nutty Topping, toast pumpkin seeds and almonds in a skillet over medium-high heat for 1 minute, stirring frequently.
Add sunflower seeds and cook 1 more minute.
Add sesame seeds and cook, stirring continuously until seeds are toasted.
Place mixture in a medium bowl, add wheat germ, and stir in maple syrup and salt.
Serve with pancakes.
Notes
There's quite a bit of maple syrup in the Nutty Topping, but you will probably still want to drizzle a little maple syrup on your pancakes. The calorie count includes 1 additional tablespoon of maple syrup.
The calorie count is based on ⅙ of the recipe.
Nutty Topping will keep for a week in an airtight container.
Nutrition Information
Calories:
400
Fat:
11 g
Fiber:
5 g
Protein:
15 g
Recipe Source: slightly adapted from Ellie Krieger's
So Easy: Luscious, Healthy Recipes for Every Meal of the Week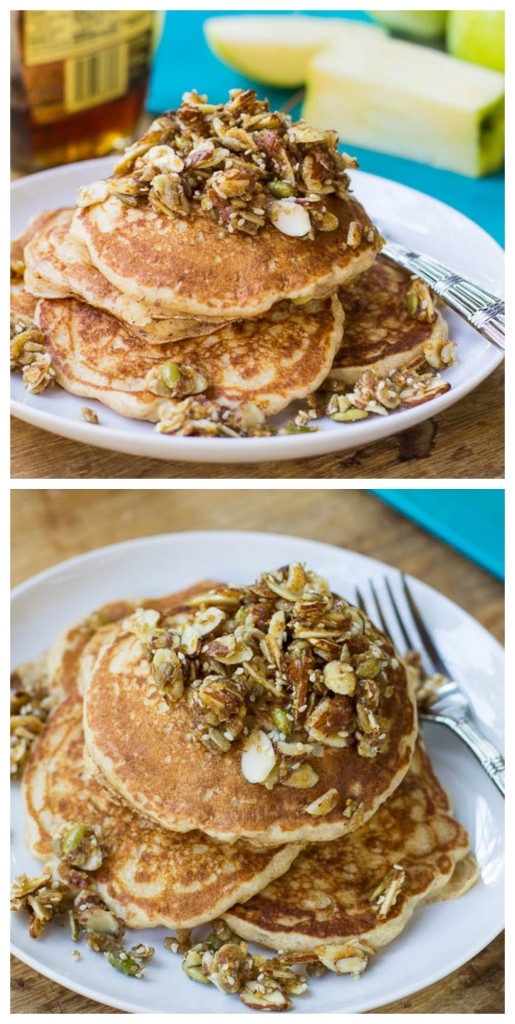 Disclosure: Spicy Southern Kitchen is an amazon.com affiliate.