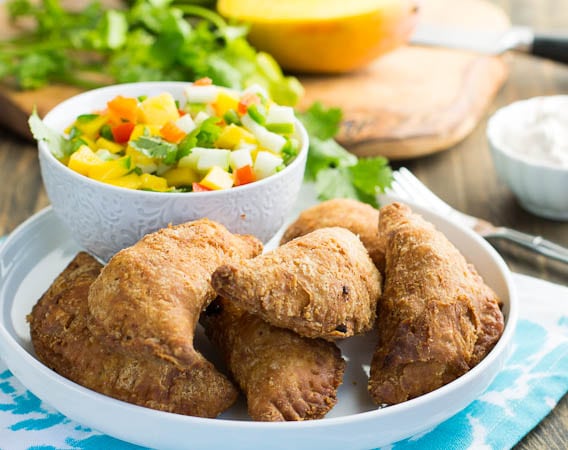 Let your taste buds take a trip to the Caribbean with these West Indies Patties filled with a nicely spiced ground beef filling and served with apple-mango salsa and seasoned sour cream.
It's been a long… cold….dark…..winter, but the last few days have been glorious. Sunny with temps in the mid-70s. But it won't stay that way long with a cold front coming in tomorrow. I've been extremely close to booking a trip to the Caribbean. I so need a week of relaxation on the beach. Sand between my toes. Sun beating down on my skin. A Rum Runner in hand.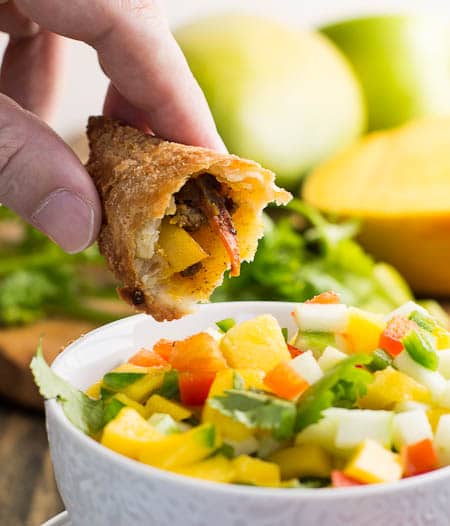 Since I'm not there (yet!), I thought I'd at least experience some food with a little Caribbean flair.
West Indies Patties is a Bahama Breeze copycat recipe. I've been really enjoying making restaurant copycat recipes lately. Maybe it's because we hardly ever seem to go out to eat anymore.
West Indies Patties are similar to empanadas with a pastry exterior and a savory filling. This pastry dough fries up extra crispy and golden. Inside is a beef, potato, and carrot filling deliciously flavored with curry powder, paprika, and cayenne pepper.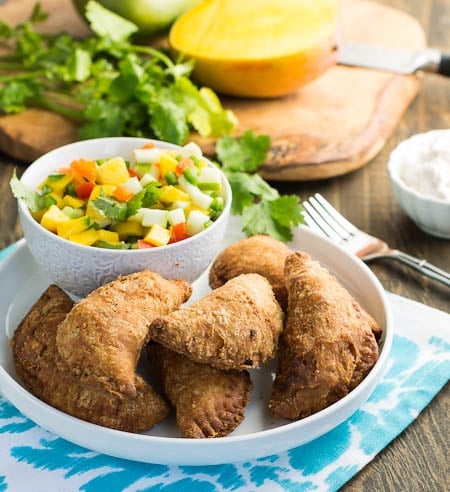 They're delicious on their own, but they are definitely enhanced by an apple-mango salsa and a seasoned sour cream. I actually enjoyed the apple-mango salsa so much, I barely touched the sour cream.
You'll want to prepare these West Indies Patties a day in advance. The recipe requires that you freeze the assembled patties for a few hours before you fry them. I actually froze them overnight, but let them sit out on the counter for probably a good 20 minutes before I fried them. They only take about 5 minutes to fry and then you'll have a hot, tasty appetizer to share with your friends.
Hope you enjoy this little taste of the Caribbean. I will be until I make my way to Jamaica and enjoy the real thing.
And as a side note, I guess this day-light savings week has been harder on me than I thought. After just doing a quick read through this post before I published, I noticed that in the above paragraph I typed that I let the patties sit out on the counter for a good 4 months. Glad I caught that one!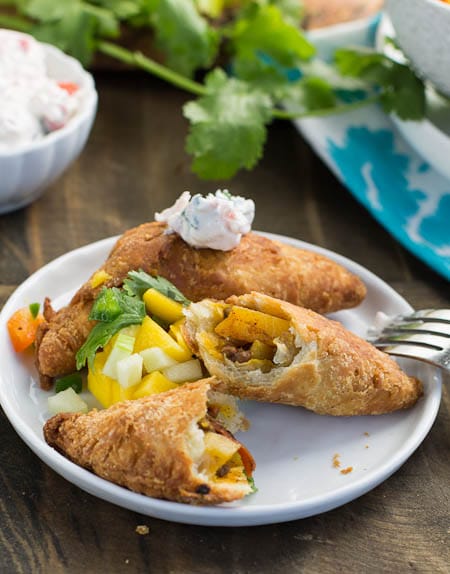 West Indies Patties
Empanada-style beef pastries served with apple-mango salsa.
Ingredients
Dough
¾ teaspoon salt
2 cups all-purpose flour
¼ cup vegetable shortening
¼ cup cold salted butter
1 egg, beaten
¼ cup whole milk
6 to 10 cups Vegetable oil
1 egg, beaten
Filling
½ pound ground beef (not lean)
¼ cup diced russet potato
¼ cup julienned carrot
2 tablespoons chopped yellow onion
1 teaspoon minced parsley
1 teaspoon curry powder
½ teaspoon paprika
¼ teaspoon salt
⅛ teaspoon ground cayenne pepper
2 tablespoons chicken broth
½ teaspoon lime juice
Apple-Mango Salsa
1 cup finely diced Granny Smith apple
1 tablespoon lime juice
1 cup finely diced mango
1 tablespoon minced jalapeno
1 tablespoon minced red bell pepper
1 tablespoon minced cilantro
pinch of salt
Seasoned Sour Cream
1 cup sour cream
¼ cup diced tomato
1 tablespoon chopped red onion
1 tablespoon minced red bell pepper
1 tablespoon chopped cilantro
¼ teaspoon salt
¼ teaspoon ground cayenne pepper
pinch of ground cumin
Instructions
To make dough combine salt and flour in a large mixing bowl. Add shortening and cold butter and use a pastry knife to cut them into the flour.
Add beaten egg and milk and stir to combine. Use hands to form dough into a ball. Wrap in plastic wrap and refrigerate until filling is made.
For filling, brown ground beef in a skillet over medium heat. Break into small pieces as it cooks. Remove ground beef from skillet with a slotted spoon and set aside. Leave the fat in the skillet
Place potatoes in a small saucepan and cover with water. Bring to a boil. As soon as water comes to a boil, drain the potato and place in skillet along with carrot and onion. Saute for 3 to 4 minutes over medium heat.
Add ground beef back to skillet along with parsley, curry powder, paprika, salt and cayenne pepper. Stir in chicken broth and lime juice and simmer for 3 to 4 minutes. Turn off heat and set aside.
To make Apple-Mango Salsa, combine all ingredients in a medium bowl and refrigerate.
To make Seasoned Sour Cream, combine all ingredients in a small bowl and refrigerate.
Roll out dough on a lightly floured surface until very flat. Use an upside down glass or cup with a diameter of about 4½ inches to cut circles out of dough.
Use a pastry brush to paint egg around the edges of dough. Place a heaping tablespoon of filling in center and fold dough over and press to seal edges. Be sure to press any air out. Press along edges with a fork.
Place patties in a large ziptop bag and place in freezer for a few hours. This will help ensure the edges stay sealed.
Heat oil in a Dutch oven to 375 degrees. Fry 4 patties at a time for 5 to 6 minutes until golden brown. Flip halfway through cooking time.
Serve with salsa and sour cream.
Notes
Depending on how flat you roll the dough, you should get 12-16 patties.
 Adapted from Top Secret Restaurant Recipes 3: The Secret Formulas for Duplicating Your Favorite Restaurant Dishes at Home (Top Secret Recipes)
Disclosure: Spicy Southern Kitchen is an amazon.com affiliate.