Looking for a refreshing salad to enjoy this summer? Watermelon salads are a colorful addition to any cookout and are a nice change from a typical fruit salad. In this salad chunks of watermelon are mixed with red onion slices, blue cheese crumbles, baby arugula leaves, and spicy pecans. The salad is drizzled with a light champagne dressing.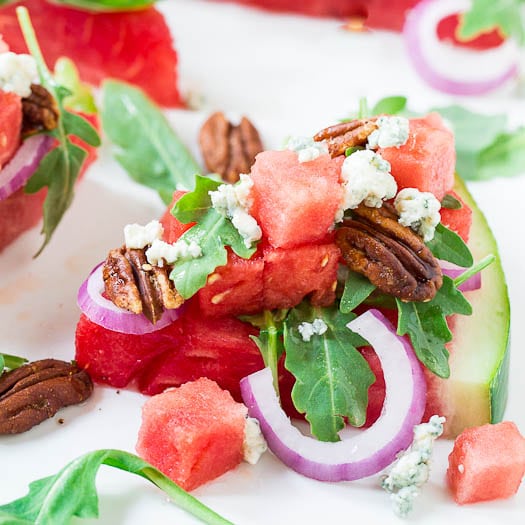 The saltiness of the blue cheese goes so well with watermelon. Feta or goat cheese would also work well. I love to pair spicy and sweet so I've added some pecans that have been toasted in the oven with cayenne pepper, chili  powder, and a little Worcestershire sauce.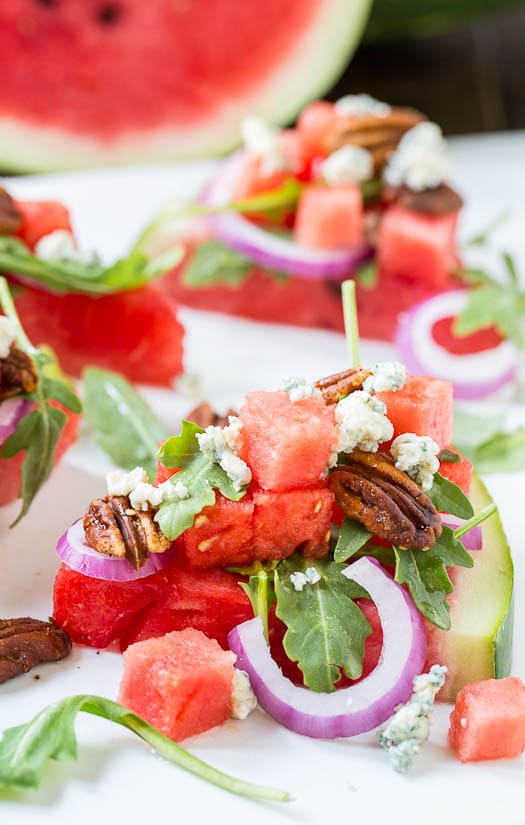 Watermelon is so juicy I don't add much dressing. Just a touch of a simple Champagne Vinaigrette to brighten up the flavors. You can serve this salad on watermelon wedges for a pretty presentation or just set the whole salad out in a serving bowl.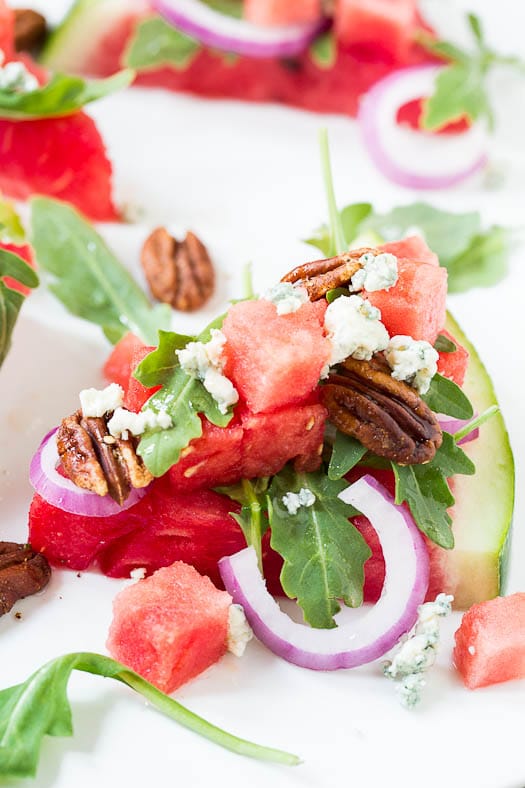 Of course this salad will only be as good as your watermelon. I've read every tip I can find about picking out a good watermelon and I still find myself praying to the watermelon gods before I make a selection. It's so hit or miss and there's nothing worse than a mealy or underripe watermelon. Sometimes I leave it up to the produce guy or farm stand attendee to pick one out for me. But half of them don't seem to like to pick one out either and the paranoid side of me worries they're just giving me one they really want to get rid of.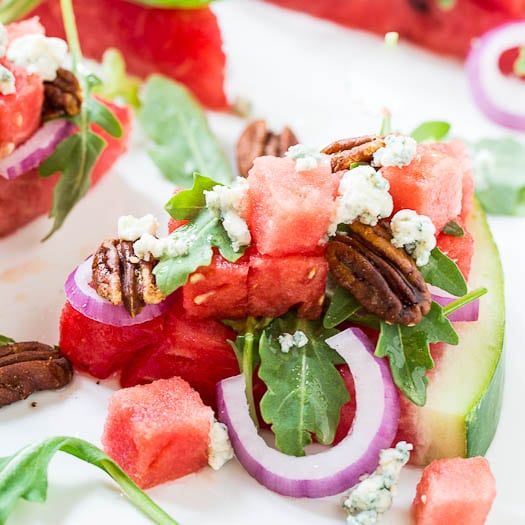 Best tips I've found for picking out a watermelon:
Pick one that feels heavy for its size.
Pick a watermelon that is dull-looking. A shiny surface can be a sign of an unripe watermelon.
Examine the spot where the watermelon was in contact with the ground, called the "field spot". First of all, it should have one. Secondly it is better if it is darker in color and not white.
Knock on the surface of the watermelon. It should feel hard and firm and you don't want to hear a low, dull thud. A higher pitched sound is better.
How do you go about picking out a watermelon?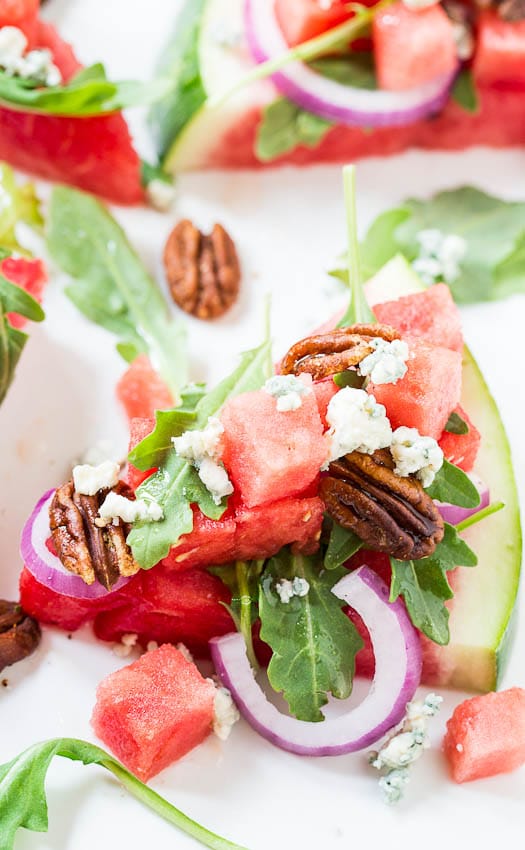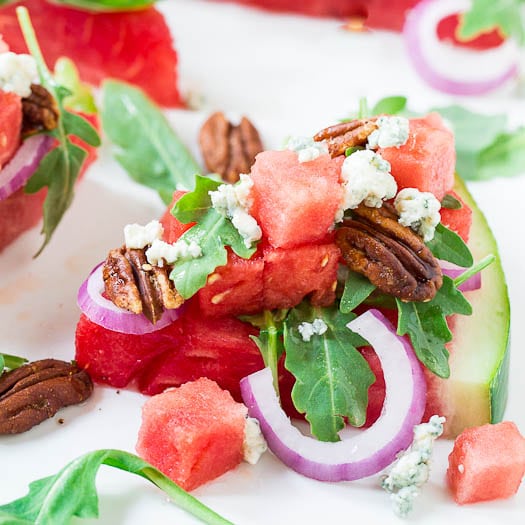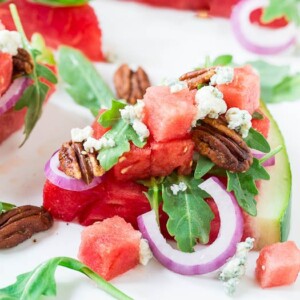 Watermelon and Blue Cheese Salad
A cool and refreshing watermelon salad with red onion, blue cheese crumbles, baby arugula, and spicy pecans.
Ingredients
4

watermelon wedges

4

cups

diced watermelon

1/2

red onion,

thinly sliced

2

cups

baby arugula

1/3

cup

blue cheese crumbles
Spicy Pecans
1

cup

pecan halves

1

tablespoon

butter,

melted

1

teaspoon

Worcestershire sauce

1/2

teaspoon

salt

1/4

teaspoon

chili powder

1/8

teaspoon

black pepper

1/8

teaspoon

cayenne pepper
Vinaigrette
1

tablespoon

Champagne vinegar

3

tablespoons

olive oil or vegetable oil

1/4

teaspoon

salt

1/4

teaspoon

black pepper
Instructions
Make the spicy pecans. Heat oven to 325 degrees. In a small bowl, mix together pecans, melted butter, Worcestershire sauce, 1/2 teaspoon salt, chili powder, 1/8 teaspoon black pepper, and cayenne pepper. Pour onto a baking sheet and place in oven for 10 minutes. Stir and continue to bake 5 minutes. Remove from oven and let cool.

In a medium bowl, combine diced watermelon, red onion, arugula, and blue cheese crumbles.

Sprinkle pecans on top.

In a small bowl whisk together vinegar, oil, salt and pepper. Drizzle on salad.

If desired, portion salad onto watermelon wedges to serve.
Want to Save This Recipe?