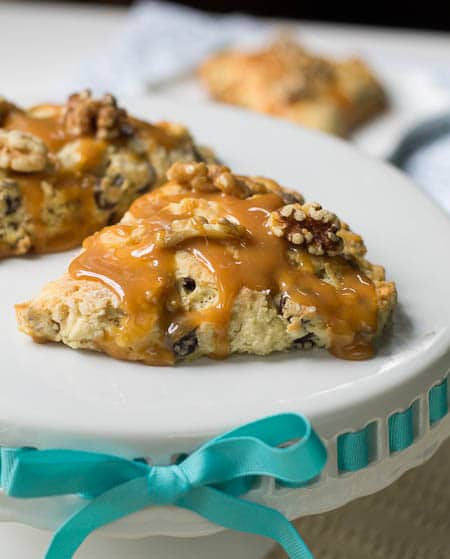 Scones often get a bad wrap and deservedly so because they get stale so quickly. And there's nothing more unpalatable than a dry, crumbly tasteless scone. We've all had a few of those.
But a fresh, warm out of the oven scone is a magnificent treat.
I can tell there aren't a whole lot of scone lovers out there because my scone recipes are some of the least viewed posts on my blog. But I love scones and I won't give up on them.
I've made various scones: Oatmeal-Chocolate Chip Scones, Cinnamon Swirl Scones, Pumpkin Scones with Spiced Glaze, Sweet Potato and Marshmallow Scones with Marshmallow Crème Drizzle, and Chocolate-Chocolate Chip Applesauce Scones.
My all-time favorite scone is Chocolate Chip Scones from The Pastry Queen: Royally Good Recipes from the Texas Hill Country's Rather Sweet Bakery & Cafe
. They are as good as scones get- pure perfection.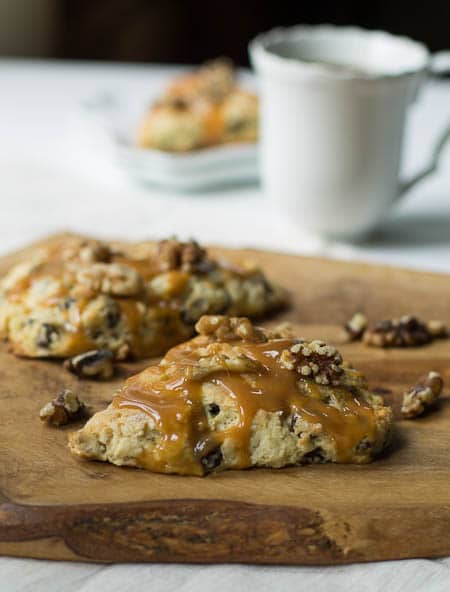 These Turtle Scones will be a hit with caramel lovers. They're studded with plenty of chocolate chips, a few walnuts, topped off with a sweet/salty caramel glaze and a few more walnuts for good measure.
They're perfect for a weekend morning spent lingering around the house with a cup of coffee or two. And invite the neighbors over because you'll want to eat them all in one day.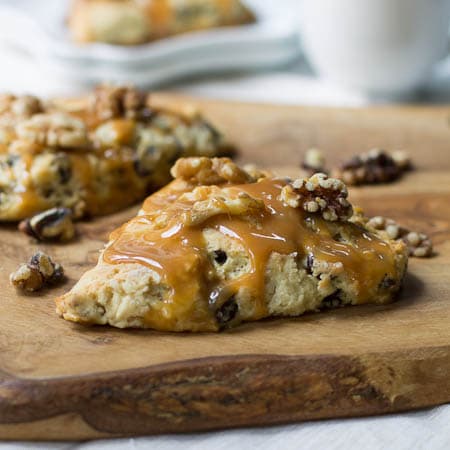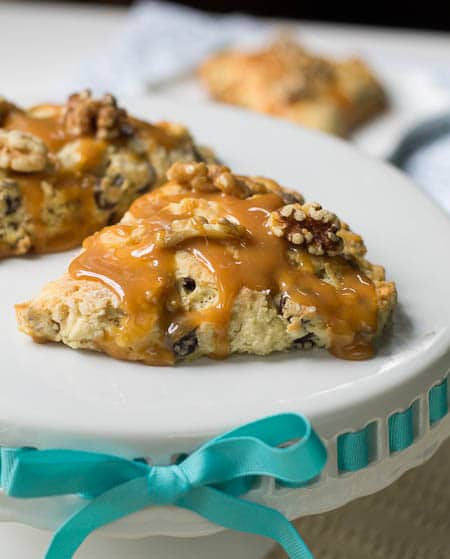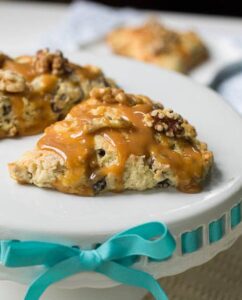 Turtle Scones
Ingredients
4

cups

bleached all-purpose flour

4 ¾

teaspoons

baking powder

1

teaspoon

salt

2/3

cup

granulated sugar

12

tablespoons

cold unsalted butter,

cut into tablespoon-size pieces

4

large eggs

1

cup

heavy cream

1

tablespoon

vanilla extract

1 ½

cups

semisweet chocolate chips

½

cup

chopped walnuts
Nutty Turtle Topping
24

caramels,

unwrapped

4

tablespoons

milk

pinch of salt

½

teaspoon

vanilla extract

½

cup

walnuts,

for sprinkling on top of scones
Instructions
In a large bowl, whisk together flour, baking powder, salt, and sugar. Scatter butter pieces on top and use a pastry blender to cut the butter into the flour until there are no pieces bigger than a pea. Using your fingertips if necessary to make sure butter is mixed in enough.

In a medium bowl, whisk together the eggs, heavy cream, and vanilla extract. Pour liquid mixture over flour mixture. Scatter chocolate chips and walnuts on top. Stir to form a dough.

Lightly flour a work surface and place dough in middle. Knead lightly for about 1 minute, sprinkling dough with flour as needed to prevent sticking. Divide dough into 2 pieces and form each into a disk about 8 to 9 inches across. Wrap each disk in wax paper and refrigerate for 20 minutes.

Preheat oven to 400 degrees and line two baking sheets with parchment paper.

Remove dough from refrigerator and cut each disk into 6 wedges. Carefully move them to baking sheets using a spatula, placing 6 scones on each sheet. Bake scones for 18 to 20 minutes. Place baking sheets on cooling rack and after 1 minute transfer scones from baking sheets directly onto wire racks to cool.

To make topping, place caramels, milk, and salt in a small heavy-bottomed saucepan over moderately low heat. Cook until caramels completely melt, stirring occasionally. It will take about 9 to 10 minutes for them to melt. Bring to a gentle simmer, add the vanilla extract, and simmer for 1 minute. Use immediately.

Spoon Turtle Topping on top of scones and sprinkle with walnuts.
Want to Save This Recipe?
Recipe Source: slightly adapted from ChocolateChocolate
Disclosure: This post contains amazon.com affiliate links.