Celebrate Derby Day with this gooey and sweet pie filled with chocolate and walnuts and flavored with bourbon.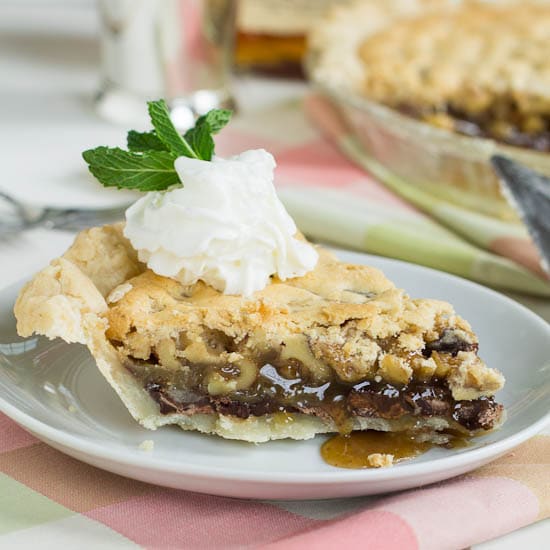 The Kentucky Derby has been a big deal in my family for years. My grandfather was originally from Louisville and had Derby tickets for over half a century. I've attended 3 Derbys and each one was an experience I'll never forget. Whether its celebrity spotting, drinking mint juleps, placing bets, or cheering for your horse to come in, there's nothing like the excitement of the Kentucky Derby. It's impossible to go to Churchill Downs and not be completely in awe of the history and tradition associated with it.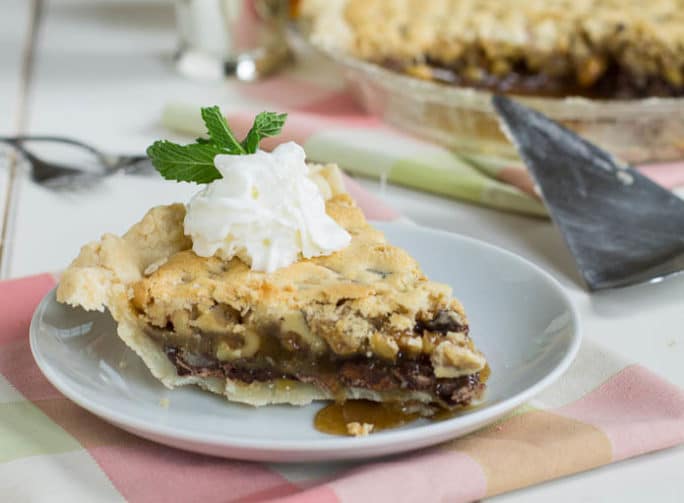 I've never eaten Derby Pie at the Kentucky Derby or seen anyone eat one. Most people are too busy drinking to eat, but I do like a food tradition of any sort. Incidentally, we are calling it Thoroughbred Pie here because Derby Pie is a registered trademark and the owners of the trademark have sued multiple times to protect the name of their pie including a lawsuit against Bon Appetit in 1987. The Washington Post published a recipe in 1982 calling it "Not Derby Pie".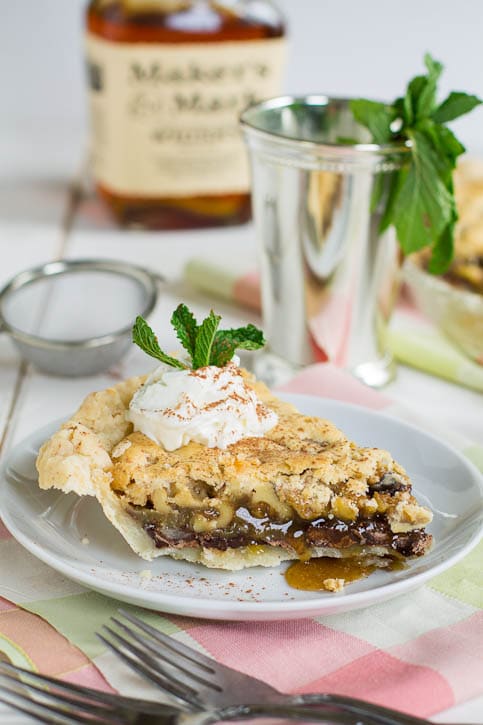 But I think the name Thoroughbred Pie works just as well as it is called in this recipe I've adapted slightly from America's Test Kitchen. The pie is gooey and sweet with a chocolate layer on the bottom and a thick, sugary walnut layer on top. A nice splash of bourbon added to the pie filling gives it its signature taste.
Serve with Bourbon Whipped Cream for a boozy and sweet Kentucky treat.
If you're planning a Derby Party be sure to check out these Mint Julep Brownies.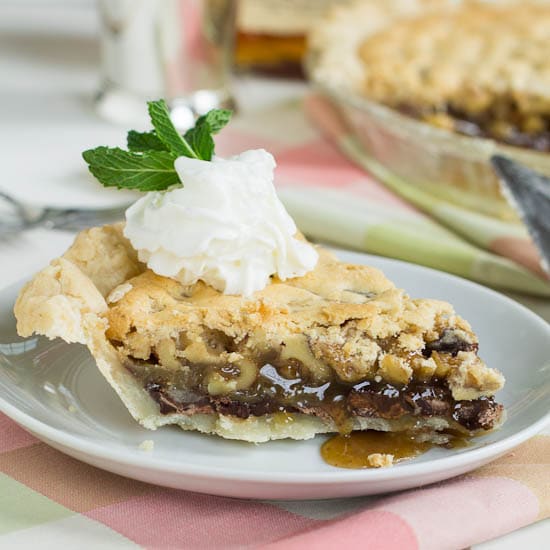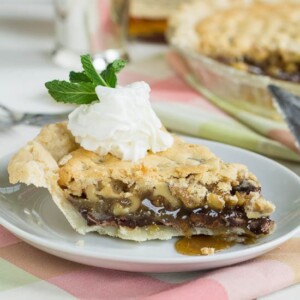 Thoroughbred Pie
A delicious southern pie filled with walnuts and chocolate and flavored with bourbon.
Ingredients
Pie Crust
1 1/4

cups

flour

1

tablespoon

sugar

1/2

teaspoon

salt

4

tablespoons

vegetable shortening,

cut into 1/2-inch pieces and chilled

6

tablespoons

unsalted butter,

cut into 1/4-inch pieces and chilled

3-4

tablespoons

ice water
Pie Filling
1

cup

semisweet chocolate chips

1

stick unsalted butter

(8 tablespoons), cut into 1 tablespoon sized pieces

3

tablespoons

bourbon

3/4

cup

granulated sugar

1/2

cup

packed light brown sugar

2

tablespoons

cornstarch

1/2

teaspoon

salt

2

large eggs,

plus 1 egg yolk, lightly beaten

1

teaspoon

vanilla extract

1 1/2

cups

walnuts,

toasted and chopped

whipped cream for serving
Instructions
Make pie crust. Place flour, sugar, and salt in a food processor and pulse until combined. Scatter pieces of chilled shortening over top and process until mixture resembles coarse cornmeal, about 10 seconds. Scatter butter pieces on top and pulse for another 10 seconds, or until mixture resembles coarse crumbs.

Transfer mixture to a large bowl. Sprinkle 3 tablespoons of ice water on top. Use a rubber spatula to stir and press the dough until it sticks together. Add 1 more tablespoon of water only if dough is too dry to come together. You can test whether you need more by picking up a piece of dough and squeezing it in your hand. If it holds together, you do not need more water.

Place dough onto a piece of plastic wrap, flatten into a disk, and completely wrap. Refrigerate for 1 hour.

Let chilled dough sit rest on counter for 10 minutes.

On a lightly floured surface, roll dough into a 12-inch circle. Loosely roll dough around rolling pin to move it to the pie plate. Center it in the pie plate and press it into the bottom and up the sides of the pie plate. Trim overhang so that it only extends 1/2-inch past the edge of the pie plate. Tuck overhanging dough under itself. Crimp dough around the edge using your fingers.

Loosely wrap in plastic wrap and freeze for 30 minutes.

Heat oven to 375 degrees with oven rack in lower-middle position.

Line chilled pie crust with aluminum foil, being sure to cover the edges and fill with pie weights or dried beans. Bake 20 to 25 minutes. When you remove crust from oven, reduce oven temperature to 325 degrees.

Remove aluminum foil and weights and quickly spread the chocolate chips evenly over the bottom of the still hot crust. Let sit 5 minutes and then use an offset spatula to smooth the melted chocolate. Set aside.

In a small saucepan, melt butter over medium-low heat. Cook, stirring constantly, until butter is dark brown and has a nutty aroma, about 5 to 7 minutes. Remove from heat and slowly stir in bourbon. Let cool 5 minutes.

In a large bowl, whisk together granulated sugar, brown sugar, cornstarch, and salt. Add eggs, egg yolk, and vanilla and whisk until smooth.

Gradually mix in warm butter mixture. Stir in walnuts and pour filling into pie crust.

Bake for 35 to 40 minutes. Let cool for 4 hours before slicing.
Want to Save This Recipe?