Texas Caviar with black-eyed peas, black beans, corn, red bell pepper, and red onion can be eaten as a dip or as a side salad. Canned beans work really well for this recipe making it super easy to throw together for a party.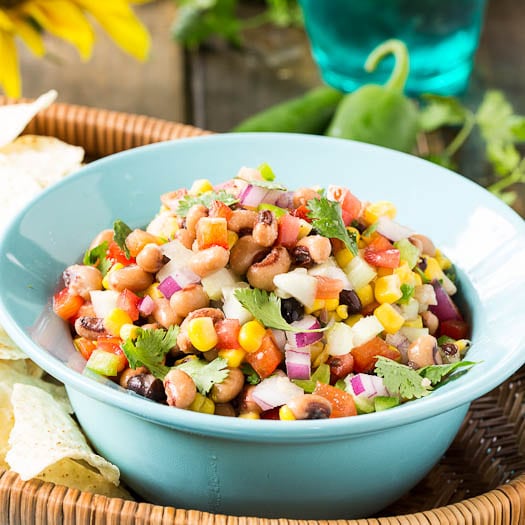 Black-eyed peas by themselves aren't one of the most exciting, flavorful foods. But they really come alive in Texas Caviar.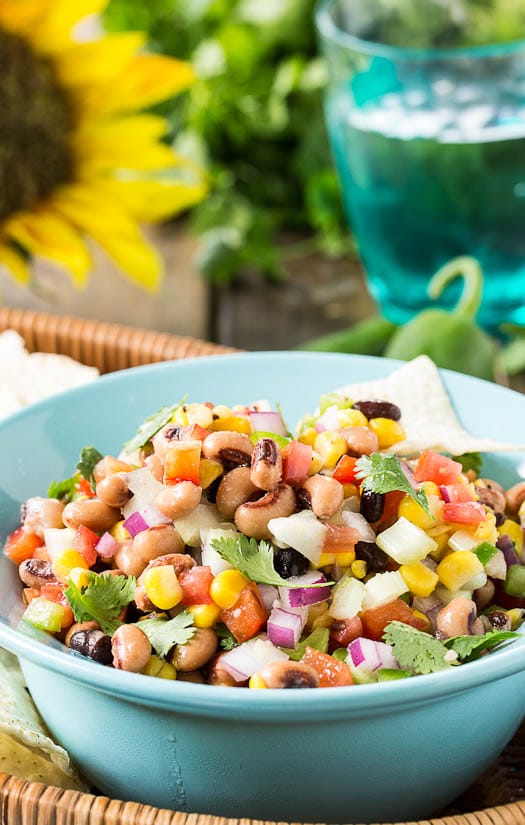 A dressing of vinegar, oil, sugar, and garlic powder gives them a pickled flavor. Some cilantro and jalapeno spice them up a little.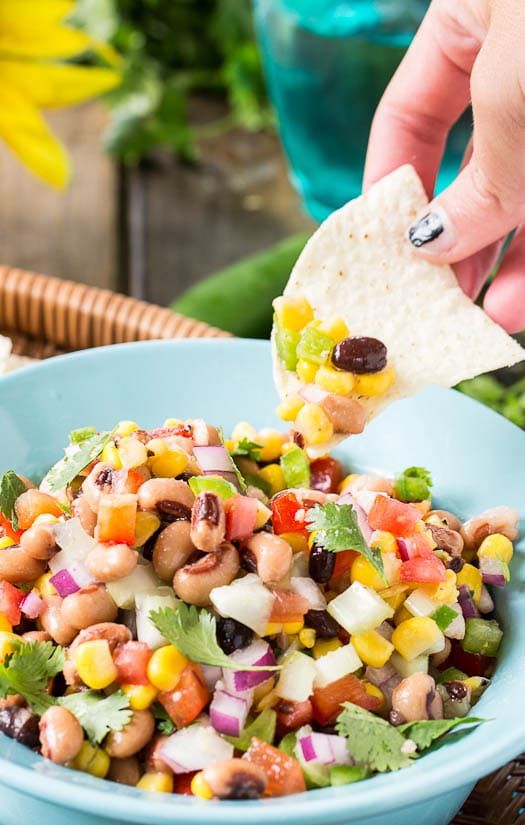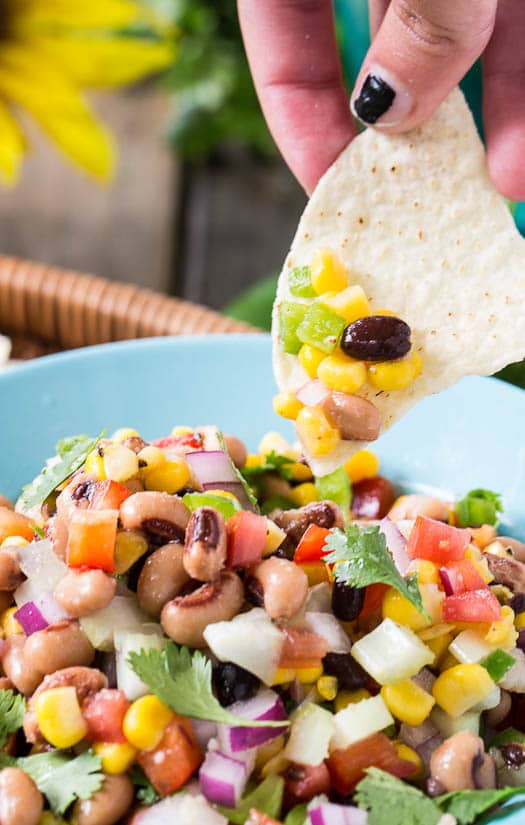 (That's my daughter's black fingernail. I don't do black nail polish 🙂 )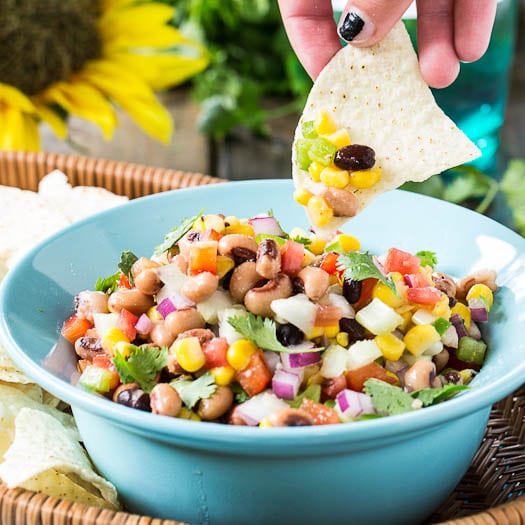 Texas Caviar dates back to the 1940s when Helen Corbitt, a New Yorker who moved to Texas to teach catering and restaurant management at The University of Texas, created it when she was given the task of preparing a meal for a convention made with all Texas products. She transformed the lowly, earthy black-eyed pea into a vibrantly flavorful dish that has been popular for nearly 75 years.
Interestingly, Helen Corbitt did not think much of Texas or its food when she first took a job there and only planned to stay until she made enough money to return to New York.  Years later she told Dallas Times Herald reporter Julia Sweeney that her first reaction to taking a job in Texas was, "Who the hell wants to go to Texas?" She then added, "Only I didn't say 'hell' in those days. I learned to swear in Texas."
But Texas grew on her (and I'm sure with a personality like hers she grew on Texas!) and she became the head of food services at Neiman Marcus, where her Poppy Seed Dressing became a favorite on the menu. She had a long and accomplished career in the Texas food industry and published multiple cookbooks. I would love to get my hands on one.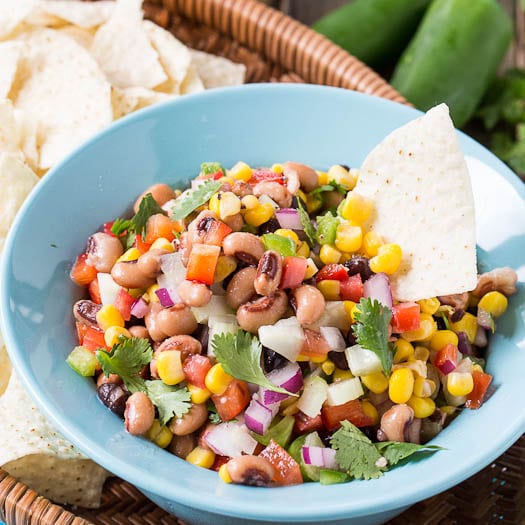 Never miss a recipe! Follow Spicy Southern Kitchen on Pinterest and Instagram.
Sign up HERE for the Spicy Southern Kitchen Newsletter.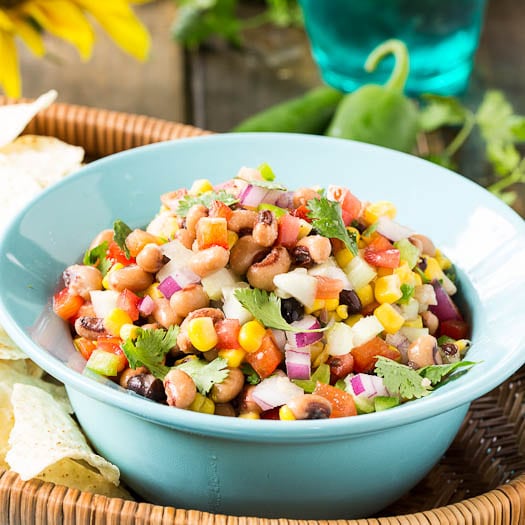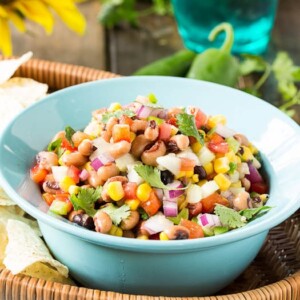 Texas Caviar Bean Dip
Served chilled, this Texas Caviar Dip with black-eyed peas, black beans, corn, and red bell pepper is wonderful eaten with tortilla chips or on its own.
Ingredients
2

(15-ounce)

cans black-eyed peas,

rinsed and drained

1

(15-ounce)

can black beans,

rinsed and drained

2

(15-ounce)

cans yellow corn,

drained

1

red bell pepper,

cored, seeded, and finely chopped

1/2

green bell pepper,

cored, seeded and finely chopped

1

small red onion,

finely chopped

2

stalks celery,

finely chopped

2

roma tomatoes,

finely chopped

2

jalapeno peppers,

seeded and finely chopped

1/3

cup

chopped cilantro leaves

1/2

cup

red wine vinegar

2

teaspoons

sugar

1/2

teaspoon

garlic powder

1/2

teaspoon

salt

1/4

teaspoon

ground black pepper

1/4

cup

vegetable oil
Instructions
Combine black-eyed peas, black beans, corn, red bell pepper, red onion, celery, tomatoes, jalapenos, and cilantro in a large bowl.

In a small bowl, whisk together vinegar, sugar, garlic powder, salt, pepper, and vegetable oil.

Pour dressing over black-eyed pea mixture and toss to coat. Refrigerate for at least several hours.
Want to Save This Recipe?