Sweet Potato Fries Wrapped in bacon and baked in the oven are the perfect salty/sweet snack. The sweet potatoes get nice and soft and are the perfect contrast to the crispy bacon. This is a snack you won't want to share.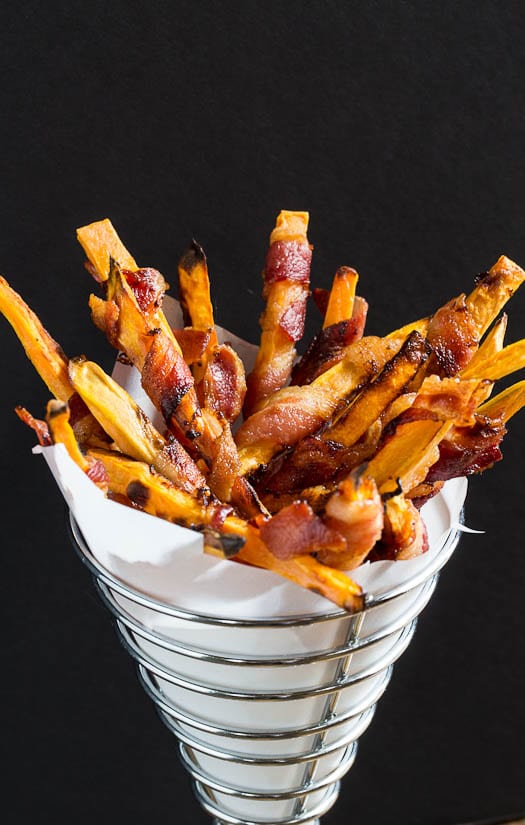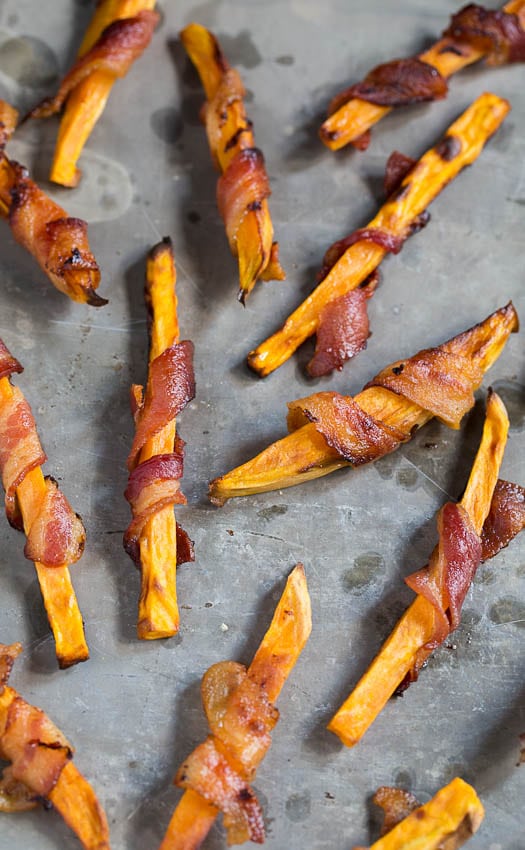 Sweet Potato Fries are my ultimate weakness. I love that so many restaurants have them on the menu nowadays and I can never resist ordering them. Whether they be fried or baked, thick cut or slender, I've never met a sweet potato fry I didn't like.
Including these Sweet Potato Fries wrapped in Bacon. They are baked in the oven until soft and then broiled for a few minutes to help crisp the bacon. The sweet potatoes don't really get crisp, but the bacon does and adds a nice saltiness.
This recipe is extremely simple and uses only 2 ingredients. It's hard to believe something so simple can taste so good. But it does.
Sweet Potato Fries wrapped in Bacon are the ultimate sweet/salty snack.
Find more Sweet Potato Recipes.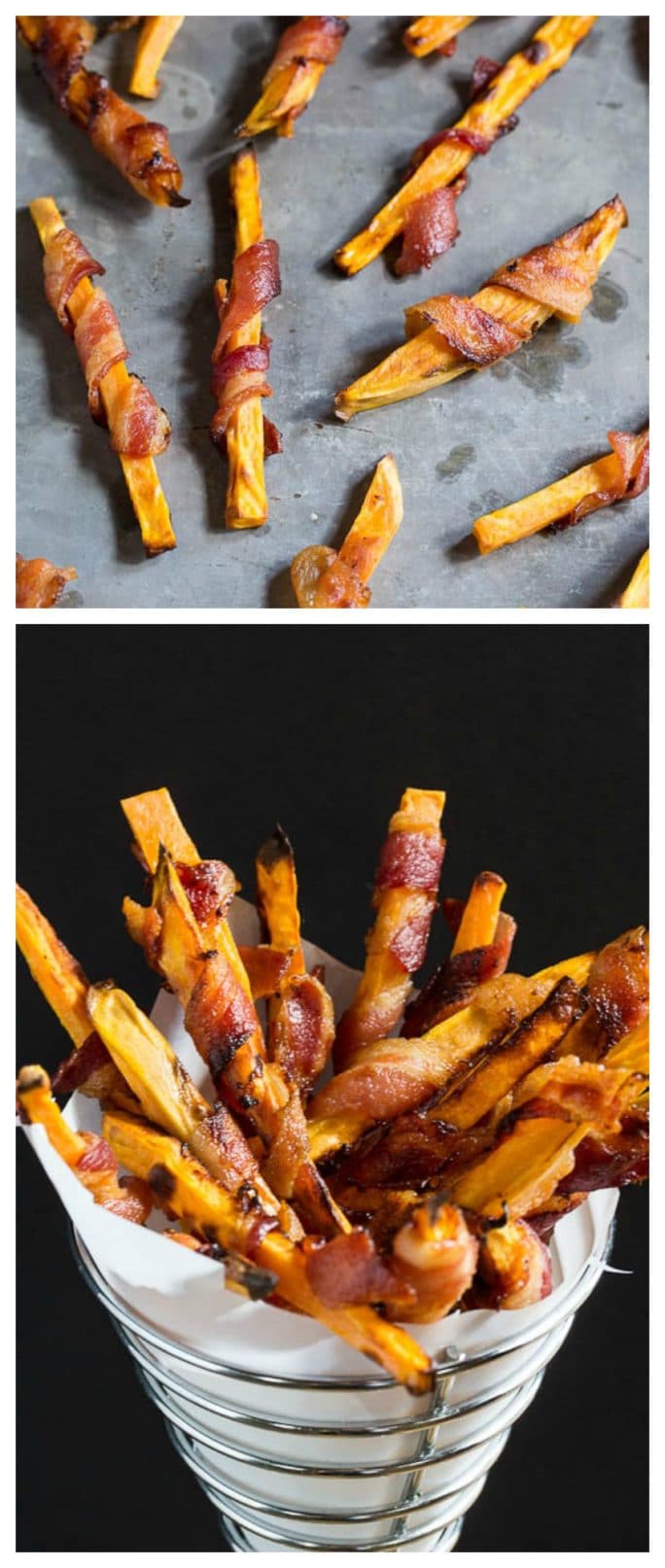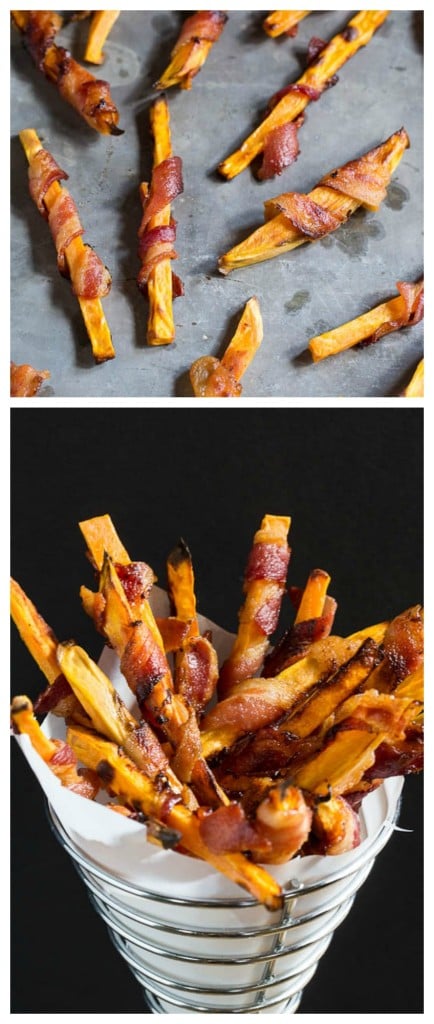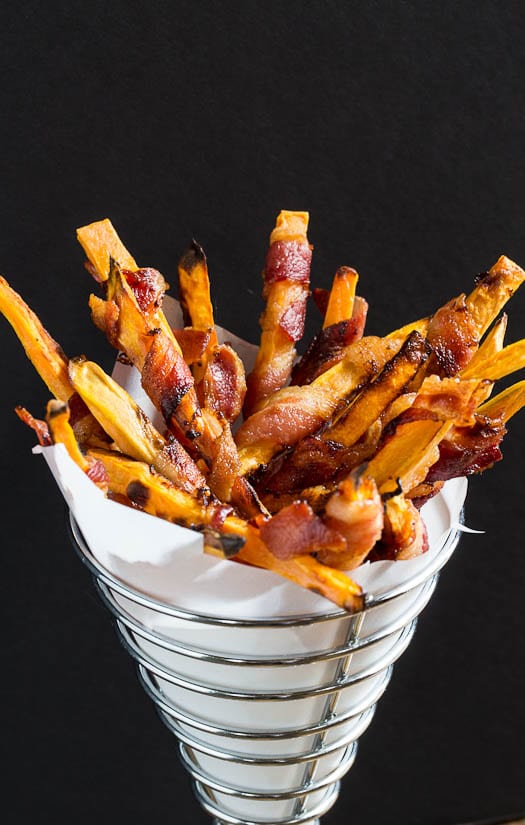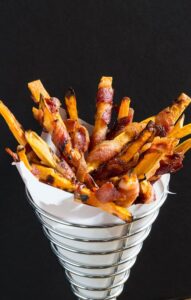 Sweet Potato Fries Wrapped in Bacon
Sweet Potato Fries wrapped in bacon and baked in the oven are the ultimate salty/sweet snack.
Ingredients
1

large sweet potato or 2 medium

8

ounces

of bacon,

not thick cut
Instructions
Heat oven to 425 degrees. Line 2 baking sheets with parchment paper.

Cut each piece of bacon in half lengthwise and then in half widthwise so you can wrap 4 sweet potato sticks with what was 1 piece of bacon.

Peel sweet potatoes and cut into thin strips, no bigger than the width of your pinkie finger.

Starting at one end of sweet potato stick wrap bacon around, stretching bacon a little if needed to make it to the other end.

Place on baking sweets, leaving some space in between fries.

Bake for approximately 15 minutes. Sweet potatoes should be soft at this point. If not cook longer.

Turn oven to broil just for a very short time to help bacon crisp up some, but careful not to burn. (Obviously if you have 2 baking sheets in the oven, you will have to get the top baking sheet crisp, remove it from oven and place bottom sheet under the broiler.)
Want to Save This Recipe?