I don't know what it is about M&M Cookies, but they make me feel like a kid again. Maybe it's all the bright colors. These M&M Cookies are soft and chewy and have a generous amount of M&M candies.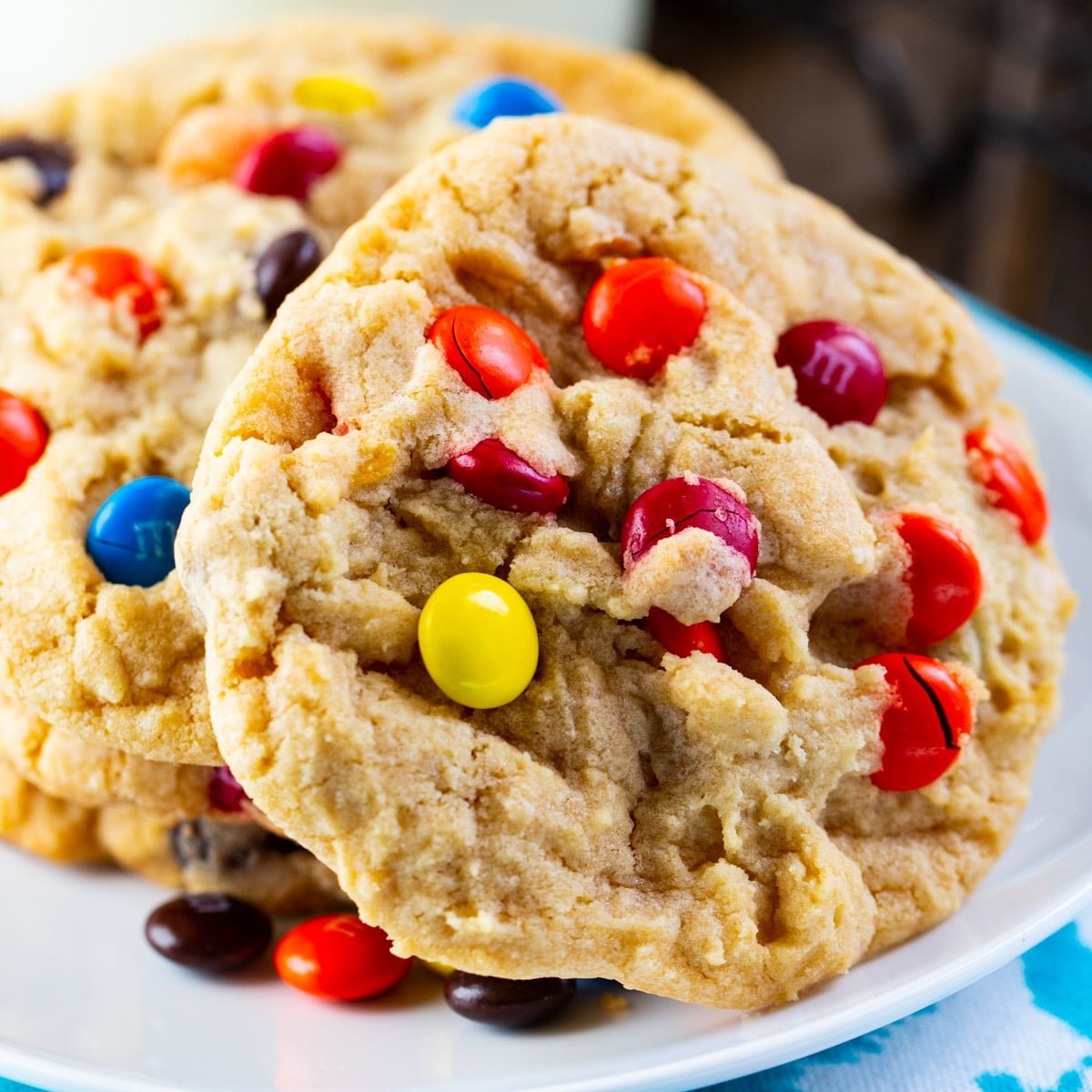 I used the recipe for Chewy Chocolate Chip Cookies which is from Cook's Illustrated
and added M&M's (lots of them) instead of chocolate chips.
My daughter and I made these (along with Oreo Brownies and Banana Chocolate Chip Muffins) for a fundraiser my son organized a few weeks ago (Note: Originally published February 23, 2015.) to raise money for cancer research. I wanted a trusty recipe that I knew would turn out well. And this one always does. The texture of these M&M Cookies is perfectly soft and chewy. No dry, brittle cookies like the ones at the store. I used regular size M&M's but you could also use those cute little mini ones. And how perfect would pastel colored M&M's be for Easter if you can find them? My daughter's first and last initials are both M and I thought it would be super fun to give her a middle name with the initial N as a play on the candy-coated pieces (or the rapper). But instead we went with a family name and her middle initial is C. She has her initials on her backpack and lately she's been complaining that kids at school call her Man Candy Monday. I'll admit I had to ask her what that was. And now that I know and since it's Monday, we're having M&M Cookies for Man Candy Monday. I'll have to keep my Man Candy Monday choice to myself or my teenage daughter won't speak to me for you know, at least 3 days.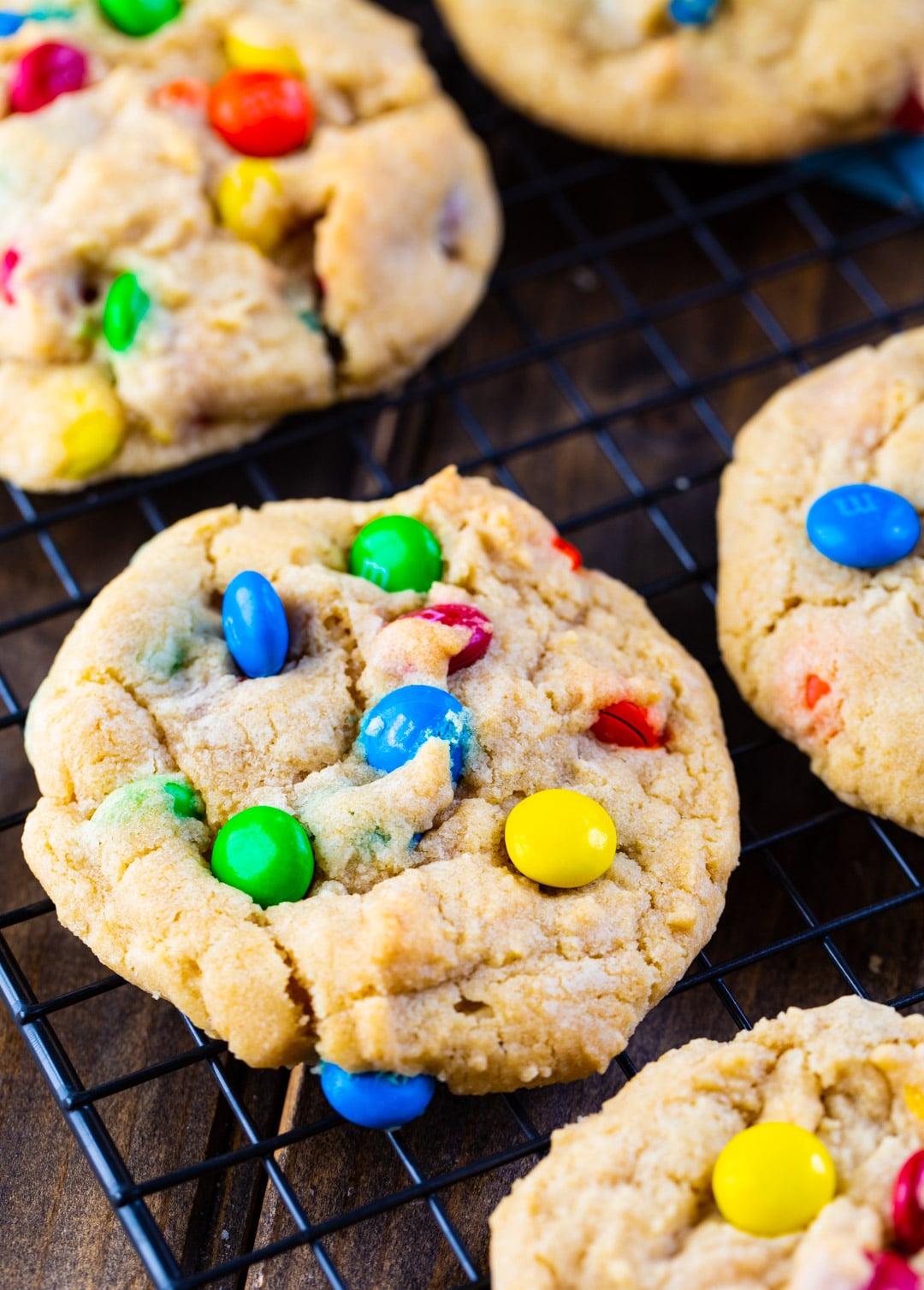 Recommended Equipment
Never miss a recipe. Follow Spicy Southern Kitchen on Pinterest and Facebook.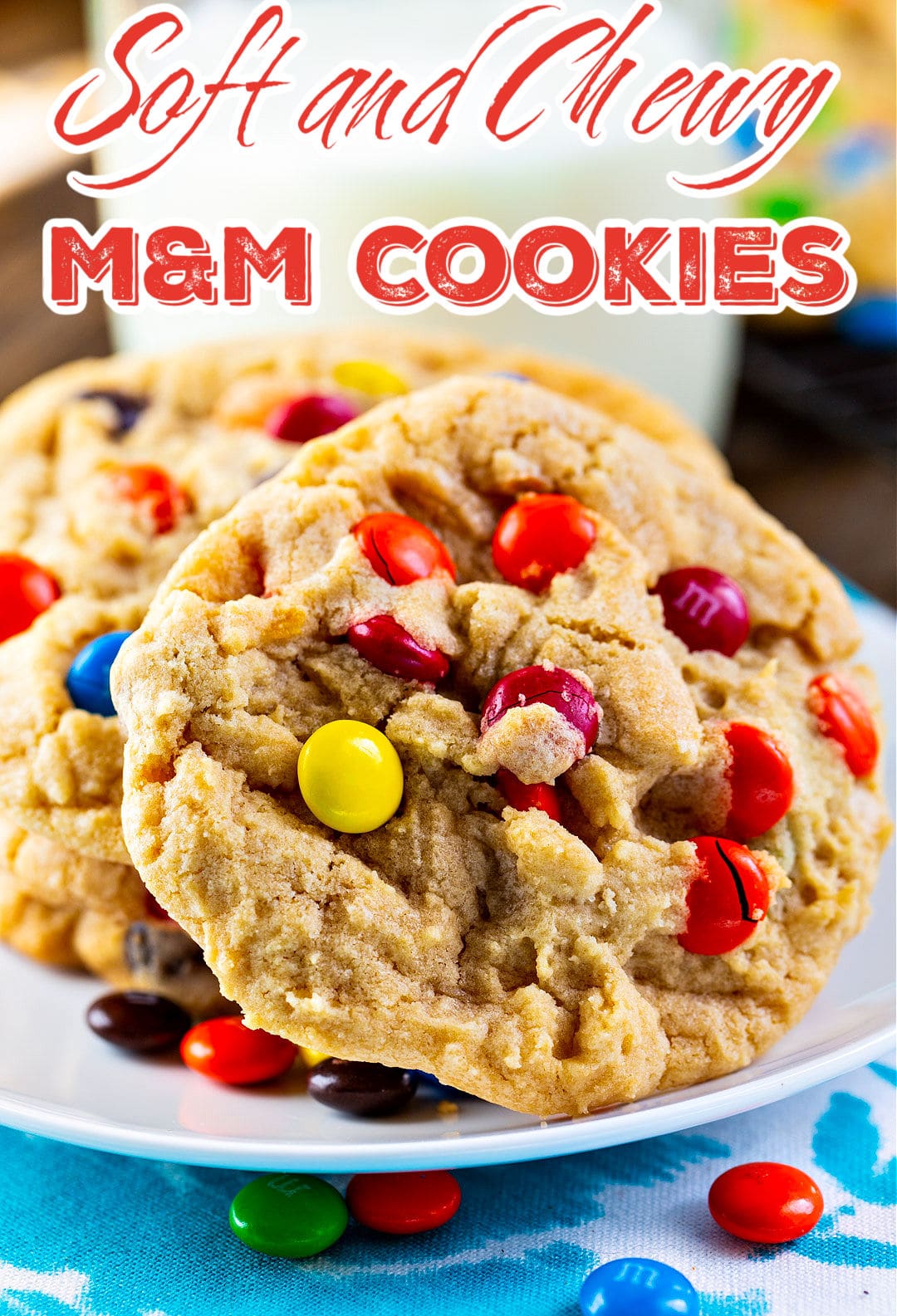 More Delicious Cookie Recipes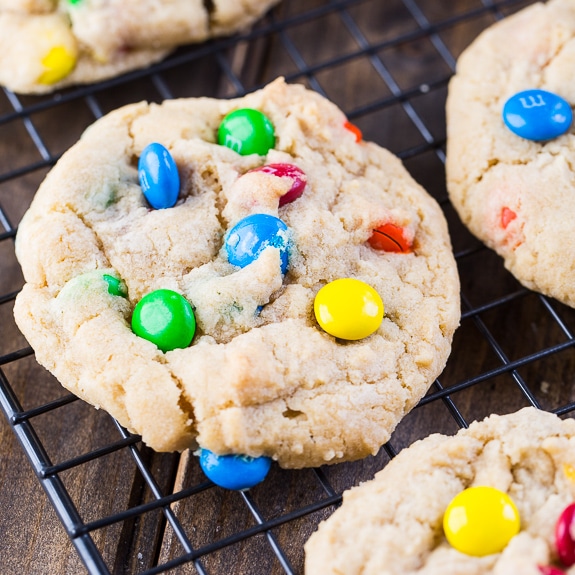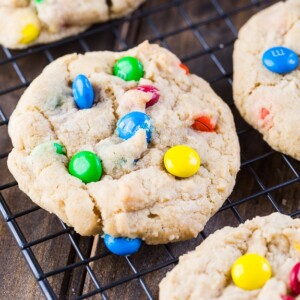 Soft and Chewy M&M Cookies
These M&M Cookies are soft and chewy and much better than store bought. Always popular with the kids.
Ingredients
2⅛

cups

all-purpose flour

(10⅝ ounces)

½

teaspoon

salt

½

teaspoon

baking soda

12

tablespoons

unsalted butter

, melted and cooled slightly

1

cup

light or dark brown sugar

( 7 ounces)

½

cup

granulated sugar

(3½ ounces)

1

large egg

1

large egg yolk

2

teaspoons

vanilla extract

1-2

cups

candy covered chocolate pieces,

of course you know 2 cups is best!
Instructions
Heat oven to 325 degrees with racks in the upper-middle and lower-middle positions.

In a medium bowl mix flour, salt, and baking soda. Set aside.

With electric mixer, beat butter and sugars until thoroughly blended. Mix in egg, egg yolk, and vanilla. Add dry ingredients and mix just until combined. Stir in M&M's.

Roll a scant ¼ cup of dough into a ball. Holding the ball in both hands, pull ball apart into 2 equal halves. Rotate just 90 degrees so jagged edges face up and press the two pieces back together again. Place on baking sheet with jagged edges facing up, spacing 2½ inches apart.

Bake 15-18 minutes. Cookies should be slightly undercooked when you remove them from the oven. Cool cookies on baking sheets.
Notes
Cookies can be stored in an airtight container at room temperature for 5 days.
Want to Save This Recipe?
Originally published February 23, 2015.
Disclosure: This post contains affiliate links.