A hearty Slow Cooker Beef Stew with Coke® with tender chunks of beef, onion, carrots, sweet potatoes, and peas is just the meal for a chilly fall night. A Coke® mini gives it a little sweetness and adds to the flavor.  I've had great success using it in a number of recipes including BBQ sauce and the crowd-pleasing
Coca-Cola
Cake which is one of my all-time favorite desserts.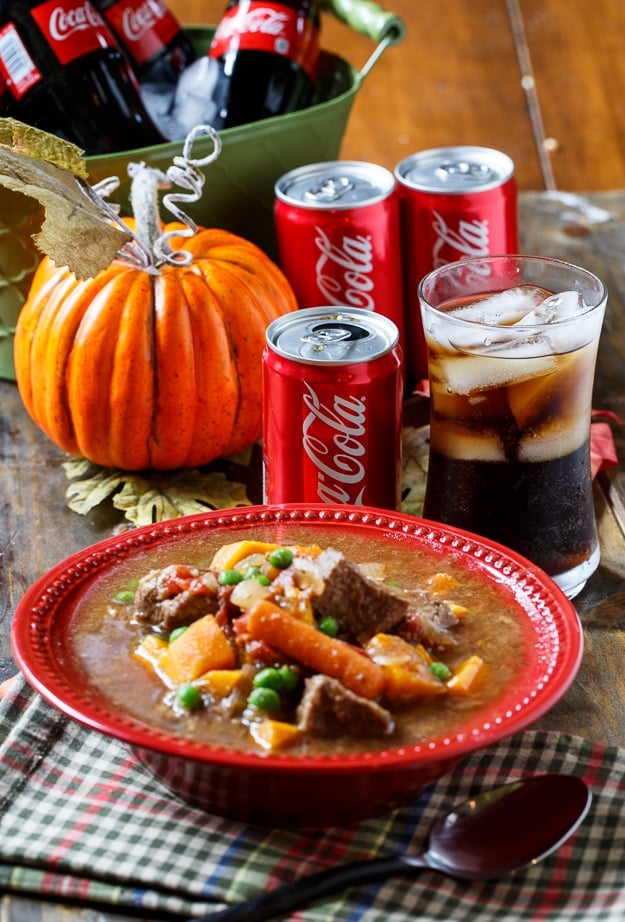 div>

Now that it's September, I'm free to talk all about pumpkins and my favorite holiday right?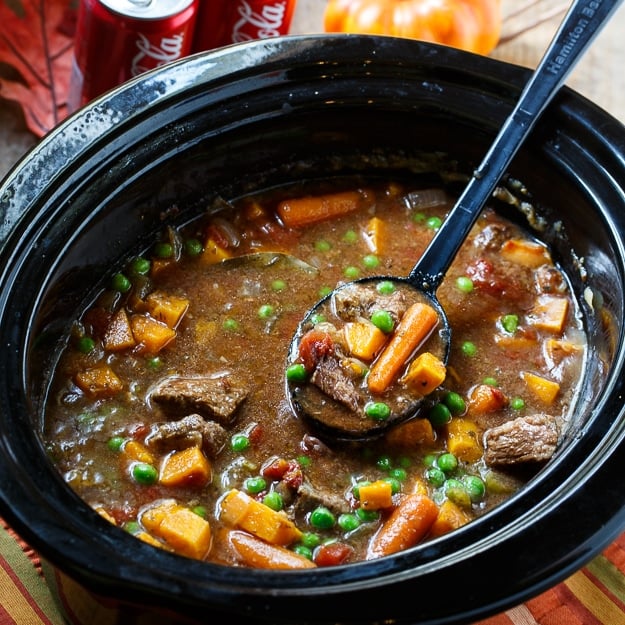 I have so many fond memories of Halloween both from my own childhood and from my years as a mother. Next to Christmas, there's no better time to capture those precious family memories and pictures that you'll cherish for years. I still like to pull out the photo from my son's first Halloween from time to time. He wore a bumble bee costume that I made him and he was the cutest thing ever. If you're like me, you still remember practically every costume you wore for Halloween as a child. I've long forgotten the gifts I received for Christmas, but I'll always remember those costumes!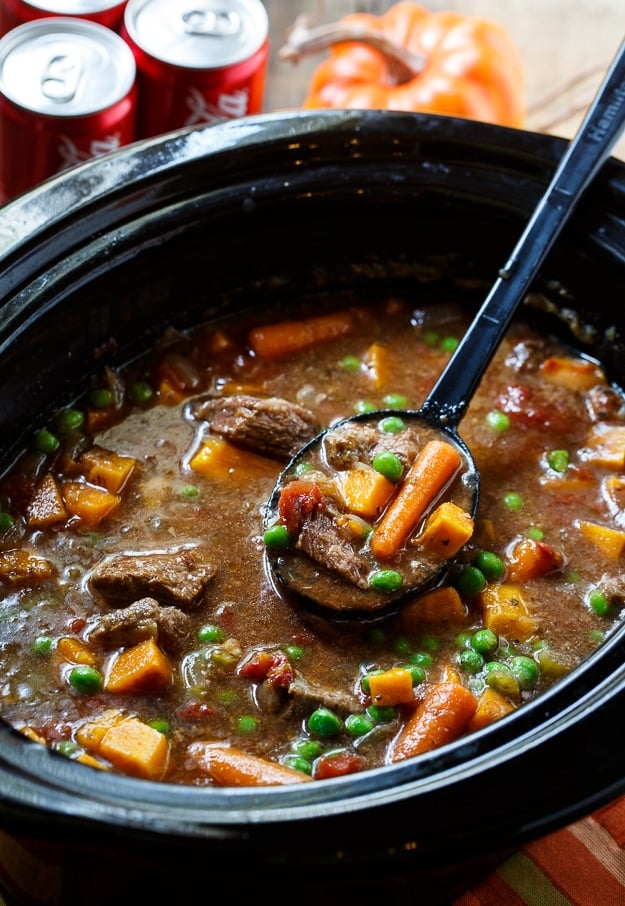 For Halloween, I've always liked to serve a make ahead meal for dinner so that I can be a part of all the excitement. Halloween evening can be a little chaotic.
This Slow Cooker Beef Stew with Coke® is the perfect solution to getting a meal on the table. It can be prepped in the morning and then the crock pot does the rest. Eight hours later you have a warm, filling, and nutritious meal to feed you little goblins before they go trick-or-treating.
Next to my cast iron pan, there's no item in my kitchen that gets more use than my crock pot.  A crock pots is a lifesaver for a busy mom and it is fabulous for making beef stew.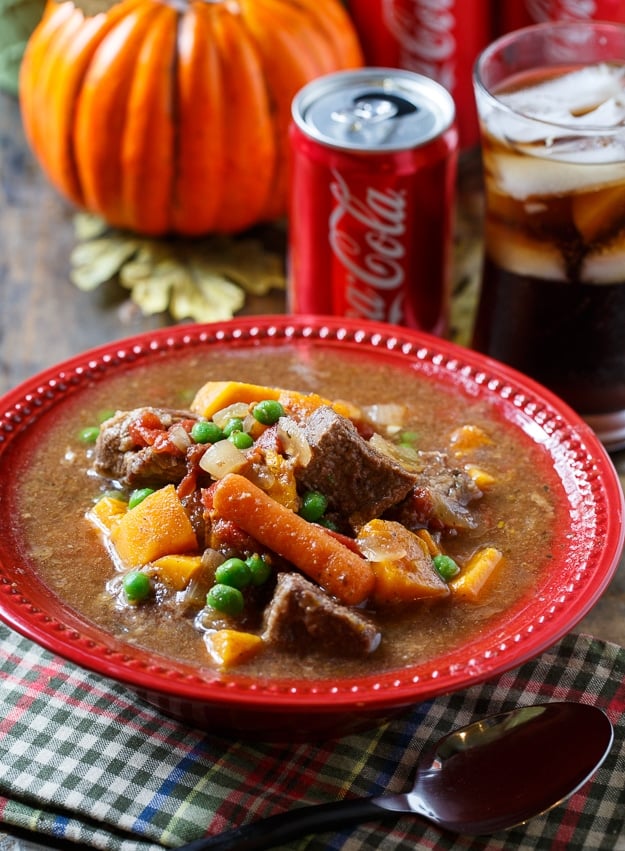 The best thing about cooking beef in the crock pot is you get the incredible taste of something that's been cooking all day, but you don't need to spend any time in the kitchen except for a few minutes of prep. That leaves you time to do all the millions of other things that moms do.
Except for the Coke® and sweet potatoes, this is a traditional beef stew recipe with all the hearty flavors you associate with beef stew. I used sweet potatoes because they are ideal for fall and Halloween but you could use russet or red potatoes instead.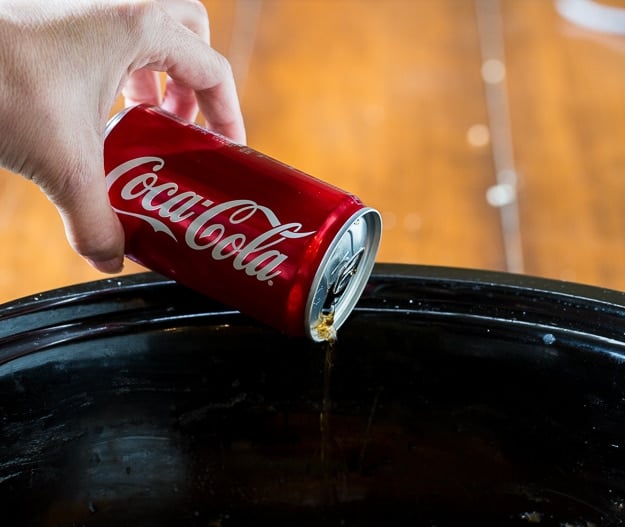 When serving Coke® as a refreshment, I've really grown fond of the mini cans and bottles. The mini cans are just 7.5 ounces and the bottles are 8 ounces. That's just the right portion size for an everyday family treat. No need to worry about half-empty cans getting left behind. These mini cans can easily be consumed in one sitting.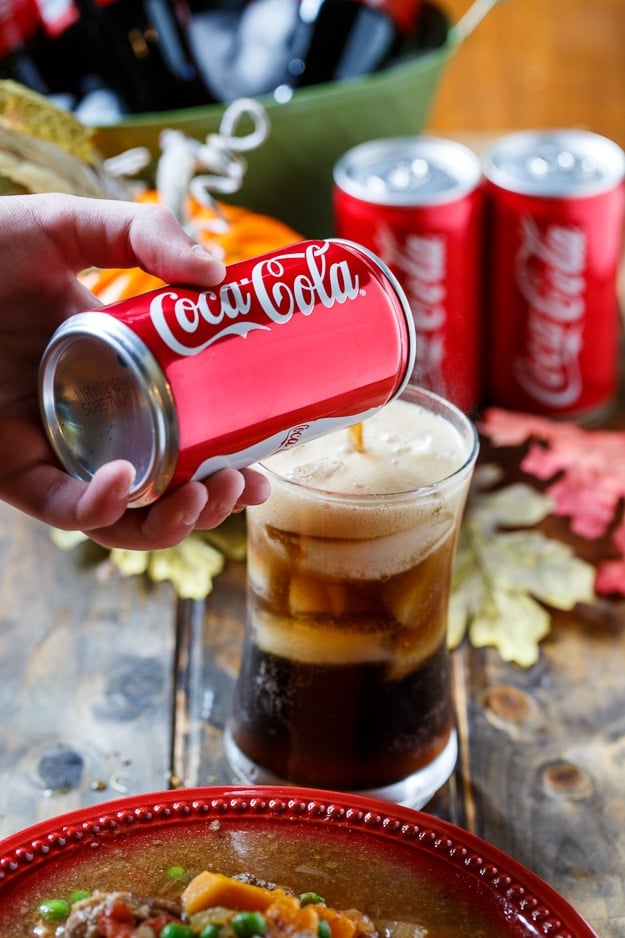 Pour one in a glass full of ice, serve up a bowl of beef stew, and get ready for a night full ghosts and goblins!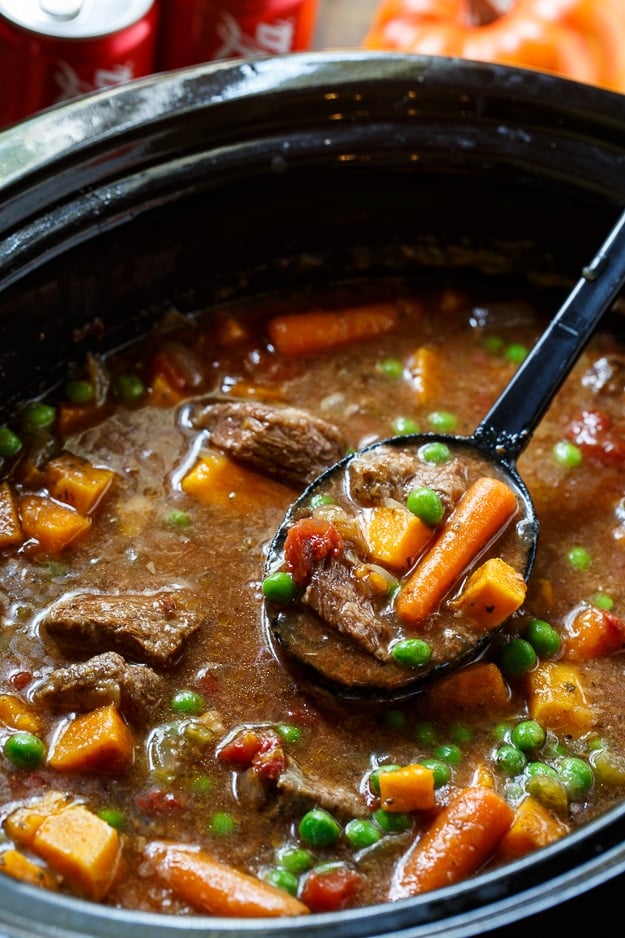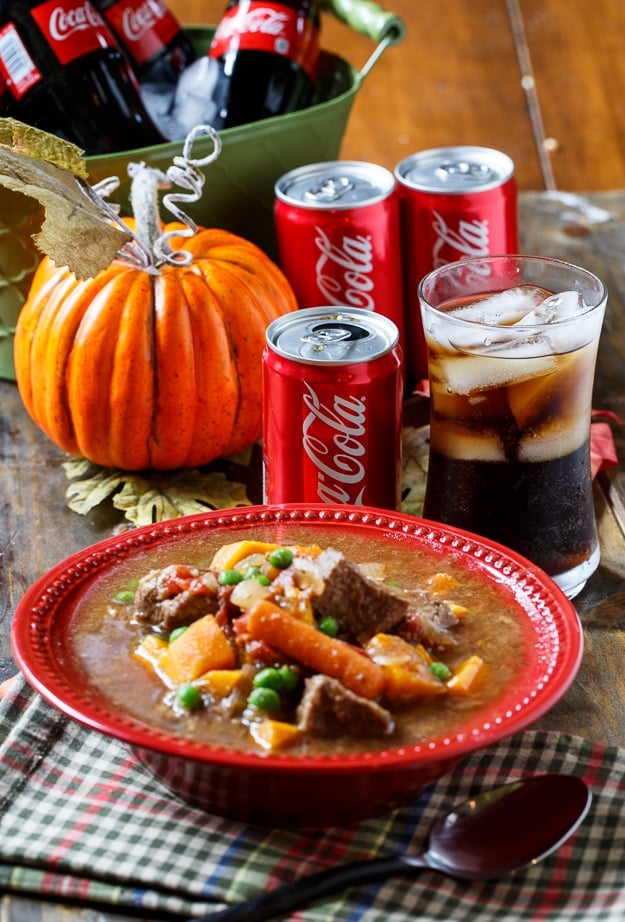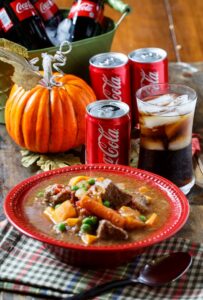 Slow Cooker Beef Stew with Coke®
A hearty Slow Cooker Beef Stew with Coke® with tender chunks of beef, onion, carrots, sweet potatoes, and peas is just the meal for a chilly fall night.
Ingredients
2.5

pounds

beef chuck roast

1/3

cup

flour

1 1/2

teaspoons

seasoned salt

1/2

teaspoon

pepper

2

tablespoons

olive or vegetable oil

• 1 medium onion,

chopped

2

garlic cloves,

minced

1

(14.5-ounce)

beef broth

1

heaping tablespoon

heaping tomato paste

1

(14.5-ounce)

can diced tomatoes

1

(7.5-ounce)

Coke® mini

1

celery stalk,

chopped

1 1/2

cups

mini carrots

2

medium sweet potatoes

peeled and cut into bite-sized pieces, or russet

2

bay leaves

1

teaspoon

Italian seasoning

1

teaspoon

Worcestershire sauce

1/2

teaspoon

salt

1

cup

frozen peas,

defrosted
Instructions
Trim any excess fat from the chuck roast and cut into 1 1/2-inch pieces.

Combine flour, seasoned salt, and pepper in a large plastic bag. Add beef and shake to coat well.

Heat oil in a large pan. Add beef and cook until browned on all sides.

Place beef in crock pot.

Add onion to same pan, adding a little more oil if needed. Cook for 2 minutes.

Add garlic and cook for 1 more minute.

Add tomato paste and enough beef broth to deglaze the pan, using a wooden spoon to scrape the brown bits off the bottom.

Pour contents of pan into crock pot along with the rest of the can of beef broth and all remaining ingredients EXCEPT peas.

Cover crock pot and cook on LOW for 7 to 8 hours. Add peas about 30 minutes before end of cooking.
Want to Save This Recipe?