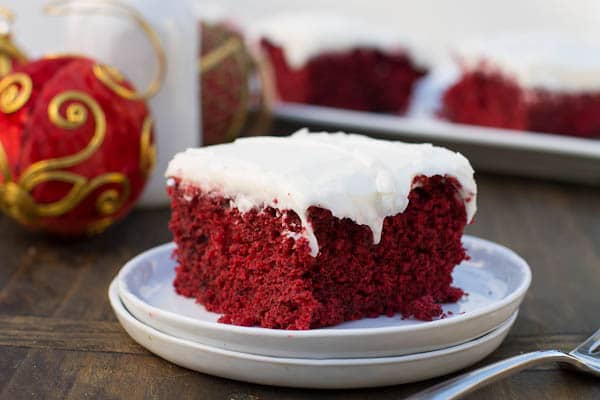 I know red velvet cake is a cake to be enjoyed year round, but with it festive red color I really associate it with Christmas. And of course Valentine's Day. And this particular cake turned out exceptionally red!
Now I love the more traditional red velvet cakes with layers. They are absolutely gorgeous. But this sheet cake-style version is so much easier to make and serve. For a holiday party, you can just go ahead and cut it into squares.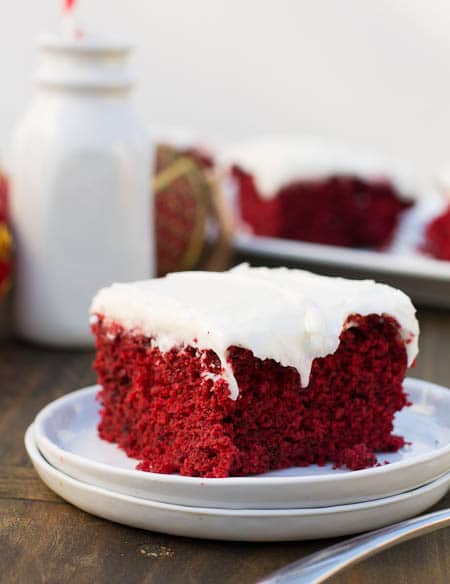 This recipe is from From a Southern Oven: The Savories, The Sweets
, one of my new cookbooks that I've really been enjoying cooking out of. It contains a wonderful collection of Southern recipes, many of which are very unique.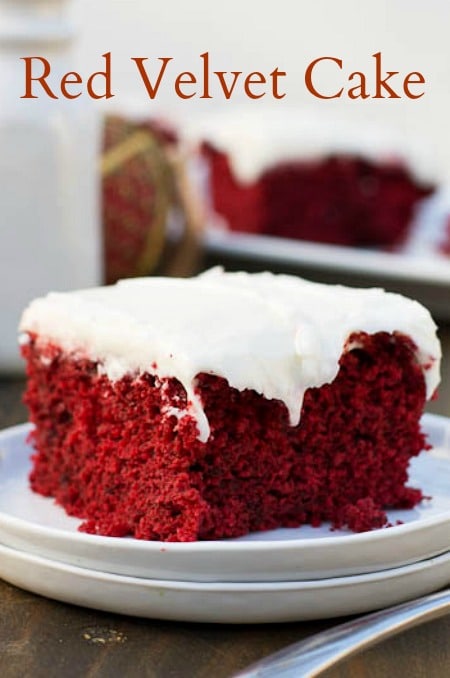 This Red Velvet Cake recipe calls for using sifted flour and cocoa powder. That means you need to sift it before you measure it. 🙁 A pain I know. But if you don't sift it first, you will be too heavy on the dry ingredients and risk having a dry cake.
Cake flour especially tends to get lumps in it and it tends to get really packed down since it has such a fine texture. Sifting removes any lumps and helps aerate the flour, producing a cake with a lighter texture.
You sift the flours and cocoa a second time to get them really mixed well and further aerated before adding them to the wet ingredients.
If a recipe calls for "1 cup flour, sifted", that means you measure and then sift. Confusing I know. And usually in this case I don't sift at all and just run a whisk through it.
The cake is topped with a thick layer of very sweet frosting and I love that the frosting has no cream cheese. I sometimes tire a little of cream cheese frosting on red velvet cake. If you don't like a really sweet frosting, don't cut back on the sugar because you might not have enough frosting to cover the cake well. I would try adding an extra tablespoon of butter and 1/4 cup of sour cream instead.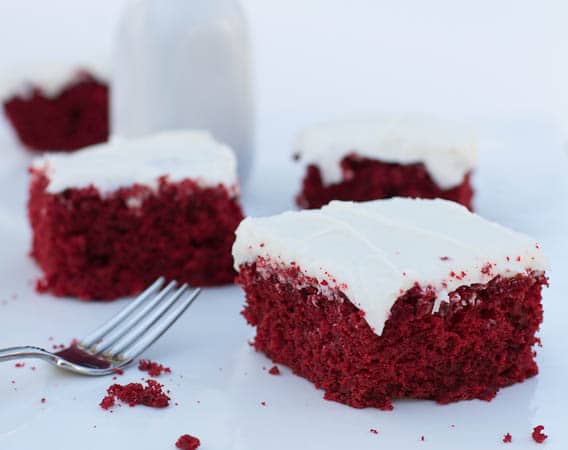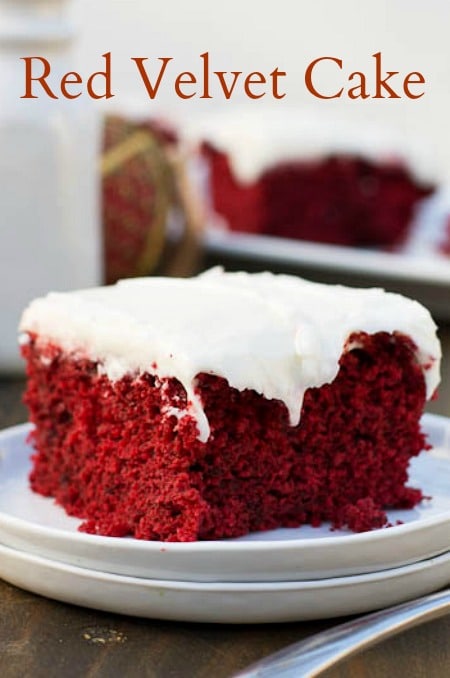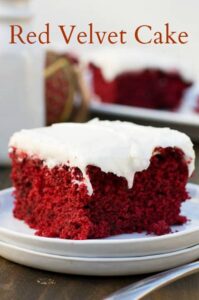 Red Velvet Cake
Ingredients
2 1/4

cups

sifted cake flour

1/4

cup

all-purpose flour

1/3

cup

Dutch-process cocoa powder

1

teaspoon

baking powder

1/2

teaspoon

baking soda

1/4

teaspoon

salt

1

cup (2 sticks)

unsalted butter at room temperature

1 1/2

teaspoons

vanilla extract

2

cups

granulated sugar

4

large eggs

3/4

cup

buttermilk

1

(1-ounce)

bottle red food coloring,

2 tablespoons
Frosting
1

(1-pound)

box confectioners' sugar

2

tablespoons

unsalted butter,

at room temperature

1/2

cup

sour cream

1 1/2

teaspoons

vanilla extract

Milk

if needed, to thin frosting
Instructions
Preheat oven to 350 degrees. Butter and flour, or spray with oil-and-flour baking spray, a 13x9x2-inch baking pan.

Sift both flours, cocoa powder, baking powder, baking soda, and salt onto a piece of wax paper. Set aside.

Using an electric mixer, cream butter and vanilla on high speed for 3 to 5 minutes. Stop mixer often to scrape down sides of bowl so that all butter is an even texture.

Turn mixer to low speed and add sugar in a slow and steady stream.

Once sugar has been added, turn mixer to high for 3 to 5 minutes, stopping frequently to scrape sides of bowl.

Beat in eggs one at a time.

Combine buttermilk and food coloring. With mixer on low-speed, add flour mixture, alternating with buttermilk mixture, beginning and ending with flour. Only beat long enough to combine ingredients and scrape down sides of bowl several times to make sure everything is evenly combined.

Pour batter into prepared pan and spread evenly with a spatula. Place in middle of oven and bake 40 to 45 minutes, until cake feels firm on top. Let cake cool completely before frosting.

For frosting, beat all ingredients (except milk) first at low-speed and then at high until light and fluffy. Thin with milk if too thick to spread. Spread on cake.
Want to Save This Recipe?
Disclosure: Spicy Southern Kitchen is an amazon.com affiliate.