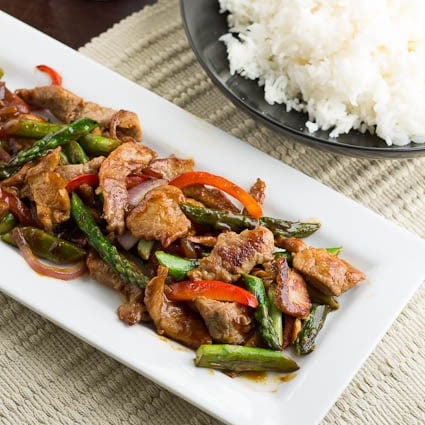 I don't cook stir-fries often because I have so few recipes for them that I truly love. But this recipe for Pork and Garlic Stir-Fry rocks! It's a little sweet, a little spicy, and a whole lot of yum! The hoisin sauce gives it real depth of flavor and the pork is unbelievably tender so long as you don't overcook it.
There seems to be quite a bit of variation in taste among different brands of hoisin sauce and not all of them please my palate. I do really like Lee Kum Kee. Their oyster sauce is awesome too.
Unless you have a special built-in wok burner in your kitchen (who does?), I think you're better off using a skillet when you stir fry. I like to use a large nonstick skillet because I can get away with using less oil.  The only problem with stir-frying in a nonstick skillet is they should not be heated over high heat. Since I don't stir fry often, I don't worry a whole lot about it.
I turn the heat up high when cooking the meat because it's pretty much the only way to get a nice brown sear on the meat without over cooking it. I turn the heat down some to cook the vegetables.
To best cook the meat, don't stir it. Leave it alone while it's in the pan, turning it just once to cook the other side. The pork should be well seared, but slightly undercooked when you remove it from the pan. It will cook a little more when you return it to the pan with the asparagus.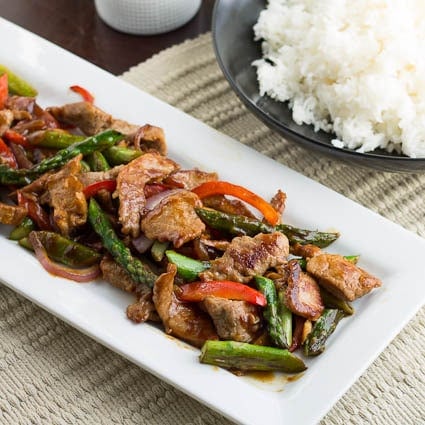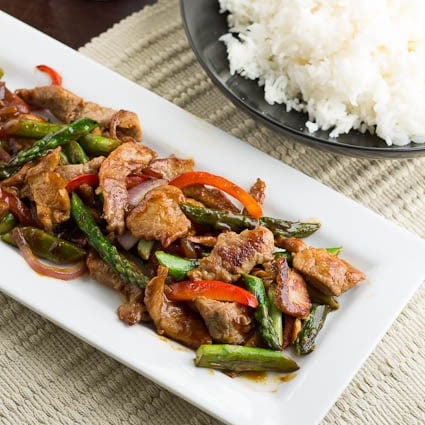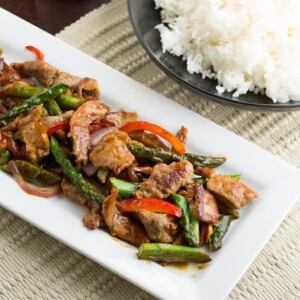 Pork and Garlic Stir-Fry
Ingredients
1 1/2

cups

basmati rice

1/2

cup

chicken broth

1/2

cup

hoisin

1/4

cup

soy sauce

1

tablespoon

cornstarch

1/2

teaspoon

Sriracha sauce

2

tablespoons

vegetable oil,

divided

1

pound

pork tenderloin,

cut into strips

1

bunch asparagus,

trimmed and cut into 1-inch pieces

1/2

red bell pepper cut into thin strips

1/2

red onion,

sliced

4

green onions,

white and green parts sliced into 1-inch pieces

8

ounces

shitake mushrooms,

sliced

1

tablespoon

minced fresh ginger

2

garlic cloves,

minced

1

teaspoon

sesame oil
Instructions
Cook basmati rice according to package directions.

In a small bowl, combine chicken broth, hoisin sauce, soy sauce, cornstarch, and Sriracha sauce. Mix together well and place 1/4 cup of sauce in a medium bowl with pork. Marinate for 30 minutes. Reserve rest of sauce.

Heat nonstick skillet over high heat. Once hot, add 1 tablespoon vegetable oil. Swirl to coat pan and add pork. Stir fry for 2 minutes and flip pieces over. Remove from pan once no longer pink. Wipe pan clean.

Add remaining tablespoon oil to pan and heat over medium-high heat. Add asparagus and red bell pepper and stir-fry for 2 minutes. Add mushrooms, red onion, and white parts of green onion and stir fry 2 minutes. Add garlic, ginger, and green parts of green onion and stir-fry 1 minute.

Stir in reserved sauce and bring to a boil. Add pork back to pan and heat for 1 minute. Drizzle sesame oil over stir fry. Remove from heat and serve with rice.
Want to Save This Recipe?