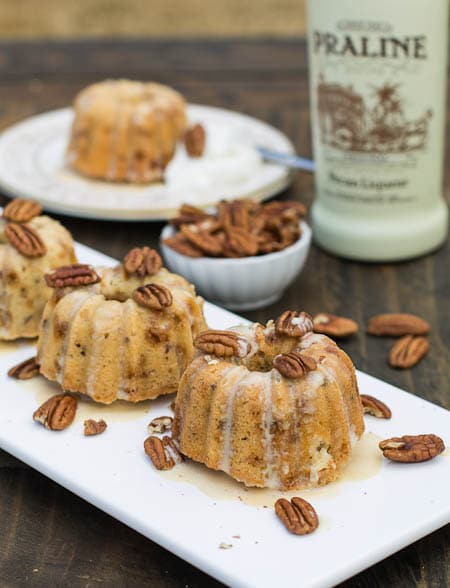 A few months ago I bought a Mini Bundt Pan
and I absolutely love making individual-sized mini bundt cakes with it. At first I was worried they would be a little dry, but that hasn't been the case at all. Especially when they have a sauce or Crème Anglaise drizzle on them like this recipe for Pecan-Toffee Pound Cakes with Praline Anglaise. The praline liquour makes the Crème Anglaise extra sweet and decadent. I'll just have to figure out what to do with the rest of the bottle. I think it would taste good as a flavoring in just about any cake and I bet it would intensify the flavor of a pecan pie.
The types and flavors of cakes you can make in mini-Bundt pans are endless. I loved these Rum-Glazed Sweet Potato Cakes I made a while back. I find that everyone feels special when they have their own mini bundt cake to dig into.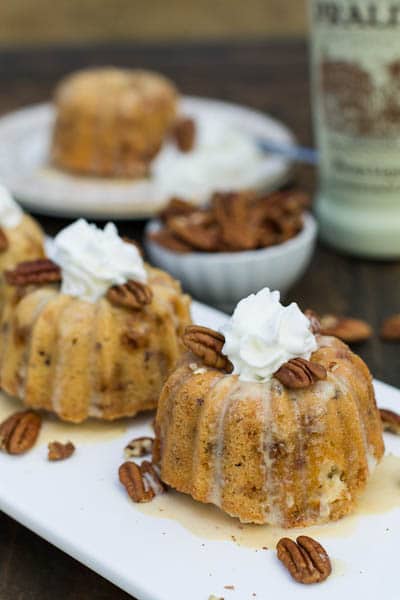 Wanted to thank everyone for their thoughts and prayers for our son as he faces a battle against cancer. We are in the hospital now waiting for his first chemo treatment to begin. If anyone would like to follow his progress, I just started a Caring Bridge page (chasemahrlig). Normally I'm an extremely private person, but I want as many prayers sent his way as possible. I'll give some updates here, but since cancer is not the most appetizing subject, I will keep them to a minimum.
Thank goodness for lap tops and cell phones and other electronic devices. I have no idea what parents did to pass the time in the hospital before they became prevalent. I went on a cooking spree several weeks so I have plenty of blog material for when I feel up to it.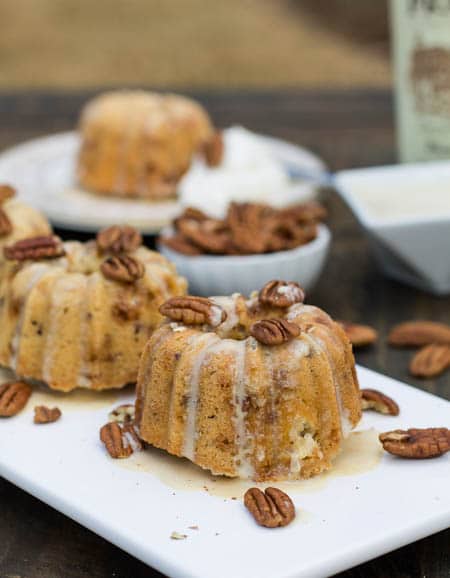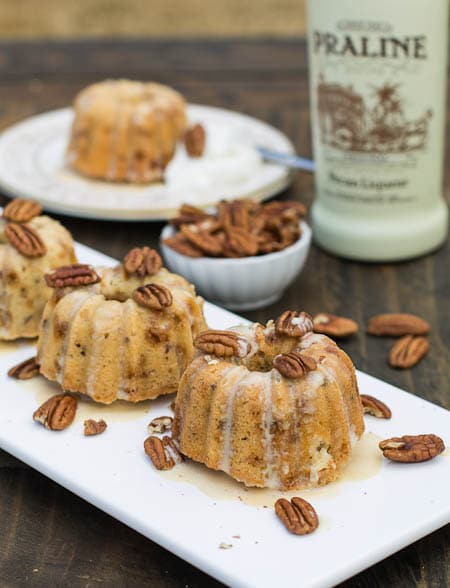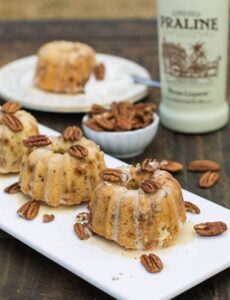 Pecan-Toffee Pound Cakes with Praline Creme Anglaise
Mini pound cakes flavored with pecans and toffee, drizzled with a delicious praline flavored Crème Anglaise.
Ingredients
1/2

cup

butter,

softened

3/4

cup

granulated sugar

1/4

cup

packed brown sugar

2

large eggs

1

cup

all-purpose flour

1/2

teaspoon

baking powder

1/4

teaspoon

salt

1/3

cup

plus 1 teaspoon heavy whipping cream

1

teaspoon

vanilla extract

1/2

cup

finely toasted pecans

1/3

cup

toffee bits
Praline Crème Anglaise
1

cup

milk

3

eggs yolks

1/4

cup

firmly packed dark brown sugar

1/2

teaspoon

vanilla extract

1 1/2

teaspoons

pecan-flavored liqueur
Instructions
Preheat oven to 350 degrees.

Spray 5 mini bundt pans with nonstick cooking spray with flour.

In a mixing bowl, combine both sugars an butter and beat at medium speed until fluffy.

Add eggs one at a time, beating until well-combined.

Combine flour, baking powder, and salt.

Gradually add flour mixture, alternating with heavy cream, beginning and ending with flour mixture. Do not overbeat.

Beat in vanilla and stir in pecans and toffee bits.

Bake 20-22 minutes, or until a wooden pick inserted in center comes out clean.

Cool in pans 10-15 minutes. Remove to wire rack to cool completely.

For Crème Anglaise, bring milk to a simmer in a medium saucepan, but not to a boil. Remove from heat an set aside.

Combine egg yolks and brown sugar in a mixing bowl and beat for 2 minutes at medium speed with an electric mixer.

Whisking constantly, gradually add 1/2 cup hot milk to yolk mixture. Add yolk mixture to remaining hot milk in saucepan. Cook over medium-low heat, stirring constantly, about 5 to 6 minutes, until mixture thickens slightly. Place saucepan in an ice bath. Stir in vanilla and pecan liqueur. Stir sauce every now and then while it cools.

Serve drizzled over cakes.
Want to Save This Recipe?