Kentucky Blackberry Jam Cake is covered in caramel icing. This southern cake is a special dessert any time of year and it is very popular for Christmas.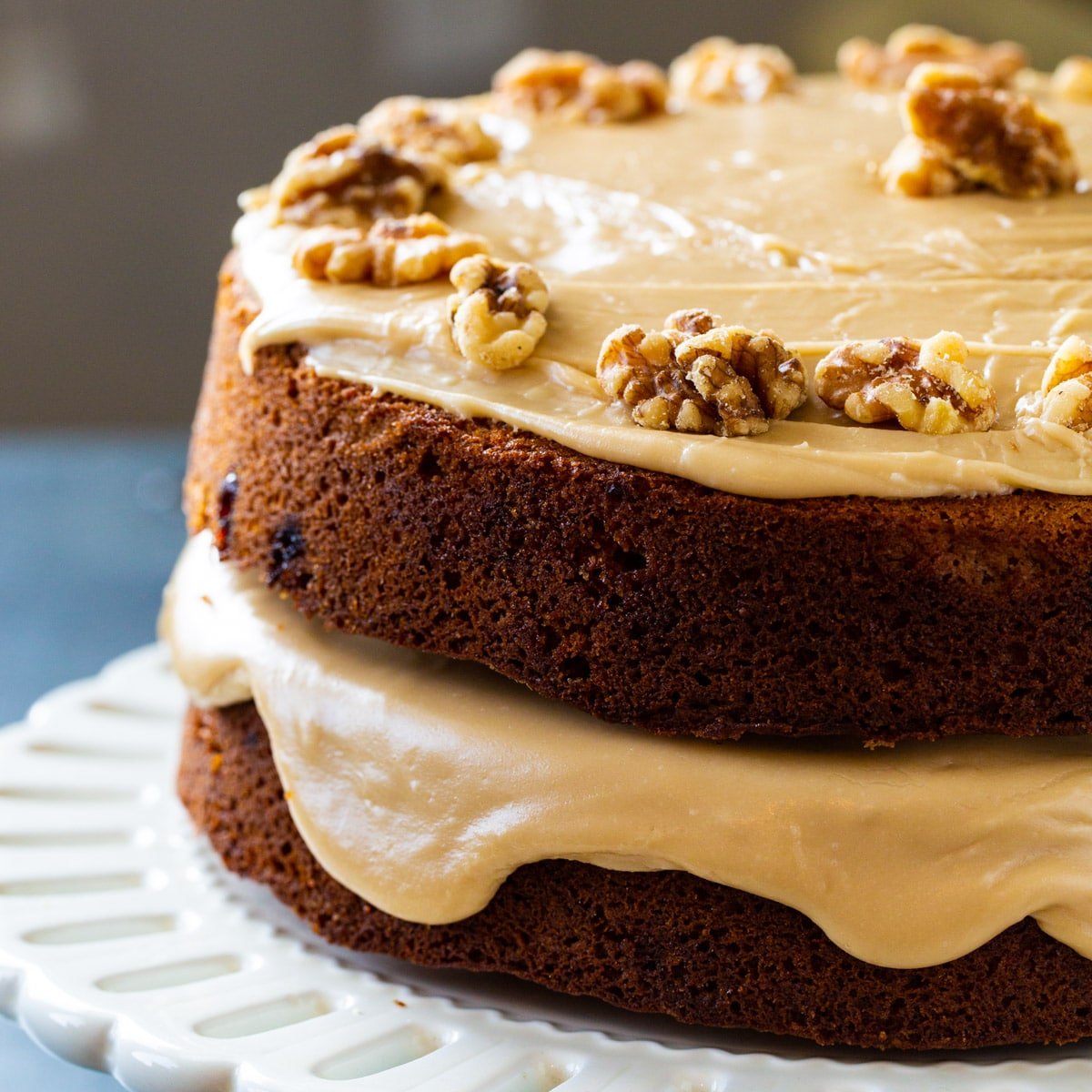 Blackberry Jam
What makes this cake so special is the Blackberry Jam that's mixed into the cake batter. It gives the cake a sweet and slightly tangy flavor that is accentuated by the ultra-sweet caramel icing.
In addition to blackberry jam this cake is also flavored with chopped walnuts and lots of spice: cinnamon, allspice, and cloves.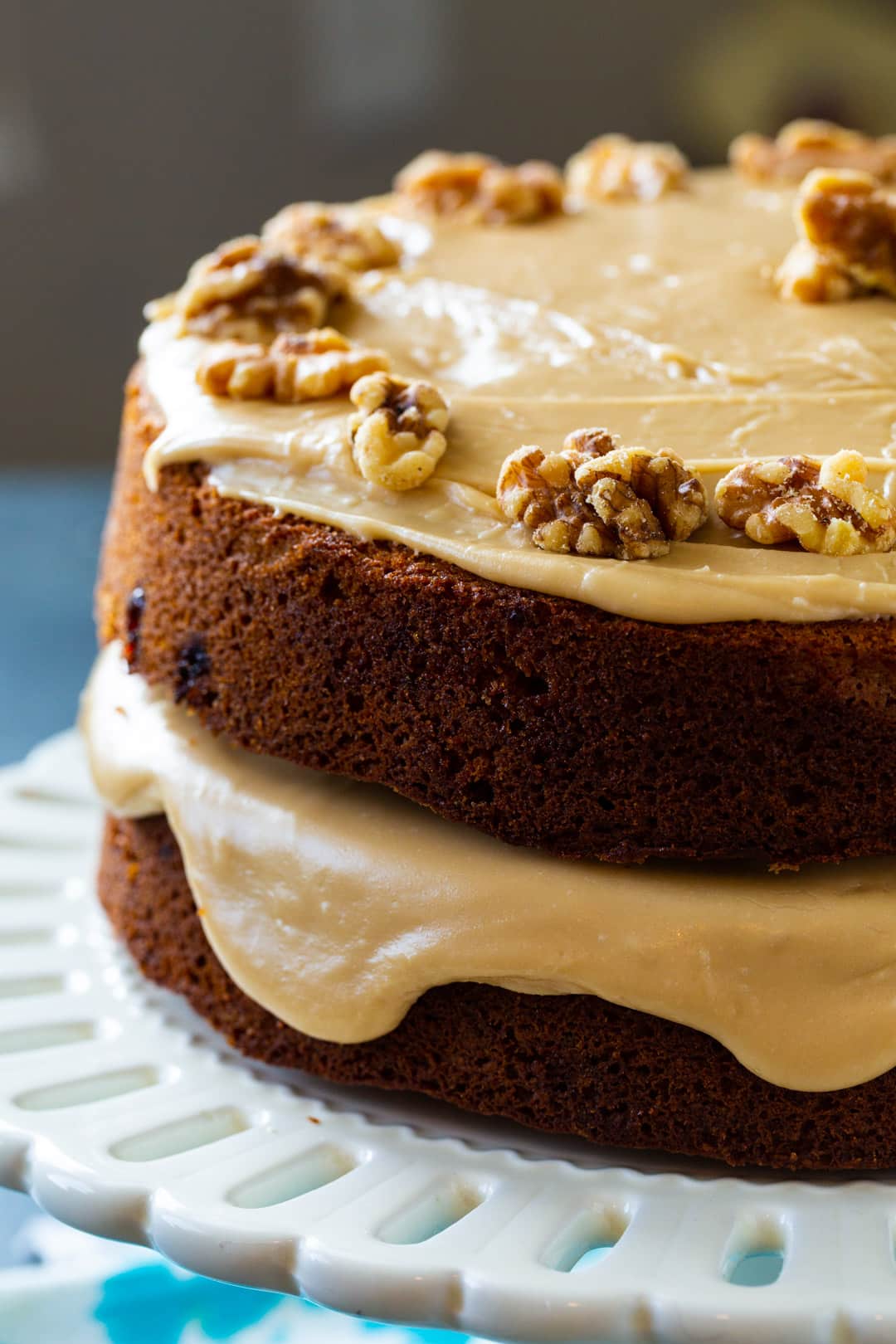 More traditionally, this cake has three layers, but it is much easier to make a 2 layer cake and you need one less cake pan.  🙂
If you like spice cake and you like caramel icing, you will love this cake.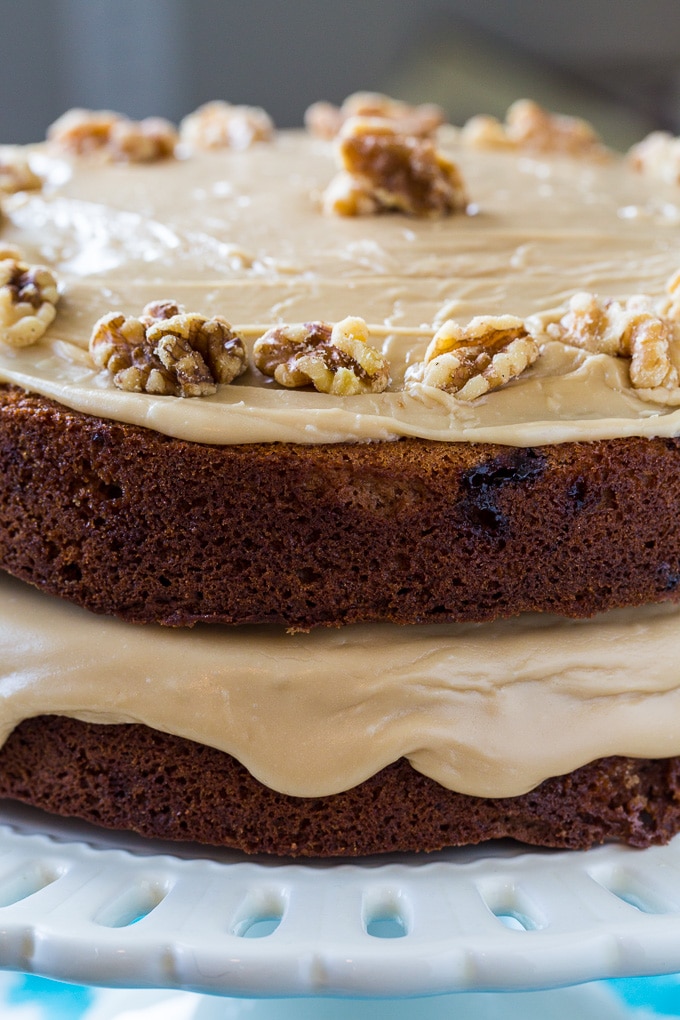 The cake layers are fabulously moist from all the jam added and the spices are so fragrant in every bite.
Kentucky Blackberry Jam Cake Origins
This is a distinctly southern cake that I believe has its roots with German settlers. It is very popular not only in Kentucky, but Tennessee as well.
Recipe Tips
Some Kentucky Jam Cakes use pecans so feel free to use them instead of walnuts.
Cook's Note: Measure the Flour Correctly
When making cakes, it's important to measure the flour correctly. The addition of even a little too much flour can make the cake dry. Fluff the flour up in the bag or container and then use a large spoon to spoon it into a large dry measuring cup. Overfill it a little and then run the back of a knife across the top to get rid of the excess.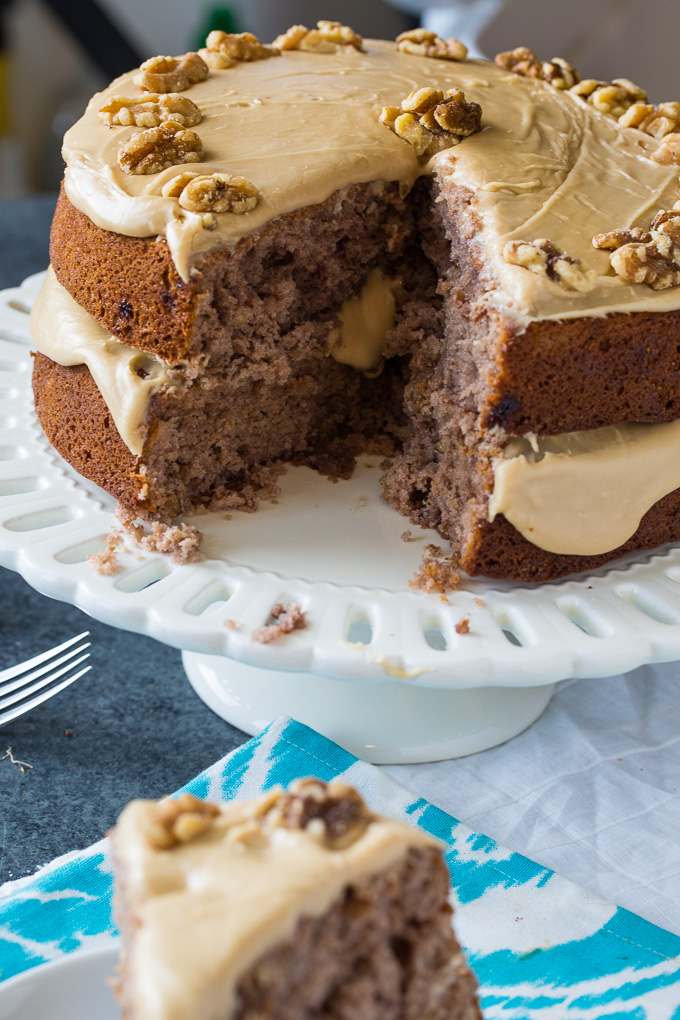 More Southern Cakes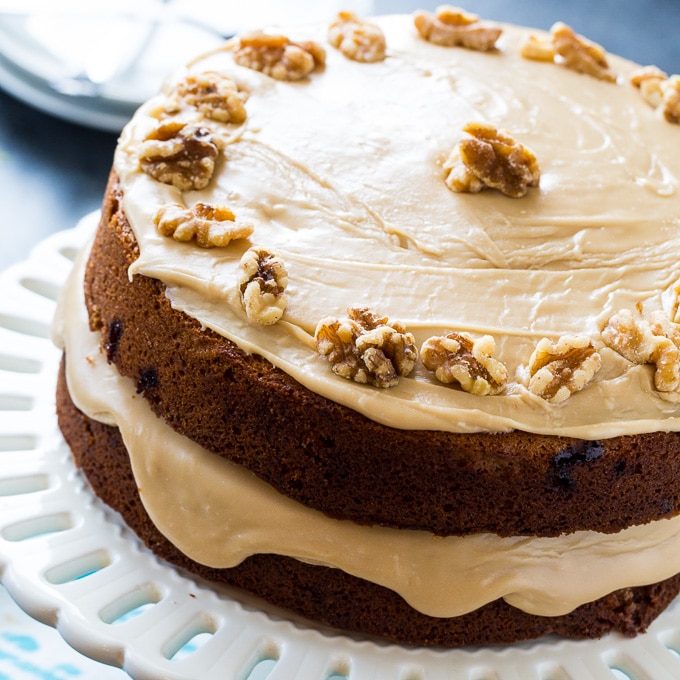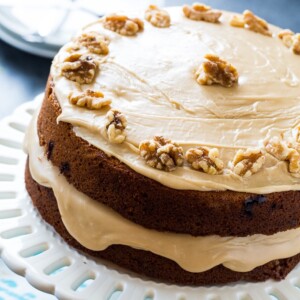 Kentucky Blackberry Jam Cake
Kentucky Blackberry Jam Cake is an old-fashioned southern layer cake with walnuts and caramel icing. Perfect for the holidays!
Ingredients
Cake Batter
1

cup (2 sticks)

salted butter

2

cups

granulated sugar

3

large

eggs

1

cup

buttermilk

1

teaspoon

baking soda

1

cup

blackberry jam

3 1/2

cups

all-purpose flour

1

teaspoon

ground cloves

1

teaspoon

ground allspice

1

teaspoon

ground cinnamon

1

cup

chopped walnuts
Caramel Icing
10

tablespoons

salted butter

1 1/4

cups

packed light brown sugar

1/3

cup plus 1 tablespoon

milk

2 1/2

cups

powdered sugar

walnuts for garnish
Instructions
Preheat oven to 325 degrees. Spray two 9-inch cake pans with baking spray and line the bottoms with parchment paper.

Using an electric mixer, beat the butter and sugar together until light and creamy, 3 to 5 minutes.

Beat in eggs one at a time, scraping down sides of the bowl in between additions.

Add the buttermilk, baking soda and jam and beat until incorporated.

Whisk together flour, cloves, allspice, and cinnamon. Add to butter mixture in batches, beating just until combined. Stir in walnuts.

Divide batter evenly between the two cake pans. Bake for 40 to 50 minutes or until they feel firm when pressed down on. Let cool in pans for 10 minutes and then turn them out on a wire rack to cool completely.

Prepare Caramel Icing. In a medium saucepan, melt the butter. Add brown sugar, bring mixture to a boil and simmer, stirring constantly, for 2 minutes.

Stir milk in and transfer mixture to a mixing bowl. Use electric mixer to beat mixture while gradually adding powdered sugar.

Place bottom cake layer on a cake stand or serving platter. Gradually pour about half the icing on top. You want the icing to have cooled enough so that it all doesn't run off the sides. Let the icing set up some and then place second layer on top.

Pour remaining icing on the top layer. Decorate with walnuts if desired.
Notes
For best results, have your eggs, jam, and buttermilk at room temperature.
Can be stored at room temperature for 2 to 3 days.
Want to Save This Recipe?
Originally published October 21, 2018.
Recipe adapted from Nashville Eats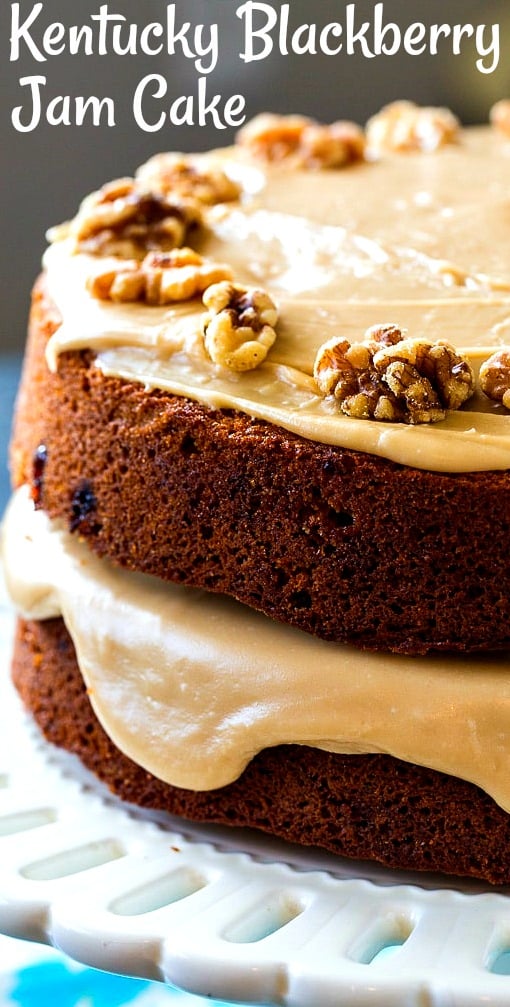 Disclosure: This post contains affiliate links.