Jefferson Davis Pie, a variation of the Southern Chess Pie, is one of the most rich and decadent pies you will ever eat. It is made up of dates, raisins, and pecans, spices, and an insanely creamy custard.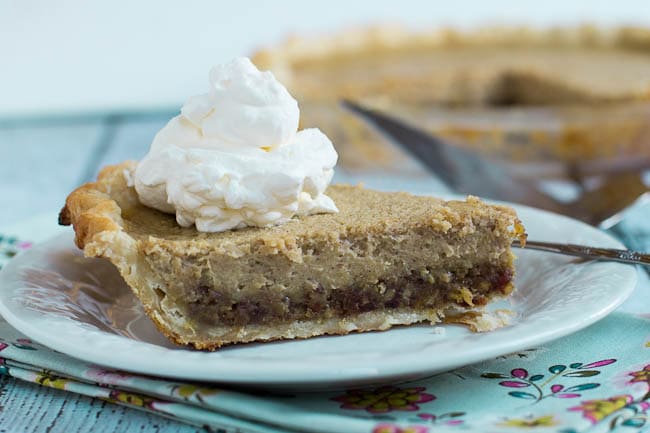 If you remember your history, Jefferson Davis was the first President of the Confederacy. Jefferson Davis Pie can be found in many southern cookbooks dating back to the late 19th century, but you'll hardly ever see it anymore. It definitely falls under the category of antique and forgotten recipes. In fact, this was the first time I have ever had one. But it won't be the last. It is a fabulously delicious pie and it's a shame that it is no longer popular.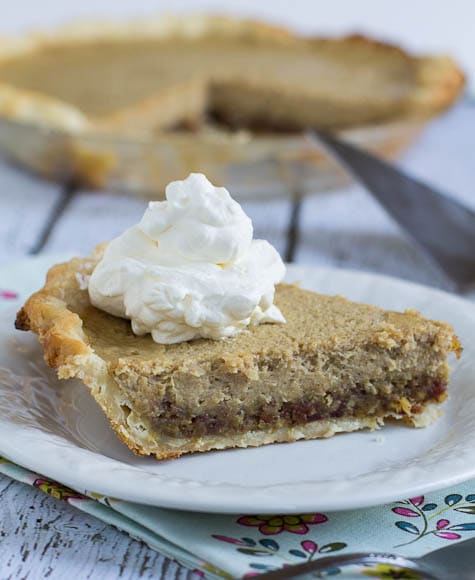 There's not a whole lot of information available on the origination of Jefferson Davis Pie. It's history seems have been forgotten along with the pie. If you google Jefferson Davis Pie you'll see recipes with a meringue, without a meringue and some without the raisins, dates, and pecans. I'm okay with dropping the meringue, but it seems that it is the dried fruit and nuts that makes this pie special.
Now, if you're like me you're probably thinking, raisins and dates? Not my idea of a delicious pie. I'm ok with dates but raisins are one of my absolute least favorite ingredients. Ever.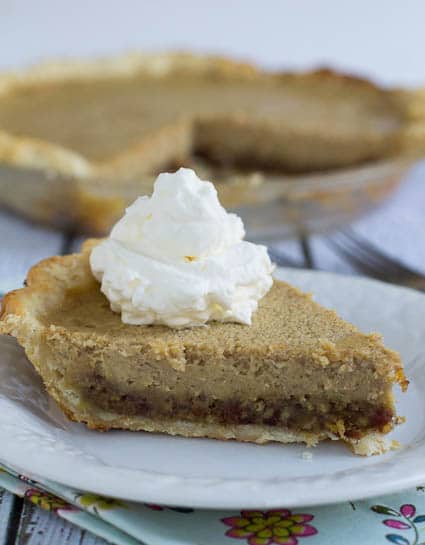 So I was really surprised at how much I liked this pie. The flavor is fabulously unique and the ingredients just work together. The richness of the custard, which is made with heavy cream, is immense. As is the flavor from the raisins, dates, and pecans. This is a pie to be enjoyed in small bites.
This recipe is from America's Test Kitchen, which I believe they based off a Joy of Cooking recipe. I've made the recipe as directed except I added just a pinch of nutmeg. One of my favorite things about America's Test Kitchen is their vast array of "vintage" and "regional" recipes. But they're not afraid to change the process or ingredients if they think they can improve upon the traditional way of making something.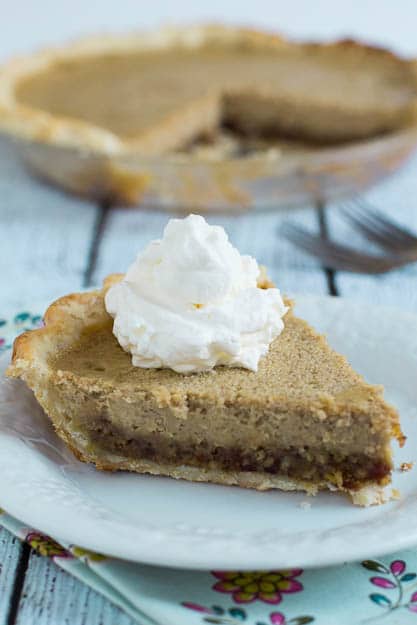 In this case, instead of mixing the dates, raisins, and pecans into the custard, they pressed them into the pie crust and added the custard on top. Not only does this create visual appeal, but it eliminates the number one objection their tasters had to Jefferson Davis Pie and that was an unpleasing and unharmonious texture from the chunks of dried fruit and nuts suspended in what would otherwise be a smooth custard. Had it not been for separating out the nuts and fruit into their own layer,  I don't think I would have liked this pie, let alone loved it.
If you're a pie baker, you really do not want to miss out on this long forgotten southern pie!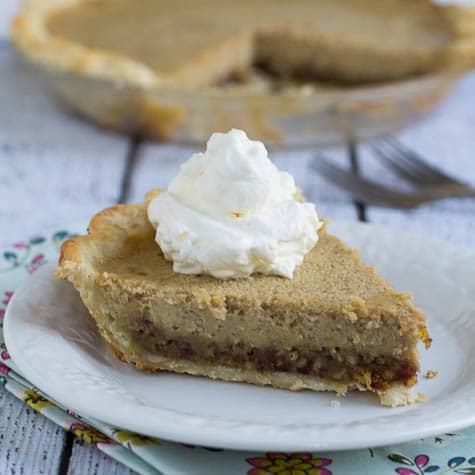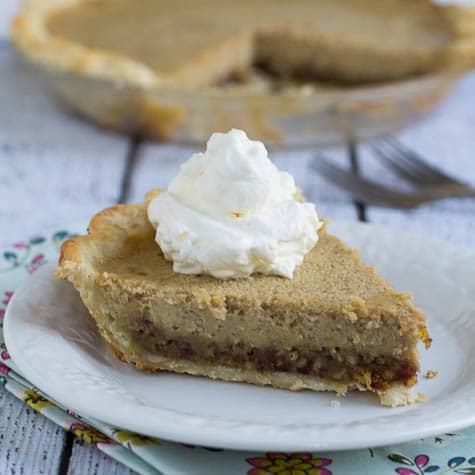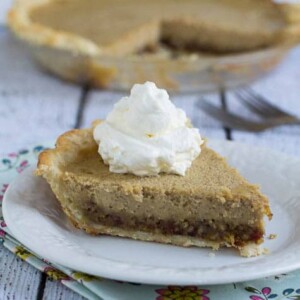 Jefferson Davis Pie
A long forgotten southern pie made with raisins, dates, pecans, spices and a rich custard.
Ingredients
Pie Crust
1 1/4

cups

all-purpose flour

1

tablespoon

sugar

1/2

teaspoon

salt

4

tablespoons

vegetable shortening,

cut into 1/2-inch pieces and chilled

6

tablespoons

unsalted butter,

cut into 1/4-inch pieces and chilled

3-4

tablespoons

ice water
Pie Filling
1/2

cup

golden raisins

1/2

cup

chopped dates

1/2

cup

pecans

3

tablespoons

all-purpose flour

1

teaspoon

cinnamon

1/4

teaspoon

allspice

pinch of ground nutmeg

1/2

teaspoon

salt

1

cup

light brown sugar

1

stick unsalted butter,

softened

5

large egg yolks

1 1/2

cups

heavy cream

whipped cream

for garnish
Instructions
Make pie crust. Place flour, sugar, and salt in a food processor and process until for a few seconds to combine. Scatter the pieces of shortening over the top and process until mixture looks like coarse cornmeal, about 10 seconds. Scatter butter over top and process until looks like coarse crumbs, about 10 pulses. Transfer mixture to a medium bowl.

Sprinkle 3 tablespoons of water on top of mixture and use a rubber spatula to stir and press together to form a dough. If a dough does not form, add the extra 1 tablespoon of water.

Place dough on a piece of plastic wrap and shape into a 4-inch disk. Wrap and refrigerate for 1 hour.

Preheat oven to 425 degrees.

Let chilled dough rest on the counter for 10 minutes and then roll into a 12-inch circle on a lightly floured surface. I like to roll dough out on a piece of parchment paper and then pick the paper up and invert the rolled pie crust onto the pie plate and peel away the paper.

Once dough is in pie plate, trim excess dough, leaving 1/4-inch extending beyond the edge of the pie plate. Fold overhanging dough under itself so that it is even with the edge of the pie plate. Crimp dough with your fingers.

Use a fork to prick holes in bottom of pie crust, place a piece of aluminum foil on the dough, and fill with dried beans or pie weights. Bake in oven for 25 minutes. Remove foil and beans and let pie crust cool while you make the filling.

Place an oven rack in the lowest position and preheat oven to 325 degrees.

Place raisins, dates, and pecans in a food processor and process until finely ground. Press mixture into bottom of pie shell.

In a small bowl, combine flour, cinnamon, allspice, nutmeg, and flour.

Using an electric mixer, beat butter and brown sugar just until combined. Mix in egg yolks one at a time.

Add flour mixture and heavy cream, scraping down the sides of the bowl, beating just until combined.

Pour filling over fruit and nuts and bake until center of pie jiggles just slightly when shaken, about 55 to 65 minutes. If edges of pie crust start to get too brown, carefully wrap them in aluminum foil.

Cool completely before serving and store in the refrigerator. Tastes better chilled and served with whipped cream.
Notes
Recipe Source: adapted slightly form America's Test Kitchen
Want to Save This Recipe?
q