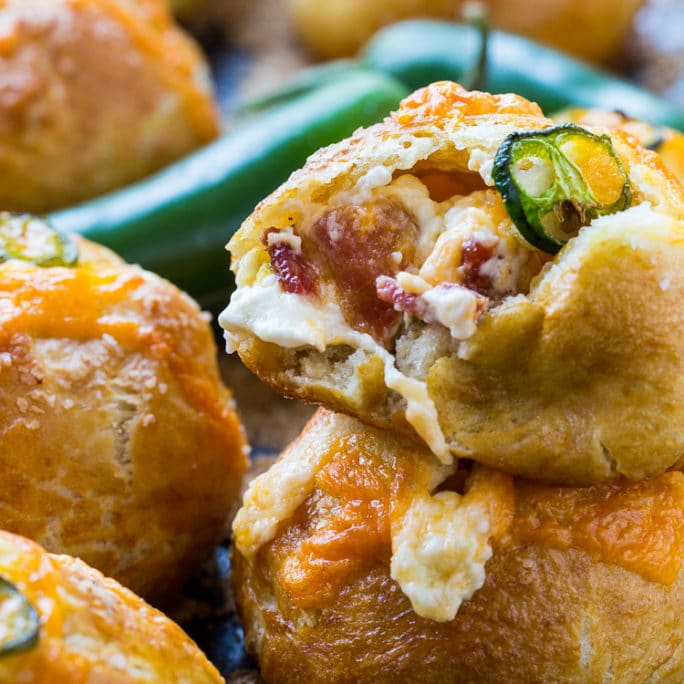 Jalapeno Popper Stuffed Pretzel Rolls are soft and chewy with a creamy and cheesy jalapeno popper center. They make a great game day snack.
There's so much flavor going on here. You bite into a chewy exterior and in the middle is a warm, melted pocket of cream cheese, chopped jalapenos, and bacon plus some cheddar cheese and Monterey Jack cheese to make them super cheesy.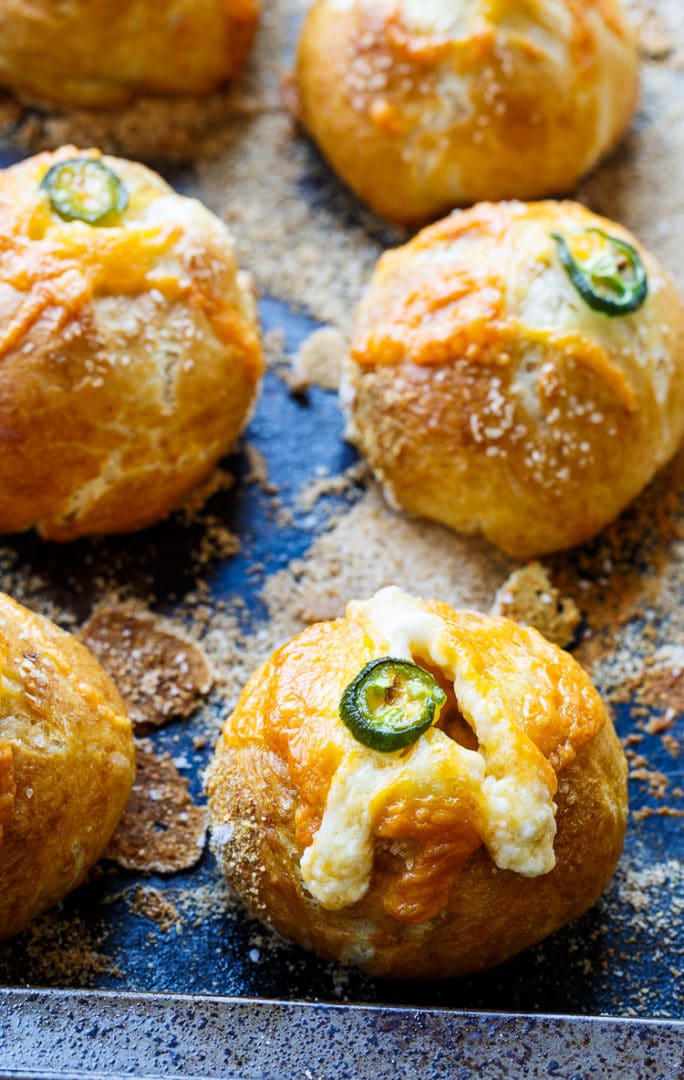 Making pretzels from scratch is a little labor intensive, but not hard at all. For these Jalapeno Popper Stuffed Pretzel Rolls, I make the pretzel dough in the food processor and use rapid rise yeast. This method is super quick and easy and the food processor does all the kneading for you.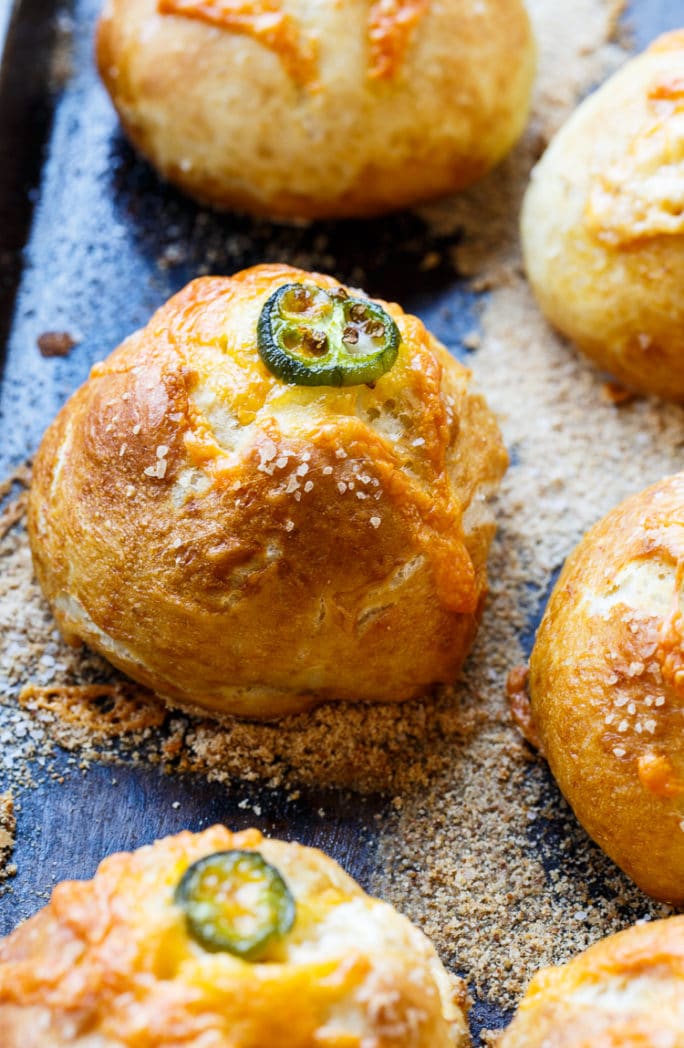 The dough only takes a few minutes to make and then it needs to rise in a warm place until doubled in bulk. I place the dough in my laundry room (since it's such a small room). I move an electric heater in there and close the door and it gets plenty warm, especially if I have a load of laundry drying.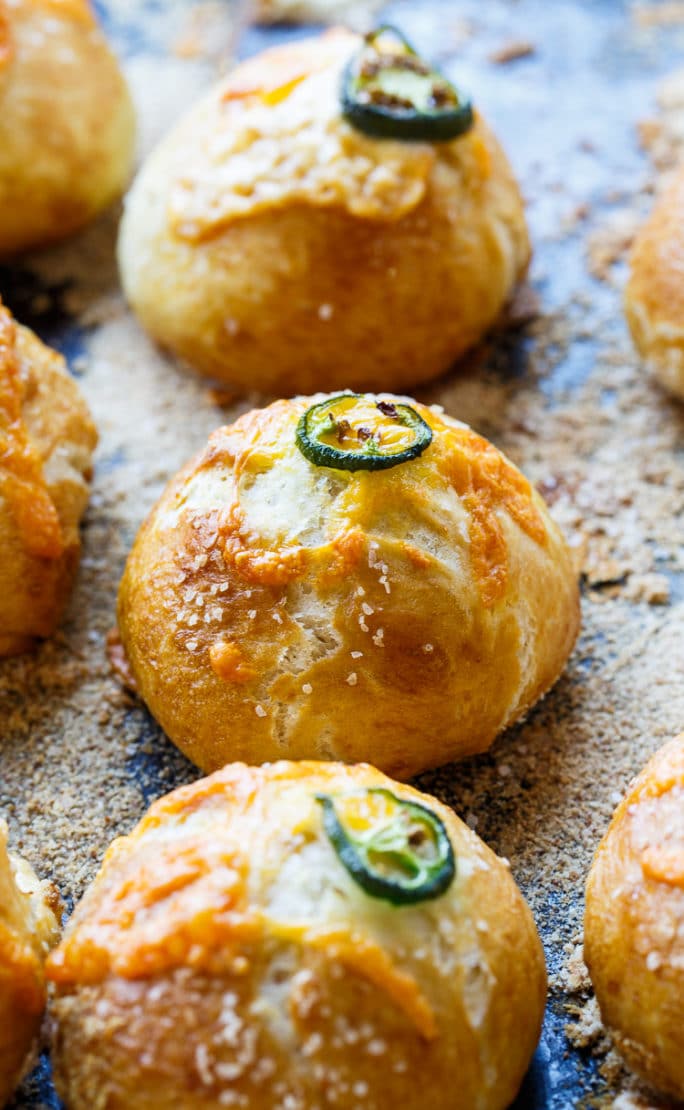 The best part about these Jalapeno Popper Stuffed Pretzel Rolls is the creamy center, I use Challenge cream cheese as a base for the Jalapeno Popper filling. It's my favorite cream cheese to use. So creamy and smooth. I add chopped pickled jalapenos, crumbled bacon, garlic powder, red pepper flakes, cheddar cheese, and Monterey Jack cheese to it and shape it into balls.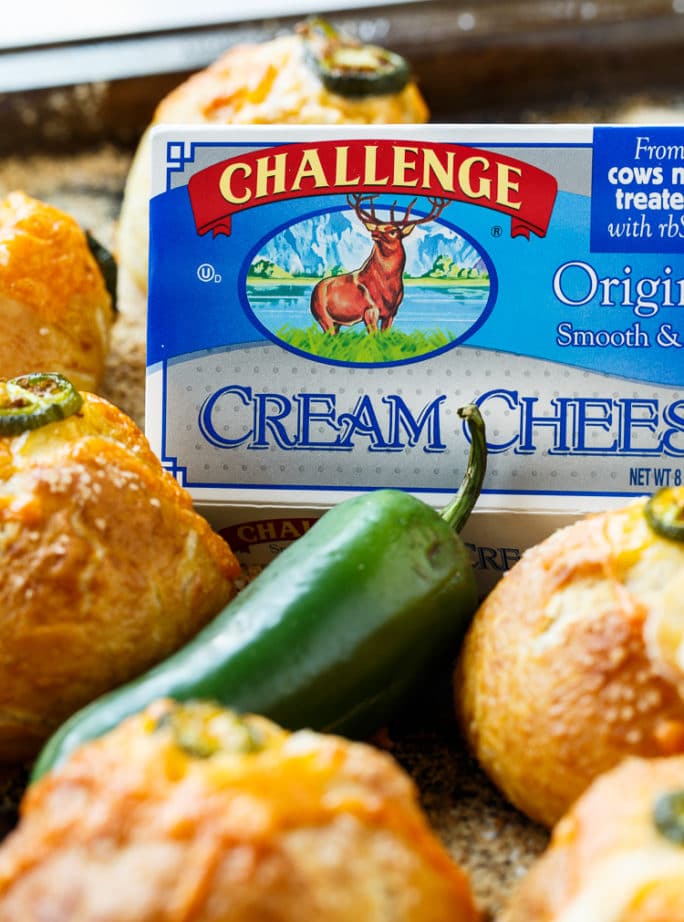 Once risen, the dough gets divided into 12 pieces and each piece gets wrapped around a cream cheese ball. Then the rolls need to rise again until doubled in bulk.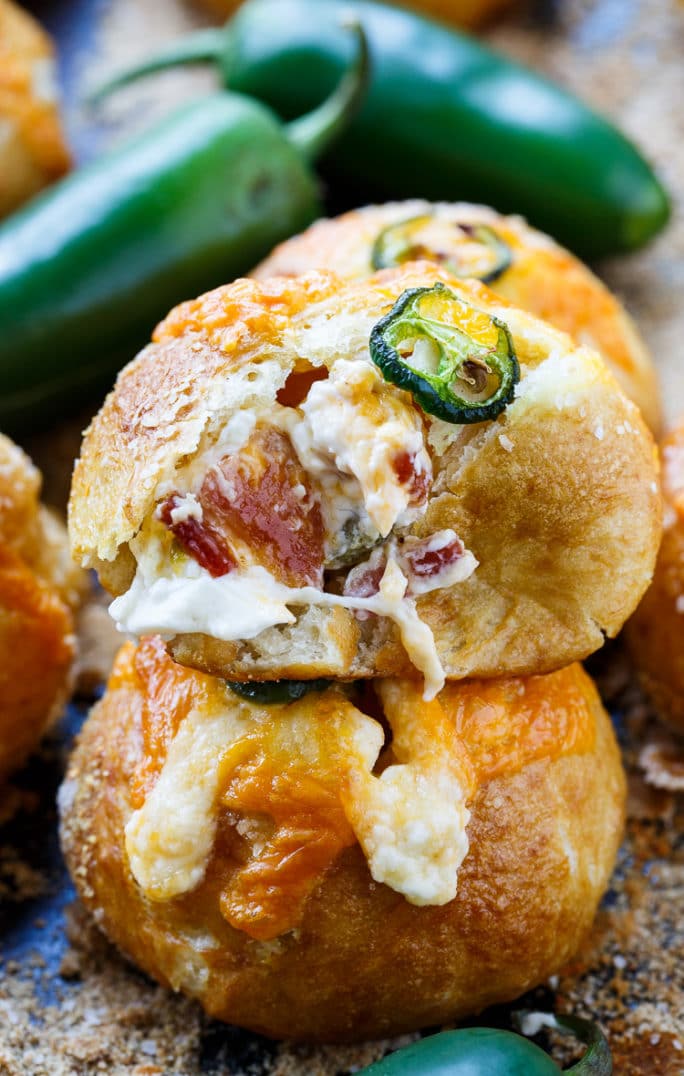 Just before baking, they are briefly added to a pot of boiling water with baking soda and a little sugar.
25 minutes in a 375 degree oven and they are nicely browned and ready to be devoured.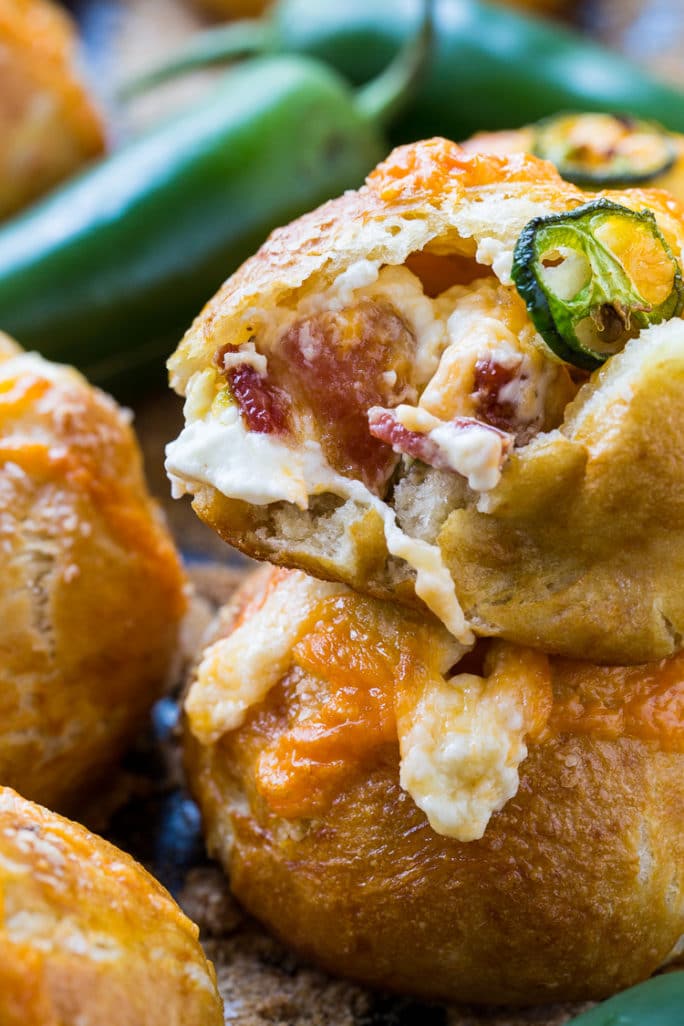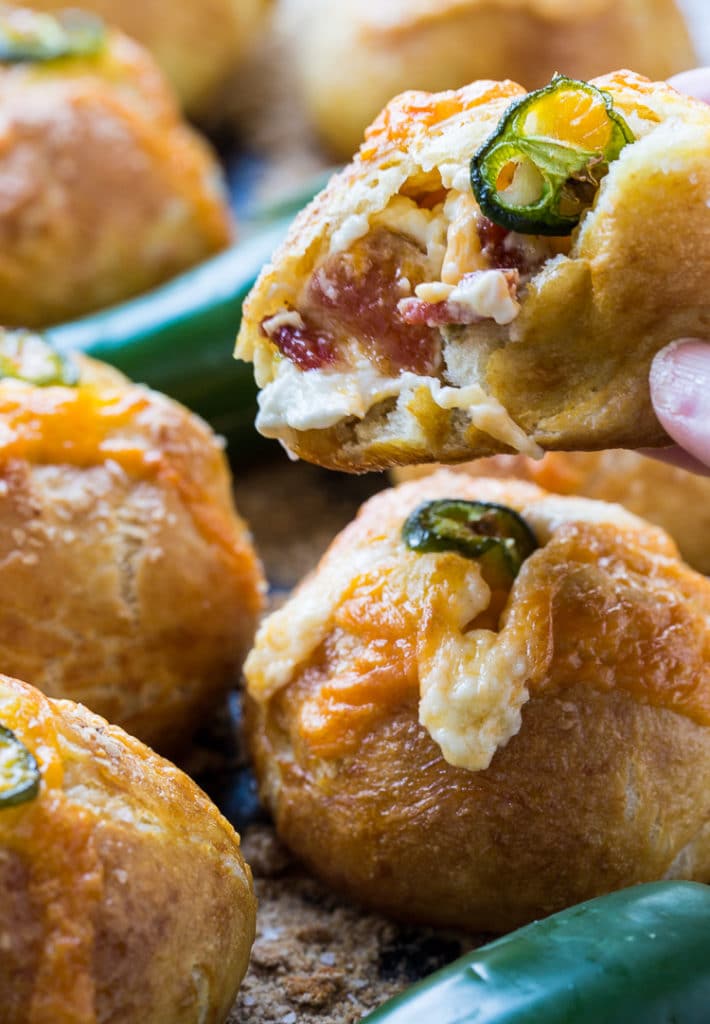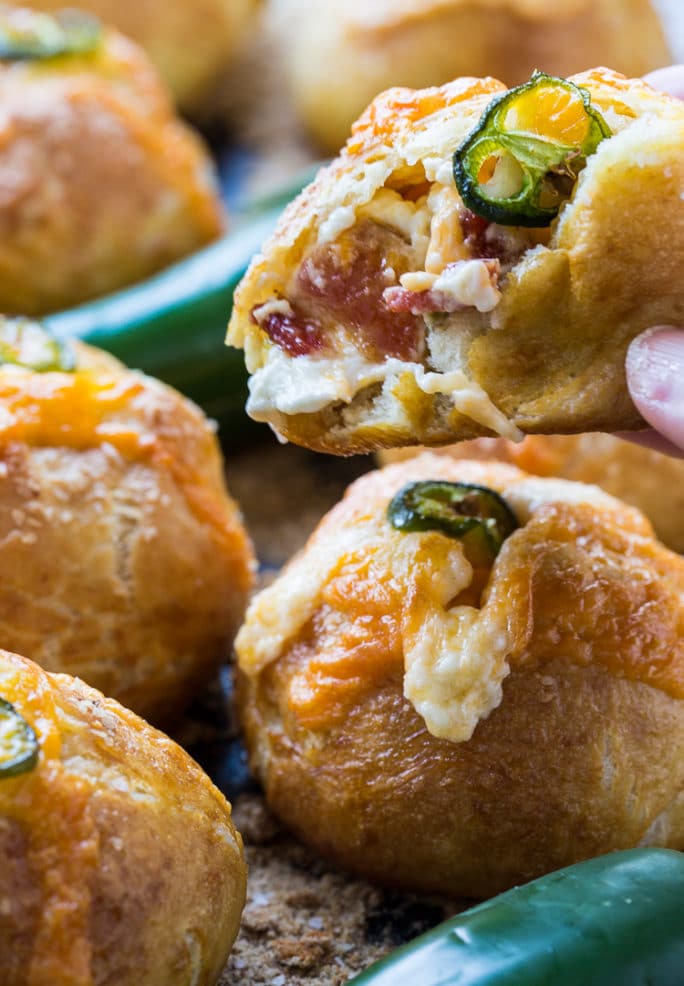 Learn more about Challenge cream cheese and find recipes for using it at Challenge Dairy's website.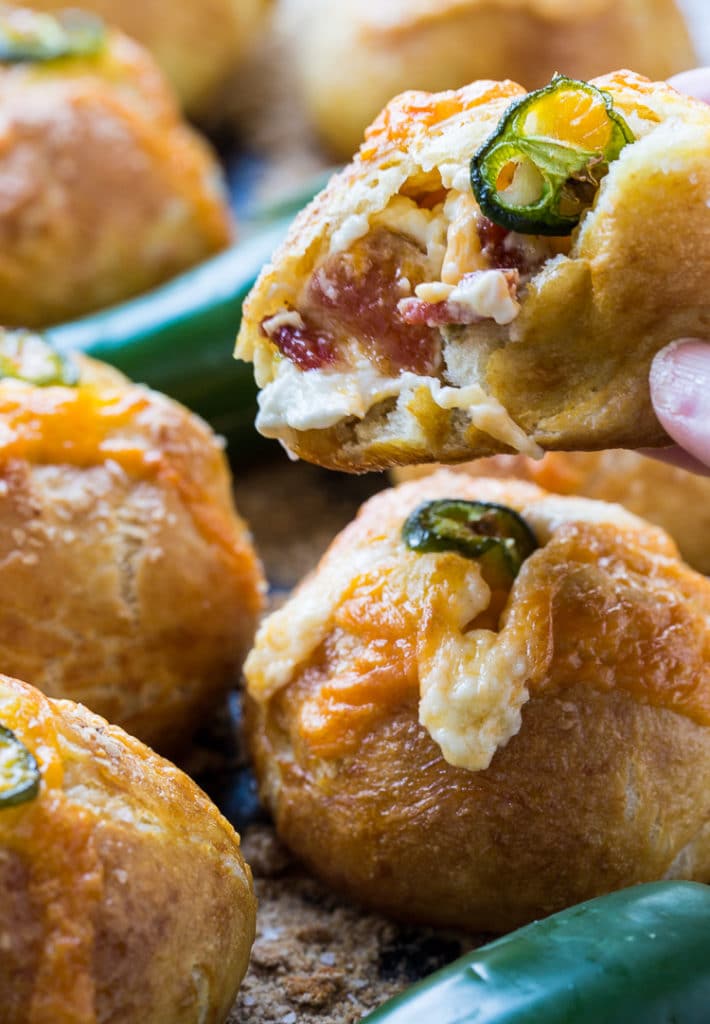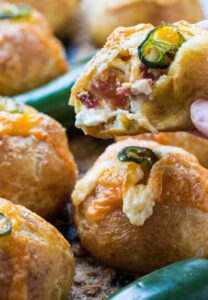 Jalapeno Popper Stuffed Pretzel Rolls
Ingredients
Filling
1

(8-ounce)

package Challenge cream cheese

3

slices

bacon,

cooked and crumbled

1 1/2

tablespoons

chopped pickled jalapenos

1/2

teaspoon

garlic powder

1/4

teaspoon

crushed red pepper flakes

1

cup

shredded Monterey Jack or Mozzarella cheese

1/2

cup

shredded cheddar cheese

2¾

cups

bread flour

1

envelope quick-rising yeast

1

teaspoon

salt

1

teaspoon

sugar

1

cup

plus 2 tablespoons hot water,

about 125 to 130 degrees

Cornmeal

8

cups

water

¼

cup

baking soda

2

tablespoons

sugar

1

egg white,

lightly beaten

Coarse salt

1/4

cup

shredded cheddar cheese

1

fresh jalapeno,

thinly sliced
Instructions
To make filling, combine cream cheese, bacon, pickled jalapenos, garlic powder, red pepper flakes, Monterey Jack cheese, and 1/2 cup cheddar cheese in a medium bowl. Use a wooden spoon to mix together. Shape into 12 balls, about 1 heaping tablespoon each. Place on a plate, cover with plastic wrap and refrigerate until needed.

Place bread flour, yeast, 1 teaspoon salt, and 1 teaspoon sugar in food processor. Pulse to blend.

With machine running, gradually add hot water through feed tube, adding just enough to form a smooth dough. Process 1 minute to knead.

Place dough in a greased (with oil) bowl, turning to coat dough in oil. Cover loosely in plastic wrap and let rise in a warm, draft-free area until doubled in size, about 30 to 40 minutes.

Punch dough down and knead on a lightly floured surface until smooth. Divide dough into 12 pieces.

Flatten each piece of dough and place a cream cheese ball in the center of each one.Form each piece of dough into a ball around the cream cheese, sealing well. Place dough balls on a baking sheet that has been lightly floured, seam side down.

Use a serrated knife to cut an "X" on top of each one. Cover with a towel and let rise until doubled, about 20 minutes.

Preheat oven to 375 degrees. Grease a baking sheet and sprinkle with cornmeal.

Bring 8 cups of water to boil in a large saucepan. Add baking soda and 2 tablespoons sugar.

Add 4 rolls at a time, cooking 30 seconds per side. Transfer to prepared pan using a slotted spoon (X side up).

Brush rolls with egg white and sprinkle generously with salt.

Sprinkle a little of the 1/4 cup of cheddar cheese on top of each one and top with a jalapeno slice.

Bake rolls until brown, about 25 minutes.
Want to Save This Recipe?
Disclosure: This is a sponsored post. I appreciate the opportunity to share products I love and use in my own kitchen.