Chipotle Chicken Enchiladas- an easy homemade enchilada sauce flavored with chipotle peppers make this Mexican-style dinner a winner.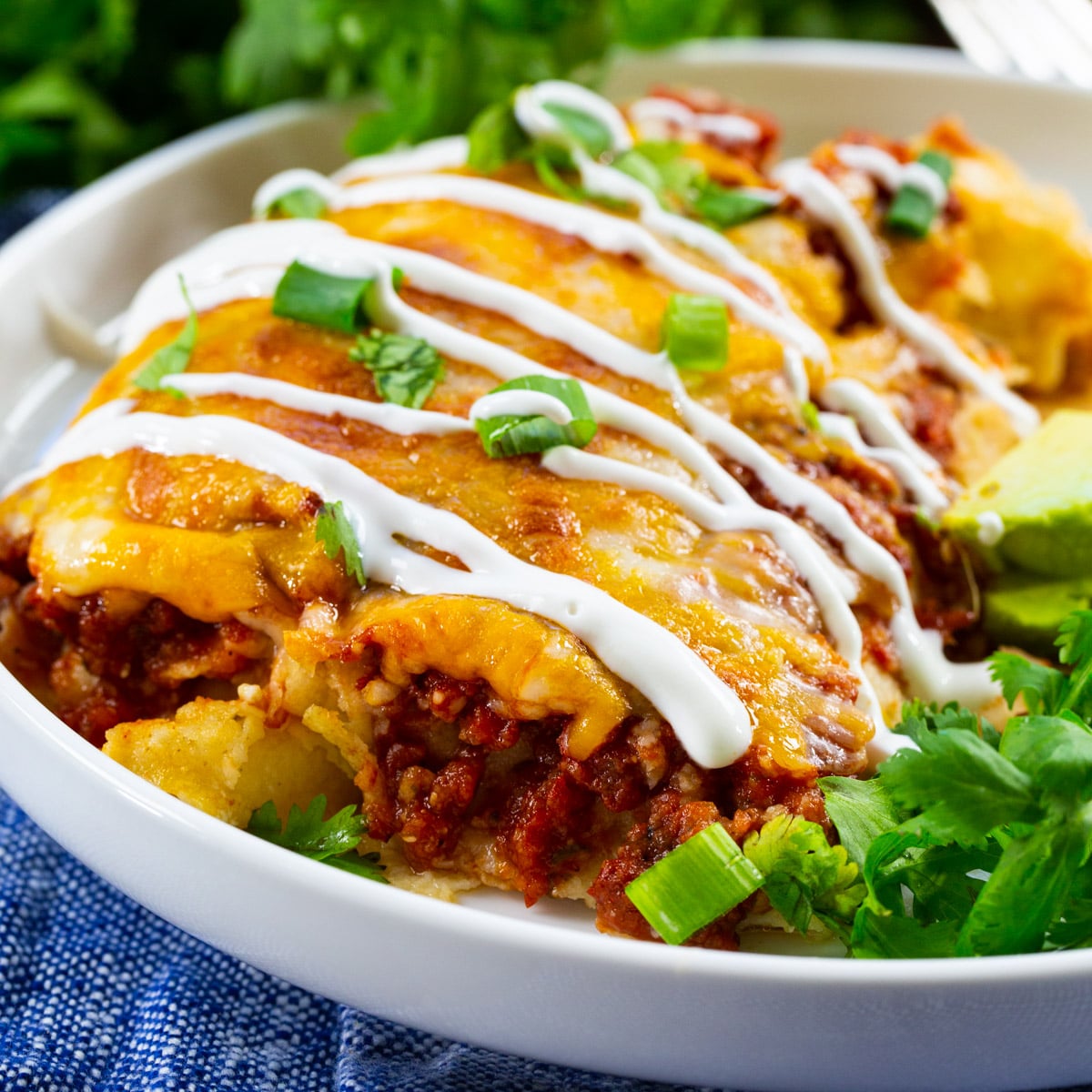 Inside the enchiladas is a creamy, cheesy chicken filling.
Easy Rotisserie Chicken Recipe
Using rotisserie chicken meat makes this recipe super easy to make. Instead of rotisserie chicken, you can use any leftover cooked chicken, whether it be grilled, baked or pan-fried.
Chipotle Enchilada Sauce
The homemade enchilada sauce flavored with chipotle peppers is what gives these enchiladas tons of flavor. I love chipotle peppers. Not only do they add heat, but they are wonderfully smoky. The sauce is made from fire-roasted tomatoes, chicken broth, cilantro, and cumin. A corn tortilla helps thicken the sauce.
Equipment Needed For Chipotle Chicken Enchiladas
Blender or Food Processor– to process the sauce until it is smooth.
Baking Dish
Saucepan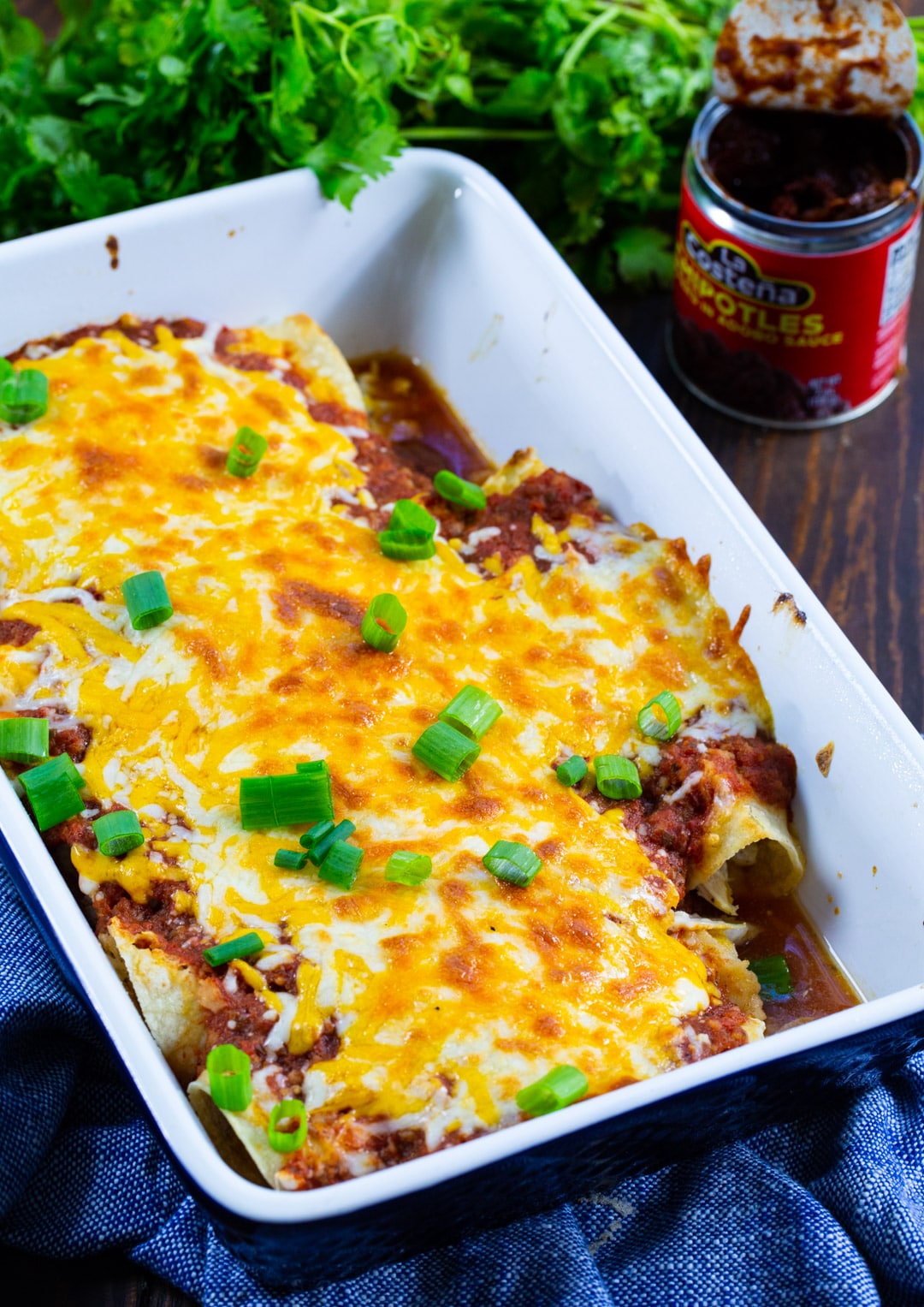 Spice Level
Adjust the amount of chipotle pepper to suit your taste. Just use one pepper for a low level of heat. Serve with Cholulu Hot Sauce for more heat.
How To Serve
For sides, I love to serve some Spicy Black Beans, Mexican Rice, and Fire-Roasted Salsa with chips and of course a margarita. Either these Fresh Strawberry Margaritas or Coconut Margaritas are fabulous.
Make Ahead and Storage
The sauce can be made up to 48 hours in advance and the chicken filling can be mixed together a day or two in advance. Then all you have to do is assemble the enchiladas and bake them.
Leftovers will keep for 4 to 5 days in an airtight container in the refrigerator.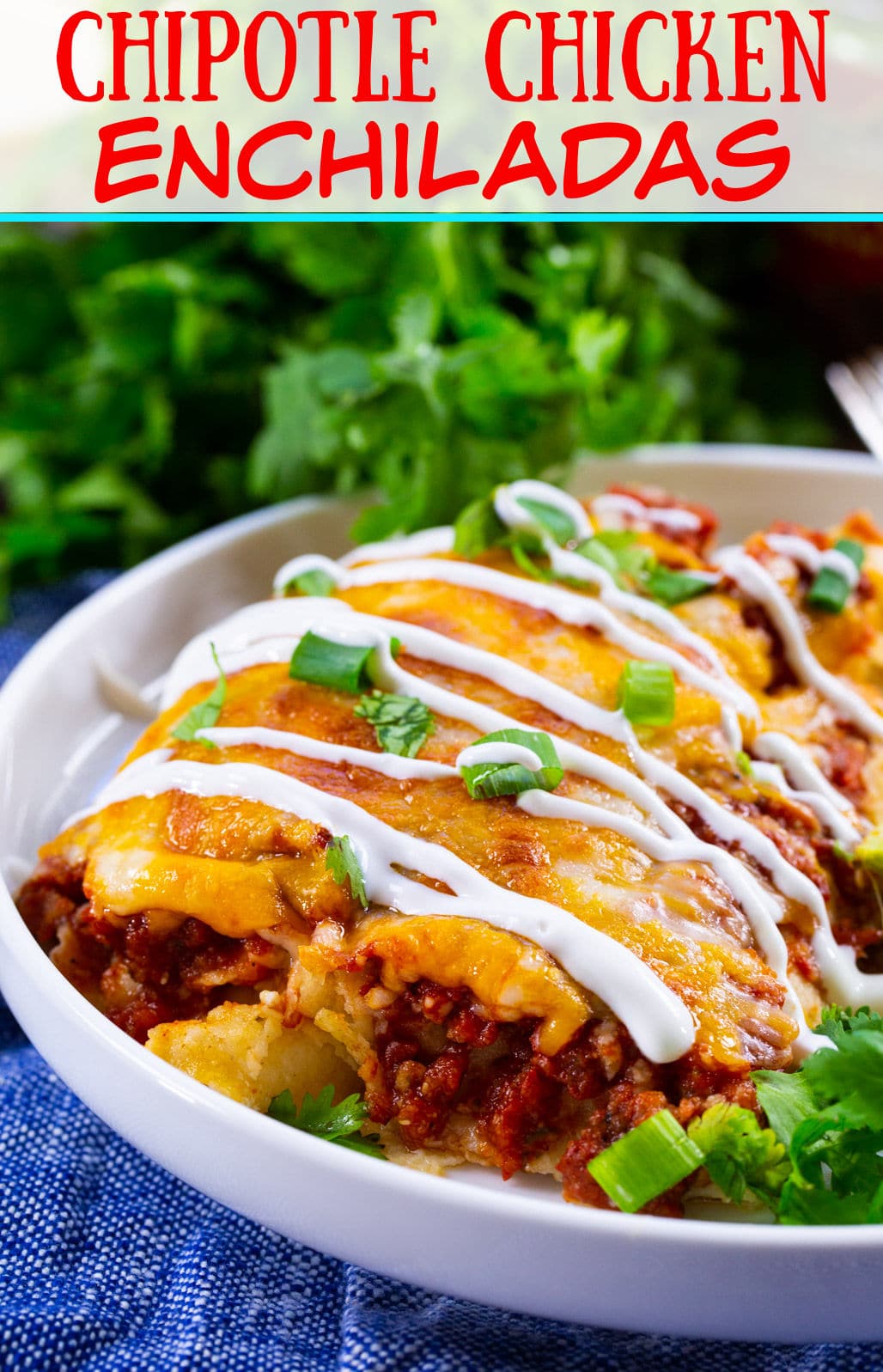 More Enchiladas Recipes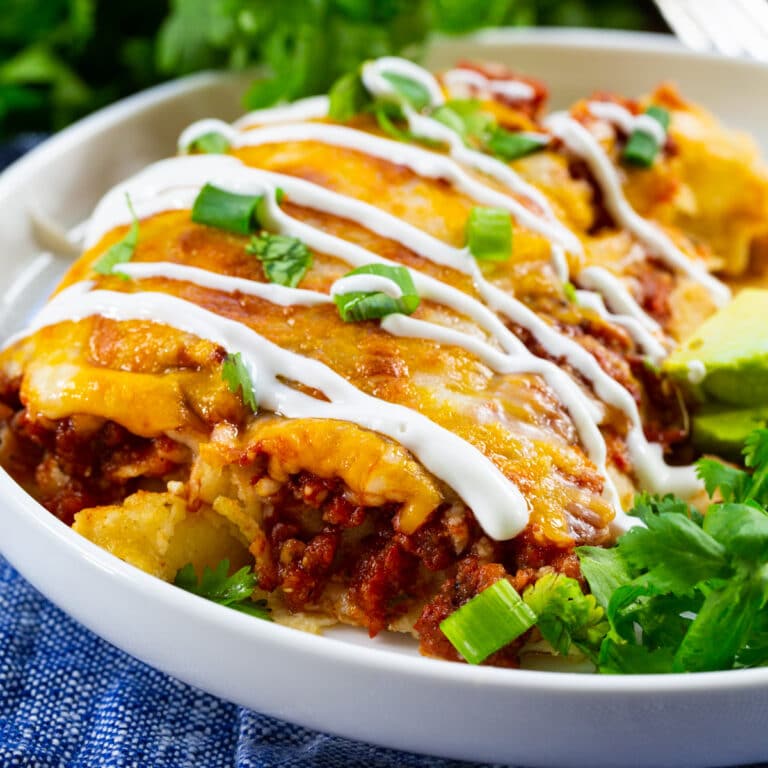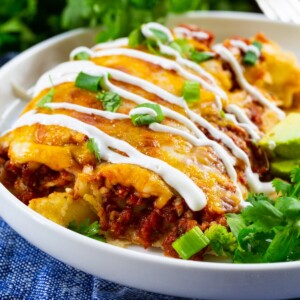 Chipotle Chicken Enchiladas
Chipotle Chicken Enchiladas- an easy homemade enchilada sauce flavored with chipotle peppers make this Mexican-style dinner a winner.
Ingredients
Sauce
9

corn tortillas

1

(15-ounce) can

crushed fire-roasted tomatoes

1

cup

chicken broth

2

tablespoons

cilantro

1/2

teaspoon

ground cumin

1/2

teaspoon

salt

1/4

teaspoon

black pepper

2

tablespoons

vegetable oil,

divided
Remaining Ingredients
2 1/2

cups

shredded rotisserie chicken

2/3

cup

sour cream

1/4

cup

sliced green onion

2

cups

shredded Mexican cheese blend,

divided

sour cream green onions, cilantro, and avocado for serving
Instructions
Rip one tortilla into pieces and place in a blender. Add remaining sauce ingredients and blend until smooth.

Heat 1 tablespoon of oil in a saucepan. Add sauce and simmer for 8 minutes to slightly thicken. Set aside.

Preheat broiler.

In a medum bowl, stir together chicken, sour cream, green onions and 1 cup of shredded cheese. Season to taste with salt and pepper.

Place remaining 8 tortillas on a microwave-safe plate. Cover with a damp paper towel and micorwave for 30 seconds.

Grease a 9×13-inch baking dish.

Spoon about 1/3 cup of chicken mixture down the center of each tortilla and roll up. Place in prepared baking dish seam side down.

Brush tops of enchiladas with remaining oil.

Broil for 3 to 5 minutes to get the tortillas toasted.

Pour sauce over enchiladas and sprinkle remaining cheese on top. Broil until cheese completely melts.

Sprinkle with cilantro and green onion, drizzle with sour cream and serve with avocado.
Want to Save This Recipe?
Recipe Adapted from Food Network