Turns out bourbon is a natural addition to creamed corn. This is a summer side dish with a little kick and is sure to become a cookout favorite.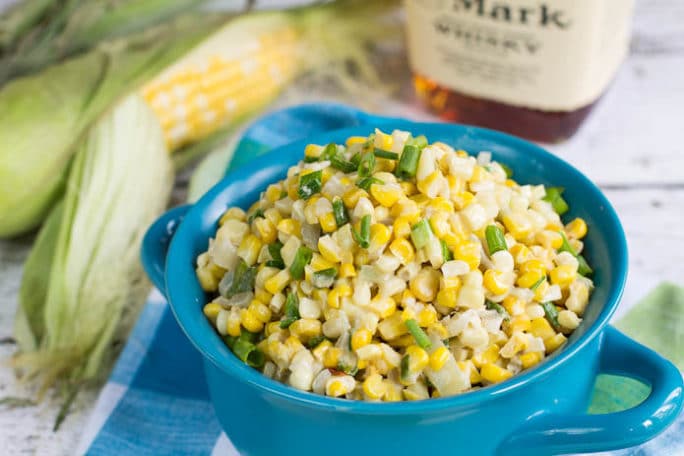 I've made a lot of creamed corns in my day, but this was my first time adding bourbon. A recipe for Bourbon Creamed Corn caught my eye in one of my new cookbooks. Fred Thompson's Southern Sides: 250 Dishes That Really Make the Plate
is full of side dish recipes, 250 to be exact, for making everything from fried okra to dirty rice to biscuits. We do so love our sides in the south.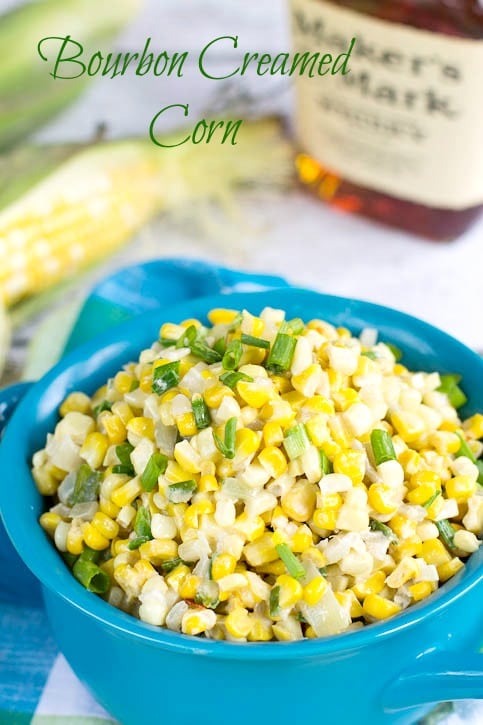 Bourbon might seem like a strange addition to creamed corn, especially since the majority of creamed corn recipes are very simple, meant only to highlight the flavor of the corn.
But Bourbon is made from corn right? So bourbon is a natural addition to any side dish. Sounds like good reasoning to me.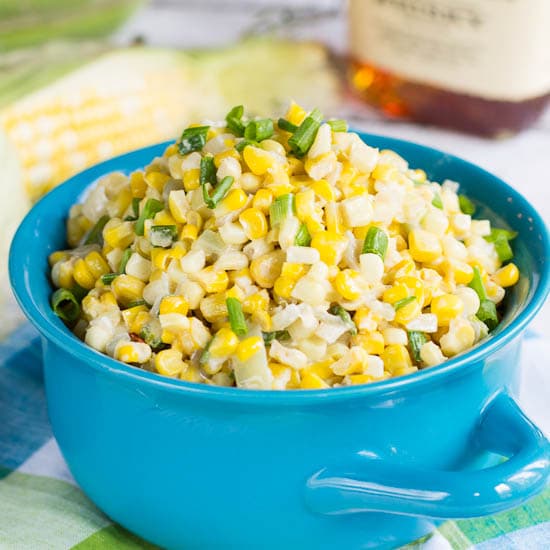 Creamed corn is one of my favorite summer sides and since we have bypassed Spring and gone straight to summer with temperatures in the high 80s, I already feel like we should be cooking with summer produce even though it's not quite ready to be picked from the garden yet.
Not that I have a garden. I do my picking at the Farmers Market.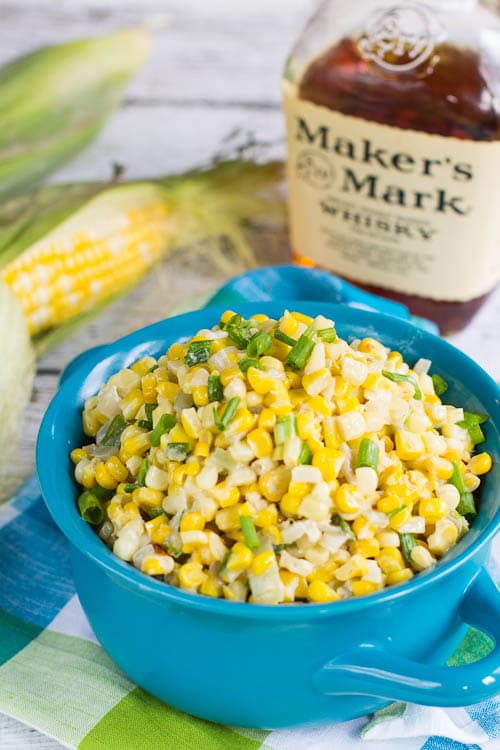 But summer corn will be ready soon and when it is I want you to have this Bourbon Creamed Corn recipe at hand. Now, you really taste the bourbon in this recipe. If you're a bourbon lover, you'll love it. If not, find a way to love bourbon. You're missing out. 🙂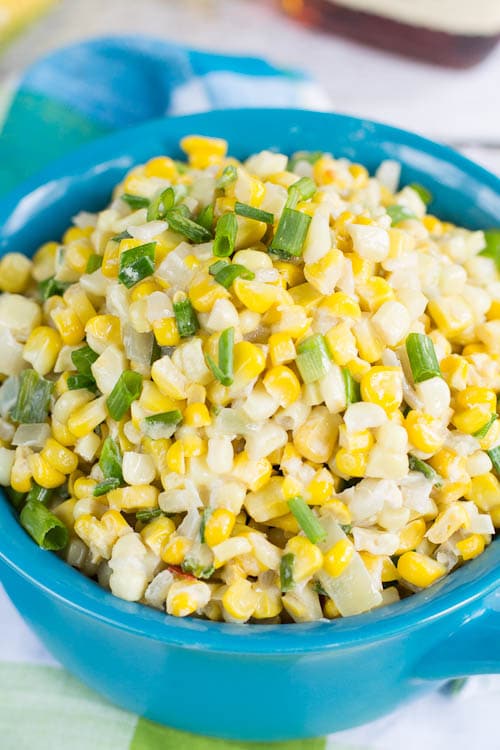 I've adapted this recipe, changing the quantities and proportions of ingredients and adding some red pepper flakes which I adore with corn. The original recipe called for 3 cups of corn and said it yielded 6-8 servings. I know I can easily eat a cup of creamed corn, so that math is a little off for me.
Heavy cream, (sorry hips!), is pretty much a must if you want the sauce to coat the corn. Plus it imparts much more flavor than using half-and-half.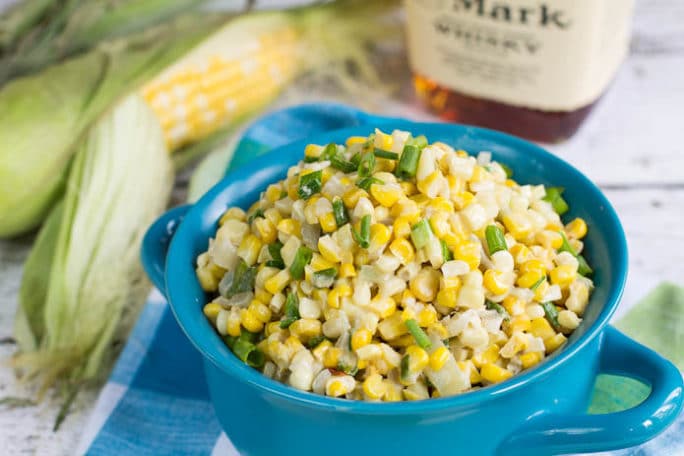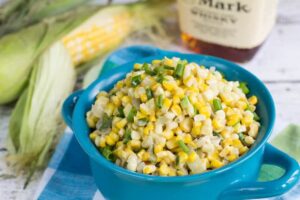 Bourbon Creamed Corn
Creamed corn flavored with bourbon, garlic, shallots, and a few red pepper flakes for some heat.
Ingredients
1/4

cup

butter

3/4

cup

chopped shallots

2

garlic cloves,

minced

4

cups

corn kernels,

about 4-5 ears

2/3

cup

heavy cream,

divided

1/4

cup

bourbon

1

cup

chopped green onions

1/8

teaspoon

red pepper flakes

Kosher salt and freshly ground black pepper
Instructions
In a large skillet melt butter over medium-high heat. Add shallots and garlic and sauté for 2 minutes, being careful not to burn the garlic. Turn heat down a touch if necessary.

Add corn and continue to cook for 2 minutes, stirring occasionally.

Add 1/3 cup cream and all of the bourbon. Simmer until sauce thickens some and coats the corn, about 2 to 3 minutes.

Add remaining cream and green onions. (Reserve a few green onions if you want some for garnish.) Simmer for 2 minutes longer.

Add red pepper flakes and season to taste with red pepper flakes.
Want to Save This Recipe?
Be sure to check out the 'Recipes By Ingredient' Tab in the header menu for more bourbon and corn recipes.
Disclosure: This post contains an affiliate link. That means if you click the link and make a purchase, I will be paid a small amount at no expense to you.