This is a Sponsored post written by me on behalf of ALPO® Brand Dog Food for SocialSpark. All opinions are 100% mine.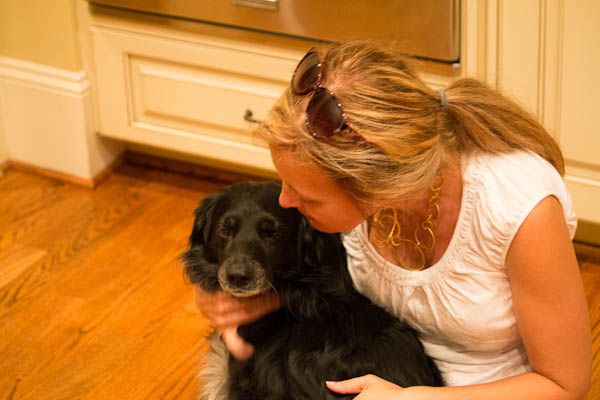 This is a very special post for me because I get to write all about my dog- Darla. She's my best gal. Darla is the sweetest dog and she's my shadow. She's always 2 steps behind me. Darla is about 9 years old but we've just had her for a little over a year and a half. I adopted her from our local Humane Society. I don't know much about the first 7 years of her life, but I'm committed to making the remaining years of her life as happy and healthy as can be.
The healthy part is especially important. Since we didn't get her until she was 7, I want her to live as many more years as possible. So I try to give her lots of good nutrition. As a food blogger, serving delicious food to my family is very important to me and that includes my dog. She's like me and gets tired of eating the same food all the time, so I jumped at the opportunity to try the ALPO® wet food line.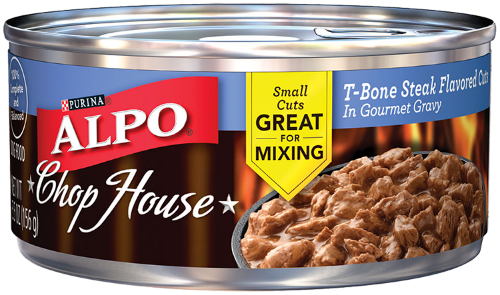 Each of ALPO®' Chop House cans is 100% complete and balanced. Choose between small cuts or finely ground, perfect for mixing with dry food. ALPO® Chop House comes in compact 5.5 ounce cans which are great for small dogs. It is also offered in 10 ounce cans for larger dogs.  There are plenty of flavors offered to keep your dog from getting bored including T-Bone Steak, Tender Cuts with Lamb, Rotisserie Chicken Flavored Cuts, and Filet Mignon Flavor. Find out more about  ALPO's variety dog food and be sure to follow ALPO® on Instagram. and like ALPO's Facebook Page. They share lots of cute dog pictures.
I'm happy to say that Darla gives ALPO® Chop House 2 paws up. The first day I served it to her, I turned my back for 2 seconds to grab my camera, and all the food was gone! I think she must have inhaled it.
Waiting patiently for her food to be served-
The next day she plopped herself down by her food bowl a full hour and a half before her dinner time waiting for more. She never does that.
She looks so sad that her bowl is empty.
But her tail starts a wagging when she sees the ALPO® coming.
Her crazy tail is one of my favorite things about her. We're not really sure what type of dog she is. We were told she's part Afghan hound and part golden retriever, but I don't know. She looks quite a bit like a flat-coated retriever to me and I can maybe see some border collie in her. Whatever she is, she's definitely one of a kind 🙂
Since we are talking about pups, I wanted to share a recipe for Hushpuppies. Hushpuppies are fried pieces of cornmeal dough that are very popular throughout the south. They are very commonly served with fried fish and barbecue. There are many stories about the origination of hushpuppies and most seem to date back to the Civil War era. All of the stories share a common thread. These fried balls of dough were used to quiet barking dogs.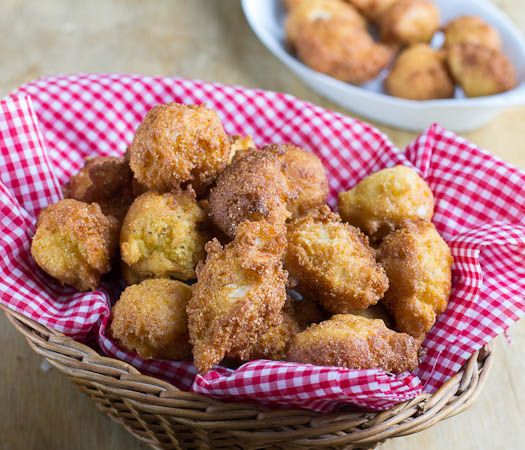 Now you don't want to share these hushpuppies with your dog. They have onion in them which can make dogs very sick, plus fried foods aren't the best thing for your 4-legged friend. But since your dog will be thoroughly enjoying some ALPO®, no need to throw any hushpuppies to keep her quiet. You can keep them all for yourself.
These hushpuppies have just the right amount of sweetness and are super crispy on the outside.
Hushpuppies
1 ½ cups yellow cornmeal
½ cup all-purpose flour
¼ cup sugar
2 teaspoons baking  powder
½ teaspoon salt
1/8 teaspoon cayenne pepper
1 cup milk
1 small onion, minced
1 egg, lightly beaten
Vegetable oil
Combine dry ingredients in a medium bowl. Add milk, onion, and egg and stir until combined. Set aside while oil heats. Heat oil to 375 degrees in a Dutch oven.  Drop dough by rounded teaspoonfuls into oil and fry until lightly browned on both sides, about 2 minutes per side. Place on paper towels and serve warm.
Yield: about 3 dozen