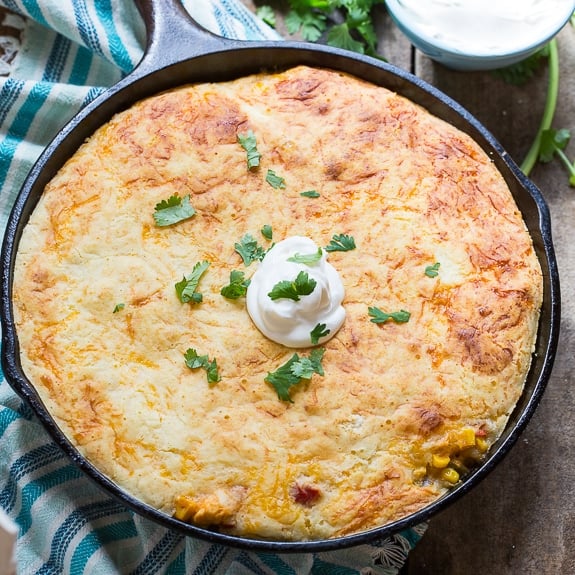 This Mexican Chicken Cornbread Casserole has a creamy chicken filling and a cheesy cornbread top. It makes a wonderful weeknight meal and can be made start to finish in 30 minutes.
I'm sharing this recipe today as a part of the Martha White  Virtual Cornbread Potluck 2015 to help spread the word about the 19th Annual Martha White®/Lodge Cast Iron® National Cornbread Cook-Off which will take place April 25 in South Pittsburg, Tennessee.
This year, instead of taking recipe submissions, they are having an all-star contest featuring 10 previous Grand Prize winners. I was excited to see that 2 of them live very close to me. Here is a link to the contestants.
I can't wait to see who the Grand Prize Winner of the Grand Prize Winners is! Find out more about the National Cornbread Festival here.
But let me tell you a little more about my Mexican Chicken Cornbread Casserole so that I can share the other mouth-watering Virtual Potluck Recipes from some of my very favorite southern bloggers with you!
For my casserole I used a packet of Martha White® Cotton Country Cornbread (6-ounce), but Martha White® makes a variety of cornbread mixes that could be used.
To make this Mexican Chicken Cornbread Casserole super quick, easy, and stressfree, I used shredded chicken form a rotisserie chicken. (Tip- If you remove the chicken from the bone right when you get home from the store and the meat is still warm, it is much quicker and easier to do. If I'm not going to use it right away, I put the meat in a large ziptop bag for later and pop it in the fridge.)
I place the chicken in a bowl along with a small, drained can of corn, a can of Rotel diced tomatoes and green chilies, a packet of taco seasoning, 1 cup sour cream, and 1 cup Cheddar Jack (or just Cheddar) cheese. Give it a stir and transfer it to a 10-inch cast iron pan or an appropriately sized casserole dish.
In another bowl, (or you can reuse the same one if you do a good job of scraping all the chicken mixture out!), combine the Martha White® cornbread mix, 1 egg, whatever liquid the package calls for, and 1 cup of  shredded Cheddar Jack cheese you used in the filling. Mix it together, pour on top of the filling, pop in the oven. About 25 minutes later you have a hot, delicious supper and barely any dishes to clean!
There are a million things you can do with cornbread besides using it to mop up your potlikker. Just look at the amazing pot luck recipes below. I'm so honored to be a part of this virtual potluck and I'm going to have to try every single recipe, the only question is which to try first?
Luckily all these recipes are a snap to make thanks to Martha White® products!  🙂
Disclosure: This is a sponsored post. All opinions are my own.