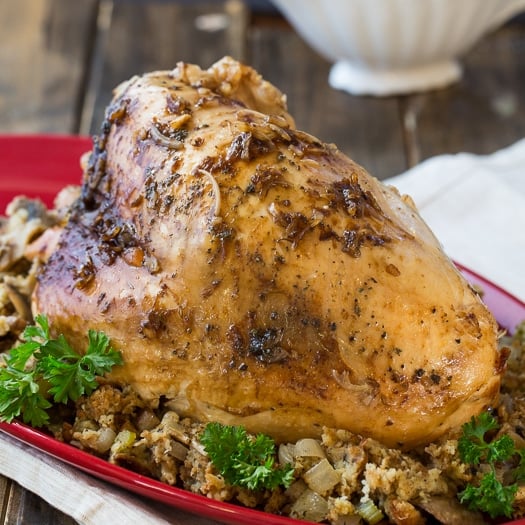 Crock Pot Turkey Breast cooks up tender and full of flavor with minimal effort. A tasty gravy from the cooking juices can be made in just minutes.
Do you start to crave a Thanksgiving-style meal before Thanksgiving? I do. Most years, Thanksgiving is the only day of the year I cook turkey. But that's going to change with this Crock Pot Turkey Breast recipe. It really could not be easier to make. Throw a few sides in the oven and you can enjoy the flavors of Thanksgiving any day of the year.
A turkey breast cooked in a Slow Cooker
comes out exceptionally moist and flavorful. I added a packet of dry onion soup mix, some dried sage, and a chopped up onion, carrot, and celery stalk to really up the flavor. Just a few minutes of prep and about 5 to 7 hours of hands off time in the crock pot is all it takes (if the turkey is completely defrosted). You can check with an instant read thermometer to see if it is done.
The cooking juices, which are nicely flavored from the onion soup mix, are easy to turn into a yummy gravy with just a little flour.
Serve the gravy with sliced turkey breast, mashed potatoes, and dressing for an easy meal.

If you're preparing Thanksgiving for a small number of people, this Crock Pot Turkey is plenty delicious to serve for Thanksgiving dinner. The only downside is you don't get that crisp skin like you do when you roast a turkey in the oven or deep fry one. Although, you could probably take the cooked Crock Pot Turkey Breast and place it under the broiler for a few minutes to crisp up the skin.
Never miss a recipe. Follow Spicy Southern Kitchen on Pinterest, Facebook, And Instagram.
Sign up HERE for the Spicy Southern Kitchen Newsletter.
Sharing with the
Weekend Potluck
.
Crock Pot Turkey Breast goes great with these recipes:
Andouille Sausage and Cornbread Stuffing
Cheesy Green Bean Casserole
Disclosure: This post contains affiliate links.