The best of pizza and cheeseburgers are combined to make this family-friendly Cheeseburger Pizza. It is topped with a special cheeseburger-style sauce, dill pickles, roma tomatoes, bacon, ground beef, and plenty of cheddar and mozzarella cheese.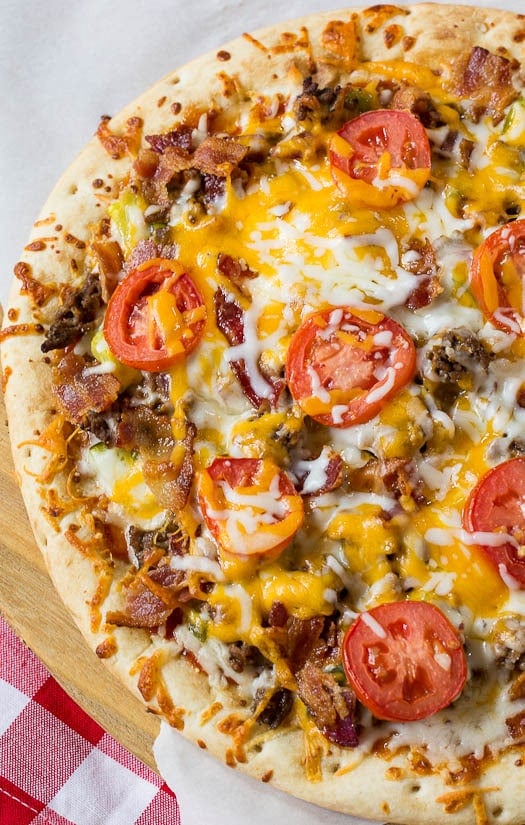 I first had a cheeseburger pizza years and years ago at a local pizza restaurant chain, Wolfman Pizza, and it quickly became one of my favorite pizzas. I tend to be a big fan of the nontraditional pizzas in general. Replicating a cheeseburger pizza at home actually turned out to be quite easy.
I used a prebaked crust to make this pizza super easy, but you could make a homemade dough or use store-bought pizza dough. The sauce is my favorite thing about the pizza. It's made from a mixture of ketchup and mustard and gives the pizza a little zip. I like to mix a little of it into the browned ground beef for extra flavor. Dill pickles on a pizza may sound strange at first, but it really works with the sauce and the other ingredients.
Next time you can't decide between making pizza or cheeseburgers for dinner, make life easy and just go for the Cheeseburger Pizza. It's fun, easy, and delicious. Pair it with a simple green salad for a quick weeknight meal.
Never miss a recipe! Follow Spicy Southern Kitchen on Pinterest and Instagram.
Sign up HERE for the Spicy Southern Kitchen Newsletter.
 More Pizza Recipes
Southern BBQ Pizza with Pulled Pork