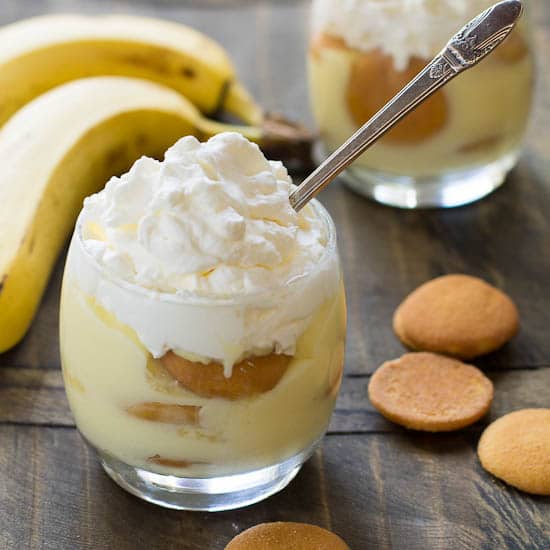 Banana Pudding, with layers of nilla wafer cookies, banana slices, and custard, is a classic southern dessert that kids and adults alike devour. Banana Pudding, or Nanner Puddin as it is affectionately called, is one of the easiest desserts to make so long as you can make a homemade custard. If you can't , just use a box of instant vanilla pudding. It won't have that homemade taste, but it will still be good.
A few weeks ago when I published Banana Pudding Pancakes, I realized Spicy Southern Kitchen was lacking a straight up Banana Pudding Recipe. I've posted Banana Pudding Cupcakes and Banana Pudding Bars, but no basic Banana Pudding recipe. Well, problem fixed. This recipe will satisfy all your banana pudding cravings.
The best part of Banana Pudding is the Nilla Wafers. The way they get soft from the pudding is just so yummy. As a child, I'd just pick out the wafers and eat the whipped cream, completely eating around the bananas. But now I yum up every delicious bite and I love how the banana flavor permeates throughout the whole dessert. Even if you were to pick out all the banana slices before eating, it still tastes of bananas.
Because the flavor of banana tends to be really strong in banana pudding, especially if made a day in advance, you don't want to use really ripe bananas. The flavor will be too strong and the banana slices will develop an unappetizing brown color. I like to use bananas that are nice and yellow, but haven't started to get brown speckles.
Since it is prepared ahead of time, Banana Pudding is a wonderful dessert to serve for picnics, barbecues, and potlucks. I love to serve it during the warmer months as a refreshing treat straight from the refrigerator.
Note: You can use a tub of whipped topping to simplify things, but homemade whipped cream just tastes so much better.