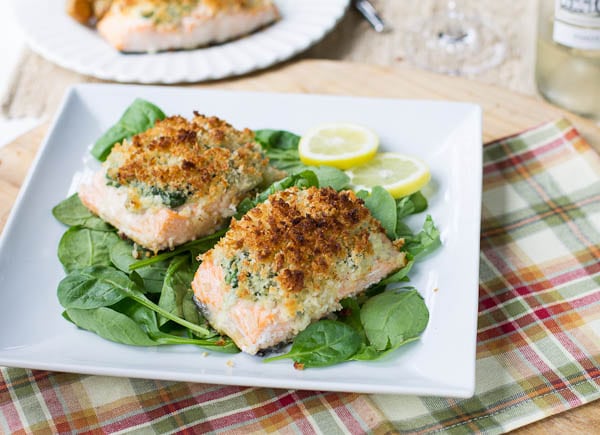 Mascarpone cheese. If it hasn't entered your life, it needs to. It is one of the creamiest, richest things you will ever eat. You might have a little trouble finding it, but many grocery stores have started carrying it, especially more upscale stores. Look for it in a plastic container with a lid in the cheese section by the deli.
This Baked Salmon Stuffed with Mascarpone Spinach is phenomenal. You could use all cream cheese for it, or a goat cheese/ cream cheese mixture. Even feta cheese would work.  But trust me when I say you should go with the mascarpone. And while you're getting some, get enough for this Asparagus Gratin with Mascarpone Cheese. It's maybe the most delicious asparagus dish you'll ever eat.
Salmon is my favorite seafood to cook at home, but it's not my favorite seafood overall. I LOVE shrimp, oysters, and scallops. Problem is, I'm so picky about shrimp quality, I'm often disappointed by the taste and freshness of the shrimp I buy. Good, fresh oysters are hard to get a hold of, and scallops are just so darn expensive.
But salmon never lets me down. I tend to buy farm-raised more often than wild because I like it's milder flavor. I know, I know, there are many reasons to buy wild salmon over farmed.
Baked Salmon Stuffed with Mascarpone Spinach is an elegant dish that would be suitable for a dinner party and you can easily double or triple the recipe. It can be completely prepped ahead of time and since it bakes in the oven, you can attend to other things, keep your kitchen clean, and keep it hidden from view until you pull it from the oven, looking gorgeous with the crisp Panko crumbs on top, and little glimpses of the warm, gooey cheese-spinach filling below.
I'm thinking some toasted pine nuts would be a fabulous addition. Wish I'd thought of that before I made it.
Recipe Source: adapted from Bon Appetit
More Salmon Recipes
Salmon with Pomegranate Balsamic Glaze